Pros:
Built to withstand anything a family can throw at it

Impressive comfort on road

Impressive ability off-road
Cons:
Quite thirsty despite hybrid power

Unexciting in every area

Less practical than rivals
Introduction
Last time I drove a Subaru XV, I was in knee-deep snow in a forest in Latvia. Cruising around the wilds of Cambridgeshire in the latest model might not have been as much fun, but it's a more realistic test for most buyers.
What's changed with this latest version? Externally, the appearance of an 'e-' in the middle of the XV Boxer name is about it, but that's quite an important step for Subaru. It's already trying to compete against the likes of the Ford Kuga and Nissan Qashqai with its own niche 4x4 model, and now it's turned to hybrid technology to boost its appeal.
It's a mild hybrid, which means there's a tiny battery pack hidden under the boot floor that powers a tiny electric motor that aids the engine, boosting performance and lowering emissions.
Promising space, reliability and now improved environmental credentials, we wonder if it's got enough to compete with the mainstream models.
On The Road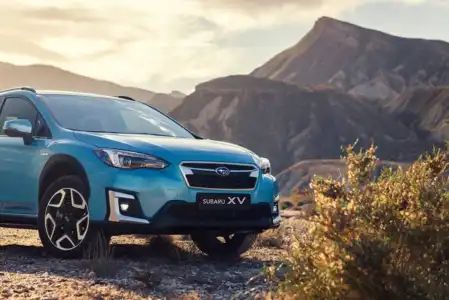 Performance
The new mild-hybrid system is bolted onto the existing 2.0-litre petrol engine. Working together, they produce 150hp which is enough, but not enough to get excited about. Translated to a 0-62mph sprint, that equals 10.7 seconds.
There's a CVT gearbox connecting the engine and electric motor to the four-wheel-drive system that works well, but the engine drone you get from such a setup makes attempts at enthusiastic progress tiresome.
But this is a mid-size SUV for the working family, and neck-snapping performance really isn't that important. What is critical is that it's fast enough to merge safely with motorway traffic, powerful enough to make it up hills when fully loaded, flexible enough to zip around the city.
The XV makes no effort to pretend to be sporting, so anything beyond that is superfluous.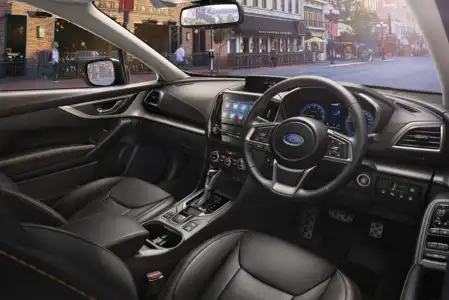 Ride Handling
Subaru doesn't do sporty (banish thoughts of Colin McRae and his Impreza rally car…) so the XV is set up to ride comfortably. Low-speed ride around town and the city is excellent, with the XV riding across potholes and imperfections as if they weren't there.
It mostly maintains that at speed, too. Motorways are a gentle cruise rather than the jiggly mess you might find on more firmly spring rivals.
There's a bit given away in terms of handling, but the Subaru is kept neatly upright with little body roll in corners. It's not involving though, feeling more like a car you give instructions to rather than drive directly.
There's no lack of ability though. Send the XV down a rough, broken, lane, or even a dirt track, and you barely have to slow down. Venture further off the beaten track and a 'X-Mode' switch turns on all the electronics that somehow manage to extract more grip than seems possible.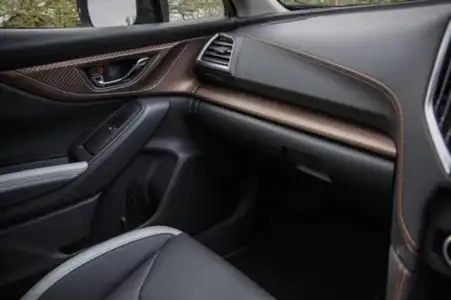 Styling
Many people, myself included, complain about how a CVT gearbox leads to excessive noise under power, but few talk about how wonderful they make motorway journeys. Engine revs drop to little more than idle, reducing noise and vibrations, which makes a long journey far less tiring.
Having a smooth petrol engine, rather than a diesel, reduces those vibrations further, while the way in which the Subaru XV is bolted together tightly makes everything rattle-free and solid.
The small electric motor is also beefy enough to power the car for short periods of time, removing engine noise entirely. The peace is shattered a little by the switch between electric power and petrol power being a little clunky, but you'll rarely notice that.
In The Car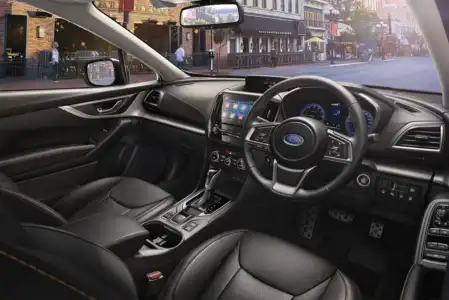 Behind the Wheel
There's a lot going on in the XV. The dashboard is a mix of materials, designs and technologies but, somehow, just about works as a whole. It's certainly very Japanese in style, which means it'll take some getting used to but, once you do, you'll find it all makes perfect sense and is easy to use.
It's loaded with equipment, too; even the entry-level model comes fitted with automatic LED headlights, a large touchscreen infotainment system with both Android Auto and Apple CarPlay, heated seats, a DAB radio and adaptive cruise control. Step up to the SE Premium and you can add electrically adjustable leather seats, a sunroof and satellite navigation, as well.
Leather overlays and some nice stitching mask some of the sturdy looking plastics, but you'll never think you're in a particularly luxurious model. Again, that's by design - the XV isn't for showing off.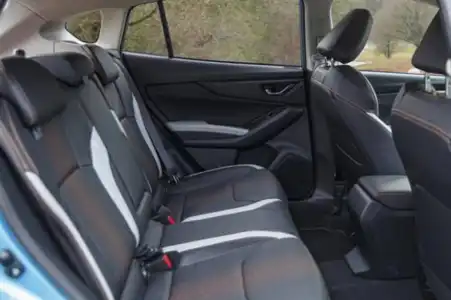 Space & Practicality
As a regular crossover, it does a reasonable job, but there are better. Space, as you might expect, is fine for the front pair. Move to the rear seats and it's a little tighter, but there's a pleasing amount of legroom. Headroom is tighter than your passengers might like, as the roof slopes down more aggressively than it looks, but it's just on the right side of acceptable. Only trying to squeeze three people in will upset the ambience.
The boot is a little disappointing. Access to it is easy, as the tailgate opens wide and leaves just a small lip to lift items over. The rear seats fold down to leave an almost flat load area too, but the load area is just a tad small; with the seats up and the parcel shelf in place, there are just 385 litres to pack your luggage in to. By comparison, the SEAT Ateca offers a far more generous 510 litres.
Ownership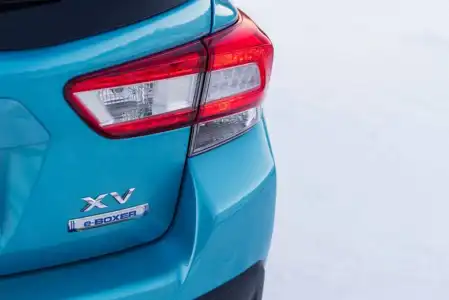 Running Costs
Company car drivers can probably look away now. A lack of diesel power means the economy is troubling, even with the mild hybrid system. While it can run in an emissions-free pure-electric mode, it can't do that for very long so relies on the petrol engine for most of its motion. We're told that the technology can improve efficiency by as much as 30%, but with an official economy figure of 35.7mpg, we might have hoped for more. CO2 emissions are equally high at 149g/km, significantly above many of the XV's obvious rivals.
Depreciation seems steeper than some more traditionally attractive rivals, which keeps leasing and PCP costs high. It's not that cheap to buy outright, either.
Still, the XV is built tough. Subaru claims some 96% of the cars it's built in the last ten years are still on the road, and the XV feels like it will last forever. It might cost a bit to buy, but you'll be able to run it for 20 years.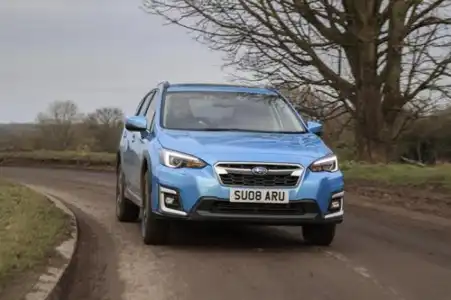 Quality & Reliability
Throughout the review of the Subaru XV, quality and strength has been mentioned, and always in positive terms. Its cars are built so tough that they rarely seem to go wrong, lasting forever - which could go some way to explain why sales remain so low if nobody needs to replace their car!
That strength is backed up by the Auto Express Driver Power survey, where Subaru takes sixth place overall, ahead of Honda, Toyota and Volvo.
Subaru shows confidence in its product by providing every XV with a five-year warranty, albeit limited to 100,000 miles, as well as three years of breakdown cover. The e-Boxer variant, as tested here, also gets an eight-year warranty on its battery pack, again limited to 100,000 miles.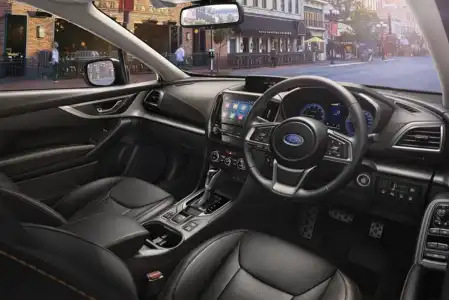 Safety & Security
Subaru has gone its own way here, too, fitting in some interesting safety equipment that ends up doing the same as everybody else's equipment, but in a different way. Chief amongst them is EyeSight, a pair of video cameras mounted at the top of the windscreen, constantly filming the road ahead and creating a three-dimensional map of what's going on.
Thanks to that 3D map of what's ahead, the cruise control, automatic emergency braking, lane departure warnings and lane-keeping assist all work brilliantly.
Every model, regardless of spec, also comes with blind-spot monitoring, lane change assist, rear cross-traffic alert, and a reversing camera.
In crash safety testing by Euro NCAP, the XV scored a full five-star result, with both adult and child passenger protection proving particularly impressive.