From £15,499 (road tested car was £18,649)
Pros:
Superb off-roader with low ratio gears

Full of character and will have the full attention of former Land Rover Defender owners

Lots of mod cons – the car has been brought bang up to date
Cons:
Quite noisy at higher speeds on road

Not much steering wheel adjustment

Low three-out-of-five safety rating
More On This Car
Take one for a spin or order a brochure
Request a Suzuki Jimny brochure
Request a Suzuki Jimny test drive
Introduction
The first Jimny was launched back in 1970 and it perfectly showcased Suzuki's 4WD technology and know-how proving a massive hit with farmers thanks to its lightweight design and go-anywhere nature. It was developed to be a tool for professionals and it has certainly achieved that goal.
The latest fourth generation model has been a long time coming – 20 years in fact. But it's been well worth the wait with a smart new look. It's boxier and more upright than its predecessor but still retains the distinctive grille and round headlights. There is also a wealth of new technology. After all, the new Jimny boasts Smartphone link to connect a mobile phone – features we demand in our modern-day cars today that were unheard of back in 1970.
The off-roading capabilities have improved with the addition of hill hold and descent control, but the Jimny retains the 4x4 ability that has made it such a popular choice for generations. And the engineers have also made it much better to drive on the Tarmac too - and area where it fell woefully short in the past.
But the order books are stacking up fast so if you want a new Jimny you may have a lengthy wait on your hands. In fact, the waiting list in Japan is more than a year.
On The Road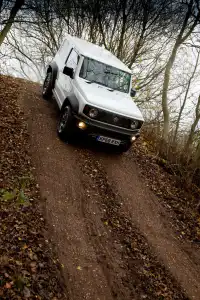 Performance
The Jimny is powered by a new 1.5-litre, four-cylinder 101PS petrol engine mated to either a five-speed manual or four-speed automatic transmission. The new powertrain boasts 130Nm of torque and is lighter than its 1.3-litre predecessor and that results in lower running costs with improved fuel economy.
Customers can choose from two trim levels called SZ4 and SZ5 with prices ranging from £15,499 to £18,999.
Over the years, the Jimny has been viewed as a vehicle that is better off road than on the Tarmac so we put the latest range-topping SZ5 ALLGRIP model with manual gearbox through its paces in both environments.
On the road, the engine has ample power to drive the lightweight Jimny – after all, it weighs under 1.5 tonnes. The acceleration isn't exactly blisteringly quick - an official 0-62mph sprint time isn't available yet, but it's not that quick. The top speeds is recorded at 90mph and it can deliver combined fuel economy of 35.8mpg with carbon emissions of 178g/km.
Whereas the previous Jimny was dreadful on the road, the new model is far more refined. It will never be as poised or balanced as some classy crossovers, but the new powertrain offers plenty of bite and it does feel more composed when cornering.
The off-road Jimny though has a completely different outlook on life. Authentic off-roaders need to be tough and the Jimny is just that. With a ladder frame structure, great clearance angles, rigid axle suspension and part-time 4WD with low range gears, the Jimny simply skips across boggy terrain. On a testing off-road course with muddy tracks, steep inclines, sheer drops and death-defying angles, the Jimny passed with flying colours. It didn't lose its traction once and the hill descent system also impresses.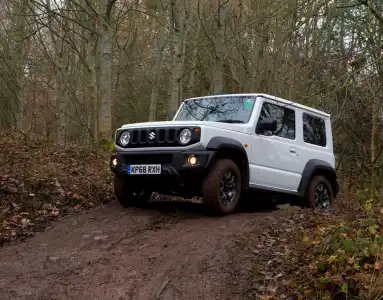 Ride Handling
The Jimny has a fresh new look – it's 20mm higher, 45mm wider and 30mm shorter. While other manufacturers strive to develop smooth, rounded and streamlined vehicles, Suzuki is very proud of the Jimny's square design and it does bear a slight resemblance to the Land Rover Defender (if you squint slightly!).
But that upright body shape doesn't really do the car any favours on the road where the car is susceptible to body sway when driven into bends a little enthusiastically. Although the car's impressive suspension system is effective at smoothing out most bumps and dips along the way, you will certainly know it if you hit a pothole, as reverberations will be felt throughout the cabin for quite some time. On the plus-side the car is a lot more refined than the previous generation car with an upgraded suspension system and can be driven in 2WD mode on road which is more economical. It's worth noting that about 70 per cent of Jimny buyers will be using the car as a working vehicle so off-road is the priority.
When you do venture off-road, the car's flexibility is impressive as it climbs over rocks and obstacles and the tight turning circle is another great feature. The traction control impresses as it stops spinning wheels and keeps you moving through muddy terrain. And the low ratio gearbox is superb and would usually only be available on cars costing twice the price of the Jimny.
In fairness to Suzuki, many Jimny buyers will be using their vehicle on farms or building sites with rougher terrain, so the slight on-road compromise is well worth it when you take into consideration its off-road expertise.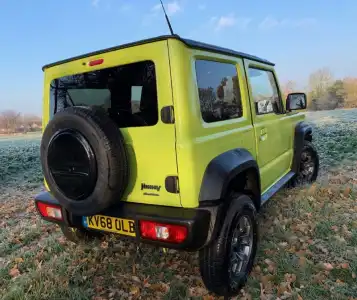 Styling
With its upright design comes great visibility, but also an increase in noise intrusion when driving at pace. The powertrain is also quite unruly when pushed along and when you factor in the somewhat bouncy ride, the Jimny is not the most refined vehicle on sale today. But, and it's a very big but, it is far better than the third-generation car.
But that's on road and once again the Jimny is a completely different animal off road where it delivers a composed and very capable performance no matter what Mother Nature throws in its path. No other car offers such a split personality!
And with practicality in mind, the interior is designed with lots of wipe-clean hard plastic surfaces that may not be that easy on the eye, but are certainly more robust than any faux leather trim. For more luxurious touches a soft-roader would be a better choice, but the clue is in the word 'soft' and the Jimny is anything but that.
It also does simple things very well, such as the drip rails on the roof edges to prevent water running into the cabin, wheel arch extensions and side sills to protect against stone chips and the flat roof that makes it easy to sweep snow away in winter.
Another area where Suzuki has upped its game is the on-board technology. The entry level Jimny SZ4 has air conditioning, a CD player, Bluetooth connectivity and cruise control. Move up to SZ5 and you gain 15-inch alloys, LED headlights, climate control, navigation with Smartphone link via Apple CarPlay or Android Auto, rear privacy glass and heated front seats.
In The Car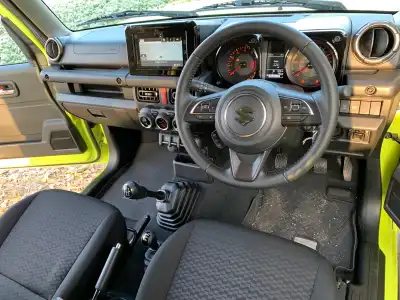 Behind the Wheel
Getting a decent driving position is easy enough with ample seat adjustment available. The steering wheel only has height adjustment though which is a bit of a shame. And don't expect luxurious comfort levels either – just like the Defender, right elbow space is limited so you have the option of tucking your arm in close or opening the window and looking ultra-cool in the middle of winter! I would have liked a padded armrest rather than the hard plastic one, which becomes more painful when bouncing around off the beaten track. Once again with practicality in mind, all the dials and controls are chunky and could easily be operated while wearing gloves and there's no flashy over-complicated menus to navigate. The touchscreen can be a little fiddly, but generally the Jimny is a back-to-basics car with a modern twist. The high-seated driving position results in excellent all-round visibility which is just as important on a farm or building site. And with short overhangs it's simple to judge the length of the car when parking. Take note though, there are no parking sensors which is quite rare on a modern car these days. A clever design touch is the dipped driver and passenger window lines which provide great visibility from the side windows - this is invaluable when driving off road where you need to look out for obstacles.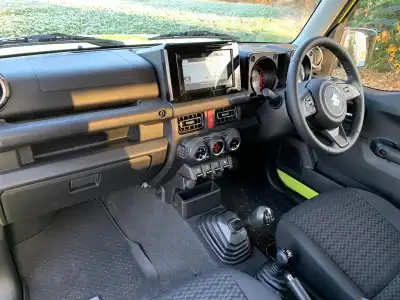 Space & Practicality
The Jimny is practical inside and out with a robust exterior and chunky 15-inch wheels. The interior has lots of hard black plastic, which on other models would be a negative point. But not so the Jimny - this car will regularly be driven by farmers, builders or other tradesmen with grubby hands so soft, plush surfaces would soon get ruined.
The backs of the rear seats and boot floor are coated with plastic so they can easily be cleaned.
The high sided design of the car means there is ample head room for all occupants, but the compact sizing means rear legroom is somewhat restricted for anyone over six foot. And as the Jimny is a three-door model, climbing into the back seats can be tricky.
The boot is accessed via a hinged door which looks nice but can be a tad impractical if someone has parked close behind. The boot capacity is 85 litres, but this can be increased to 377 litres with the 50:50 split-folding rear seats dropped flat - this is an increase of 53 litres compared to the outgoing third generation Jimny. There is also an extra storage compartment beneath the boot floor.
Another notable point is the fact that the front seats can be almost completely reclined so if you fancy a nap you have a bed, albeit for a short person!
Storage options throughout the Jimny include small door bins, a tray in front of the gear lever, a glovebox with convenient ledge above it and a pair of cup holders. There are grab handles for all occupants apart from the driver and a grab bar above the glovebox.
The Jimny is available in six colours - one of which is a high-visibility Kinetic Yellow which is designed to stand out in bad weather or on worksites.
Ownership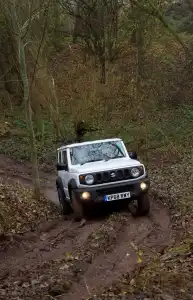 Running Costs
The Jimny costs from £15,499 for the entry-level SZ4 version and rises to £17,999 for the SZ5 with manual transmission and £18,999 with automatic gearbox.
Our test car was priced at £17,999 although the optional dual tone paint added £650 to the cost.
According to official figures it could deliver combined fuel economy of 35.8mpg with carbon emissions of 178g/km (WLTP). The NEDC figure is 154g/km and this is what the Vehicle Excise Duty is currently based on, so there would be a first-year charge of £515 which would be reduced to £140 the following year.
Insurance ratings for the Jimny are not yet available but will be announced very soon.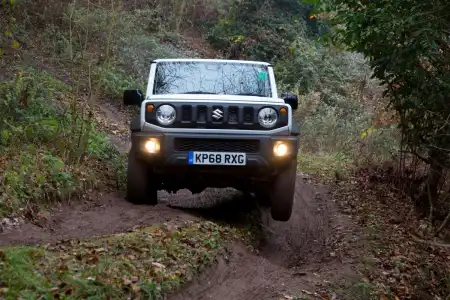 Quality & Reliability
Suzuki has an excellent reputation when it comes to reliability and frequently scores high in independent customer surveys.
The interior of the car has been designed to cope with a tough lifestyle with lots of wipe-clean surfaces and chunky controls that should all survive the test of time. The seats also feel sturdy in their design and the fact that many new Jimny buyers will be trading in their old model is testament to its appeal. It's a vehicle that gets on with the job in hand with the minimal amount of fuss.
The Jimny comes with a three-year, 60,000-mile warranty with the opportunity to extend it further if required.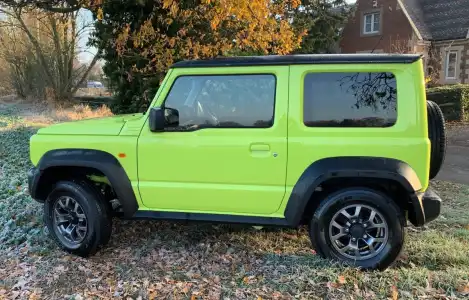 Safety & Security
Sadly, the Jimny only scored three out of a maximum five stars when it was tested for its Euro NCAP safety rating. It does feature the likes of dual sensor brake support which comes into play if it detects that a collision with another vehicle or pedestrian is likely. It issues an audio and visual warning, then increases the brake force and applies autonomous emergency braking if necessary.
Other safety features on the range-topping SZ5 model includes hill hold and hill descent control, lane departure warning, side impact protection beams, tyre pressure monitoring, high beam assist and six airbags.
The car is fitted with an immobiliser, security alarm and remote central locking.
More On This Car
Take one for a spin or order a brochure
Request a Suzuki Jimny brochure
Request a Suzuki Jimny test drive