From £14,999
Pros:
Powerful yet economical engines

Generous equipment

Spacious
Cons:
Interior plastics

Lightweight feel

Questionable looks
More On This Car
Take one for a spin or order a brochure
Request a Suzuki SX4 S-Cross brochure
Request a Suzuki SX4 S-Cross test drive
Introduction
The Suzuki SX4 S-Cross has always been very much at the 5-door hatchback end of the crossover scale. To give it more of an SUV feel, this latest SX4 S-Cross has been raised 15mm and given some new, chunky features, most noticeably a shiny chrome grille. The driving position in the SX4 S-Cross has also been raised for a more commanding view of the road.
There's a choice of three turbocharged engines; two petrol and one diesel. There's also 4WD and an automatic gearbox available, dependent on which of the three available spec-levels and engines you opt for.
On The Road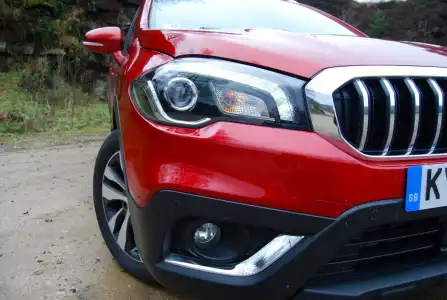 Performance
Our test car came equipped with the most powerful engine in the range; a 4-cylinder 1.4l Boosterjet petrol, producing 140bhp. This may not sound like much, but at just over 1.2 tonnes the SX4 S-Cross is relatively light, meaning 0-62mph comes in at 10.2 seconds and keeps going to 124mph.
Thanks to their motorcycle manufacturing background, Suzuki know a thing or two about petrol engines and this one is happy to rev freely with no noticeable lag from the turbo.
The 6-speed manual gearbox is light and easy to use, although the ratios are fairly close together so there may be the odd missed gear if you're prone to rushing your changes.
Top-spec SZ5 models are limited to this 1.4l petrol or Suzuki's 1.6l diesel, but a 1.0l 3-cylinder Boosterjet engine is available on SZ4 and SZ-T spec cars. Despite only producing 112bhp, the front-wheel-drive SZ4's low weight means it still propels itself to 62mph in 11.0 seconds, although it runs out of steam at 106mph.
If its torque you require for towing etc, the 1.6l diesel engine available in SZ-T and SZ5 models produces 320Nm, but performance is lacking when compared to the petrol engined cars.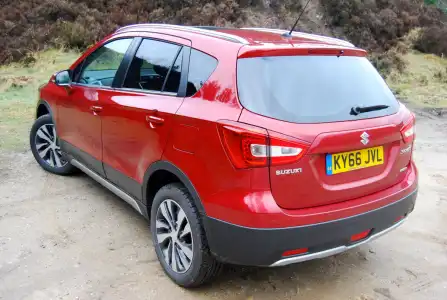 Ride Handling
Revised suspension means the new SX4 S-Cross handles bumps and potholes more comfortably than the previous model. Over particularly scarred surfaces it does tend to come unstuck as it attempts to deal with one bump whilst still getting over the last one.
Suzuki's Allgrip 4-wheel drive system comes as standard on SZ5 spec cars and is optional on SZ-T models. Limited clearance means that the SX4 S-Cross is never going to be a 'proper' off-roader, but if your budget allows, we'd still advise the reassuring 4-wheel drive option.
With 4WD, the SX4 S-Cross handles corners superbly, even in wet conditions. Being car-like and fairly light, it also changes direction quickly and with no real body-roll, although the power-steering gives very little feedback.
If you regularly drive over slippery or uneven surfaces, or perhaps you live in a remote location that's prone to snowfall, the 4-wheel drive system also brings the reassurance of added grip where 2WD may flounder.
There's even a sport mode for when the mood takes you, channeling more power to the rear wheels and sharpening throttle response.This is where the SX4 S-Cross takes advantage of being more car-like than a traditionally wallowy SUV.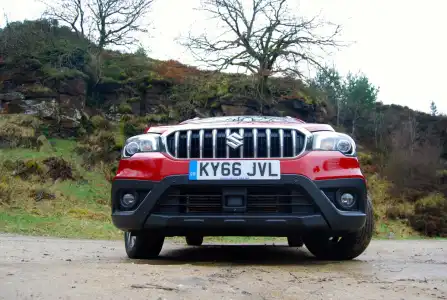 Styling
This 4-cylinder petrol engine is whisper-quiet at tickover and, for a 1.4l, it stays smooth even at high speed. The diesel and 3-cylinder units will obviously lose some of this finesse due to their more characteristically rattly nature.
Wind-noise is kept to a minimum, with just the door-mirrors buffeting slightly on the motorway. It's road-noise that's more noticeable, though, with tyre-roar booming around the cabin quite significantly over 60mph.
In The Car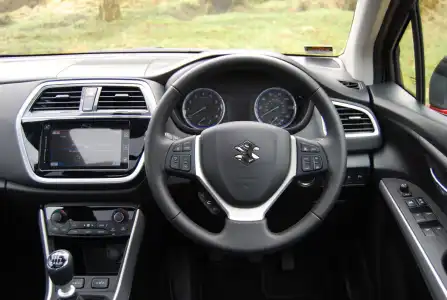 Behind the Wheel
The SX4 S-Cross is available in three trim levels, quite confusingly - SZ4, SZ-T and SZ5. Even the lowest grade SZ4 spec comes equipped with air-con, cruise control, DAB and bluetooth - not bad for a sub-£15,000 car.
In the middle sits the SZ-T which adds dual-zone climate control, LED lights, navigation, keyless entry and start, rear parking camera and parking sensors all around. Your choice of engines also increases, along with the option of 4WD.
At the very top sits the SZ5 spec, adding leather upholstery, heated front seats, a panoramic sunroof, adaptive cruise control and Suzuki's radar brake control safety system.
The layout of the cabin is logical, with all switches and controls easily located, although its design is fairly dull. The quality of plastics and switchgear used is acceptable in SZ4 and arguably in SZ-T spec cars, but I'd want a higher grade of materials if I was spending £22,499 on the range-topping SZ5.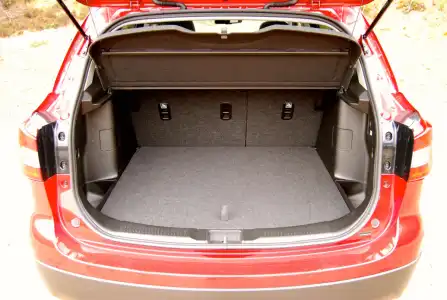 Space & Practicality
Considering it's towards the smaller end of the crossover market, it seats 4 adults comfortably. There is a 5th seat but it's really only for children or very short journeys.
The rear seats easily pass the '6ft adult sitting behind 6ft adult' test and access is no problem with large door apertures and high seats. The panoramic sunroof that's standard on SZ5 models does reduce rear headroom slightly, though.
The steering wheel is both rake and height adjustable to suit individual driving positions.There's plenty of elbow and knee-room for the driver, too.
At 430 litres the boot is competitive in this sector and a fairly vertical rear hatch means all of that space can be utilised for larger objects. A removable floor that's level with the sill is also provided for easy loading and unloading.
Ownership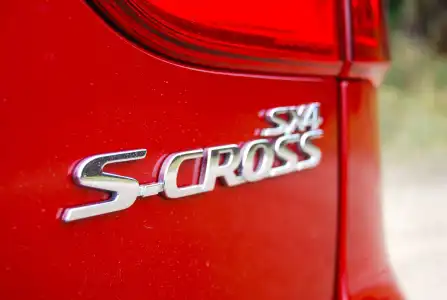 Running Costs
It's available from just £14,999 which makes it very affordable when compared to rivals such as Skoda's Yeti and Nissan's Qashqai.
Go for the diesel variant and it'll return an impressive 68.9mpg whilst emitting just 106g/km CO2, although economy does suffer with the addition of an automatic gearbox or 4-wheel drive.
The 1.0l and 1.4l petrol engines return 56.5mpg & 50.4mpg respectively, emitting 113g/km & 127g/km CO2, meaning no SX4 S-Cross will cost more than £160 Vehicle Excise Duty in its first 12 months.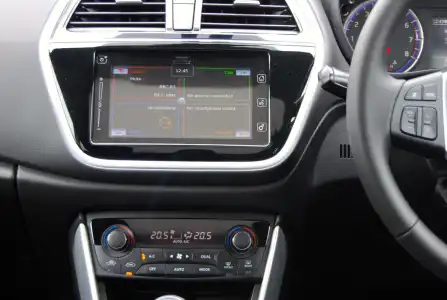 Quality & Reliability
It isn't a heavy car and yet, even though they feel quite tinny, the doors close with a fairly satisfying 'thunk'.
Interior plastics do lack quality in some areas. They improve slightly at eye-level but certain switches and buttons feel quite flimsy.
That said, Suzuki ranked second in the 2016 JD Power survey and they have a good reputation for building reliable cars so they obviously get the important parts right.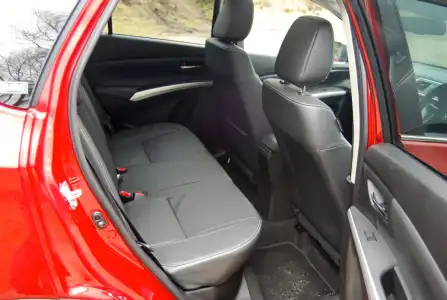 Safety & Security
The SX4 S-Cross has been awarded a Euro NCAP 5-Star safety rating and it comes with driver, front passenger, side and curtain airbags as standard.
Isofix, side impact protection and electronic stability program are also standard on every model, as is a tyre pressure monitoring system.
SZ5 spec cars come with radar brake control which monitors the car in front, warns of possible collision and can ultimately intervene if no action is taken. It's a clever system that could potentially prevent an accident happening but it's not perfect.
When following a car in traffic or a vehicle that's turning it can be too keen to activate which doesn't take long to get annoying. The system can be adjusted or even deactivated, but turning off a safety system isn't something I'd ever recommend.
More On This Car
Take one for a spin or order a brochure
Request a Suzuki SX4 S-Cross brochure
Request a Suzuki SX4 S-Cross test drive