Pros:
Hot hatch performance neatly wrapped up in a fabulous looking car

Three-cylinder engine technology at its very best

Packed with high-end safety kit
Cons:
The boot is considerably smaller than a standard Yaris Hybrid

Back seat passengers will complain about limited leg and head room

Visibility through the rear screen is quite restricted
Speak with our Concierge team to discuss your car buying options
Request a free call back
Introduction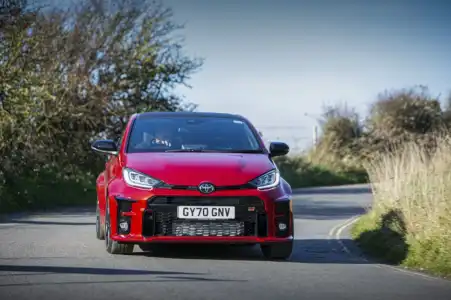 Every once in a while, a car comes along that grabs the attention of driving enthusiasts the world over. And this time it's the turn of Toyota and its outrageous GR Yaris. The four-wheel drive performance hatchback has been developed by the Japanese carmaker drawing on all its World Rally Car experience.
The vision back in 2015 was to take all the technical knowledge and experience from the highest level of international competition and apply it to a new road car that, while being able to compete, would still be an affordable proposition for customers.
Professional rally drivers, including members of Toyota Gazoo Racing (GR) World Rally Team, drove the prototype and provided valuable feedback.
It is the company's second global GR model following the successful launch of the GR Supra in 2018.
On The Road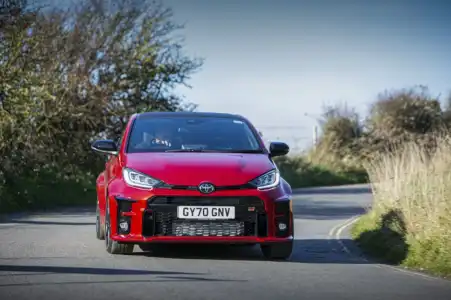 Performance
The three-door GR Yaris comes with just one engine and transmission combination matching a three-cylinder 1.6-litre, petrol engine with a six-speed manual gearbox.
This all-new engine delivers 257bhp and 360Nm of torque that propels the car from 0-62mph in just 5.5 seconds and onto a top speed that has been electronically limited to 143mph.
We opted for the entry-level car, but you can have a GR Yaris Convenience Pack version that adds extra creature comforts or Circuit Pack model that introduces stiffer suspension and more aggressive handling characteristics.
Engine power is perfectly harnessed through the new GR-Four permanent all-wheel drive system. This is another bespoke feature and offers three drive modes – Normal, Track and Sport – that alter the characteristics of the car.
Yes, this car can drive on motorways and, yes, it's fine to potter around town in. But, in all honesty who cares? This is hot hatch that has been designed to be unleashed on twisting country lanes and that's just where it loves to show its true worth.
The acceleration out the starting blocks is blisteringly fast and you really do have to pinch yourself as a reminder that this is actually a Yaris after all!
Changing up and down through the gears keeps the revs high and the cornering is perfectly balanced with all the grip you could wish for.
The steering is nicely weighted with ample driver feedback and, to put it bluntly, the GR Yaris is a car you will never tire of driving.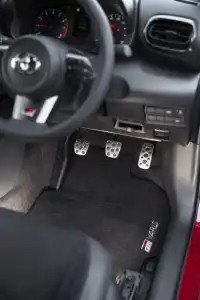 Ride Handling
Performance, ride and handling are areas that the GR Yaris has been designed to excel in and it doesn't disappoint.
Boasting a beautifully aerodynamic body, the car has been specifically designed to direct wind flow onto the large rally-type rear spoiler to generate extra downforce.
The front suspension consists a new MacPherson strut design offering both light weight and high rigidity to maximise grip and at the rear is a trailing double wishbone set-up. Expect to feel the full force of some bumps and dips along the way but that's the norm for this type of car.
But once again, it's in the cornering that this car excels thanks to that ingenious four-wheel drive system. No matter how hard you attack tight bends, the grip is confident and assured as the power is split between the front and rear wheels accordingly.
Upgrade to the GR Yaris Circuit and you get extra kit with stiffer springs, dampers and top-rate tyres. These combine to offer even more excitement and could be a 'must' for anyone looking to really drive the car to its full potential.
With its low weight, short wheelbase and wide track, the GR Yaris is guaranteed to make you smile from the second you fire up the ignition until you arrive at your destination … especially if you take the longer, cross country route!
Styling
If you were concerned the GR Yaris may be a rebadging exercise then don't be as it shares just four parts with the standard car – the headlights, door mirrors, rear light clusters and shark fin antenna on the roof.
This is a bespoke model that has been developed by combining two of Toyota's architecture platforms then making sure there was an abundance of lightweight aluminium body parts with a forged carbon composite roof in the body structure. Weight loss was scrutinised at every stage of its development and the three-door GR Yaris tops the scales at just 1,280kg.
It measures 3,995mm in length which is 55mm longer than the five-door Yaris and shares the same wheelbase at 2,560mm. The main change is that the GR Yaris is three, not five-door making it fine for WRC competition where the strict rules stipulate no changes may be made or aerodynamic elements added to the doors.
With a slightly aggressive looking front end, a grille flanked by large air intakes, a sharply tapered roofline and discreet GR badging, plus a black rear spoiler, dual exhaust pipes and stunning 18-inch cast alloy wheels, the GR Yaris is certain to grab attention from bystanders wherever it passes.
The interior has the same binnacle design as the standard Yaris but with additional performance-related readouts. The gear lever has a slightly raised position and is set closer to the steering wheel for quick shifting and the interior is finished in black with Smoke Silver trim details around the door handles, centre console, steering wheel and side vents.
In The Car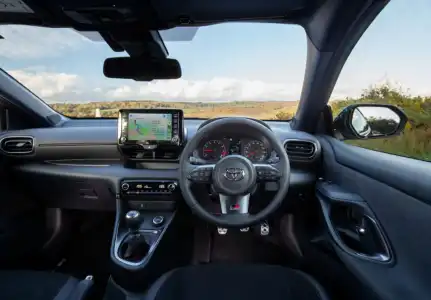 Behind the Wheel
The driver's seat and steering wheel can be manually adjusted to find the ideal position and then you will quickly notice that the size, shape, position and angle of the pedals have been designed to ensure the maximum feel and control needed for a performance car.
The GR Ultrasuede body hugging sports seats offer ample support and if you thought for an instant you were in a 'normal' Yaris, the sports steering wheel with GR badging will soon put you straight.
An eight-inch touchscreen sits on the top of the dashboard and although this looks a tad basic, it does everything that is expected with full smartphone integration via Apple CarPlay and Android Auto, a six-speaker sound system with DAB radio and dual-zone climate control being just a few of the on-board features.
On the downside, you need to select the Convenience Pack model to gain a navigation system. That said; it's easy to connect a mobile phone and use that.
When it comes to driver visibility, it is excellent forwards and sideways, but due to the sharply tapering roofline, the rear screen is very small. To combat this issue, all models have a rear-view camera as standard.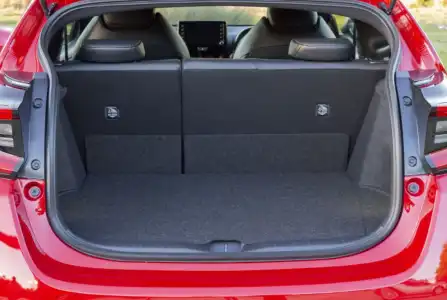 Space & Practicality
Three-door practicality is never as impressive as five-door and the GR Yaris also loses quite a lot of boot space compared to the standard model too. It can accommodate just 174 litres of kit (down from 286 litres) although the limit does increase with the 60:40 split-folding rear seats dropped flat.
To be truthful any adults relegated to the back seats – and there is only space for two at most - will be complaining after a short time due to the lack of decent head and leg room. And they will have the inconvenience of clambering in and out over the folded-forward front seats.
But the GR Yaris has never claimed to be a family car – if that's what's needed the far more sensible five-door Yaris is more suitable. This is a hot hatch with attitude and due to that fact, you lose passenger and boot space along the way. Small price to pay in my opinion.
There is a compact glovebox, door bins, cup holders and seat back pockets to store away bits and pieces.
Ownership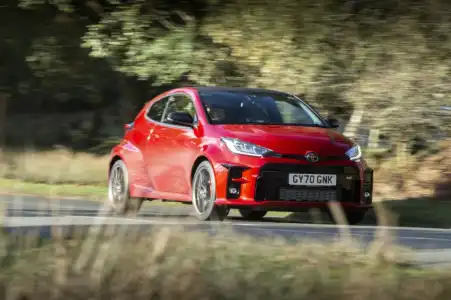 Running Costs
The Toyota GR Yaris is available in three trim levels. Our test car was priced at £30,020, the GR Yaris Convenience Pack costs £32,200 and the GR Yaris Circuit model weighs in at £33,520.
Admittedly this is quite a price hike when you consider the standard five-door Yaris costs from £20k, but once again, it's worth reminding ourselves that this is a performance hatch that could compete on the world rally circuit.
According to official WLTP testing, the car can deliver a combined 34.3mpg with carbon emissions of 186g/km. This CO2 figure would result in a first-year Vehicle Excise Duty charge of £895 reducing to the standard £155 after 12 months.
The Toyota GR Yaris sits in insurance group 35, but if you upgrade to either the GR Yaris Convenience or Circuit models it goes up to group 36.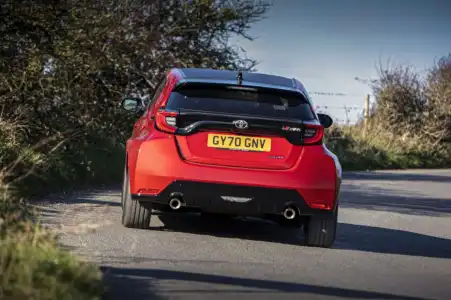 Quality & Reliability
This road going sports car has been designed to be really put to the test and come through with glowing confidence. And the fact Toyota took so many years to fine-tune the GR Yaris is testament to the company's commitment to get it just right.
Toyota has a reputation that is the envy of many industry rivals and frequently tops customer reliability surveys and this model should deliver years of guaranteed fun.
Although there was strong emphasis on shedding weight, the overall strength and safety of the vehicle has not been compromised in the process.
The new GR-Four system is the first original sports all-wheel drive system that Toyota has created in 20 years. It has been developed specifically for the car to control the vehicle posture and deliver traction regardless of the road surface quality.
Toyota also offers one of the best warranty packages in the business and the GR Yaris comes with cover for five years or 100,000-miles.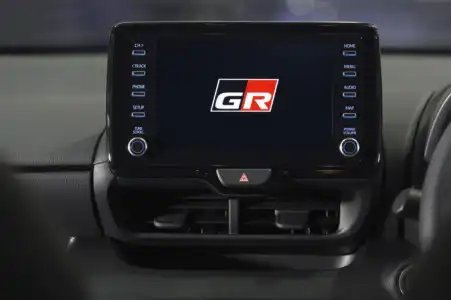 Safety & Security
With something as powerful and dynamic as the GR Yaris, stopping becomes a pretty important factor. So, it is significant that the brakes fitted to the GR Yaris compare in size to those on the GR Supra – in fact, the front discs are even larger in diameter. The braking system is designed to guarantee maximum braking while maintaining control.
In addition, the car boasts all the safety kit found on the standard Yaris which is comprehensive with the latest Toyota Safety Sense features. These include a pre-collision system that can detect pedestrians during daylight and night-time driving plus cyclists in the daytime.
Other safety kit on the test car included emergency steering assist, adaptive cruise control, lane trace assist, lane departure alert, road sign assist, adaptive high beam, brake assist, anti-lock braking and a reversing camera.
There are driver and passenger front and side airbags, Isofix fittings, vehicle stability control, hill-start assist and GR-Four AWD with three modes.
The GR Yaris Convenience Pack model, costing £32,200, gains blind spot monitoring and rear cross traffic alert, plus front and rear parking sensors.
The GR Yaris has not been crash-tested for a Euro NCAP rating due to low sales volumes, but the standard Yaris was awarded a maximum five stars.
An immobiliser and alarm are fitted as standard for added security.
Summary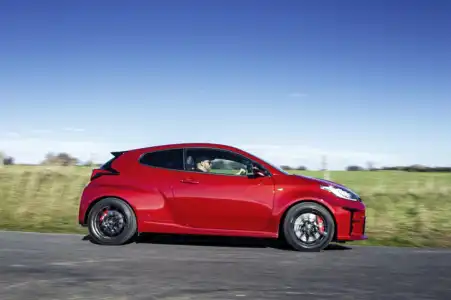 There's no denying the fact that over the years the Toyota Yaris has always been a good car. But now the standard has been raised to a whole new level with the arrival of this blisteringly quick GR model. All I can add is … I want one!
Speak with our Concierge team to discuss your car buying options
Request a free call back