Toyota Highlander Review
For the last few years, Toyota's Highlander has been the best-selling mid-sized sport utility vehicle in the United States. Now, it's coming to our shores for the first time – and it's in hybrid guise.
Speak with our Concierge team to discuss your car buying options
Request a free call back
£52,575 as tested
Pros:
Loads of room and very practical

Steering is responsive and direct

Good noise insulation
Cons:
Pricier than main rivals

Very few options to choose from

Body roll
Introduction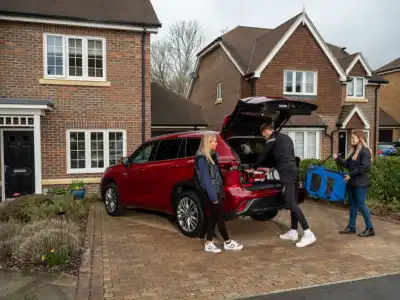 Given that folk from the good old U.S of A tend to prefer everything larger, 'mid-sized' denotes 'big Range Rover-sized' by U.K. standards.
But our dimensions include higher values, too. Japanese automakers are not held in the same high reverence in Britain as they are across the other side of the Atlantic, after all. And let's not overlook that the States is where Toyotas are perceived differently. There they are seen as rather plush - in the same way we look upon a BMW. But would you tear up that banker's draft for the latest BMW X5 and go for a Toyota instead?
Toyota's Highlander is priced like a premium car, so we discover if it can replicate the triumph it's having on the other side of the pond here.
On The Road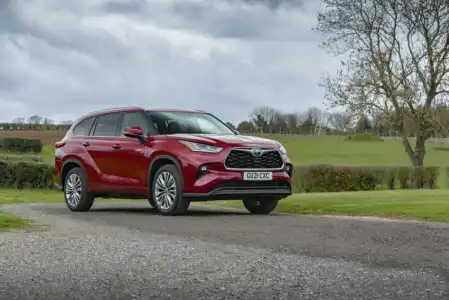 Performance
The Toyota houses one engine – a 2,487cc hybrid kicking out 247PS. This power unit makes the car more than sound to drive. Predictably, for a big SUV, it's not developed for performance, although it's hardly lazy away from the lights. Nought to 62mph is dished out in 8.3 seconds - so, be assured, the Highlander will answer when you stomp your right foot down in any given situation. And if you want to know what this SUV's maximum speed is, then 111mph is what you'll accomplish if you find yourself on the federal controlled-access highway system in Germany.
When it comes to the steering, this is welcomingly direct, light and responsive, which is ideal for winding such a daunting motor through city centres. It is just as effective on the main A-roads, B-roads and motorways, too.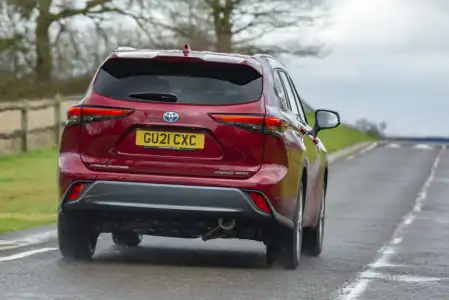 Ride Handling
The ride is a tad rigid on the Highlander's 20-inch alloys, so we're baffled why Toyota hasn't made the 18-inch wheels it offers in other countries available here. Nonetheless, the equilibrium between comfort and firmness is a level-headed compromise. And, let's be blunt; British asphalt isn't always that merciful.
There is roll in the bends, which is normal for a vehicle of this magnitude. Mind you, comparably sized high-riders tend to do better, and the Toyota, despite possessing all-wheel drive, feels like it should have more traction on the road.
For the most part, though, Toyota has done an admirable job of regulating the downsides of such a big SUV in terms of its general driveability.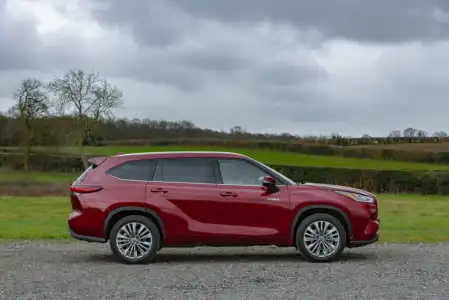 Styling
The Toyota looks handsome and has just a pair of grades obtainable here in Britain: the Excel and the Excel Premium.
The 20-inch alloys we've already touched on, a premium sound system, a panoramic roof, reversing assistance, and a bunch of safety features we'll come to later, are all part of the deal.
Alas, with only a solitary powerplant and a couple of grades to choose from, the option packs on the Highlander are limited.
It is to the Japanese automaker's credit, though, that so much is incorporated as standard. But, if you're the sort of motorist who loves to upgrade your car, you might feel frustrated.
For the Highlander's exterior, there is a quartet of metallic shades to select - blue, silver, grey and black. However, a pearlescent coat of paint (either White Pearl, Moondust, and Tokyo Red) can be included for an additional £925.
Most of the extras on offer are somewhat humdrum, such as a liner for the cargo area, side steps, a protection plate for the back bumper and a towing pack. All are dear options, and it's a bit of a brainteaser as to why Toyota has integrated so much advanced equipment as standard but then left out basic things, only to offer them as pricey optional frills.
Even a broader choice of everyday features, such as wheel designs and interior styling, is lacking.
In The Car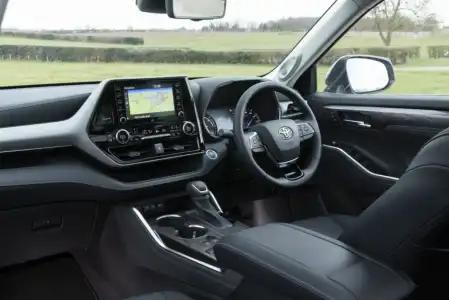 Behind the Wheel
On the move, Toyota's sound insulation is top-notch, keeping road and wind din to an absolute minimum. The Japanese motor giant addresses noise levels by placing silencers in the roof, floor and dashboard, as well as in the wheel arches and boot. Acoustic glass is present, too, which helps to guarantee a markedly muted interior.
In all honesty, Japanese vehicles have habitually grappled with cabin design, although it looks like Toyota is heading in a healthy direction. The Highlander's interior is agreeable and notable in some ways, but it could hardly be called deluxe.
Dashes of silver disperse the Highlander's dark cabin, but if truth be told, there are cheerier SUV interiors, and the deficiency of variants to select is annoying.
Dials behind the Toyota's steering wheel are accompanied by a 4.2-inch display, while the infotainment system houses an eight-inch screen.
The touchscreen is accommodated in a distinctive unit, which is attractive, although some might say it looks a bit overstated. A lot is going on inside visually, but if you like a more straightforward cabin, you might find the Highlander a little chaotic and too fussy on the eyes.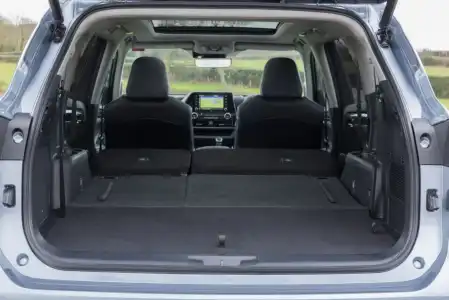 Space & Practicality
The massive selling point of this SUV is its practicality. The Highlander's boot is a generous 865-litres with the third tier of seats down, swelling to 1909 litres with the second set of seats folded away. It even has 332-litres of room with the third row of seats in position.
By contrast, the Kia Sorento's boot is 813 litres growing to 1996 litres, while Hyundai's Santa Fe only offers 547 litres, expanding to 1625.
Notably, it largely defeats, or equals, the equivalent numbers of the biggest Audis, Land Rovers and BMWs on the market.
There is a load of space for even the loftiest of drivers, who can move around due to the powered seats. They will have a brilliant view out of the vast windscreen, too.
Larger passengers are looked after in the second row, which has ample legroom. The seats can skate backwards and forwards, too, offering even greater practicality.
The third tier of chairs is best for small kids, although adults will be okay for short excursions.
Ownership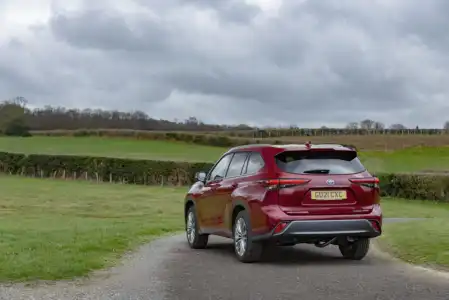 Running Costs
This is a self-charging hybrid, so the battery pack is charged from the internal combustion engine. In layman's terms, this means you don't need to worry about plugging the Highlander in to fill up on electricity.
The SUV contains a display that indicates how much charge there is. But you don't need to stress too much if you're a bit low on electricity because the battery sucks up electrons from the engine when you remove your foot from the throttle pedal. Thanks to Toyota's regenerative braking technology, the Highlander hoovers up even more energy when you operate the brakes, too. It takes time to harvest electricity, though – so be patient.
On average, the Highlander does in the region of 39.2 to 39.7mpg, but this figure will drop if you're tootling around town and the Toyota's hybrid battery has next to no charge left.
Hybrid vehicles can be difficult to calculate in terms of mpg numbers, as what you'll get in the real world depends on a bunch of things, especially how much driving you're able to do on pure electric power. Nevertheless, given the Toyota's bulk, we don't think high 30s mpg is to be sniffed at.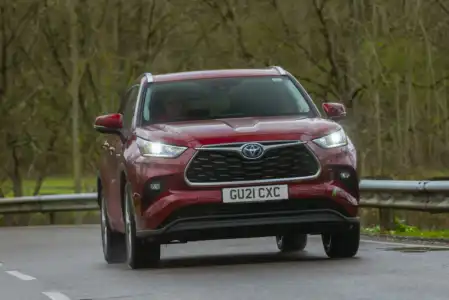 Quality & Reliability
There is no querying the excellence of Toyota's cars. Everything you lay a hand on in the Highlander feels soundly made, and the finish of the entire SUV is impeccable.
You should also take some comfort that the Japanese motor manufacturer is seen as an ultra-reliable make here in Great Britain. Frankly, we'd be rendered speechless if the Highlander turns out to be a spanner in Toyota's works.
That aside, the 100,000-mile/five-year warranty is enough to assure you that the Highlander means business.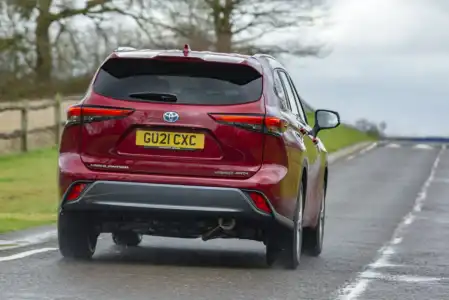 Safety & Security
The big SUV is kitted out with tech known as Toyota Safety Sense. This comprises emergency steering assist, pedestrian detection and adaptive cruise control.
Traction control and stability control are all incorporated, together with hill-start assist, which will stop you from trundling backwards on a steep incline.
The Highlander is yet to be assessed by Euro NCAP, so there's no official safety score available for the SUV. However, Toyota products usually do well (even the petite Yaris received five stars last year).
Summary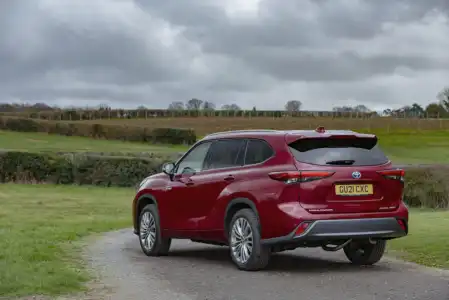 When you compare the Highlander with premium automakers, why would you splash out over 50 grand when the likes of Audi and BMW have marginally smaller SUVs for less money?
On the positive side, you get a lot of stock kit and, if your decision is driven by needing a bigger SUV, you could regard it as a hell of a lot of machinery for less dosh compared with the premium marques' largest vehicles.
Speak with our Concierge team to discuss your car buying options
Request a free call back