From £34,690 (roadtested car was £37,790)
Pros:
Go-anywhere 4x4 with 60 years of Toyota all-wheel drive expertise

Available with five or seven seats

New Utility level goes back to basics
Cons:
Quite a noisy engine

Interior is designed for durability rather than style

Ride can be a little unsettled
More On This Car
Take one for a spin or order a brochure
Request a Toyota Land Cruiser brochure
Request a Toyota Land Cruiser test drive
Introduction
When the going gets tough, the Land Cruiser keeps going and that's important to remember because this isn't the vehicle for anyone who wraps themselves up in creature comforts.
It's a muscular, mud plugger that has been tried and tested on global expeditions rather on shopping trips and school runs. And there is a new Utility trim model that strips out some of the luxuries such as heated seats, a navigation system, parking sensors, a rearview camera and dual-zone air conditioning. It's back to basics with a bang.
For 2018, the Land Cruiser features a more robust exterior and more comfort with a higher quality interior.
If you want more luxury, then move up through the trim grades from Utility to Active and onto Icon and range-topping Invincible.
On The Road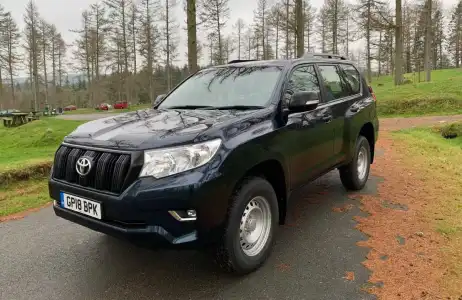 Performance
The Toyota Land Cruiser is a rugged and very capable 4x4 that is available with three or five doors and seating for five or seven occupants. Driven by a 2.8-litre, four-cylinder diesel engine delivering 177PS of power and 420Nm of torque, it is available with manual or automatic gearboxes and in four trim levels.
We opted for the five-door version with six-speed automatic gearbox in the new entry-level Utility grade. A simple glance in the direction of the vehicle will soon convince you that this is a working vehicle rather than a pleasure trip car and you literally have to climb up into the cabin. Stand-out design cues include a muscular stance, a blacked-out grille, roof rails, tinted rear windows and chunky wheels.
When it comes to performance, the Land Cruiser is a vehicle that takes a little getting used to. We clocked up 900 miles during the week-long loan and whereas it felt a little cumbersome initially, by the second day we were whizzing along the twisting country lanes. And despite its bulky dimensions (4.8 metres long and 1.8 metres wide) the Land Cruiser has plenty of grunt with a 0-62mph sprint time of 12.1 seconds and maximum speed of 108mph.
Although we didn't venture off-road in the vehicle on this occasion, its capabilities are awesome. It can climb at 42 degrees, approach obstacles at 31 degrees and wade through water up to 700mm deep. It can also tow a trailer or caravan up to three tonnes in weight.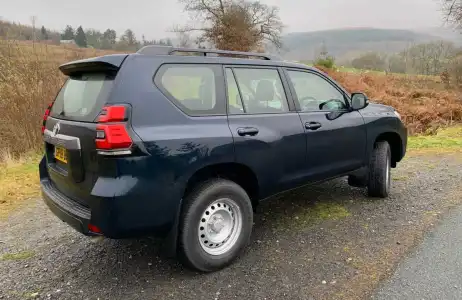 Ride Handling
The Land Cruiser is a big vehicle weighing more than 2.2 tonnes and it feels heavy when you drive it. That said; the steering offers plenty of driver feedback and the road holding is superb. You can expect to feel a little body sway if corners are attacked too eagerly, but generally the car is well balanced.
The automatic gearbox has to work quite hard but once you are sitting at 70mph it seems very content. The Toyota engineers have strived to refine the driving experience and the latest Land Cruiser is a much better ride than previous models were. But if you want sheer luxury and comfort, then look elsewhere to the likes of the Land Rover Discovery or BMW X5.
The high-end Invincible version features a Kinetic Dynamic Suspension System which certainly improves the ride by supressing body roll, improving the steering response and absorbing the effects when driving on poor road surfaces. Meanwhile our basic Utility model was far less refined, but would be just as effective ploughing its way across a boggy field.
When it comes to agility, the Land Cruiser is deceptively nimble although the lack of any parking sensors or rearview camera takes a little getting used to on such a large vehicle.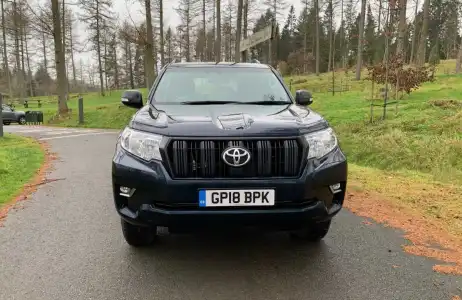 Styling
The Land Cruiser is available with just one diesel engine and once you get used to the grumbling noise when pushed on, it works quite efficiently. The longer you spend behind the wheel of the Land Cruiser, the better it gets. Whilst initially it feels heavy, oversized and quite jittery round bends, you soon adjust to its handling characteristics. It can be pushed along with gusto through country lanes, it can hold its own at the national speed limit on motorways and it can reverse into tight parking bays, but it takes a few days to really feel total confidence.
Despite being the basic model, our Land Cruiser Utility model still featured lots of techno treats. It had a CD player (whatever happened to those in cars?), Bluetooth to connect a smartphone, a six-speaker sound system and air conditioning. Obviously the higher up the trim level you go, the more equipment is added. For example, the top-of-the-range Invincible version gains Toyota Touch 2 with Go with its full navigation set-up including speed camera warnings and real time traffic updates. It also boasts a 14-speaker JBL sound system, triple zone air conditioning, a rearview camera, front and rear parking sensors and lots more besides.
In The Car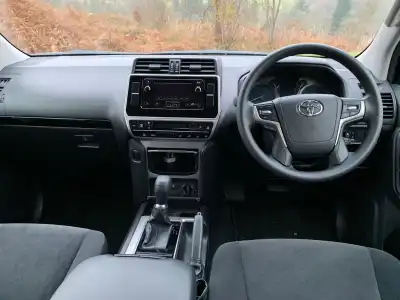 Behind the Wheel
The Land Cruiser has ample seat and steering wheel adjustment so it's easy to get comfy once you have climbed aboard. The driver benefits from excellent all-round visibility, although it takes a little time to get confident with the length of the vehicle when reversing into a tight parking space – it's unusual not to have over-sensitive parking sensors screaming in your ear as you get within two feet of an obstacle.
All the controls and dials are ideally positioned for ease of use and the comfort levels are excellent for all occupants.
It was simple to connect a smartphone for navigation purposes. I tend to use my phone for directions more and more these days rather than any on-board set-up. But I did miss the Apple CarPlay or Android Auto facility. The seven-inch screen is fine without being too flashy, although some of the icons were a little small and fiddly to operate on the move.
The Utility model is really aimed at commercial users so costs have been kept to a minimum, but this Land Cruiser still does all the basics really well and after my week of driving I wasn't desperately missing any of the creature comforts loaded into other models.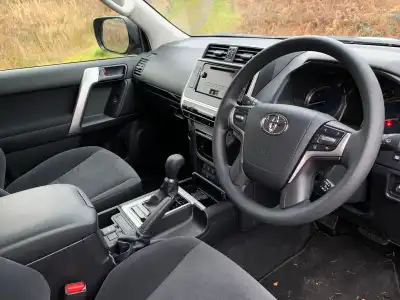 Space & Practicality
There is a Land Cruiser to suit all needs with three or five-door versions along with the option of five or seven seats. The three-door model is only available in entry-level Utility trim and is aimed primarily towards business-users.
Our model was a five-seater and it was certainly spacious enough for five adults to travel in comfort. There is quite a step up to the car, but there are grab handles to assist. With its large windows, the back-seat passengers have plenty of sight of the outside world and there is generous amounts of leg, shoulder and head room.
The boot has a capacity of 640 litres, which is increased to 1,270 litres with the 40:20:40 split-folding rear seats dropped flat. In addition, there's numerous storage compartments scattered throughout the car. These include a twin-compartment central bin, glovebox, cup holders, deep door bins and a couple of handy trays. The side-opening tailgate is fine unless someone parks too close behind you.
Many owners will be taking their Land Cruiser across rougher terrain and it is certainly good for any challenge away from the Tarmac. It has full 4x4 capabilities along with good wading depths up to 700mm. The ground clearance of 215mm means it can clamber over rocks without scraping the underside.
Ownership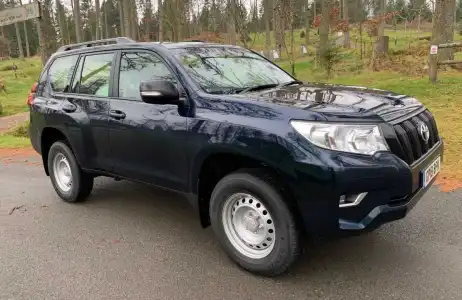 Running Costs
Toyota has ensured there is a Land Cruiser for all budgets and with the introduction of a new entry-level Utility trim, the buying costs start from £34,690 (OTR). This would be for the three-door version with manual transmission. As you move up through the grades the automatic gearbox is introduced and the price gradually increases to £54,040 for the seven-seat Invincible model with all the trimmings.
Our test car was priced at £37,090 although the metallic paint added a further £700 to the cost. According to official figures, it can deliver combined fuel economy of 38.1mpg (we were seeing just over 31mpg after 900 miles of driving) and carbon emissions of 194g/km. The first year Vehicle Excise Duty charge would be £1,760 but it would drop down to £140 after the first 12 months. And for business owners, the Benefit in Kind rating is 37 per cent.
Our test car was rated as insurance group 35.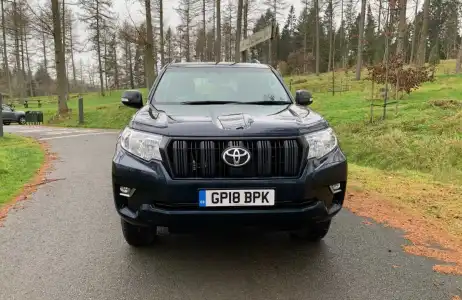 Quality & Reliability
Toyota has an outstanding reputation for reliability and regularly tops customer satisfaction surveys. The car has lots of practical, wipe clean surfaces that certainly look hard-wearing. I wouldn't exactly say the interior is easy on the eye with cloth seats and black plastic at every turn, but it will probably still look the same when the engine has been around the clock.
That's because Toyota knows its customers very well and listens to their feedback. If they want a softer version with finer leather, it's available. If they want a 'get-down-and-muddy' model then the Utility trim fits the bill perfectly.
All the switchgear feels sturdy and the doors all close with a very solid thud. Any spillages can be quickly wiped up and the seats, although not the most supportive, look hard-wearing.
The Land Cruiser comes with Toyota's five-year, 100,000-mile warranty with one year of full AA cover as standard.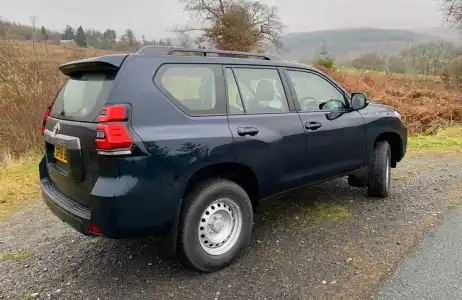 Safety & Security
The Utility Land Cruiser is missing a lot of the safety kit that is introduced on higher versions. In fact, systems are fairly sparse. There are no parking sensors or rearview camera and, unlike Icon and Invincible models, there's no Toyota Safety Sense system which includes pre-collision system with pedestrian detection, adaptive cruise control, road sign assist, lane departure alert and automatic high beam.
What you do get is multi-terrain ABS, electronic brakeforce distribution and brake assist, active traction control, vehicle stability control, trailer sway control, Isofix settings and numerous airbags.
All versions are fitted with remote central locking, auto door locking, an engine immobiliser and an alarm system to keep unwanted attention at bay.
More On This Car
Take one for a spin or order a brochure
Request a Toyota Land Cruiser brochure
Request a Toyota Land Cruiser test drive