Pros:
Quiet, comfortable and smooth acceleration

Impressive driving range and superb warranty

Practical with first class payload limits
Cons:
Pricier than a diesel version

Just one body size and trim level

Cabin feels a little cramped
More On This Car
Need more information?
Request More Information
Introduction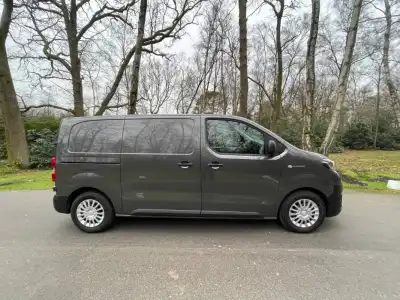 Toyota may not be the first name that springs to mind when looking for a van, but the fully electrified Proace could well see a change in public opinion.
It has been developed with the Stellantis Group so is an alternative badge to the almost identical Citroen e-Dispatch, Peugeot e-Expert and Vauxhall Vivaro-e.
There is just one trim level called Icon but customers do have a choice between 50kWh or 75kWh battery sizes and can also include a faster 11kW onboard charger as an option.
Special mention to the impressive eight year, 100,000-mile battery warranty too.
On The Road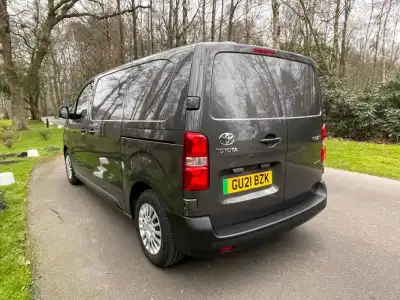 Performance
At present, the demand for electrified and alternative fuelled vans is still low in the UK accounting just 1.8 per cent of new LCV sales. But with more and more low emission zones popping up, any business that regularly drives through busy cities will be looking at their options to reduce these charges.
The Toyota Proace Electric is available as a very attractive option. While it is still on sale in diesel guise, the EV version has a choice of two battery sizes (50kWh or 75kWh) and with the option to add an on-board charger.
We opted for the range-topping Icon Medium 75kWh with the larger battery. Official figures show this model has a driving range between charges of 205 miles compared to the 142 miles offered by its smaller sibling.
When it comes to performance, the Proace Electric is perfect for busy town centre driving with instant torque for quick acceleration from the single-speed transmission and there are different drive modes for various settings.
In Eco mode the output is reduced to 81bhp/60kW with 190Nm of torque. In Normal setting, the electric system produces 108bhp/80kW with 210Nm and, finally, in Power you get maximum battery output so have 134bhp/100kW with peak torque of 260Nm.
Normal is great for city driving, Power would be perfect if fully laden with a heavy load or for towing, and ECO preserves the battery levels but does feel a little sluggish along the way. The Proace Electric can reach from 0-62mph in 12.1 seconds on the 50kW model or 13.3 seconds with the 75kW battery, as tested. Both have a top speed that is electronically limited to 80mph.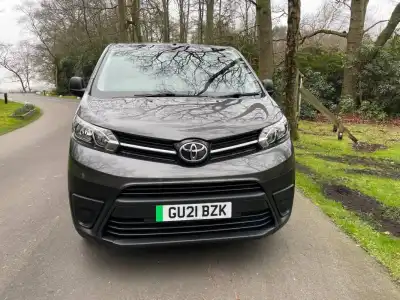 Ride Handling
The front-wheel drive Proace Electric is very smooth from the off with nice acceleration and a steady stream of power. There's no struggling to find gears on the move or rattling old van syndrome. Instead, the van is beautifully refined with barely a sound filtering through into the cabin. It's almost eerily quiet, although there is a little tyre rumble noise on motorways.
There is a B switch on the gear selector to activate additional regenerative braking each time the driver takes their foot off the accelerator.
The two lithium-ion battery packs power the front-mounted electric motors to drive the front wheels and with the battery located beneath the vehicle floor, it adds to the van's rigidity and stability.
The efficient suspension set-up does a good enough job of smoothing out any uneven surfaces along the way, but if you hit an unexpected pothole you will feel its force ripple through the Proace.
But it is well balanced with nicely weighted steering offering good levels of feedback, and the road holding is confident for a vehicle of its size.
Styling
The Toyota Proace Electric is available in one trim level called Icon and it is a on sale as a Medium sized LCV. It has plenty of road presence measuring 4,959mm long, 1,920mm wide and 1,890mm high. The wheelbase stretches 3,275mm with a turning circle of 6.45 metres.
The charging point is located on the Proace Electric's front left wing, covered by a hinged flap. It features an indicator that illuminates to show the charging status. When no light shows, no cable is plugged in. A flashing green light means the vehicle is charging and a constant green light means the charging is complete.
There are two outward-opening back doors and two sliding rear doors that offer easy access to items nearer the front of the cargo bay.
The Proace Electric features daytime running lights, cornering lights, 16-inch steel wheels, a temporary spare wheel, black side protection mouldings, plus black bumpers and door mirrors.
Moving inside the upholstery is formed of a dark grey cloth and PVC combination. There is a driver's armrest, rubber floor mats (optional), plastic cabin floor lining and a passenger bench with two seats so there is room for three people side by side.
A partition protects occupants if any of the load should shift forwards.

In The Car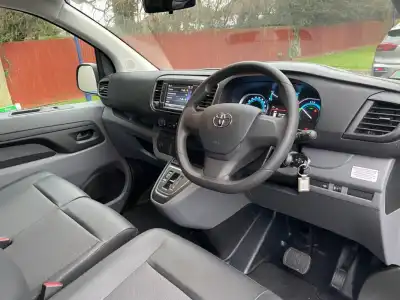 Behind the Wheel
The driver's seat is height adjustable and the steering wheel can also be adjusted to find a comfortable driving position. The layout of the Proace Electric is fairly basic, but it does feature plenty of tech as standard.
Creature comforts include full smartphone link up with Apple CarPlay and Android Auto, a four-speaker audio system with DAB tuner, Bluetooth, a USB port, 3.5-inch TFT multi-information display, pro-touch multimedia system with seven-inch display and WiFi connectivity.
The driver's instrument binnacle has been adapted to show dials and meters that are specific to the vehicle's battery and electric motor performance. These include an EV system indicator that is divided into Charge, Eco and Power sections, along with an electric consumption indicator.
In addition, the centre of the TFT display highlights extra EV functions including real-time energy flow levels, the level of battery charge and, most importantly, the driving range.
Driver visibility forwards and sideways is great, but reversing with such limited rear visibility is more difficult. However, the rear parking sensors do make life easier.
The only downside for me was that the cabin area felt a little compact. Larger six-foot-plus drivers may find it all a tad restricting.
Space & Practicality
The Proace is only available in one size and Toyota has certainly done its homework and listened to customer demands with this size van being the most popular. The smaller battery (50kWh) weighs 383kg and offers a best-in-class driving range of up to 142 miles. This will be perfect for short urban journeys or organisations working on a large campus for example.
The larger battery (75kWh) weighs 534kg and offers up to 205 miles on a full charge. This is ideal for business drivers who cover longer journeys or who may not be able to recharge regularly.
Research carried out by Toyota revealed that most UK van drivers typically cover about 28 miles in a working day, so both battery packs would be ideal. However, it's worth remembering driving ranges may be affected by a number of external factors, including the weather, temperature, road type, payload and driving style.
When it comes to practicality, the Proace Electric has all bases covered. With the battery positioned beneath the floor, space has not been compromised and the vehicle has a one-tonne payload, increasing to 1.26 tonnes on vans fitted with the smaller battery. It also has a towing capacity of one tonne with a 13-pin trailer connection.
With a clever Smart Cargo load-through hatch system fitted as standard, the van has an overall load length extending to 3.674 metres and a load capacity of 5.83m3 with sliding side doors wide enough to fit a standard Euro size pallet.
Additional storage options inside the cabin include trays galore, huge door bins, compartments on top of the dashboard, a glovebox and cupholders.
All models come with a 7.4kW onboard charger and a six-metre Type 2 cable. As an option, a faster 11kW on-board charger can be specified. Charging times vary, but a fast charging 100kW DC system will boost the battery by 80 per cent in about 32 minutes for the 50kWh batter and 48 minutes for the 75kWh unit. A slower charge takes about 7.5 hours.
Ownership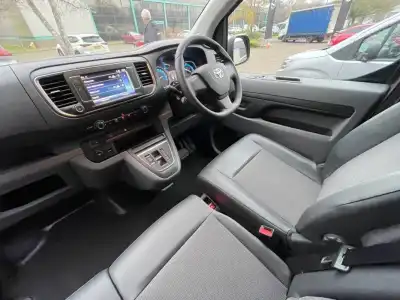 Running Costs
Just like cars, leasing or buying an electric van will cost more initially, but the financial savings will soon be noticed with far more economical day-to-day running costs, exemption from low emission charge tariffs, business tax savings and avoiding hefty diesel prices at the pumps.
Although its diesel sibling comes with a choice of trims, the Proace Electric is only on sale in mid-specification Icon grade and in Medium body length which is the most popular format in the diesel Proace range.
The entry-level model with 50kWh battery costs £35,186 basic. Add an 11kW on board charger (OBC) and the cost increases to £35,311. The Proace Electric with the 75kWh battery is £39,895 increasing to £40,020 with the OBC. These prices are before VAT or any OZEV grant has been factored in.
Similarly to EV cars, there is a Government Plug-In Van Grant which varies depending on the vehicle's weight. And similarly to the car subsidy, it has recently been reduced.
For vehicles weighing up to 2.5 tonnes, such as the Proace Electric, the grant has been cut from £3,000 to £2,500. The number of grants has also been limited to 1,000 per customer.
With zero carbon emission, there will be zero VED charge for the first year and the Proace Electric 75kWh sits in insurance group 41.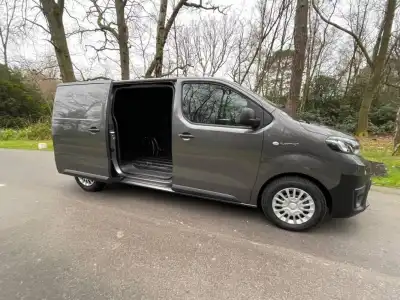 Quality & Reliability
Toyota has a superb reputation the world over when it comes to developing alternative fuelled vehicles and the Proace Electric will take on board all that expertise, along with that from the Stellantis Group models that it shares many foundations with.
The interior may look a little bland, but it has been designed for durability with plenty of sturdy, wipe-clean surfaces. The upholstery is nicely constructed and should survive the test of time, as should all the switchgear.
And if anyone should doubt the reliability of the Proace Electric's battery, it is covered by an eight-year, 100,000-mile warranty for added peace of mind. There is the option to extend the battery warranty further by adding an annual battery health check as part of the scheduled servicing plan.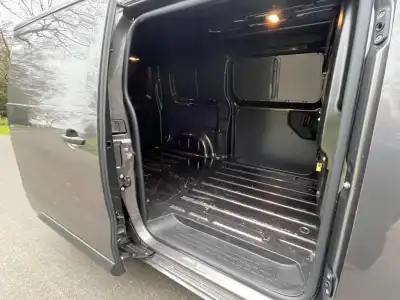 Safety & Security
The Toyota Proace Electric is packed with safety kit and driver assistance aids to help protect occupants and other road users alike.
Features include anti-lock brakes with brake assist and emergency brake distribution, vehicle stability control, hill-start assist, driver and passenger airbags, tyre pressure warning, automatic high beam, adjustable speed limiter and eCall.
Rear parking sensors are essential when reversing, and power steering is welcome in busy town centres with lots of twists and turns.
There is remote central locking, plus an intrusion alarm with glass breaking and motion sensors.
Summary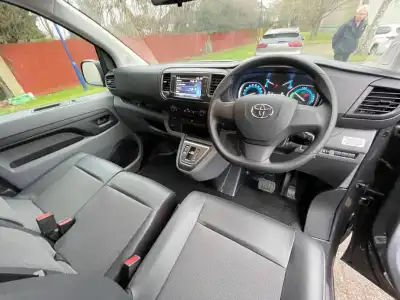 The Toyota Proace Electric provides a strong combination of safety, practicality and comfort and shares its foundations with a well-established line-up of LCVs. It's an impressive practical, quiet and fully capable van.
More On This Car
Need more information?
Request More Information