From £12,495
Pros:
Attractive exterior

Very nicely executed hybrid

Nice and quiet
Cons:
No more 3-door

e-CVT gearbox isn't great

Interior still needs work
Buy and save on quality approved and used cars
Introduction
The Toyota Yaris receives some welcome updates to bring it up to date with the competition. There's now a stronger 1.5litre engine, a smooth 1.0litre VVTi and a clever 1.5litre hybrid unit too… so plenty of choice. The front-end has had a major freshen up, with a 'catamaran styled' grille, which complements the attractive curves throughout the bodywork.
Toyota have targeted over 200,000 sales of the Yaris in Europe over the next 12 months, which is a tall order. Can this model take the fight to a class which has become viciously competitive in the last 6 months? I took Yaris around the beautiful streets of Leiden, Netherlands, to find out...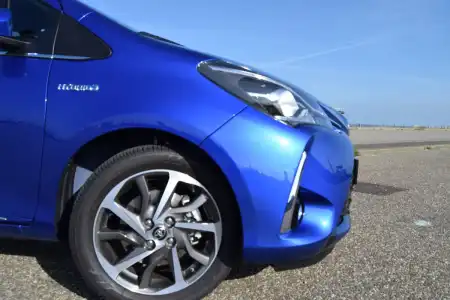 Ride Handling
Buyers will be pleasantly surprised by the driving characteristics of this Yaris. It composes itself like a much bigger car once you're out on the roads. Ok, the hybrid model tends to lean a bit more in the corners due to the weight of the electric motors, which add on between 50 to 100kg (depending on options) but overall the Yaris handles itself rather well. The car is assured through the bends while the suspension isn't too bouncy nor too stiff. The Yaris seems to deal with potholes in a much smoother manner than a number of other B-segment cars, including the Ford Fiesta, and speed bumps are delightfully softened, although the roads of Holland are far, far better put together than those in the UK…
Handling-wise, the Yaris is accurate enough to steer at pace, but it doesn't really egg you on. As mentioned though, the Yaris is targeted toward consumers looking for a comfortable, quiet and economical runaround, and buyers who enjoy hammering their cars around best wait until the GRMN version arrives at the end of 2018. (There'll only be 400 though, so now might be a good time to get friendly with your local Toyota dealership…)
On The Road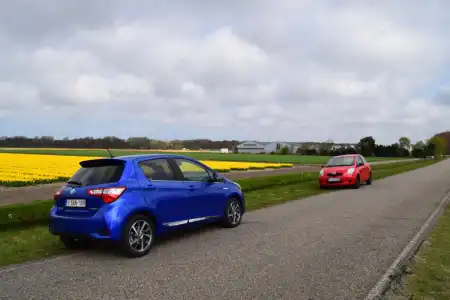 Performance
Firstly, the clever hybrid unit. A petrol engine mated to electric motors which charge themselves via regenerative braking. This option is available with an e-CVT gearbox only, which was our main gripe. Merging on the motorway is a loud task and the engine note isn't particularly easy on the ear. Our second qualm would be that the regenerative braking system intrudes when you want to come to a slow stop, like at a red light. I drove the car for a good few hours and I struggled to come to a steady halt. Just when you creep under 5mph the brakes will snatch the discs without the driver adding any further pressure on the pedal. Certainly something you'll need to get used to. I'd say that if you have a slightly sedate driving style then this is definitely the one to go for. It's not a hybrid that you have to plug in or worry about charging, and the economy figures are astounding. Over a 2 hour drive, I spent 55% of the time in electric-only mode, and some other journalists managed even longer, but they were Finnish (and therefore innately superior drivers.)
Then there is the 1.5 litre engine which would be my choice, if I were to buy a Yaris, as it offers enough guts to put itself about the place in a relatively refined manner. The 6 speed manual transmission keeps motorway cruising comfortable and the gearbox doesn't demand too much stirring as you potter about town. A good all rounder.
And lastly is the 1.0litre VVTi engine. By far the smoothest of the engines, although it is rather slow. I'd recommend this car to buyers who use their car as an A to B tool, rather than a driving machine. It'll also be good for people who are rarely late, as it does struggle to press-on with any real urgency - this engine is available with a 5 speed transmission, but could probably do with a 6th gear if we are being fussy.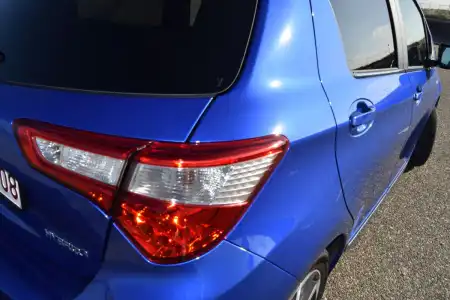 Styling
The Yaris was already a pretty quiet place to be, but they've dampened the sound of the outside even more so. A team of 'Noise and Vibration engineers' (yes, that's a thing) made a thorough review of the car to see where needs improving. Redesigned engine mounts, a larger engine roll restrictor, new front driveshafts and a tweaked airbox have all been applied to improve the refinement levels, which puts the Yaris ahead of competitors.
In The Car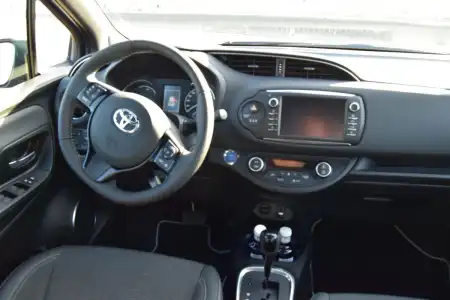 Behind the Wheel
On the whole, the Yaris is a relatively pleasing place to be. The 'Bi-Tone' trim gets a nice coloured dashboard to match the two-tone exterior. This trim does demand quite a steep price tag though, £17,595, and can't be spec'd with the 1.0litre unit.
Elsewhere, you've got a pleasantly weighted leather steering wheel on all models above the entry level Active trim. Sadly, there's no option for full leather seats, but you can get half and half Leather/Alcantara upholstery on the very top-spec Excel models, which costs £17,495 with the 1.5litre naturally aspirated engine and £19,295 with the hybrid engine.
I don't always get on very well with touch screens, but I had no real problems with Toyota Touch 2 system, which is certainly better than the system in the Suzuki Swift, so nothing to complain about here. Bluetooth, AUX, USB and wheel mounted controls are standard on every model of the Yaris - very generous.
Aesthetically, the Yaris doesn't really stand out from competitors, and is put to shame by the likes of the Micra which actually has a very impressive cabin. But buyers won't have an awful lot to complain about, as the Yaris' interior does its job to a suitable degree.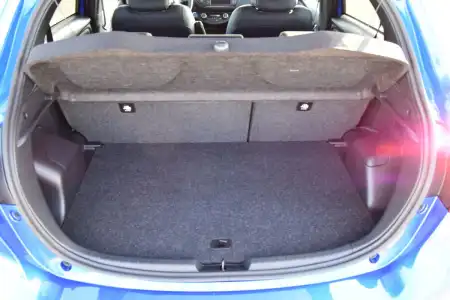 Space & Practicality
As with all of the hatchbacks in this segment, you're going to struggle if you frequently carry passengers. 3 children in the back seats shouldn't be a huge problem for short journeys, but 3 adults abreast would be quite uncomfortable. Both the driver and front passenger have plenty of room though, which will be fine for most buyers.
All Yaris models will be solely available as 5 door examples now - which tends to be the way most B-segment hatches are going. It's the same with the new Swift, Micra and Ibiza.
In the boot you have 286 litres of luggage capacity to play with, which is slightly more than the Suzuki Swift and 14 litres fewer than the Nissan Micra - so very much on-par with the competition once more.
Ownership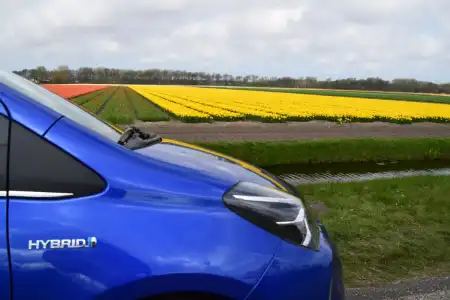 Running Costs
If you're looking for a car which is seriously cheap to run throughout ownership then you're looking in the right place. This Yaris, with its clever Hybrid system will return up to 91mpg through urban driving and 85mpg on a combined cycle. Those are some properly impressive figures that are hard to argue with.
If you don't quite fancy the hybrid, for whatever reason, the 1.5litre engine will still return 60mpg on the combined cycle and the 1.0litre will return 65mpg - so both alternatives are still very cheap to fuel. Bare in mind you'll save a staggering £10 a year on VED if you buy the hybrid, so on top of the savings at the pump, that's another 83p a month!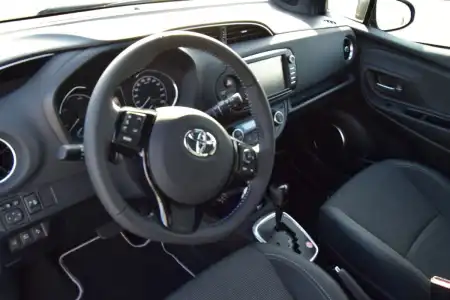 Quality & Reliability
Well, it's a Toyota, you'll be fine. The Toyota brand have built a solid reputation for reliability, from the dependable little Aygo to the indestructible Hilux, this is a brand you can trust.
The quality of the materials inside is OK at best if we're honest. There's black plastics everywhere, and few of them are pleasing to touch. I know that this has been par for the course for Japanese hatchbacks, but Nissan have seriously stepped up their game, and brands like Peugeot and Renault are leagues ahead of the rest, so I'm worried Toyota might be falling behind a bit. Things like the electric window buttons, they work, and I doubt they'll ever break, but they're hollow and weak to touch.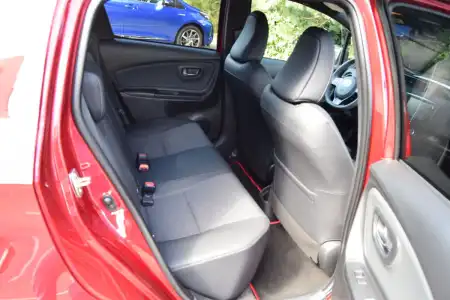 Safety & Security
Improving the safety rating of the Yaris was one of the key pillars that Toyota were keen to address in the development of this model. There's now loads of safety tech and it's pretty much all standard throughout the range. The Toyota Safety Sense pack includes a Pre-Collision System, Autonomous Emergency Braking, Lane Departure Alert, Automatic High Beam and Road Sign Assist. In my experience, this safety kit isn't too intrusive whereby it is constantly distracting the driver, in fact, I didn't even notice any of it, which is a good thing, but it's nice to know the systems are there just in case...
Buy and save on quality approved and used cars