Pros:
Impressive range of highly efficient new engines

Competitively priced making it a wise choice for fleet or private buyers

Sharp handling and practical all-rounder
Cons:
Strong competition from the likes of the Ford Focus and VW Golf

You have to move up the trim levels to gain all the safety kit

It seems to lack any real 'wow' factor
Buy and save on quality approved and used cars
Introduction
The seventh-generation Vauxhall Astra was greeted with plenty of enthusiasm and praise when it made its debut in 2015. Clever engineering resulted in a huge weight loss and that in turn meant improved performance and efficiency.
That model has now undergone a mid-life reinvention. It looks very similar but all the powertrains are new along with some clever upgrades to enhance handling and safety.
There are seven generously-equipped trim levels to choose from and Vauxhall claims that carbon emissions and fuel consumption figures have been reduced by up to 21 per cent which is very good news for both business and private buyers alike.
The Astra is available as a five-door Hatchback or Sports Tourer.
On The Road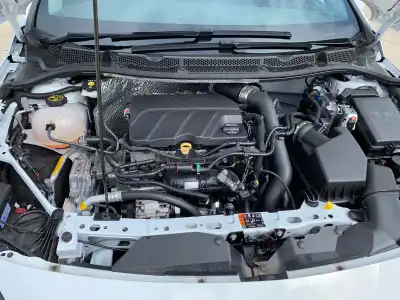 Performance
Customers have an excellent choice when it comes to the latest 2019 Astra with trim levels called SE, Business Edition Nav, SRi, SRi Nav, SRi VX Line Nav, Elite Nav, and Ultimate Nav. The Sports Tourer version has three grades.
Prices for the more popular hatchback start from £18,885 and rise to £29,310 and while any cosmetic changes to the new car are minimal, the real attention-grabbing news can be discovered beneath the bonnet with a completely new line-up of efficient engines plus new automatic CVT and nine-speed gearboxes.
There are three-cylinder turbo petrol units in the form of a 1.2-litre engine with 110, 130 or 145PS outputs or a 1.4-litre 145PS version. And Vauxhall - with its strong fleet market - has not turned its back on diesel fans with a new 1.5 diesel engine delivering outputs of either 105 or 122PS.
We opted for the SRi VX Line Nav powered by the 1.2-litre 145PS turbo petrol engine with 225Nm of torque which enabled the car to sprint from 0-60mph in 8.8 seconds and onto a top speed of 137mph.
Anyone believing a three-pot engine would lack power should check out this latest Astra as the car pulled really well with sharp acceleration through the six-speed manual gearbox.
The Astra was beautifully balanced with excellent road holding and it swept through bends with ease - steering upgrades have resulted in extra feel for improved handling at higher speeds and the car also felt comfortable on busy motorways or weaving through busy town centres.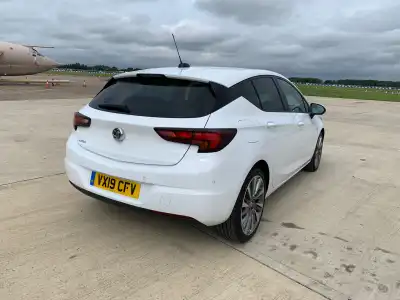 Ride Handling
One department where the Astra of old has come under criticism is its comfort levels, due at times to the hard ride. But that has been addressed with the introduction of a revised chassis set-up developed specifically for UK roads with new dampers to help cope better with poor surfaces. You will still feel the odd bump and dip along the way, but there is less need for a chiropractor on speed dial.
Our car was riding on 18-inch wheels but you can select smaller wheels which will also improve the ride quality and running costs.
An area where the Astra excels is its balanced driving manner. It powers through corners with absolute confidence and the punchy three-cylinder engine delivered ample zip to climb inclines, and when required it offered short bursts of power to make light work of overtaking slower vehicles.
The newly-calibrated steering is also a marked improvement resulting in better reactions at higher speeds. When the latest Mk VII Astra was launched, it had shed a whopping 200kg which meant far more agile handling. Now Vauxhall has fine-tuned other aspects to improve the performance even more.
Admittedly, the VW Golf does seem to have the edge in the 'excitement' stakes, but with every new generation of the Astra, that gap gets smaller.
Styling
With a vast range of trim, engine and transmission combinations for buyers to select from there will be an Astra to suit all tastes, requirements and budgets. And while the visible changes on the new model may be hard to spot, there are some important new design elements.
For example, the upper and lower portions of the front shutter grille open and close automatically and independent of one another to improve the frontal airflow and aerodynamics of the car. The underbody has been optimised to improve the drag coefficient by reducing turbulence. And with a drag coefficient figure of just 0.26, the Astra leads its class for aerodynamics and that all translates into better performance, handling and running costs.
There was a time when a three-cylinder engine would scream and protest loudly when driven hard, but the development of these units over recent years has been immense. And the proof is clear when driving the 1.2 145PS Astra. Yes, it can be a little raspy which adds to its appeal, but the unit copes well under heavy acceleration and makes light work of any hill climbs.
We had a shorter run in the 1.5-litre 122PS diesel-powered car with 285Nm in high-end Elite Nav trim and once again this car impressed. It seemed more mature than its petrol-powered sibling and would be an attractive choice for fleet customers. The engine delivered ample power and the all-new nine-speed automatic gearbox was smooth and responsive.
The interior of the updated Astra is neatly laid out and the latest model features new infotainment systems, consoles, decors, displays and trims with some premium features such as a BOSE sound system on higher-grade models.
In The Car
Behind the Wheel
There is plenty of seat and steering wheel adjustment available in the new Astra so getting comfy takes a matter of seconds. The pedals and steering wheel line up nicely, the controls are all easily accessible and the all-round visibility is adequate although not brilliant. This is due to quite thick pillars that hinder the over-the-shoulder view and a narrow rear window. Front and rear parking sensors, costing £480 extra, help solve this issue.
Our car featured sports seats which were a little firm, but still comfortable enough on a long run while other models have more traditional seating.
The interior of the Astra is modern and well designed with plenty of on-board techno treats to explore. Our model boasted the likes of a seven-inch colour touchscreen, DAB digital radio, Bluetooth audio streaming, Apple CarPlay and Android Auto smartphone integration, a six-speaker sound system, air conditioning, navigation with European mapping and plenty more besides.
If you step up to the higher trim levels then you will see the introduction of a top-notch Multimedia Nav Pro system with eight-inch colour touchscreen (as seen in the Insignia flagship model). This sat nav set-up can also be controlled by voice command and adds connected navigation services with real-time traffic updates and online mapping.
On our car, all the systems proved easy to operate on the move and it's nice to see the climate control settings are accessed via traditional buttons and dials so you don't have to go fumbling around the touchscreen to alter the temperature.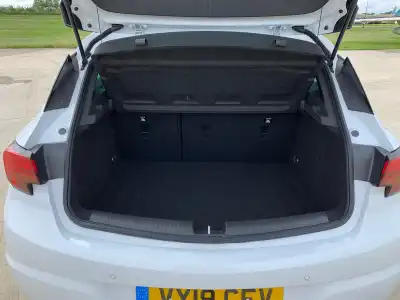 Space & Practicality
Whilst the likes of the Skoda Octavia will still offer more practicality than the Astra when it comes to interior space, there is enough room for four adults to travel in comfort or five at a squeeze. Rear legroom is fine so long as the front seats are not pushed too far back and the headroom is also perfectly acceptable.
The rear doors open nice and wide so offer easy access for anyone with mobility issues or for someone who regularly uses a child seat.
The boot capacity ranges from 370 litres to 1,210 litres with the 60:40 split-folding rear seats folded flat. There is quite a large lip which would make loading heavier items more challenging but the wide boot opening is a plus point.
Other storage options scattered throughout the car include a glovebox, front cup holders, door bins, a central cubby box, a tray in front of the gear stick, seatback pockets and boot hooks. Obviously the Sports Tourer model with its larger 1,630-litre boot capacity offers a sensible alternative for owners who demand more space.
Ownership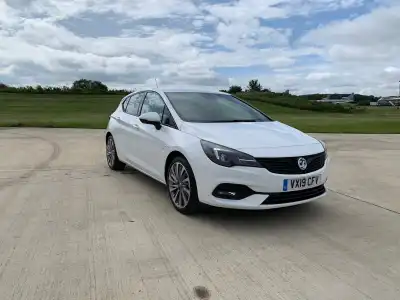 Running Costs
The extensive Vauxhall Astra hatchback range starts at £18,885 for the SE and rises to £29,310 for the Ultimate Nav model with the diesel engine and nine-speed gearbox. The Sports Tourer line-up costs from £20,355 to £26,920.
Our test car was priced at £24,195 although a number of optional extras saw the cost rise to £26,420. These included a steel emergency spare wheel, front and rear parking sensors, a climate pack, traffic sign recognition and pedestrian protection, plus Summit White paint.
According to official figures, under stricter WLTP testing, our car could deliver a combined fuel economy of 51.4-54.3mpg with carbon emissions of 99g/km. This would result in a first-year Vehicle Excise Duty charge of £130 increasing to £145 for each following year.
The most efficient diesel models have an official fuel economy rating of 58.9-62.8mpg with CO2 emissions of 95g/km which would work out more beneficial for high-mileage owners.
Insurance group ratings are yet to be announced.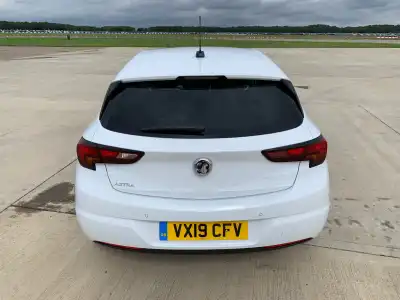 Quality & Reliability
The new Astra comes with a three-year, 60,000-mile warranty which is not a patch on the likes of Hyundai or Toyota's five-year deals and Kia's outstanding seven-year fully transferable warranty. Until 2015 Vauxhall offered a lifetime warranty scheme but that was ditched in favour of a more traditional plan.
The latest Astra feels well put together and offers a lot more refinement than earlier models. The infotainment system and switchgear look and feel like they will last the test of time as do the upholstered seats.
There is a degree of hard plastic on show that, despite being practical, could prove prone to scratching over time.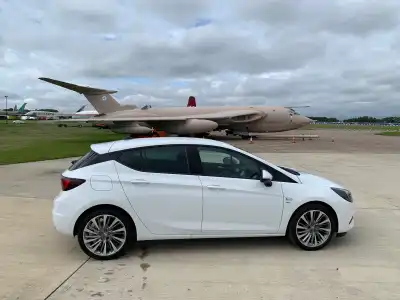 Safety & Security
Vauxhall has upgraded the safety features on the new Astra with the introduction of a newly improved digital front camera which is smaller and more powerful than before thanks to a faster processor. This system now recognises pedestrians as well as vehicles and it complements a comprehensive range of safety features that helped the car secure a maximum five stars when it was tested for its Euro NCAP safety rating.
It is shame though that the likes of traffic sign recognition and pedestrian protection are not offered as standard even on cars as highly specced as the SRi VX Line Nav model that we tested. You will have to find an extra £275 for those extras.
What you do get as standard on the test car is cruise control with speed limiter, anti-lock brakes, electronic stability programme, six airbags, hill-start assist, a tyre pressure monitoring system, Isofix child seat fixtures and lots more.
The range-topping Ultimate Nav car gains IntelliLux LED Matrix headlights which deliver outstanding illumination. There are 16 LED segments (eight each side of the car) and the matrix system automatically adapts the length and distribution of the light beam according to the traffic situation. It works in conjunction with a front camera that detects other vehicles and then switches off the individual LED segments so as to avoid dazzling oncoming drivers while still providing the maximum lighting.
And although Vauxhall's OnCall system which could link a driver with their very own personal assistant in Luton for advice on navigation, filling stations and restaurant recommendations have been phased out, there is an optional E-Call emergency call button. By pressing the red button, help is just seconds away and if the seatbelt tensioners or airbags are deployed, the system automatically alerts the emergency services.

See the latest used Vauxhall Astra offers.
Buy and save on quality approved and used cars