From £16,315 (Corsa range starts from £11,250)
Pros:
Vast choice of engines

Packed with equipment

Easy to drive (that's why so many driving instructors use them)
Cons:
Looking a little dated despite major face-lift

More exciting rival models
Buy and save on quality approved and used cars
Introduction
This year marks the 25th anniversary of the Vauxhall Corsa in the UK. Of course, it's not a completely true statement to say the car is 25-years-old and it was previously sold as the Vauxhall Nova and the Corsa name was used in Europe long before it reached the UK shores in 1993.
But it's still quite a landmark year for the car that regularly features in the top five UK car sales list. In terms of value, ease of driving, engine and transmission variants and body styles, few cars can match the Corsa for choice and that's why it's loved by drivers young and old. It's also the choice of many driving instructors because it does the basic things very well.
And with a line-up that starts from just £11,250 and rises to just above £20k there is a Corsa model to suit all requirements and budgets.
On The Road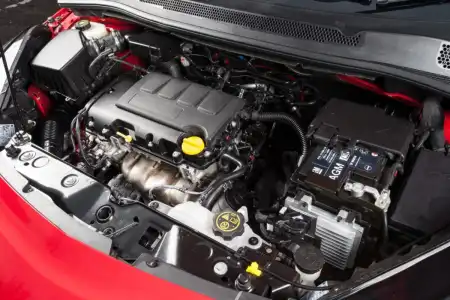 Performance
We tested the Corsa Sri Nav powered by a 1.4-litre Turbo petrol engine delivering 100PS and 200Nm of torque. The car was in three-door hatchback guise and could sprint to 62mph from a standing start in a creditable 11.0 seconds and onto a top speed of 115mph. If blistering pace is top of the wish-list then the 1.6 VXR Turbo model delivering 205PS could be the answer with its 0-62mph sprint time of just 6.8 seconds and top speed of 143mph. As I said there is a Corsa for everyone!
Although the test car wasn't as dynamic as the VXR model, it was certainly no slouch and the was plenty of power from the punchy engine as it whizzed through the six-speed manual gearbox.
The three-door hatchback looks more dynamic than its five-door stablemate and it also feels more responsive and dynamic to drive. Out on the country lanes the road-holding was ultra-grippy and there is next-to-no body sway no matter how hard you push on into long sweeping bends.
I also liked the fact that there were six speeds to play with. Many smaller hatchbacks only have five.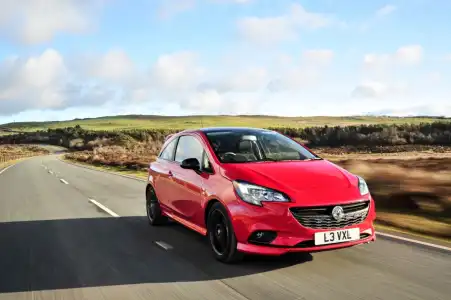 Ride Handling
Although bigger wheels often look the business there is a price to pay for that vanity – mainly the ride, handling and economy. But the Corsa is fitted with 16-inch alloys which is perfect for its size. It feels nicely cushioned without any wallowy-effect through the country lanes and the efficient suspension set-up irons out a few of the bumps and dips along the way. Hit an unexpected pothole though and you will wish you had your chiropractor on speed dial. Of course, driving the VXR model with its sporty suspension is quite a bone-rattling experience.
An area where the front-wheel-drive Corsa does fall a little short compared to the likes of the Ford Fiesta is steering feedback. It is rather light and vague at times which means you do have to drive with a degree of caution if faced with a road full of twists and turns.
But for the majority of buyers, the all-round performance of the Corsa is perfectly adequate. It will only be the driving purists and speed freaks who will walk away a little disappointed.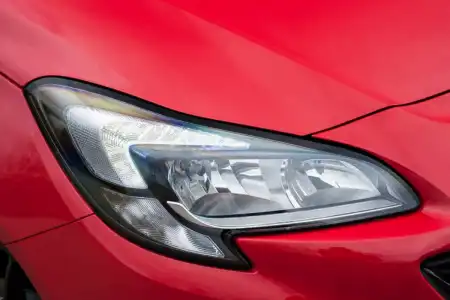 Styling
There are literally dozens of Corsa models to choose from and a raft of diesel or petrol-driven versions with all sorts of power outputs. Our test car featured a nippy 1.4-litre turbo engine and even when being pushed quite hard, it remained nicely quiet within the cabin. You will hear some road surface noise at higher speeds, but it's not too bad at all.
The six-speed manual gearbox is smooth and slick. It's also very easy to switch up and down through the gears and that's another reason why driving instructors favour the Corsa for their learners.
The cabin interior is simple in its layout but there is plenty of on-board technology as standard, which is another plus point for buyers who do not want to see an ever-increasing bill as extra features are added.
There are a few hard plastic surfaces which, despite being practical, rather lower the tone inside the car, but that aside, it looks quite modern in its design and layout.
In The Car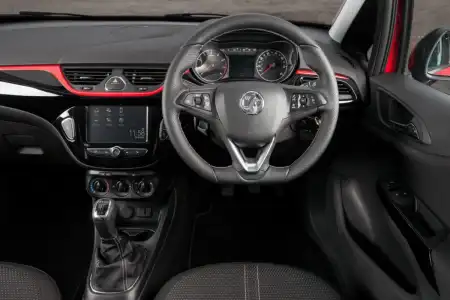 Behind the Wheel
The Vauxhall Corsa is a car that is very easy to live with. There is ample seat and steering wheel adjustment to get a comfortable driving position and all the instrumentation is sensibly positioned for driver usability.
There are numerous features as standard on the test model, including air conditioning, a six-speaker sound system, leather-covered steering wheel, sports style front seats, and an IntelliLink audio system. This was upgraded to a Navi 4.0 IntelliLink system costing £650 extra which acts as an extension of your smartphone via Apple CarPlay or Android Auto. It also offers an integrated sat nav system.
The car also featured a few other notable optional extras, including electronic climate control (£415), a rearview camera (£250), front and rear parking sensors (£465) and the company's excellent OnStar service which connects the driver to a centre in Luton where a person can offer all sorts of advice such as the nearest filling station, take-away, supermarket and hotels. The directions are then downloaded straight to the car's sat nav system in a matter of seconds.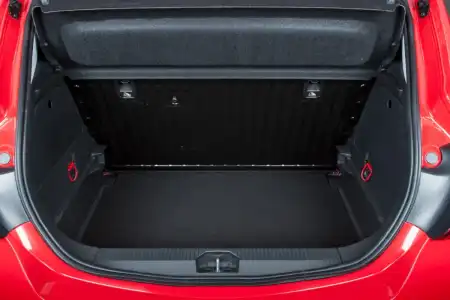 Space & Practicality
In fairness, not many three-door hatchbacks are that practical if the car is being used as a small family runaround. Gaining access to the rear seats is okay if a teenager wants to scramble in there but young mums will soon get fed up with trying to gain access to the child seat. This is where the vast choice of Corsa models comes into play. In fact, the exact same model that we tested is available in five-door guise priced from £16,915.
Up front there's bundles of room and it's worth noting that it boasts more headroom than its biggest rival, the Ford Fiesta. In the back, there is room for a couple of adults to travel in relative comfort, but add a third and it all becomes a bit too cosy.
The boot is certainly large enough to accommodate the weekly shopping or store a student's belongings as they move from home to digs. It has a capacity of 280-litres which can be increased to 1,090 litres with the 60:40 split-folding rear seats folded flat. The boot does have quite a high lip, which would make loading heavy or awkwardly-shaped items quite difficult.
Ownership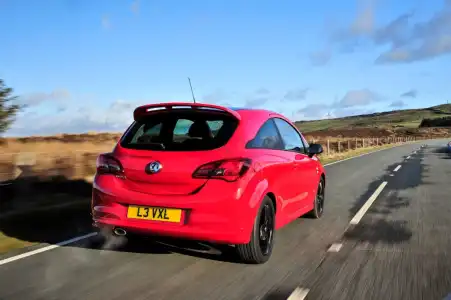 Running Costs
The test car was priced at £16,315 on the road, but the range of options pushed the price up to £19,160. But as I mentioned, the Vauxhall Corsa range starts at just £11,250. It's also worth looking around for some special anniversary year deals as Vauxhall is offering some excellent PCP schemes at the moment.
The SRi Nav 1.4T 100PS S/S model tested could deliver combined fuel economy of 55.4mpg with carbon emissions of 119g/km. This would result in a first year Vehicle Excise Duty payment of £160, reduced to £140 for each following year. If you are looking for better fuel economy then models powered by the 1.3-litre 95PS diesel engine boast combined fuel efficiency of 88.3mpg. And a plug-in model is expected to arrive in 2019.
The insurance group rating for the test car is 10.
Quality & Reliability
The interior of the Vauxhall Corsa feels sturdy enough with plenty of practical wipe-clean surfaces. It's easy to knock a car for the amount of hard plastic because it looks quite cheap in places, but it does cope well with spills and leaks.
The cloth upholstery in the test car looked like it would survive the test of time and all the switchgear felt sturdy too.
The Corsa comes with a three-year, 60,000-mile warranty which is okay, but not as appealing as the five or seven-year plans offered by Toyota, Hyundai and Kia.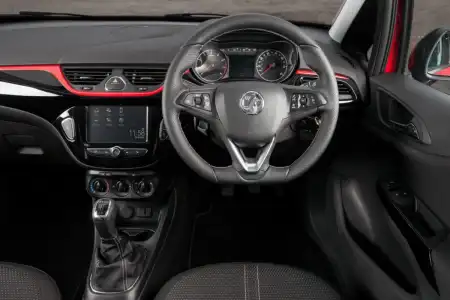 Safety & Security
The Vauxhall Corsa secured a four-star rating when it was tested for its Euro NCAP safety score. Whilst a number of features are fitted as standard including hill start assist, six airbags, anti-locking brakes, electronic stability control, tyre pressure monitoring and ISOFIX child restraints, you do have to pay for parking sensors which is a shame.
Another add-on expense is the excellent OnStar set-up that costs £415. This links the driver to a real-life person in Luton rather than an automated machine on rival models. That person can offer all sorts of assistance ranging from details of the nearest hotels and supermarkets with the directions downloaded directly to the vehicle's sat nav system. More importantly, they are there to offer help if the car is stolen, breaks down or is involved in an accident whereby they will contact the emergency services and your GPS position will be given.
Buy and save on quality approved and used cars