From £17,110
Pros:
Spacious and practical compact SUV

Generous levels of kit as standard

Choice of punchy engines
Cons:
Not particularly dynamic to drive

Steering is a little light

Hard plastics within the cabin
More On This Car
Take one for a spin or order a brochure
Request a Vauxhall Crossland X brochure
Request a Vauxhall Crossland X test drive
Introduction
The Crossland X is the smallest of Vauxhall's SUV family behind the Mokka and Grandland X. It has been designed and engineered with practicality in mind, and families with young children or older couples who are downsizing are the prime targets for sales.
Vauxhall believes that 65 per cent of customers will be private buyers and they have a generous range of trim levels to choose from called SE, Elite, SE Nav, Elite Nav and Tech Line Nav. There is also a choice of petrol and diesel engines.
The Crossland X is a good looking five-door model with eye-catching design cues such as sporty, muscular lines, LED signature lights, a floating roof-effect and high-mounted split rear lights with a distinctive double wing graphic.
On The Road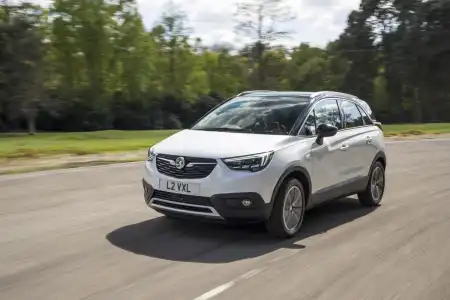 Performance
The front-wheel drive Crossland X is powered by either a 1.2-litre petrol engine with outputs of 80, 108 or 128bhp, or a 1.5-litre diesel engine with 98 or 118bhp and buyers can choose from manual or automatic gearboxes.
We tested the Crossland X driven by the mid-range 1.2-litre 108bhp ecoTEC petrol engine mated to a five-speed manual transmission in SE trim priced at £18,575 (£21,455 with options). The car could sprint from 0-62mph in 10.6 seconds, maxed out at 117mph and, according to official figures, could deliver combined fuel economy of 57.6mpg with carbon emissions of 111g/km.
While it's not the most dynamic vehicle to drive and the acceleration is not exactly blisteringly quick, the Crossland X is a capable all-rounder. The car is a collaboration with the PSA Group so shares many of its design architecture with Citroen and Peugeot models, including the engines – and that's not a bad thing.
Our test car was certainly full of zip and accelerated smoothly through the gears with plenty of fizz and enthusiasm. There was ample power on tap to overtake slower-moving vehicles and it easily kept pace on fast moving motorways. In busy town centres the light steering is a bonus, but out on the twisting country lanes, it's not such a confidence-builder and sharp bends need to be approached with a degree of caution.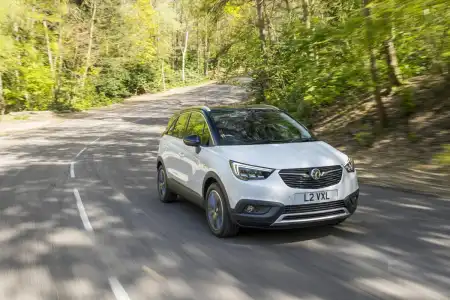 Ride Handling
If driven with respect, the Crossland X is a very capable and comfortable car to drive or travel in. On the other hand, if pushed a little harder, it all seems to unravel a bit. Whereas the ride and comfort levels seemed okay at gentler speeds, it becomes more unsettled as you crank up the revs. There is a fair amount of body lean into bends which is a tad unnerving at times and the light steering does little to increase confidence.
In addition, the ride is a little lumpy with uneven road surfaces or potholes causing judders to travel through the car. It's not a vehicle that I would attempt to drink a hot coffee in!
But it's not all doom and gloom. In the city centres, the Crossland X really comes into its own. It's great for weaving through the busy traffic with excellent all-round visibility. It's nippy so can quickly switch lanes and it's also agile and easy to manoeuvre so parking is a complete doddle.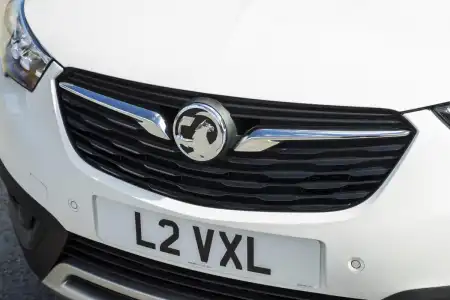 Styling
Once again, the level of refinement within the car very much depends on the way the Crossland X is driven. It's fairly clear why Vauxhall is targeting young families or older drivers as the car is not exactly designed for thrill-seekers. If, however, the Crossland X is driven in a 'responsible' manner, it can be comfortable enough and a very decent compact SUV.
While wind, road surface and engine noise are all kept to a minimum at lower speeds, they do become a lot more noticeable and irritating at higher speeds. Our car was riding on 16-inch alloy wheels which were ideal. We did test out a model with 17-inch alloys and this resulted in elevated noise intrusion and the whole experience becomes a little nervy and unsteady. So, our advice would be stick to the smaller wheels.
In The Car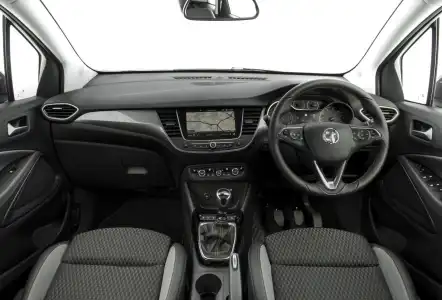 Behind the Wheel
Vauxhall has made a sound job of equipping its Crossland X model range with even the entry-level versions boasting lots of quality kit as standard. Depending on trim level, expect to see either a seven or eight-inch touchscreen, full smartphone connectivity via Apple CarPlay or Android Auto, a head-up display, a six-speaker sound system, advanced park assist, air conditioning, a heated steering wheel and a panoramic rearview camera.
In addition, every Crossland X is equipped with Vauxhall's OnStar which connects up to a 'real' person in Luton and they can offer all manner of assistance such as the location of the nearest petrol stations, parking spaces, cafes or supermarkets with the directions downloaded directly to the car's navigation system.
The dashboard is neatly designed with functions spread over three levels and although there is a lot of hard plastic on show, the interior quality is still pretty high.
Getting comfy is a quick and simple process with ample seat and steering wheel adjustment available – the pedals also line up well. With the slightly elevated seating position, the driver benefits from good all-round visibility which is a 'must' on any family car. In addition, all dials, controls, switches and read-outs are ideally positioned for driver usability.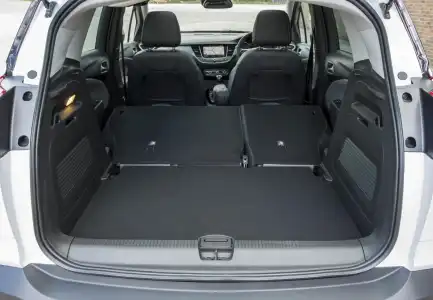 Space & Practicality
The Crossland X is a practical compact crossover that is deceptively spacious inside. Although the car only measures 4.2 metres in length and almost two metres wide, Vauxhall has made clever use of the space available. The result is a car that can easily accommodate a couple of adults in the back - the high roofline and large windows mean it's not at all claustrophobic either.
The slightly elevated seats and wide opening doors make the car ideal for anyone with mobility issues, and gaining access to fit a child seat would be a simple process. The rear seats have a 60:40 split which allows the boot capacity to increase from 410 litres to a very reasonable 1,255 litres. The addition of a Versatility Pack costing £300 introduces 40:20:40 split folding seats that are on runners and this combination sees the standard boot capacity increase to 520 litres with the seats pushed forward. It also includes a ski hatch and a split-level boot floor.
There's plenty of smaller storage compartments scattered throughout the car, including a compact glovebox, cup holders, narrow door pockets and a central cubby box.
Ownership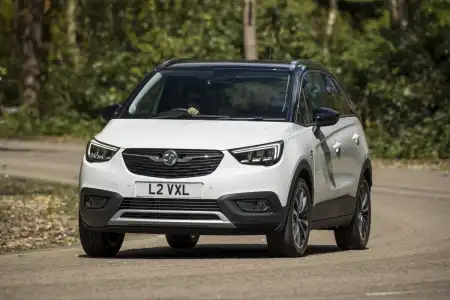 Running Costs
Our test car in entry level SE trim was priced at £18,575, although the addition of a few options bumped the final cost up to £21,455. There are cheaper models in the Crossland X range with prices starting from £17,110 and rising to £22,800.
The fuel economy on our test car was good with a combined 57.6mpg and carbon emissions of 111g/km. This would result in a first year Vehicle Excise Duty charge of £160 which would reduce to the more standard £140 the following year. If you are looking for more frugal running costs then the diesel-powered Crossland X might be the answer. The 1.5-litre unit can deliver combined fuel efficiency of 70.6mpg with emissions of 105g/km. This would see the first year VED payment cut to £140.
The insurance group rating for our Crossland X SE model is 13.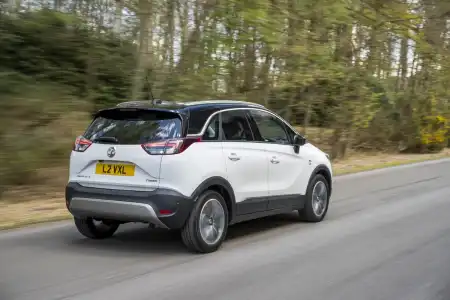 Quality & Reliability
Vauxhall is enjoying a fairly good reputation for reliability at the moment and the Crossland X comes with a three-year, 60,000-mile warranty plus a year of roadside assistance included. The heady days of Vauxhall's lifetime warranty are long gone with the scheme being dropped in 2015 in favour of a more traditional warranty plan. You will have to look to Hyundai, Toyota or Kia for the longer five or seven-year warranties these days.
All the switchgear and controls within the Crossland X feel sturdy enough and the seats seemed like they would survive the test of time. The car does have quite a lot of hard plastic surfaces which, despite being easy to wipe clean, may be prone to some scratching.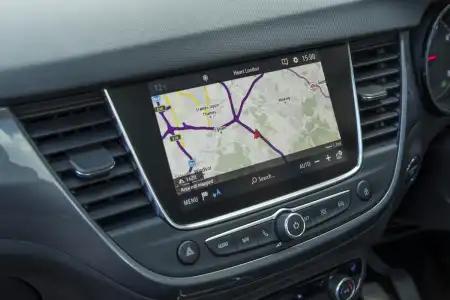 Safety & Security
The Crossland X shares many of its features with the Peugeot 2008 so it's little surprise that it achieved the maximum five stars when it was tested for its Euro NCAP safety rating.
All models boast safety kit such as anti-lock brakes, electronic stability control, automatic lights and wipers and a front camera system with traffic sign recognition. There is lane departure warning, traction control, hill-start assist, cruise control, six airbags and Isofix child seat anchor points.
There are a number of options available, including superior LED headlights and autonomous emergency braking along with a driver fatigue alert system.
And it's worth mentioning the OnStar system once again as it's not just a concierge system that offers top tips on the area. It also plays a vital safety role if the car is involved in an accident that results in the airbags being deployed. The OnStar representative will attempt to contact you and if they fail to get a response, then the emergency services are alerted and your GPS position is given. OnStar can also help track the car if it is stolen. But, unfortunately, the OnStar facility will be dropped at the end of 2020.
More On This Car
Take one for a spin or order a brochure
Request a Vauxhall Crossland X brochure
Request a Vauxhall Crossland X test drive