Pros:
Exceptionally practical

Choice of engine outputs and trim levels

Blends pick-up ruggedness with SUV comfort
Cons:
Quite expensive at the top end of the range

Hard plastic inside the cabin which is practical, but cheapens the look

Two pointless rear cup holders that are too shallow and positioned on the floor
Buy and save on quality approved and used cars
Introduction
The pick-up arena is a fiercely competitive place to vie for sales these days with excellent models from the likes of Nissan, Mitsubishi, Toyota, SsangYong and even Mercedes-Benz. But the VW Amarok is another very worthy contender and the latest 2019 model has been given a power boost.
The double-cab Amarok is available in three well-equipped trim levels called Trendline, Highline and Aventura. Power comes in the form of a 3.0-litre V6 TDI diesel engine with three outputs – 163PS, 204PS and 258PS – that latter figure has increased from 224PS.
With its 4MOTION four-wheel drive system, along with excellent towing and payload carrying ability, the Amarok is a go-anywhere pick-up that delivers on all counts when put to the test.
On The Road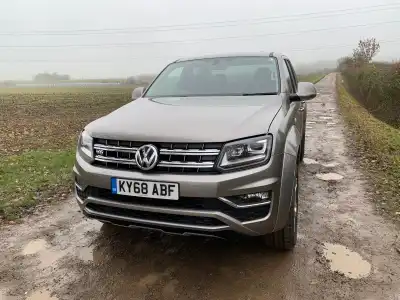 Performance
We tested the mid-range Highline Amarok powered by the latest V6 258PS diesel engine mated to a slick eight-speed automatic gearbox. When you consider the dimensions of the Amarok – 5.3 metres long and 2.2 metres wide - the 0-62mph sprint time becomes all the more impressive. It can complete the dash in just 7.4 seconds and maxes out at 127mph.
The Amarok is designed to work hard and we were able to take the vehicle off road where it showcased its strengths as it climbed muddy banks, clambered across rocks and crawled down challenging gradients with the hill descent system controlling the drop perfectly – and all this in torrential rain which made the course really slippery.
So, it proved its metal off road, but what about its handling on the smoother Tarmac? Once again, the Amarok was a very capable performer and at times, it was easy to forget I was behind the wheel of a pick-up which is testament to its comfort levels and all-round ease of driving.
The acceleration is smooth and swift through the automatic gearbox, and that extra power is noticeable when short bursts of speed are required to overtake slower moving farm traffic.
You will notice some body lean if corners are attacked a little eagerly but generally the road holding is excellent. The steering offers ample driver feedback and, with the aid of the reversing camera and large mirrors, the Amarok is easy to manoeuvre with confidence in tight areas.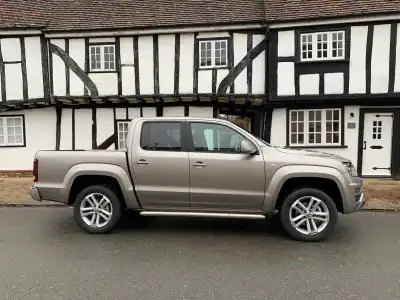 Ride Handling
If you are expecting the comfort levels of an SUV you will be disappointed. If however, you have moved from a van to the pick-up scene you will be very impressed. That's because the Amarok is well-balanced on the road and the excellent suspension system makes light work of softening the uneven road surfaces.
I should point out that our test model was laden down with a pallet of sand weighing 550kgs which would improve the car's refinement considerably. But even when carrying more than half a tonne of goods, the Amarok delivered on the performance front. It pulled comfortably at motorway speeds and there was always a constant supply of power on tap.
Out on the faster country lanes, the Amarok offered instant acceleration and the high-seated driving position means you have a good view above the hedgerows. But you do need to give tight corners a little respect or expect quite a degree of body sway which can be a tad unnerving.
Our car was riding high on 19-inch wheels which suited the vehicle and there was minimal bounce along bumpy roads. Once again though, it's worth remembering the heavy payload it was carrying.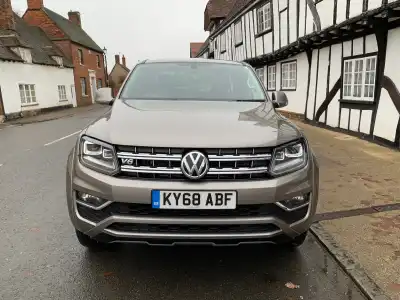 Styling
If a vehicle is going to spend most of its lifetime on a building site or farmyard then refinement doesn't really factor too highly. But these days, pick-ups have become popular with people who need lots of practicality but have been put off by the swarm of SUVs out there.
With that in mind, the Amarok is designed to be a working vehicle with a softer side to its character. For example, the seats can be heated and feature Vienna leather upholstery. There is an impressive navigation system, a six-speaker audio set-up, full smartphone connectivity, along with DAB radio, privacy glass, a touchscreen and cruise control. Yes, there are lots of hard plastic surfaces which would easily wipe clean, but the armrests are nicely padded for comfort.
Due to its upright design, you will experience some road surface, wind and engine noise at higher speeds, but it's not as bad as some larger SUVs. When laden, the Amarok deals well with bumpy roads, but expect more bounce when free from extra cargo weight.
Admittedly, with its size and close-to 13-metre turning circle, it feels slightly more cumbersome than an upmarket SUV, but stick a one-tonne payload in the back of one of those and see how well they drive!
In The Car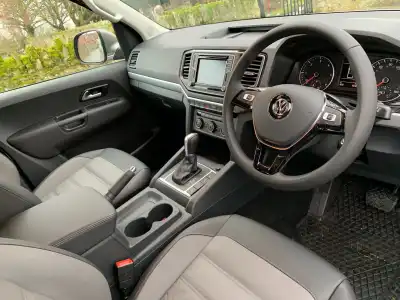 Behind the Wheel
With ample manual seat and steering wheel adjustment available, getting a comfortable driving position is a simple process. And with the elevated seats, the driver benefits from a clear view of the road ahead. The front and rear parking sensors, along with the rear-view camera, are much appreciated when manoeuvring into tight parking bays.
All the dials, controls and instrumentation are ideally positioned for driver usability and switching to off-road ability is simply achieved by pressing an 'off-road' button.
The touchscreen is quite small measuring just 6.33-inches, but it does the trick and all the other mod cons, such as navigation, App-Connect which supports Mirror Link, Apple CarPlay and Android Auto are simple to operate.
The six 20-watt loudspeakers are easily capable of drowning out any outside noises. Our test car had the optional Discover Media navigation system fitted which cost an extra £684. This system features a digital voice enhancement function which make communicating easier during the journey. The hands-free microphone amplifies the voice signals so that the driver doesn't need to turn around to speak to back seat passengers. They hear the driver through the rear speakers. This function can be deactivated when not required.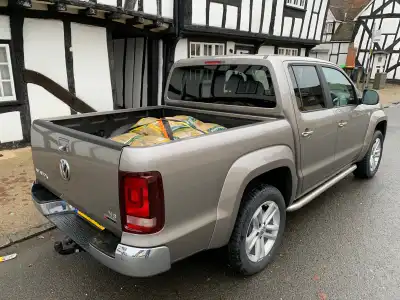 Space & Practicality
Any pick-up needs to be practical and the double-cab Amarok has all bases covered. There is room inside the vehicle for five people to sit comfortably with ample leg and head space in the back. With no traditional boot of sorts, there's a number of storage compartments scattered throughout the car, including a large covered tray on top of the dashboard, deep door bins, front cup holders, a central bin, sunglasses holder, pockets in the backs of the front seats and a lockable glovebox. There are two additional cup holders on the floor in the back of the car which are quite shallow and seem pretty pointless.
There are lots of grab handles to help occupants climb into the cabin and there's a vast amount of hard plastic on show. This might be viewed negatively in some models, but the Amarok is primarily a working vehicle and needs plenty of hard-wearing, wipe-clean surfaces.
With its 4MOTION off-road capabilities, the Amarok can scale slopes of 45 degrees (with a full load); it has slope clearance angles of 29 degrees at the front and 24 degrees at the rear; has a ground clearance angle of 23 degrees and a wading depth of half a metre. It can tow a trailer up to 3.1-tonnes in weight.
The cargo bed is 1.55 metres long and 1.62 metres wide meaning it can carry a Euro sized pallet. There are lashing rings to hold loads in place and a variety of cargo bay covers are available. A roll and lock cover costs £1,300, a soft tonneau cover with aluminium frame costs £329 and hard tops are priced from £1,591 - all these prices are exclusive of VAT.
Ownership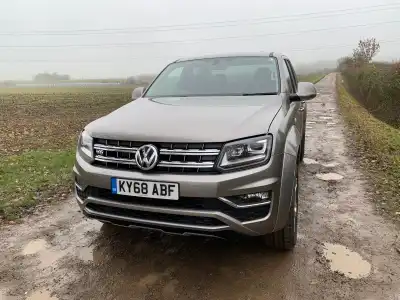 Running Costs
The Amarok will attract plenty of attention from business users especially farmers and those in the building industry. As it is listed as a commercial vehicle, prices are supplied with and without VAT. The Amarok range starts from £25,800 (exc. VAT) for the entry-level Trendline model powered by the 163PS engine with six-speed manual gearbox. The most expensive model is the Aventura grade driven by the 285PS engine with eight-speed automatic transmission. This costs £39,960 (exc. VAT).
Our test car, in mid-grade Highline trim, featured the most powerful 258PS engine mated to an eight-speed auto box. It cost £35,765 (exc. VAT) or £46,199 with VAT included. A number of optional extras such as a tow bar (£366), Differential lock (£306), a lights and vision pack (£222) and the Discover Media navigation system (£684) meant the total cost rose to £42,857 (inc. VAT).
Our model could deliver 33.6mpg with carbon emissions of 220g/km.
Being classed as a light goods vehicle also brings financial benefits to business buyers. Whereas a car costing more than £40k is penalised through the road tax, the Amarok has a flat rate fee of £250. This is regardless of the price or CO2 emissions.
The insurance group rating for the Amarok is 43.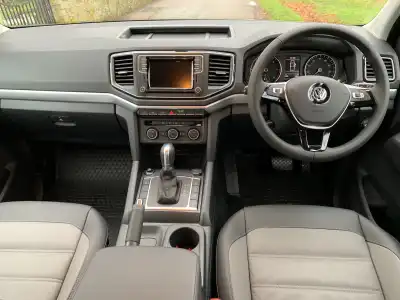 Quality & Reliability
The build quality of the Amarok is very tough and durable. Whilst there are plenty of creature comforts throughout the cabin and it has all the connectivity systems we demand these days, it also boasts a robust interior that will not be fazed by muddy boosts or day-to-day spillages. There are wipe-clean, hard-wearing plastic surfaces at every turn, but you still get the benefit of heated leather seats for the ultimate in comfort.
The first Amarok was launched back in 2010 and the latest 2019 model is better than ever with the increased power output. Over the years, there have been no issues with reliability and the VW name is held in high esteem for developing vehicles that survive the test of time.
The Amarok comes with a three-year, 100,000-mile warranty and that also includes three years' Volkswagen Assistance for any breakdowns in the UK and Europe.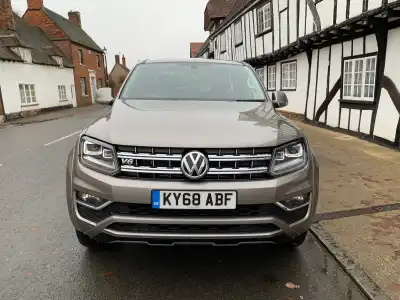 Safety & Security
The VW Amarok received a four-star rating when it was tested for its Euro NCAP grade in 2010, which is actually pretty good for a commercial vehicle.
Since then, additional safety equipment has been added to the mix and these days all versions get electronic stability programme, electronic trailer stabilisation, hill descent assist, off-road ABS with hill-hold assist, load safety, numerous airbags and VW's award-winning automatic post-collision braking system which can reduce the chance of a secondary accident in the event of a collision. The brakes are automatically applied before the driver could react reducing the chance of further damage – the driver can regain control at any time.
Buy and save on quality approved and used cars