Pros:
Decent interior

Insanely practical

Comfortable and relaxing to drive
Cons:
Likely to be very expensive

Frustrating infotainment system

Lack of physical buttons and dials
Introduction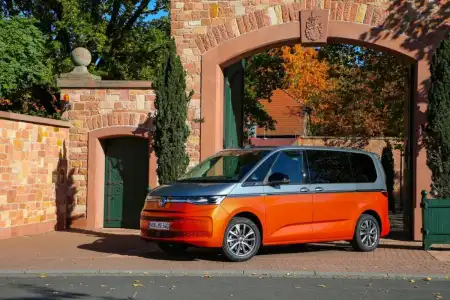 Several manufacturers, including Citroen, Renault and Mercedes-Benz, offer van-to-people-carrier conversions. The Mercedes V-Class is among the most well-known.
It's a good way for manufacturers to save money. Rip out the van interior, fit some seats, add some style, so it's less tradesman-like, and you have another 'car' in your range without the expense of designing it from scratch.
But now, VW has designed one from scratch. The new Multivan replaces the outgoing Caravelle in the UK, but, unlike its predecessor, the Multivan is purpose-built. There's no commercial van acting as its Genesis.
In fact, it's based on the same platform as the VW Golf and Tiguan.
Trim levels haven't been confirmed yet, but we know there'll be three of them: Standard, Life and Style. All will have a digital cockpit, LED headlights and taillights, plus several safety features, electric sliding doors and a powered tailgate.
VW has strengthened the vehicle while also saving weight, especially in the suspension, as well as making it as aerodynamic as possible to optimise fuel efficiency.
There are three powertrains to choose from for now. The two petrols are a 1.5-litre, producing 136PS and a 2.0-litre, producing 207PS.
The other is the eHybrid, combining a 1.4-litre petrol with an electric motor, resulting in 31-miles of all-electric range, producing a total of 218PS.
All have automatic dual-clutch gearboxes – seven-speed in the two petrols and six in the hybrid. And because there's no manual, there's just a switch mounted on the dashboard, with no gear lever.
A fourth option, expected to be a 2.0-litre 150PS turbodiesel, is coming soon.
On The Road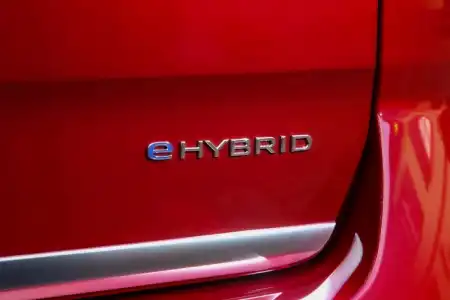 Performance
We've tested the eHybrid, although we're told the 2.0-litre petrol is smooth and surprisingly punchy too. Mind you, if its performance is anything to go by, the lower-powered one is best avoided if you're going to be hauling half-a-dozen people and their luggage around.
The hybrid's transition from all-electric to engine is barely noticeable. But, while the initial acceleration is brisk and the all-electric mode is capable, the engine screams a bit when you put your size-nine down.
It starts up in all-electric mode, while the 'Hybrid' driving setting maximises efficiency automatically. But these settings are configurable.
Wind and road noise isn't bad. It increases a bit at higher speeds due to the vehicle's shape and size. But VW has worked on the aerodynamics to limit it as much as possible.
Bizarrely there's a paddle-shifter, as well as a 'Sport' mode. In truth, both are pointless. Glueing cotton wool to a cow doesn't make it a sheep. This VW isn't a sports car. At all. Indeed, zero to 62mph takes 11.6 seconds.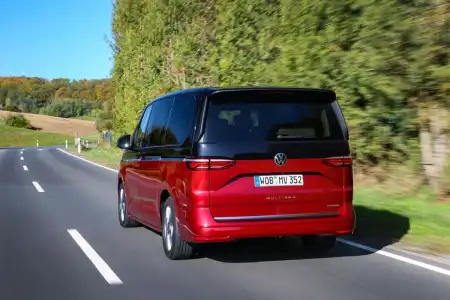 Ride Handling
The steering is light, which is a pleasant surprise given the Multivan's size.
It lacks feel and isn't especially engaging, but it's a vehicle designed for long-distance, so anything that stops you over-exerting yourself is positive. Plus, it makes town driving a doddle.
The wheel gets heavier at higher speeds to prevent it from being over-sensitive. But corners at higher rates are beyond its capabilities – there's a lot of body roll.
The Multivan can have up to 19-inch wheels. But it isn't built for performance, and your passengers (and their spines) will appreciate the smaller 16 or 17-inch wheels.
Ride comfort is good, while the suspension irons out lumps in the road well, though it's worth noting ours is fitted with optional adaptive suspension.
The problem with testing vehicles like this is there are only one or two people on board, whereas it's optimised for passengers and suitcases. As a result, it feels a bit skittish and bouncy. But this will be less of a problem when lots of extra weight is added.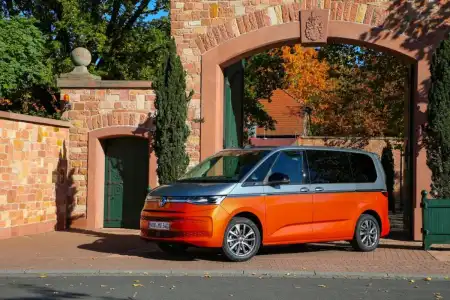 Styling
The Multivan looks like an ultra-modern take on a van. It's unmistakably van-shaped but far more attractive than a builder's runabout.
It is neatly divided into two segments. The top half is a different colour from the bottom half, which gives a stylish contrast and adds personality.
At the front, the headlights are pretty thin. And a clean design sees the main grille replaced with solid body panels on the hybrid, sitting above a lower cheese grater-style grille, divided by the number plate.
The side has a sizeable indentation in the lower part of the door, curving downwards towards the front.
The rear also looks attractive with an 'n'-shaped indentation above the number plate, a roof spoiler overhanging the back window, and a pronounced stick-out bumper. The taillights sweep around from the side, tapering in and pointing towards the VW badge in the middle.
The Multivan is slightly wider and lower than the Caravelle. Short and long versions are available (20cm difference between the two), though both have the same wheelbase.
In The Car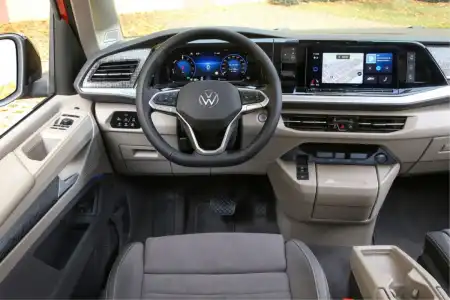 Behind the Wheel
One of the first thing's you notice about the interior is how un-van-like it is. Instead, the Multivan has a pleasant, premium feel, a nice leather steering wheel and a general brightness that's far away from the built-to-a-budget feel of a commercial vehicle.
The driver's seat is comfy and can be adjusted as much as you like to find an optimum driving position.
Forward visibility is good and, although you can see out of the back, reversing is tricky due to its size, but aided by a reversing camera and parking sensors.
All passengers get USB-C charging ports. A panoramic sunroof brightens things up, too - but it's an optional extra.
The infotainment system is a 10-inch touchscreen that will be familiar to VW owners, but it's not the best. It's laggy, the menus are unintuitive, plus it replaces most buttons and dials. It's not the worst we've used, but many long-standing frustrations remain unresolved, including the volume control, which can't be seen in the dark. On the plus side, the 10.25-inch digital display compliments it well because it's clear and informative.
There's a wireless phone charger, as well.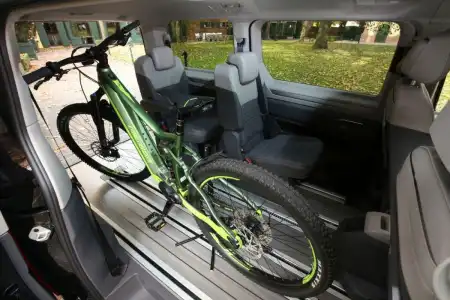 Space & Practicality
Practicality is, of course, the big selling point.
There's lots of space, so nobody will feel hemmed in on long journeys, with head and legroom both plentiful.
There are drawers beneath the seats, pop-out cupholders and two storage pockets in each of the doors. There are a couple of gloveboxes and pull-out tray tablets for passengers, too.
The seats (you can choose from six or seven) can be moved in any direction, turned 180-degrees to face each other, or removed, thanks to electronic runners on the floor. The centre console is also slidable.
Boot space is 469-litres in the shorter version, growing to 763-litres in the more extended version, but that's with three rows of seats. Remove one or more, and the available space grows exponentially to 4,000 litres with all seats taken out (3,672 in the shorter version).
Ownership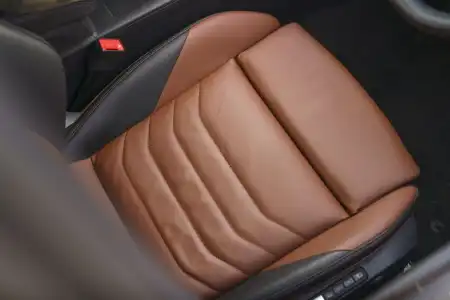 Running Costs
In the 2.0-litre petrol, others have reported getting around 35mpg with an unloaded vehicle, so expect high 20s or low 30s with a full load.
The hybrid version claims a 31-mile range on all-electric power (we managed 25 without being careful) and can get up to motorway speed without the engine being required. This will save money, and you'll get around 40mpg after that. However, VW says it'll do 156.9mpg in hybrid mode, so it is essential to keep the battery topped up.
A 3.7kW wall box will take around three-and-a-half hours to charge from empty to full.
We don't know the CO2 figures yet.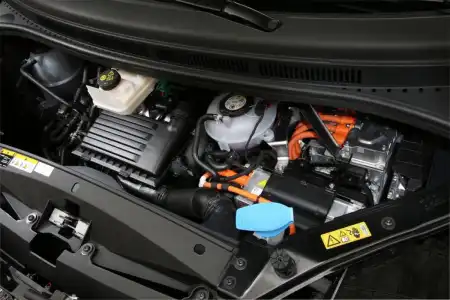 Quality & Reliability
VW has a reputation for quality and reliability, but that's mainly historical and because it's German. Unfortunately, this isn't exactly true anymore. VW hasn't performed exceptionally well in recent reliability or customer satisfaction surveys, though it rarely does badly.
The Multivan is brand new, so only time will tell how dependable it is. But as it's based on pre-existing underpinnings from other VWs, it should mean there's been time to iron out any issues.
A lot of thought and attention to detail has gone into the interior, and it feels well-built, so hopefully, this is a good omen for the mechanical side, too.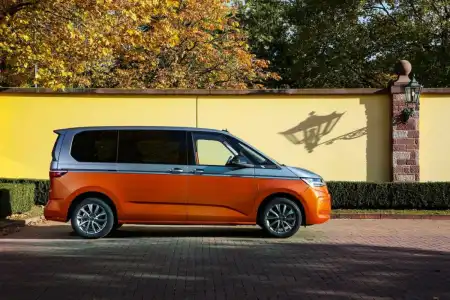 Safety & Security
Euro NCAP hasn't crash-tested a Multivan yet.
The VW Transporter van was re-badged by several manufacturers, including Citroen, whose equivalent people-carrier version, the SpaceTourer, earned a five-star rating in 2015. It scored 87% for adult occupants, 91% for children and 78% for safety assists.
Seven of the last nine VW cars have also earned five-star ratings, including the Touran, VW's smaller people carrier, which should offer some peace of mind.
You'll get parking sensors, a reversing camera, blind-spot monitoring, forward brake assist, lane-keep assist, adaptive cruise control and a heads-up display.
Summary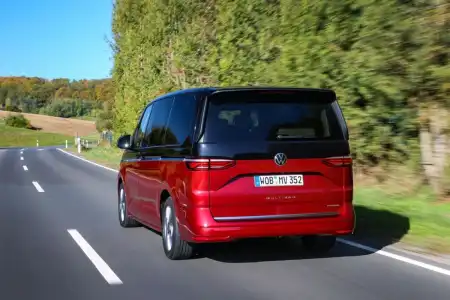 The Multivan is in a class of its own because nobody else has really made a van-like-people-carrier that wasn't originally a commercial van.
With prices likely to be up to £60,000, it's going to be expensive compared with most rivals, such as the Citroen SpaceTourer. The quality of the Multivan is undeniably a step up, though. Mercedes' EQV is worth looking at if you have money to burn.
We suspect it'll appeal more to commercial operators, like private hire firms. That said, the hybrid version can slash your fuel bills, which will suit large families who like to travel long distances regularly, too.