From £13,855
Pros:
Grown up car in a supermini package

Excellent comfort and refinement

Decent equipment levels on most models
Cons:
Expensive to buy outright

Promised economy on petrol engines is optimistic

VW reliability not as strong as their reputation suggests
More On This Car
Take one for a spin or order a brochure
Request a Volkswagen Polo brochure
Request a Volkswagen Polo test drive
Introduction
There's always been a sense that the Volkswagen Polo is rather more than just another supermini, and closer to a slightly shrunken Golf. The latest version of the Polo, the sixth since its introduction in 1975, has grown yet again and is now more than a foot longer than the original Golf.
There's no more visual excitement about the new one though. A body-coloured lip on the grille, some fancy headlights and a strong, sharp-edged contour line running down the side of the car is all that really separates this longer and wider model from what went before. That, and the dropping of the three-door model.
There's a timeless look to it though, that's been a trend over most of the Polo's lifespan thus far, leaving the thrills to those that want to follow fashion rather than offer something solid.
On The Road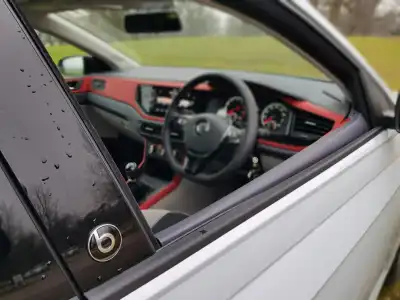 Performance
This 'beats' model is fitted with the tiny 1.0-litre, three-cylinder petrol engine, with a turbocharger, bolted on to provide 94bhp, and it's likely to be the most popular engine. There's a good reason for that, as it's got enough grunt to manage the city centre with some degree of verve, while also coping with higher speeds on the motorway.
In terms of raw numbers, 62mph can be reached from a standstill in 10.8 seconds, but the Polo feels nippier than that around town. For those needing more, Volkswagen offer the same engine tuned to 114bhp, while a 1.6-litre diesel provides more economical options.
Wait for the turbo to spool up and the Polo is a little cracker, even with just 94bhp, with a smooth five-speed manual gearbox allowing you to keep the engine spinning freely. However, while the more powerful engine with the optional seven-speed automatic gearbox adds significantly to the cost, there's a real pleasure in driving something so small that's so zesty.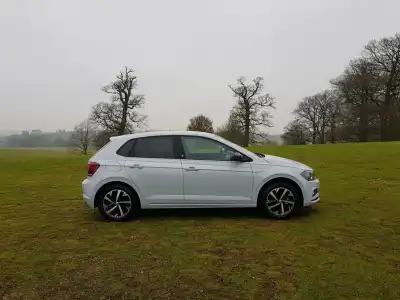 Ride Handling
Without resorting to the forthcoming GTI model, the Polo is not where you should look for an engaging, entertaining drive. The chassis is set up to be entirely neutral, doing its best to mask any communication with the road at all. It's intentional, and in no way, a bad thing, but not what those looking for smiles per gallon will be after.
That said, there is a huge amount of grip from those little wheels, and it's easy to hustle around thanks to light but accurate steering. And as hard as you might push it, it never loses its composure, remaining utterly unfazed by anything you throw at it.
Relax and it's smoother than butter, the suspension absorbing the worst of UK roads with aplomb.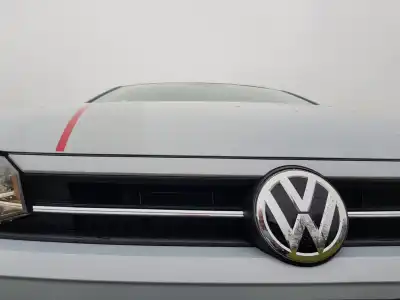 Styling
No supermini will ever match the refined nature of something larger, but the Polo gets as close as we've seen. There's something inherently solid about the car, enough to keep the distractions of the outside world well away from the cabin.
The interior ambience is exceptional, certainly for something this side of something executive, which helps create a refined atmosphere. Each of the buttons and switches feels machined especially to feel good, sliding or clicking into place with a real premium sensation.
The beats audio system fitted to this test model means there's a top-notch stereo system with a built in amp, subwoofer, and 300-watts of power across six speakers that provides a crisp, clear sound for anything from Blur to Bach. It's a bigger, wider sound than one would expect in such a small car, and it's definitely a case of sound quality over outright volume.
You don't need the stereo to drown out the general sounds of the Polo, as there's next to no wind noise and little in the way of engine noise. Tyre roar is carried through to the cabin, but it's not intrusive.
In The Car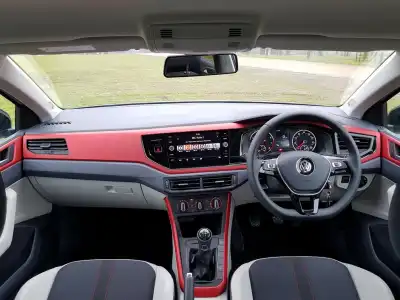 Behind the Wheel
It's unusual, but Volkswagen has actually introduced some colour to the Polo, a hitherto sombre and grey affair. On some models, including the beats spec, there's a dashboard panel that merges in with each door available in multiple colours. On this car it's red, and livens up the interior brilliantly, without overwhelming.
The gloss black 'blade' merges the touchscreen infotainment system with the instrument binnacle, creating a strong design that is both functional and attractive. Some of the options on the infotainment system are a tad hidden away in menu after menu, but it's generally easy to use, even when on the move.
Elsewhere there are traditional dials and buttons for the most frequently used functions. It's all finished impeccably, making it a really pleasing place to spend some time, and making virtually every other rival look a bit low rent.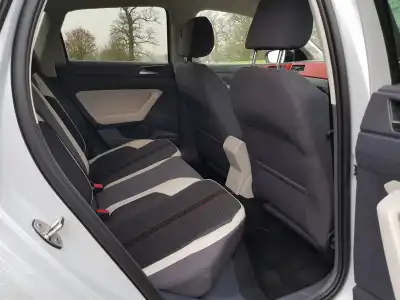 Space & Practicality
This model Polo is longer and wider than the outgoing car but is slightly lower. This has resulted in increased legroom for all passengers, and a slight improvement in shoulder room. Somehow Volkswagen has also improved headroom, despite the lower roof, which makes the Polo feel amongst the largest of cars in its class.
Volkswagen has also improved the boot space, with 351 litres of cargo holding room being the best in class, and even exceeding that found in cars a size bigger. An adjustable boot floor in all but beats spec cars allows you to have a flat floor with a little underfloor storage, or extend the boot further but leaving a lip to lift things over.
The three-door model has been dropped, which will upset a few people, but having five doors makes access to each seat easy and is becoming the norm in the market.
Ownership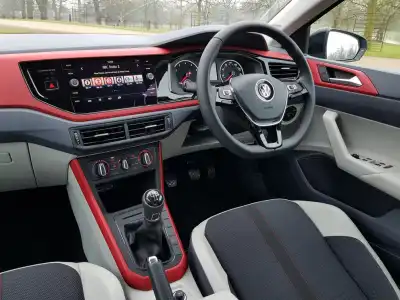 Running Costs
One thing counts against the Polo, and that's it's surprisingly high asking price. This test model is priced at £16,980, which is around £3,000 more than you would pay for a similarly equipped SEAT Ibiza - and that car shares the same basic platform. However, strong residual values mean that leasing and PCP costs are kept in check.
Low CO2 emissions of 103g/km means car tax is the standard £140 per year, while fuel economy promises to reach the heady heights of 62.8mpg - impressive for a petrol engine. However, experience with these downsized motors suggests it's tricky to get even close to those figures outside of a laboratory.
Maintenance costs should remain reasonably low, although Volkswagens aren't any more reliable than their rivals, but fixed service plans are available for fixed monthly fees, and these can even be extended to include tyres.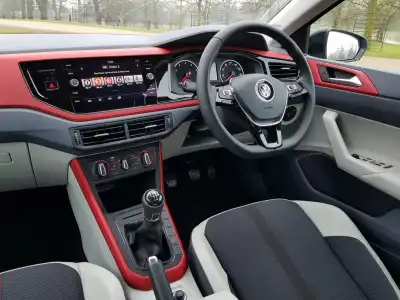 Quality & Reliability
Volkswagen's reputation for reliability is slightly misplaced, but they're no worse than any other of their rivals. The last generation Polo finished midfield in a Driver Power survey, with Volkswagen as a whole finishing 14th out of 27 manufacturers.
However, the cars feel rock solid, exuding quality fit and finish at every point. Even door pockets, an area where there's normally cheap ad rough plastics, are smoothed. It's an indicator to the attention to detail that has been placed on the Polo, with tangible steps to improve perceived quality taken in all the important areas.
A strong three-year warranty (with unlimited miles for two years) and the option of extending it further should add a degree of reassurance.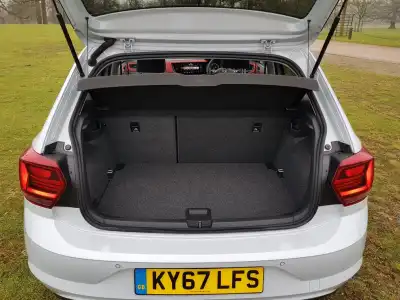 Safety & Security
For such a small car, safety has always played a large part in its makeup. That continues with this sixth generation model that has already been crash tested by EuroNCAP, scoring a full five-star rating.
Protection for all occupants was excellent, with pedestrian protection also being well above average, while airbags all round, including side curtain bags, provide added reassurance. There's plenty of equipment to avoid the accident in the first place, including automatic emergency braking that helps avoid, or at least mitigate, a collision.
That said, blind spot warning and adaptive cruise control are optional across the range, as is Volkswagen's impressive pre-collision system that, should the worst happen, prepares the car moments before impact to further protect its occupants.

See the latest used Volkswagen Polo offers.
More On This Car
Take one for a spin or order a brochure
Request a Volkswagen Polo brochure
Request a Volkswagen Polo test drive