From £48,995
Pros:
Muscular styling with plenty of room inside for five adults

Well equipped trim levels with all the latest techno treats including a superb infotainment set-up

Off-road capability when the weather takes a turn for the worse and can tow up to 3.5 tonnes
Cons:
Stiff opposition from the likes of Audi and Mercedes

No seven-seat option available

Some hard plastic surfaces lower the tone a little
More On This Car
Take one for a spin or order a brochure
Request a Volkswagen Touareg brochure
Request a Volkswagen Touareg test drive
Introduction
It would be easy to get a little complacent when a car has been around for 15 years and a new generation model was due for launch. But that's certainly not the case with the all-new Touareg, which is exactly that - all new.
It's bigger, wider and lower giving it a really dynamic appearance. But it's inside the cabin that the Touareg has really upped the ante with the arrival of VW's Innovision Cockpit which comprises a 12-inch instrument panel that flows effortlessly into a 15-inch touchscreen all neatly protected behind a glass casing. These beautifully designed screens mean a reduction in buttons and dials giving the Touareg a clean and modern appearance.
Customers can choose from three trim levels called SEL, R-Line and R-Line Tech with prices ranging from £48,995 to £55,595.
On The Road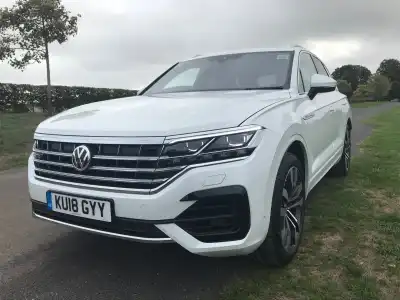 Performance
At launch the VW Touareg is available with just two diesel powertrains - 3.0-litre V6 units delivering either 231PS or 286PS. These engines are mated to an eight-speed automatic gearbox. There are plans to introduce a petrol version a little later on and a hybrid unit will be trailed in China.
We drove the 3.0-litre V6 TDI 286PS model in range-topping R-Line Tech trim. This car, with 600Nm of torque, could reach from 0-62mph in 6.2 seconds and maxed out at 146mph. According to official figures, it could deliver combined fuel economy of 42.8mpg with carbon emissions of 173g/km.
Our road route included some dual carriageways, busy town centres and sweeping country lanes so we were able to fully put the Touareg to the test. The acceleration through the eight-speed automatic Tiptronic gearbox is very responsive and there is ample power on tap from the punchy diesel engine with all the torque on hand for sharp bursts of pace.
The car features all-wheel steering and that helps make light work of manoeuvring through busy traffic and has also resulted in a reduction of the turning circle to just 11.9 metres (similar to that of the VW Golf) which is impressive for a car measuring more than 4.8 metres in length.
It also boasts an advanced suspension system (£2,370 option) that also includes a roll stabilisation set-up which keeps the vehicle well planted when cornering with barely any sign of body sway.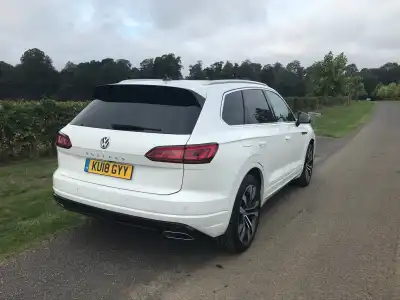 Ride Handling
Despite its bulky dimensions, the VW Touareg is deceptively agile and easy to drive. It's powerful without being over-aggressive, it's composed without being boring and it's confident without showing off.
It's a very simple car to feel at home with and the comfort levels within the all-new cabin are excellent. Admittedly, the Touareg does carry quite a hefty price-tag, but it does compete well against the premium marques from Audi, BMW and Mercedes.
Driving modes called Eco, Comfort, Normal, Sport, Individual, Off-Road and Snow alter the way the car handles and the steering wheel mounted paddles are there for when you fancy taking a little extra control.
The Touareg offers a beautifully balanced ride and is a car with many sides. It can be driven aggressively through Sport mode using the paddles for stretched out gear shifts or it can be far more composed and refined in Comfort mode. And as the Off-Road and Snow modes would suggest, it is very capable should Mother Nature have one of her dramatic mood swings.
There is a Park Assist feature to help manoeuvre the Touareg into parallel or bay spaces and the Trailer Assist makes light work of reversing a caravan. The towing capability is a very respectable 3.5-tonnes.
Styling
The interior of the latest Touareg really raises the bar in the luxury SUV sector and that's mainly down to the excellent all-new Innovision Cockpit set-up that combines a 12-inch instrument panel and a 15-inch touchscreen to create a modern, stylish and ultra-refined cabin. There is an exceptionally high standard of materials within the car and our test model boasted full leather upholstery, 4Zone climate control, ambient lighting and plenty more besides.
VW engineers have worked hard to provide occupants with a refined cabin environment and they have succeeded. The highly effective insulation set-up stifles any road, engine or wind noise intrusion and it's only when the car is driven exceptionally hard on motorways that any road sounds become noticeable.
The Touareg also delivers a smooth ride for occupants. Our car sat on 21-inch wheels which seemed to perfectly suit the car. The suspension system ironed out all but the most severe bumps and dips and there was minimal body roll into bends.
Even when pushed on under hard acceleration the V6 engine is smooth and the gear changes are well timed.
In The Car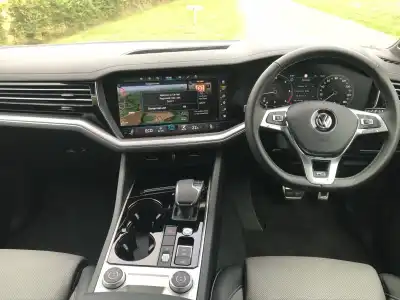 Behind the Wheel
The VW Touareg is a very easy car to get comfy in. There is ample steering wheel and powered seat adjustment to find the perfect driving position and the elevated driving position results in excellent all-round visibility. This is a 'must' on any family SUV that will feature regularly on the school run.
But the real headline news on the car is the Innovative Cockpit with those two screens that can be configured according to requirements. They can show the likes of favourite apps, maps, night vision images, photos, phone contacts and a whole lot more. This smart-looking and easy-to-operate system is driver facing for convenience and replaces almost all the controls, buttons and switches on the Touareg. But it's not all for show. Within minutes behind the wheel, it was simple to prioritise which settings I wanted displayed - it's a very user-friendly system.
Other noteworthy kit on our test car included a head-up display, massaging seats, full smartphone connectivity via Apple CarPlay and Android Auto, a premium sound system and a whole host of other features.
The impressive interior comprises very upmarket materials with the finest leather upholstery combined with neat inserts and striking switchgear worthy of a premium-styled model.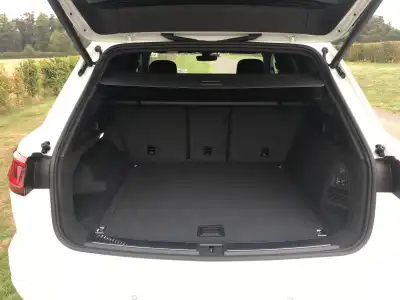 Space & Practicality
Although the Touareg is not available as a seven-seater, it does offer excellent comfort levels for five adults … of the taller variety. The car has grown a little in size - it's 77mm longer, 44mm wider and 7mm lower than its predecessor which gives it a more dynamic profile, but has also resulted in extra cabin space. There is ample room in the back for a trio of adults to sit comfortably and the large windows means they will have a decent view on their travels.
The growth spurt has also seen the boot capacity increase to 810 litres and with the 40:20:40 split-folding rear seats dropped flat, that limit increases to a whopping 1,800 litres. It also has a 1,051mm load length so transporting snowboards won't be an issue, and in Snow mode getting to the slopes shouldn't be an issue either.
Elsewhere throughout the cabin, there are numerous convenient storage compartments, including a lockable glovebox, practical cup holders, door bins with space for a water bottle, a covered tray in front of the gear lever, nets in the back of the front seats and a covered central bin.
Because of its upright design and wide-opening rear doors, the Touareg is very easy to get in and out of and anyone with mobility issues should be well catered for. Access to fit rear child seats is also good.
Ownership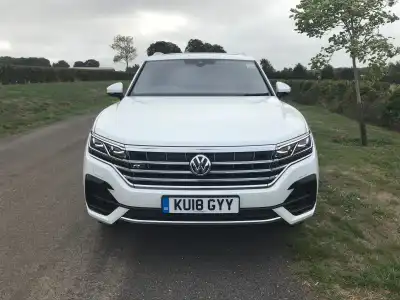 Running Costs
So, let's get down to the financial side of things then. How much of a dent will the Touareg make in your savings? In fairness, compared to some premium rivals that have a lot less kit, the Touareg is reasonably priced with the entry level SEL model costing from £48,995.
Our test car was priced at £58,195, but when a number of optional extras were factored in, the cost was bumped up to £72,975. These included a panoramic sunroof, head-up display, 21-inch alloys, air suspension, the IQ LED Matrix lighting system, ambient lighting with 30 colours and a Drivers Assistance Pack.
According to official figures, our car could deliver combined fuel economy of 42.8mpg with carbon emissions of 173g/km. This would result in a first year Vehicle Excise Duty charge of £800, reducing to £140 the following year. But because the car is above the £40k threshold, it would have a £310 supplement for five years.
The insurance group rating for the test car is 42.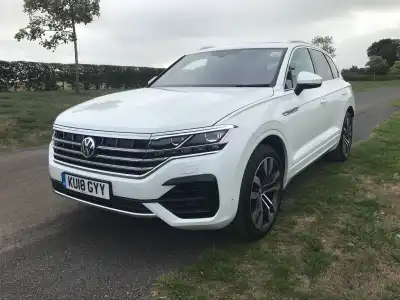 Quality & Reliability
The VW marque is still recovering from the emissions scandal, but despite that the company has an excellent reputation for producing vehicles that are built to last. With that in mind, there is little reason to believe the Touareg will have any issues. In fact, in many surveys VW often gets positioned in the top five for reliability.
The construction of the vehicle feels solid and no matter how hard you search you will be pushed to find any sharp, unfinished edges. All the switchgear and materials feel like they will survive the test of time.
All Touareg models are sold with a three year/60,000-mile warranty.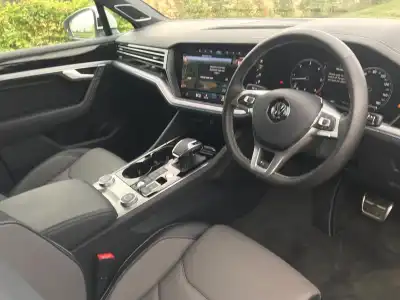 Safety & Security
It has not yet been announced whether or not the latest Touareg will be tested for a new Euro NCAP rating, but the outgoing car was awarded a maximum five stars and the third-gen version boasts a whole host of additional safety kit.
The car is loaded with safety features and driver aids to protect occupants, pedestrians and try to prevent accident occurring in the first place. For example, there is intersection assist to help navigate blind exits, park assist and traffic jam assist, plus adaptive cruise control. There is also emergency assist that detects if the driver is in control of the car. It alerts the driver and if there is no response, it activates the hazard lights and begins to brake the vehicle whilst monitoring following traffic to avoid a shunt.
All Touareg models feature 4MOTION four-wheel drive to keep you on the road during harsher driving conditions and with a wading limit of 500mm or 580mm if fitted with air suspension, the Touareg is definitely a go-anywhere model.
Other clever safety features include bright LED Matrix lights that work in tandem with a camera to detect what's happening ahead and also a night vision system that uses infrared beams to scan the road ahead detecting thermal radiation and projecting an image onto the screen. All very clever stuff.
More On This Car
Take one for a spin or order a brochure
Request a Volkswagen Touareg brochure
Request a Volkswagen Touareg test drive