Pros:
Pioneering safety systems

Best in class boot space

Sportier addtions with R-Design trim
Cons:
Limited range of engines

Touchscreen display shows up fingermarks
More On This Car
Take one for a spin or order a brochure
Request a Volvo V60 brochure
Request a Volvo V60 test drive
Introduction
We've mentioned it in previous reviews and we'll say it again, Volvo are a manufacturer on the rise.
Despite car sales dropping, in 2018 Volvo sales were up by 9% in the UK, they also increased their market share and are the fastest growing premium brand and deservedly so with an impressive model line up.
With all that in mind we headed to Suffolk to try out the new Volvo V60 R-Design.
On The Road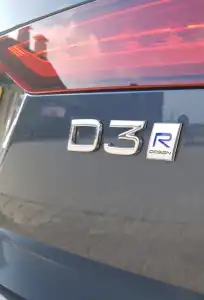 Performance
The V60 R-Design comes with the diesel D3 and D4 engines and a T5 petrol engine, we took the D3 out on the launch which produces 150hp with 320Nm of torque, the 2.0 litre coming with an ultra smooth eight-speed automatic gearbox so gets it from 0-62mph in 9.9 seconds. It's a fairly lively engine when you need it to be and it's not overly noisy for a diesel either.
With the D3 offering decent fuel economy figures, early 50 mpg and 119g/km of CO2 then running costs will be good.
The diesel D4 delivers 190hp with a very healthy 400Nm of torque, while the T5 petrol pairs 250hp with 350Nm of torque to give it an impressive 0-62mph time of just 6.7 seconds.
A T8 Twin Engine plug-in hybrid will arrive later on this year and Volvo are aiming by 2025 to have a million electric models on the roads.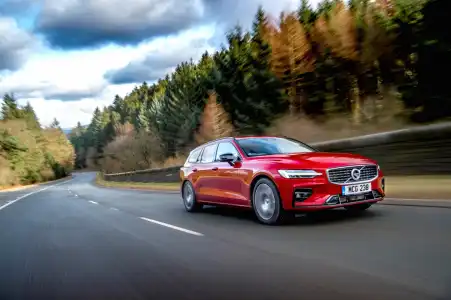 Ride Handling
With the sports suspension on the R-Design including stiffer springs, thicker anti-roll bars and a 12mm lower ride height it still offers good levels of ride comfort, it adjusts well to unruly road surfaces and it makes being behind the wheel of the V60 a relaxing drive.
With various Drive Modes including Eco, Comfort and Dynamic, you can adjust the driving characteristics to suit and in the latter mode steering is much heavier, the automatic gearbox shifts at higher revs and the responsiveness of the brake pedal is increased, ideal when you're throwing it into a corner. That's what we like about the V60, one minute you can be driving it all sedately in Eco mode looking to increase your mpg and the next pushing its grip limits on a B road.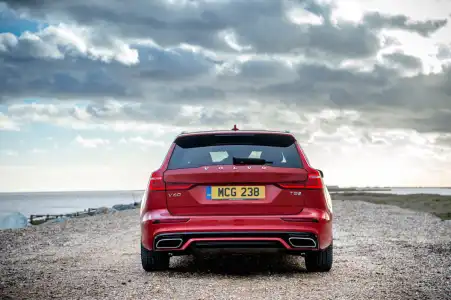 Styling
When this V60 generation was released in February 2018 it became apparent that Volvo were looking to change the way we viewed estate cars.
What they revealed was a stunner of an estate, less box like with a striking front, sleek body lines and a dominant Volvo grille. Volvo had finally turned dulle estates into something quite the opposite.
What the popular R-Design trim adds to the Volvo V60's exterior looks is high gloss black accents, twin tailpipes, 18-inch diamond-cut alloy wheels and a sporty suspension.
In The Car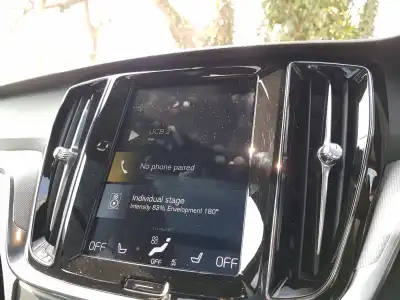 Behind the Wheel
Remember when 'Hygge' seemed to be all the rage - the Danish word for coziness the buzzword on everybody's lips? Well it could be said that Volvo are sticking to 'Lagom' the Swedish word roughly translating into 'not too little, not too much, just right', as the cabin of the V60 is functional yet sufficient in terms of everything that is in it. If you're looking for a cluttered space then you won't find it in the V60.
Get behind the wheel and the R-Design comes with snug, part-leather sports seats which are heated, a soft touch leather heated steering wheel, which comes with gearshift paddles if you have automatic transmission and a 12.3-inch digital driver's information screen - gone are the days of analogue dials.
Embedded in the centre stack is a 9-inch touchscreen which works just like a tablet and displays all media, navigation, car and telephone settings. It's fairly easy to navigate around and it's also voice activated which helps when driving as it can be quite tricky to use when on the move. And a word of warning it can get fairly grubby with finger prints all over the screen.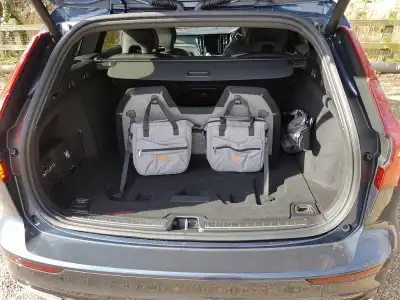 Space & Practicality
The Volvo V60 is top of the class when it comes to boot space as it holds 529 litres with the seats up and increases to an impressive 1,441 litres with the rear seats down flat. The boot area is really practical as there's no loading lip, there's extra storage beneath the boot floor, and there are handy hooks for bags too so they don't move around whilst on the move.
There's also the really helpful addition of a power-operated tailgate fitted across the V60 range and it's handsfree too - we've all done it where we're loaded down with shopping and don't have a spare hand to get the boot open, in this case by putting your foot under the rear bumper your prayers will be answered when it lifts open.
Cabin space is good too, there is ample leg and headroom for passengers up front and in the rear and there's plenty of storage solutions dotted around the car .
Ownership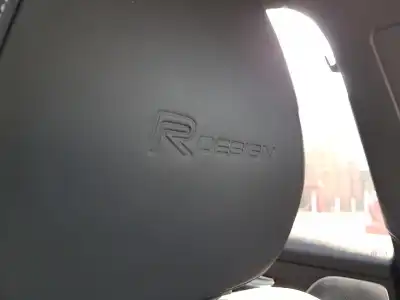 Running Costs
The Volvo V60 is priced from £32,410 for the D3 Momentum while the R-Design starts at £35,410 so it's not much more of a jump for a sportier V60.
So how does it compare to premium rivals such as the Audi A4 Avant and Mercedes-Benz C-Class estate? It's a lot spacier and the cabin does seem less cluttered which is a good thing if you're looking for a simpler interior and price wise there's not much between any of them.
Volvos have often had the reputation for being owned by the older generation, but their current model line up shows that they're aiming for a much younger buyer and it looks like they're winning.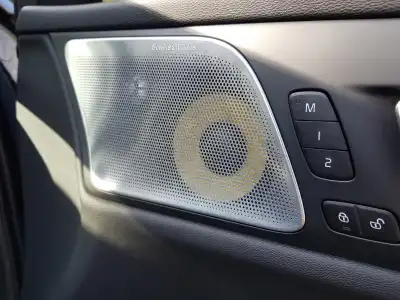 Quality & Reliability
Volvo are very keen to be helping the planet, not only by eliminating single-use plastics from their offices and events but also by using recycled plastic materials in their cars.
With interiors that not only look premium but feel it too, they've used the right durable materials and minimised any cheap plastics, whilst adding black gloss accents and metal mesh inlays on the R-Design trim for extra sophistication.
In terms of reliability there have never been any major issues for the V60 and with the previous generation lacking in boot space Volvo designers took note of this to make it class-leading.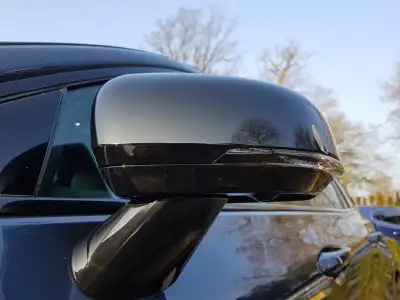 Safety & Security
It's 60 years since Volvo came up with the three-point seat belt and ever since then they have become the pioneers of safety and what they've just announced is that they'll be limiting the top speed on all models from 2020 to 112mph.
So what does this Euro NCAP five star rated V60 come with in terms of safety? It comes with plenty of airbags, speed and lane assistance systems, Steering Support which aids in steering around an object in an emergency, City Safety which includes an emergency braking system that detects anything in front of the car and Oncoming Collision Mitigation is a world-first addition to the V60 and can detect cars travelling towards you, rather than ones travelling in the same direction.
Pilot Assist is also available on the V60, this pioneering technology will help to keep your car within its lane and also at a speed at a safe distance to the car in front, even bringing the car to a stop.
More On This Car
Take one for a spin or order a brochure
Request a Volvo V60 brochure
Request a Volvo V60 test drive