From £34,555
Pros:
Stunning design

Low running costs

Intuitive centre display screen
Cons:
Boot size with seats folded
More On This Car
Take one for a spin or order a brochure
Request a Volvo V90 brochure
Request a Volvo V90 test drive
Introduction
Volvo have often been associated with older generation drivers being behind the wheel, of late though times are a changing with the Swedish brand as they appeal to a wider audience.
With a new design direction, the XC90 and S90 has offered a glimpse into what is to come from them, so we took the new V90 estate for a drive.
On The Road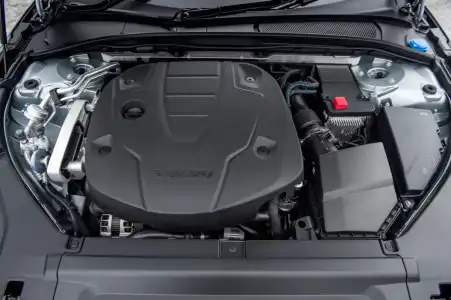 Performance
With Volvo's latest Drive-E powertrains in the V90 we had the D4 on test with the 2.0-litre producing 190hp with 400Nm of torque, a top speed of 140mph and a sprint to 0-62mph in 8.5 seconds. It's a fairly swift engine, their Drive-E technology offers the performance of a larger engine but remains efficient using an automatic eight-speed transmission with a smooth, seamless change as you get up to speed. It's a comfy ride at speed particularlt excelling as a long distance cruiser.
There are three drive modes: Eco, Comfort and Dynamic which alter the gearbox, engine, accelerator and steering response depending on if you want to drive it more efficiently or more sporty.
If you're looking for a bit more performance then the D5 is the most powerful diesel engine Volvo have produced with 235hp, and at the other end of the scale if you're looking to be efficient there's the plug-in hybrid petrol powered 407hp T8 Twin Engine which emits just 49g/km of CO2.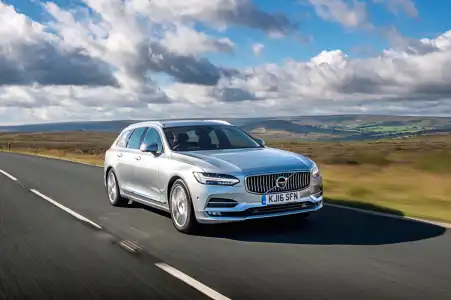 Ride Handling
Volvo have a car here with a very comfortable ride, the suspension soaks up whatever you throw at it making it feel stable however because of this it makes for a very smooth drive.
They've really nailed it on the head with the V90 and it definitely is up there with other premium counterparts.
Steering is well balanced too, it gives plenty of accurate feedback and although it's not a sporty car it might surprise you how fun it is to drive, despite its estate dimensions, offering plenty of grip if you really push it.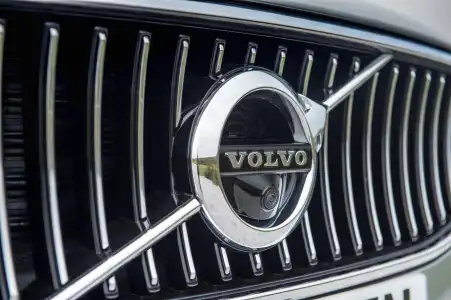 Styling
What Volvo have done with their new powertrains is make them a lot quieter, gone is the gruffness of old on start up; they're just a lot more refined now while road noise is also down to a minimum with a well insulated cabin.
Volvo do comfort extremely well, the comfortable, padded, well supported leather seats are electronically adjustable and there is the option to have extendable cushion extensions under your legs.
The exterior is stylishly designed in an understated way, the enormous front grille with the Volvo logo does dominate the front, but it's elegantly flanked by the signature LED headlights. It definitely had other drivers checking it out when they saw it.
In The Car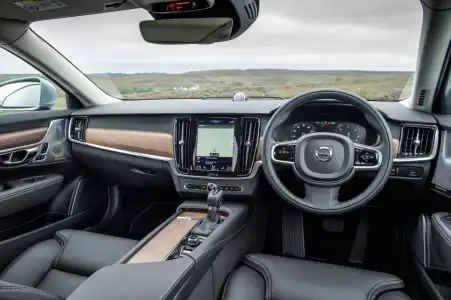 Behind the Wheel
When you think of Swedish design you think of simplicity and the interior of the V90 is well and truly up to this mark.
With the winter weather fast approaching it's a welcome touch to have heated seats and steering wheel and these can be operated on the enormous, nine-inch iPad sized main display screen. In a clutter free cabin it works extremely well to feature navigation, media, phone settings and car performance information, it's easy to use, swiping it as you would a smartphone and if you've an iPhone you're in luck as it comes with Apple CarPlay.
There are two USB slots and an AUX socket if you want to connect smartphone devices and there's a hidden CD player in the centre armrest too. More manufacturers seem to ditch the CD player now presuming we all want to stream the music from our devices, which isn't always the case.
The driver has a distinctive 12-inch TFT screen which has crystal clear dials but if you don't mind shelling out for the optional Bower and Wilkins sound system then you'll be treated to your favourite music coming into the car with the same acoustics as it would at the Gothenburg Concert Hall.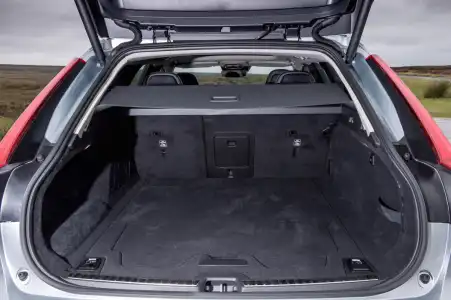 Space & Practicality
Not surprisingly as an estate it offers plenty of leg and headroom - the rear would easily accomodate two adults. The large panoramic roof makes it feel even more spacious plus there are plenty of storage solutions around the car with cupholders between the driver and front passenger, in the doors and also there's the option of having a cooled glovebox with 4-zone electronic climate control so every passenger can adjust the temperature for their own needs. How many times do you end up having to sit in a cold car because the majority of passengers would prefer it that way to what you want?
Access to the boot is done by a power operated tailgate and it's fairly sizeable at 560 litres, power operated rear seats folded increases this to 1,526 litres and it also comes with a pull out cover to hide items from prying eyes. It's not the largest boot on the market with seats down, the Mercedes-Benz E-Class estate can hold up to 1,950 litres.
Ownership
Running Costs
The Volvo V90 is priced from £34,555. The D4 Inscription we had on test was £46,030 as options included the Xenium pack which includes a sunroof, a 360 degree view parking camera and park assist costing £2,000 and the Bowers and Wilkins sound system which is a whopping £3,000.
The rival Mercedes E-class estate costs from £36,735 so it's competitively priced and is more than capable of taking on its rivals.
The model on test with the D4 engine emits just 119g/km of CO2 so will fall into tax band C, it will cost nothing for the first year and then just £30 annually. A combined 62.9mpg is achievable so running costs will be spot on.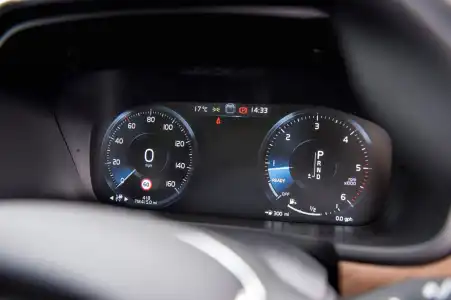 Quality & Reliability
It's a solidly built car, the interior has lashings of chrome inlays with piano black gloss inserts, in our test car the dark wood additions, although very Scandinavian looking, just might date rather quickly. But Volvo are obviously doing something right as the V90 has just been named 2016 Scottish Car of the Year.
Volvo need to up their game in the reliability stakes as it's an area that they really need to improve upon, the Auto Express 2016 Driver Power survey saw them languishing in the bottom half of the table, but if you're looking to run a car for a long time, they go for miles and miles...
Safety & Security
The Volvo V90 hasn't yet been tested for the EuroNCAP ratings but we expect it to get the full five stars as Volvo excel at safety - they did invent the three-point seat belt in 1959.
Coming as standard are plenty of airbags, ISOFIX child seat points and driver aids include the
City Safety system which will detect pedestrians, cyclists, even large animals and in the onset of a collision will brake automatically to avoid whatever is in the way, Run-off road protection which will tighten the seatbelts if the car leaves the road; a section of the car will also collapse lessening the vertical forces to help prevent spinal injuries, while the semi- autonomous Pilot Assist uses adaptive cruise control to handle steering, brake and accelerator if you're motorway driving.
Blind spot monitoring and park assist aids are optional.
More On This Car
Take one for a spin or order a brochure
Request a Volvo V90 brochure
Request a Volvo V90 test drive