Pros:
New mild-hybrid engine has low running costs

Good range of engines on the model

Available as a practical 7 seater
Cons:
Touchscreen is looking a bit dated
More On This Car
Take one for a spin or order a brochure
Request a Volvo XC90 brochure
Request a Volvo XC90 test drive
Introduction
The Volvo XC90 is the original model in their XC SUV lineup having been around since 2002, the dependable and extremely safe model is now into its second generation and this year sees it get a refresh and mild-hybrid technology.
So what's it like to drive with this new engine? We took it on a drive around the Cotswolds to find out.
On The Road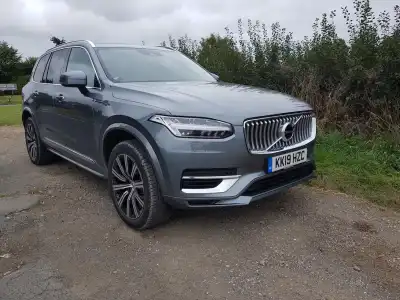 Performance
Volvo have added their new mild-hybrid engine to the XC90, the 2.0 litre B5 diesel coming with a 48-volt battery which produces 235hp with 480Nm of torque. As a way to improve fuel economy and keeping emissions low then it looks a good contender - MPG figures are around the early 40s and CO2 emissions are between 154 - 156g/km and it doesn't affect the performance either, it's quick despite the XC90's dimensions, the only negative is it's quite a noisy engine.
Other engine options from Volvo include the improved T8 Twin Engine, the petrol-electric plug-in hybrid increasing its extra pure electric driving range from 21.7 to 28.6 miles and at the opposite end of the scale there's a high-performance T6 petrol packing a punch with 310hp and 400Nm of torque, a T5 petrol with 250hp and Volvo's powerful D5 diesel option producing 235hp with 480Nm of torque.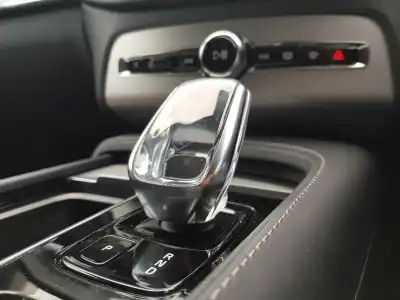 Ride Handling
What is good about the XC90 is that the ride is really good, it's a big car and although the smaller XC40 struggles in this area the XC90 excels.
The B roads we drove it on were spewn with terrible surfaces and this soaked them up without any interference to the driving experience thanks to air suspension.
Steering could do with slightly more feedback as you realise what a large car it is as there can be some body roll going into tight corners, so it's sometimes not as agile as you might think, quickly reminding you it's an SUV.
For those wanting to differ their driving experiences there are various drive modes to alter the driving characteristics of the XC90, with a choice of Comfort, Dynamic sharpens it all up, Eco and Off-Road.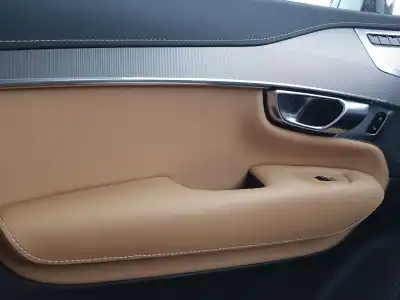 Styling
The latest generation did take on a completely new look from the outgoing version and visual changes include a new grille, lower front bumper and as standard on the entry level Momentum trim are dual integrated exhaust tailpipes and integrated roof rails.
More additions across the trim range include chrome strips, black gloss finishes and new paint colours added to the palette and with three trims available for the XC90 all tastes and budgets can be catered for.
Although it's the R-Design which really does stand out in the range thanks to gloss black exterior trimings, sporty styling cues and 20 inch matt black finish alloy wheels. It's worth the extra £4,000 to go for this trim and across Volvo's entire model range it's usually the most popular.
In The Car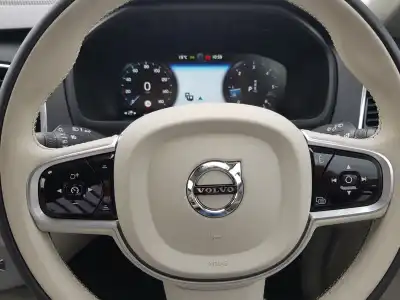 Behind the Wheel
We do like Volvo interiors as they are hugely simple and stylish, yet practical. One thing we can't fault Volvo on is the comfort of their seats and the fact they're electronically adjustable, Audi take note.
Gone are the analogue dials of old to be replaced by an intuitive 12-inch display screen which has various display layouts to show information including navigation and driving aids and also a handy heads-up display.
The nine-inch touchscreen, which was such a talking point when this second generation came out, is starting to look a little bit dated, maybe more the actual content design featured on the screen.
We've always had the same niggle that trying to use it on the move can be quite difficult, especially if you're trying to adjust the temperature of the cabin but as with all technology it will evolve so it'll be interesting to see what comes on Volvo cars in the future.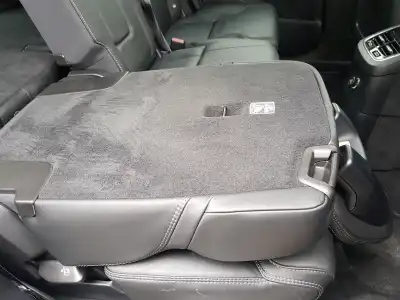 Space & Practicality
Space is what you have in abundance in the XC90, which is nearly five metres long, there's a new six-seat version adding to the five-seat and seven seater versions, the latter obviously limits the boot area, but with seats folded flat it holds 1,868 litres of space.
Niftily third row seats can be folded and raised from the driver's seat at the touch of a button, which is so helpful when you don't have to get out the car, go to the rear, clamber in and fold them down. Volvo really do think of every little thing when it comes to making lives easier.
Once all rows bar the front are down you're looking at getting a lot in the back of the car, from bikes to boxes it is highly practical.
There is concealed storage between the front seats, pull back the sliding cover and it reveals cup holders or a place to put smartphones and anything you might need to house.
There's a bag on the plug-in hybrid version that frustratingly can't be packed away anywhere so it does take up some space in the boot, but it's not like you'd need to take it with you on every journey.
The midddle seat in the rear is a bit hard with less back support so not ideal if you were going on a long journey.
Ownership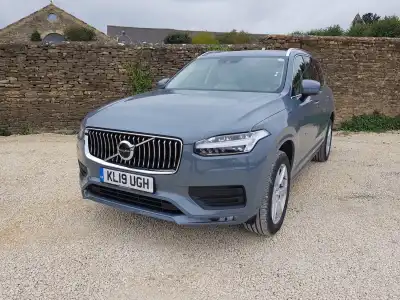 Running Costs
The Volvo XC90 is a premium model and that's something you neeed to remember when you see the numbers, Volvo is now on a par with Audi and BMW.
Prices for the model start at £53,285 for the B5 diesel Momentum while the entry level T5 petrol Momentum is £52,235.
The XC90 has a great choice of engines, in the coming years Volvo's range will include fully electric variants starting with the smaller XC40 and with diesel sales down buyers are looking at electric options now so this is great news for Volvo lovers.
The Volvo XC90 is hugely practical if you need lots of space or are ferrying lots of passengers around and with Volvo's typically long list of standard equipment on the car then it's a very attractive proposition to SUV buyers.
Volvo aren't putting a foot wrong at the moment as they continue with their fresh new design to woo buyers and it's working.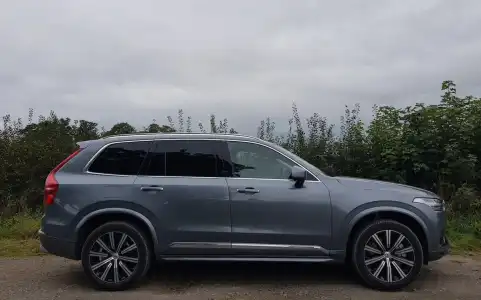 Quality & Reliability
Although the XC90 interior is simple it still emanates style with design ideas that give it that extra something, like the diamond looking edge start button, the chrome edged touchcreen, black gloss buttons, the Bower and Wilkins stainless steel speaker grilles on the sound system, the Scandi feel wood finishes and the crystal gear selector.
Have their been any issues with the Volvo XC90? Not really, reliability has been good with this model and although Volvo's overall reliability in manufacturer ratings could do with being a bit higher, you often see Volvos being driven for miles and miles.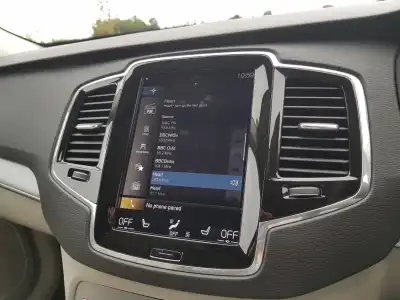 Safety & Security
The Volvo XC90 has got to be one of the safest cars on the market and the manufacturer made the bold claim that by 2020 that they would make sure nobody would be killed from an accident in a Volvo and you can see why they would make that statement.
You feel so incredibly safe and secure in the XC90 and we can see why that to date the model is the UK's safest car.
With it's ultra high-strength steel safety cell it's no wonder that in the EuroNCAP ratings it took the maximum five stars in 2015 when the second generation version came out.
Volvos come well stocked with safety and driving aids, from a 360 degree camera, to parking assistance to cross traffic alert which makes sure you don't reverse out of a space into the path of oncoming road users.
More On This Car
Take one for a spin or order a brochure
Request a Volvo XC90 brochure
Request a Volvo XC90 test drive