Toyota Verso Recalls
There are currently 22 safety recalls out on the Toyota Verso. To find out whether your car is affected, you'll need to find your car's VIN number.
The VIN can often be found on the lower-left corner of the dashboard, in front of the steering wheel.
You can read the number by looking through the windshield. The VIN may also appear in a number of other locations:
Front of the engine block. This should be easy to spot by opening the bonnet, and looking at the front of the engine.
Front of the car frame, near the container that holds windshield washer fluid.
Rear wheel well. Try looking up, directly above the tyre.
Inside the driver-side doorjamb. Open the door, and look underneath where the side-view mirror would be located if the door was shut.
Driver-side doorpost. Open the door, and look near the spot where the door latches, not too far from the seatbelt return.
Underneath the spare tyre.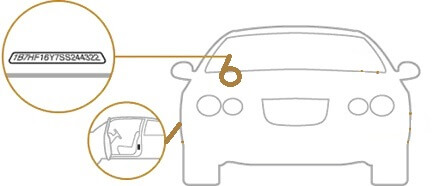 If you still can't locate the VIN, try consulting your vehicle manual. Or, call a dealership or the manufacturer and request guidance.
Step 2 - See if your car is affected
Announcement date:

Recalls number:

Concern:

Incorrect Tightening Torque Was Possibly Applied During Previous Injector Removal Or Replacement

Defect:

An incorrect tightening torque was applied at the moment of injector re-installation.

Remedy:

Check the injector clamp bolt torque and replace the parts if necessary.

---

Announcement date:

Recalls number:

Concern:

Air Bag Control Module For The Supplemental Restraint System Could Be Susceptible To Internal Shorting

Defect:

Possible inadvertent air bag deployment.

Remedy:

Replace the airbag sensor assembly.

---

Announcement date:

Recalls number:

Concern:

Airbag May Not Deploy

Defect:

The subject vehicles are equipped with right front seat side airbags which may not deploy in a collision as intended.

Remedy:

Recall the vehicles that are likely to be affected and replace the right front seat side airbags.

---

Announcement date:

Recalls number:

Concern:

Airbag May Not Deploy

Defect:

The subject vehicles are equipped with right front seat side airbags which may not deploy in a collision as intended.

Remedy:

Recall the vehicles that are likely to be affected and replace the right front seat side airbags.

---

Announcement date:

Recalls number:

Concern:

Airbag May Not Deploy

Defect:

The subject vehicles are equipped with right front seat side airbags which may not deploy in a collision as intended.

Remedy:

Recall the vehicles that are likely to be affected and replace the right front seat side airbags.

---

Announcement date:

Recalls number:

Concern:

Airbag May Not Deploy

Defect:

The subject vehicles are equipped with right front seat side airbags which may not deploy in a collision as intended.

Remedy:

Recall the vehicles that are likely to be affected and replace the right front seat side airbags.

---

Announcement date:

Recalls number:

Concern:

Airbag May Not Deploy

Defect:

The subject vehicles are equipped with right front seat side airbags which may not deploy in a collision as intended.

Remedy:

Recall the vehicles that are likely to be affected and replace the right front seat side airbags.

---

Announcement date:

Recalls number:

Concern:

Engine May Stall

Defect:

Under certain conditions condense water in the intake air can corrode the needle bearing housing. Due to corrosion of the bearing housing the sealing between intake air and the electrical actuator circuit of the throttle body might not be water tight anymore. In the condition that water enters in the throttle body actuator circuit the water might cause a throttle body position misreading or short circuit inside the throttle body electrical actuation mechanism. This might trigger the engine to stall while driving.

Remedy:

Recall the vehicles that are likely to be affected and replace the throttle body with a newly designed one. In addition the engine wire harness and the engine ECU will be inspected and replaced if necessary.

---

Announcement date:

Recalls number:

Concern:

Loss Of Power

Defect:

Internal cluctch pistons may have been incorrectly manufacturerd. This may cause incorrect transmission operation.

Remedy:

On affected vehicles inspect clutch opertaion. Depending on out come either replace clutch component or transmission unit.

---

Announcement date:

Recalls number:

Concern:

Risk Of Fire

Defect:

Oil may accumulate in the turbo charger and in certain circumstances flow into the combustion chamber. This may cause engine damage. In extreme cases oil can be ejected from the engine and if it comes in contact with an ignition source may result in a fire.

Remedy:

Depending vehicle diagnosis modify intercooler layout to improve air flow; upgrade ECU software; upgrade turbo charger and/or vacuum pump

---

Announcement date:

Recalls number:

Concern:

Fuel May Leak

Defect:

The resin moulding around the fuel filter water sensor is inadequate. In low temperature environments this can affect the O ring and allow fuel to seep into the sensor. Consequently fuel can then leak out of the sensor through it's breather hole. Additionally maintenance schedules are incomplete.

Remedy:

Inspect and replace filter if necessary. Revise maintence information

---

Announcement date:

Recalls number:

Concern:

Steering Wheel May Detach

Defect:

It is possible that the nut securing the steering wheel was not correctly tightened when the vehicle was assembled. This could lead to abnormal noise and free play at the steering wheel. If these warnings are ignored the nut could eventually come off and the steering wheel could separate from the steering shaft causing loss of steering ability.

Remedy:

Recall the vehicles that are likely to be affected to check the steering wheel securing nut is tightened to the correct torque.

---

Announcement date:

Recalls number:

Concern:

Steering Wheel May Detach

Defect:

It is possible that the nut securing the steering wheel was not correctly tightened when the vehicle was assembled. This could lead to abnormal noise and free play at the steering wheel. If these warnings are ignored the nut could eventually come off and the steering wheel could separate from the steering shaft causing loss of steering ability.

Remedy:

Recall the vehicles that are likely to be affected to check the steering wheel securing nut is tightened to the correct torque.

---

Announcement date:

Recalls number:

Concern:

Steering Wheel May Detach

Defect:

It is possible that the nut securing the steering wheel was not correctly tightened when the vehicle was assembled. This could lead to abnormal noise and free play at the steering wheel. If these warnings are ignored the nut could eventually come off and the steering wheel could separate from the steering shaft causing loss of steering ability.

Remedy:

Recall the vehicles that are likely to be affected to check the steering wheel securing nut is tightened to the correct torque.

---

Announcement date:

Recalls number:

Concern:

Steering Wheel May Detach

Defect:

It is possible that the nut securing the steering wheel was not correctly tightened when the vehicle was assembled. This could lead to abnormal noise and free play at the steering wheel. If these warnings are ignored the nut could eventually come off and the steering wheel could separate from the steering shaft causing loss of steering ability.

Remedy:

Recall the vehicles that are likely to be affected to check the steering wheel securing nut is tightened to the correct torque.

---

Announcement date:

Recalls number:

Concern:

Steering Wheel May Detach

Defect:

It is possible that the nut securing the steering wheel was not correctly tightened when the vehicle was assembled. This could lead to abnormal noise and free play at the steering wheel. If these warnings are ignored the nut could eventually come off and the steering wheel could separate from the steering shaft causing loss of steering ability.

Remedy:

Recall the vehicles that are likely to be affected to check the steering wheel securing nut is tightened to the correct torque.

---

Announcement date:

Recalls number:

Concern:

Short Circuit May Cause Failure Of The Power Assistance

Defect:

It is possible for condensation water droplets to form within the relay in the electric power steering control module. This can cause a short circuit across terminals within the relay. If this occurs and abnormally high voltage is detected by the control module it will shut down the power to the EPS which will coincide with a warning buzzer and light illuminating on the dash. This will result in the loss of power assistance to the steering.

Remedy:

Recall all affected vehicles and replace the power control module.

---

Announcement date:

Recalls number:

Concern:

Short Circuit May Cause Failure Of The Power Assistance

Defect:

It is possible for condensation water droplets to form within the relay in the electric power steering control module. This can cause a short circuit across terminals within the relay. If this occurs and abnormally high voltage is detected by the control module it will shut down the power to the EPS which will coincide with a warning buzzer and light illuminating on the dash. This will result in the loss of power assistance to the steering.

Remedy:

Recall all affected vehicles and replace the power control module.

---

Announcement date:

Recalls number:

Concern:

Panoramic Roof Glass May Detach

Defect:

There is a possibility that the panoramic roof glass might partially peel from the frame due to insufficient adhesion strength of the paint on the panoramic roof frame. In this condition the roof glass might separate from the frame which could lead to wind noise. If the vehicle is continuously operated the panoramic roof glass may detach from the frame.

Remedy:

Inspect and replace if needed.

---

Announcement date:

Recalls number:

Concern:

Accelerator Pedal May Fail To Return To Idle

Defect:

It has been identified that on affected vehicles condensation resulting from cold-weather use of the heater or other causes may form on the worn surface of a component within the throttle pedal assembly known as the friction device. If this occurs there is a possibility that in the worst case the accelerator pedal may return slowly or does not return to the engine idle position.

Remedy:

Recalled vehicles will have a precision-cut steel reinforcing bar fitted into the accelerator pedal assembly which will create a space in order to reduce the surface tension between the friction device and a component referred to as the pedal arm. The subject bar also strengthens the reaction force of the spring that returns the accelerator pedal to it's non-pressed position.

---

Announcement date:

Recalls number:

Concern:

Two Gears May Be Selected At The Same Time

Defect:

Transmission output shaft critical dimension may be shorter than the specification. In the worst case this could result in two gears being selected at the same time and cause the gearbox to lock up.

Remedy:

Check transmission serial number and replace any gearbox found to be within the affected range.

---

Announcement date:

Recalls number:

Concern:

Rear Brake Pipe Concern

Defect:

In frequent stop/start conditions in snow and severely cold weather compacted snow/ice may build up on the inner face of the wheel disc. In extreme circumstances the snow/ice may strike and distort the metal pipe that connects to the rear brake cylinder. Impaired braking and a hydraulic fluid leak may result.

Remedy:

Fit a modified and re-routed brake pipe.

---
Step 3 - Contact your nearest dealer
Enter your postcode to see your nearest franchised dealer: