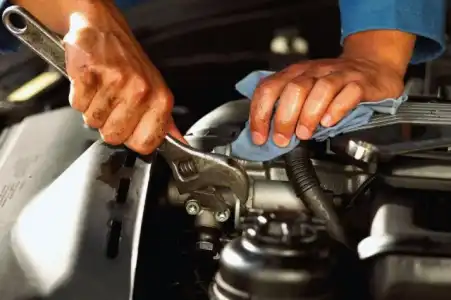 Why Service a Car?
Servicing is the inspection and maintenance of a vehicle to ensure it is safe, environmentally efficient and pleasant to drive. A vehicle might receive one of several types – and different garages have their own means of classification – but it is common to choose from an inspection service, interim service or full service. The mechanic can recommend which is most suitable based on the vehicle's age, mileage, service history, and on how it is driven.
What Does An Inspection Service Cover?
The most basic car service is known as an inspection service or oil and filter change service. This should be carried out between other services or around every 10,000 miles.
Many people forget to check their oil levels or book their car in for this basic service but it is fundamental to a car's health.
What Does An Interim Service Cover?
Whereas there are variations throughout the industry an interim service typically incorporates a change of engine oil. This minimises wear and tear and extends the life of the unit. The mechanic might also: inspect the shock absorbers to ensure the car responds properly to bumps, replace broken light bulbs to help the driver see (and be seen) and top-up the coolant fluid to stop the engine overheating. It is typical for the brakes to be checked too.
What Does a Full Service Cover?
A full or major service builds on the strengths of the interim. Once again, there are variations between garages but expect new spark plugs to help the engine work at peek performance (petrol engines only). It also typically relates to the: radiator and hoses that like coolant prevent overheating, wheel alignment that ensures a vehicle drives straight, wheel balancing that minimises vibration and the gearbox.
What Are The Differences Between The Three Types of Service?
An inspection, interim and full service typically include:
| | Inspection Service | Interim Service | Major Service |
| --- | --- | --- | --- |
| Road test | | X | X |
| Engine oil and filter | X | X | X |
| Windscreen washer fluid | X | X | X |
| Engine coolant | X | X | X |
| Front, rear, side and main lights | X | X | X |
| Indicators and hazard lights | X | X | X |
| Brake and reverse lights | X | X | X |
| Fog and number plate lights | X | X | X |
| Horn | X | X | X |
| Tyres | X | X | X |
| Instruments, gauges, warning lights | | X | X |
| Alternator | | X | X |
| Starter Motor | | X | X |
| Battery | | X | X |
| Power steering fluid | X | X | X |
| Brake inspection | | X | X |
| Headlight wipers | X | X | X |
| Windscreen wipers | X | X | X |
| Windscreen washers | X | X | X |
| Seat belts | | X | X |
| Windscreen | | X | X |
| Clutch | | X | X |
| Diagnostic codes | | X | X |
| Handbrake | | X | X |
| Battery | | X | X |
| Bonnet catch | | X | X |
| Drive shaft joints and gaiters | | X | X |
| Steering, suspension linkages and ball joints | | X | X |
| Shock absorbers | | X | X |
| Exhaust and mountings | | X | X |
| Spark plugs | | | X |
| Fuel filter | | | X |
| Air filter | | | X |
| Transmission | | | X |
| Radiator and coolant hoses | | | X |
| Auxiliary drive belt | | | X |
| Wheel bearings | | | X |
| Wheel balancing | | | X |
| Wheel alignment | | | X |
| Exterior mirrors | | | X |
| Doors hinges | | | X |
| Interior lights | | | X |
| Fuel pipes | | | X |