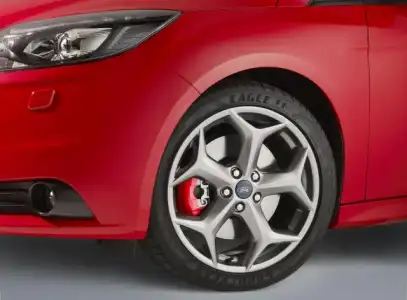 More On This Car
Need more information?
Request Dealer Contact
Ford Motorcraft 4+ tyres enable your vehicle to brake, handle, and ride to the high standards typical of the brand. That is a contrast to old tyres that impede performance. The Motorcraft 4+ website – which as its name suggests is for vehicles aged 4 years plus – makes it easy to choose tyres based on factors such as cost.
Further, Ford splits tyres into categories such as: premium, mid-range and budget. Premium brands include: Bridgestone, Continental, Dunlop, Goodyear, Hankook, Michelin, Pirelli and Yokohama. Mid-range, in contrast, include: Avon, Firestone, Kleber, Matador, Nexen, and Uniroyal. Ford perceives any other tyre brand as budget.
The Motorcraft 4+ website has a straightforward, intuitive, interface and stated prices include the: Value Added Tax, standard valve, balancing, fitting and old tyre disposal. Select the tyre heading from the menu then confirm a favoured model. Options are: Ka, Fiesta, Focus, C-MAX, Kuga, Mondeo, S-MAX, Galaxy plus the Transit.
Ford then reveals a choice of sizes. Focus options include 195/60 R15 88 V. The "195" reveals its width in millimetres, "60" its height as a percentage of the width, "R" the type of construction (radial) and "15" that it sits on a 15" rim. "88" is the load index which is how much weight it supports and the "V" is a speed rating.
Establish what size and specification suit your requirements via such markings on the side wall of the existing tyre, or the vehicle's manual. The Recommended Retail Price - for the Focus 195/60 R15 88 V budget tyre – is £39.95 including VAT. Prices rise to £52.95 for a mid-range comparative then to £60.95 for a premium.
Free vehicle safety check
The FORD eCHECK is a comprehensive, vehicle safety, assessment performed free of charge alongside tyre fitting. The technician inspects 30 parts then produces a report that rates them via a traffic light system. Red items require immediate attention, amber components should be monitored and green components have no issues.
Other Motorcraft 4+ features
Ford Motorcraft 4+ incorporates other features that keep your vehicle safe, legal and performing at its best. Highlights include:
Motorcraft minor service for RRP £125,
Motorcraft major service for RRP £195,
MOT for £30 when booked with a service,
MOT for £35 when book in isolation.
The website makes it easy to confirm the cost of repairs and maintenance too. Simply select a category such as: brakes, batteries, air-conditioning, wiper blades, starter motors, alternators, anti-freeze, shock absorbers, clutch kits, timing belts or brake fluid. Prices are then revealed for numerous models.
More On This Car
Need more information?
Request Dealer Contact