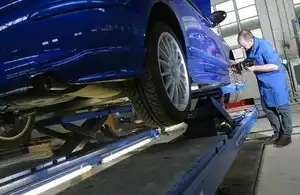 Save Money On Your MOT Test
Motorists can save themselves a noticeable amount of money by being a bit more selective when deciding which MOT centre to use. The maximum cost – as defined by law – is £54.85 for a car with up to 8 passenger seats. On the other hand, there is no minimum amount that an MOT centre can charge, so accordingly prices can be driven down as garages try to offer the best value for money - which is great news for the consumer.
There are in excess of 22,000 authorised MOT test centres in the UK and Motoring.co.uk have found there are vast differences in the amounts being charged for an MOT, so the power is in the hands of the consumer. Auto-centres offer a friendly, affordable experience for customers who may be apprehensive of higher costs at manufacturer dealerships. Halfords and Kwik-Fit are two leading autocentres which have a huge network of locations nationwide, charging £29.95 and £30 respectively for an MOT test. Saving consumers roughly £25 against the maximum legal amount chargeable.
Combining MOT and Servicing
Manufacturer-dealerships can offer a cut-price MOT to consumers saving them a significant sum when combined with a routine service and inspection. It is recommended that most cars are serviced annually, similarly to how all cars must obtain a fresh MOT annually (the latter being when the car is 3 years old or above) so combining the two will not only save the consumer money but also save time as well. These offers are usually available from dealerships which will provide a manufacturer-stamp in the vehicles service book, increasing the residual value of your car.
Items Covered By The MOT
The test station has to check a wide range of components without disassembling the vehicle. The bodywork, for example, must be free of excessive corrosion, notable damage to specific parts, and sharp edges that are likely to injure people. The exhaust must be complete, secure, free of serious leaks and not excessively noisy. Emissions must not exceed a specific level based on the vehicle's age.
Other checks relate to the: brakes, fuel system, tow bar, seatbelts, seats, warning lights, horn, doors, hinges, mirrors, tailgate, tyres, wheels, bonnet catch, washers, steering, suspension, wiring, battery and the vehicle identification number.
Prepare For The MOT
A motorist can maximise the chance of passing by checking a few basic components. These include the: windscreen (no cracks or serious stone chips), wiper blades (must work effectively), lights (bulbs operating) and registration plates (legal format and clear). Tyres must have no significant damage plus at least 1.6mm of tread across the central 75% of the width, and around the circumference.
Help From MyMotoring
We offer a bespoke and unique service which was created with the sole purpose of making motoring easier. Join Regit today and you'll receive free reminders when your Tax, MOT, Insurance, Service and Warranty renewals are due. You will also get a free valuation of your own vehicle and have access to thousands of New and Used Car offers in your area. The whole service doesn't cost you a penny, instead it saves you a fortune...