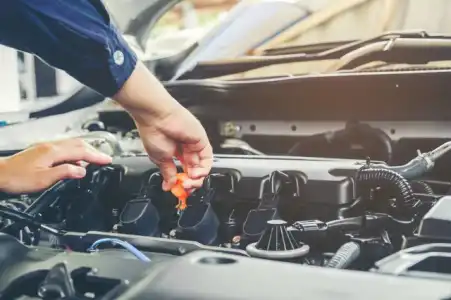 Like insurance and tax, an MOT cannot be avoided if you want to own and run a car legally in the UK. The test is designed to keep cars in a good state of repair so they're safe and less likely to cause problems for you and other road users. We're going to take a look at a few things you ought to know about MOTs – and hopefully save you a few pounds in the process.
A car can fail an MOT for very simple reasons
It doesn't take much for a car to fail an MOT. For example, if a warning light comes up on your dashboard and you haven't had it checked out, that will result in an MOT fail. Is your screen wash bottle empty? That's a fail, too. Other little details such as a dirty number plate can also cause a failure, and then there are your tyres. Check their tread depth and overall condition before the test, as they can also result in a fail. Here is a quick list of things you should check before taking your car in for an MOT test. The moral of the story is to examine your car carefully before you get it tested.
Here's some tips to help you pass your MOT first time
Where do I get an MOT carried out?
There are more than 22,000 MOT testing centres located in the UK, so finding one shouldn't be hard. You can search online or, if you happen to be near a local garage, look for the distinctive blue sign with three white triangles. Garages that display this are licensed test centres. Most MOTs cost around £50, but keep your eyes peeled for offers, as sometimes you can get it for considerably less.
What does an MOT really involve?
An MOT is a comprehensive safety test. It ensures all the key components that keep your car roadworthy are up to standard. It doesn't include examining the engine, clutch or gearbox, but does cover the steering, suspension, tyres, brakes, seat belts and fuel system, plus the lights, wipers and the all important number plate and horn.
Penalties for not having an MOT
It's illegal to drive a car without a valid MOT, carrying a maximum punishment of a £1,000 fine. Luckily we have that covered. You can find out when your MOT is due by using our free MOT check service.
The police are better than ever at checking records, so make sure your MOT is renewed before it expires.