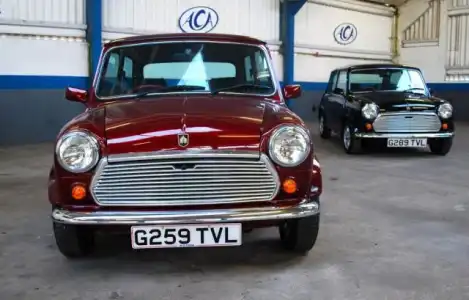 More On This Car
Take one for a spin or order a brochure
2 Mini 30 Special Editions have been found in a barn in time warp condition having only covered 18 and 137 miles. Both are for sale.
The vehicles have been stored in the same heated barn since 1989 and sport near consecutive registration plates (G259 TVL and G289 TVL). Each is presented in original condition alongside a period handbook, brochure and commemorative book provided Austin Rover.
The Mini 30 – as its name suggests – launched in 1989 to celebrate the model's 30th anniversary. It is based on the Mini Mayfair and has chrome bumpers, a chrome grille and Minilite-style alloy wheels. Power comes courtesy of a buzzy 1.0-litre petrol engine.
3000 examples were produced, of which 1,000 have black paint and 2,000 cherry red pearlescent. An example of each has been preserved in the barn, with the black version sporting the lesser mileage.
This Special Edition's status is emphasised by a "1959 to 1989" crest on the bodywork above the rear wheels. The interior has half leather and lightening cloth seats with piping, and a coded stereo.
For Sale By Auction
Anglia Car Auctions will sell these vehicles at its forthcoming Classic Car Sale on April 4th 2015. The black example has an estimate of £11,000 to £15,000 and the cherry red of £10,000 to £15,000. On the right day, they could sell for considerably more.
Anglia Car Auctions' Proprietor, Lyn George, explained: "These cars are bound to attract Mini collectors from all over, especially being such low mileage Mini 30s in pristine condition."
Context: Mini 25
The Mini 30 followed the Mini 25 1.0-litre that marks the car's silver anniversary. The 25 – that launched in 1984 – is based on the Mayfair and has silver paint, anniversary decals/badges, velvet seats with red piping, red seatbelts and a stereo radio/cassette.
Context: Mini 35
The Mini 35 1.275-litre launched in 1994. It is based on the Sprite and finished with either pearlescent nevada red, metallic arizona blue, diamond white and metallic British racing green paint. The colours complement the chrome grille and handles. The interior has blue and pink fabric, a wooden dashboard and opening rear windows.
Context: Mini 40
The Mini 40 1.275-litre launched in 1999 and is based on the Cooper. The exterior is either island blue, mulberry red, old English white or tahiti blue metallic. The cabin has colour matched leather, an alloy dashboard and chrome detailed instrument panel.
More On This Car
Take one for a spin or order a brochure