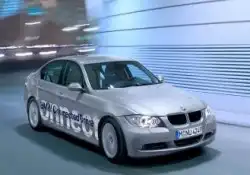 More On This Car
Take one for a spin or order a brochure
BMW ConnectedDrive with Google and RSS
ConnectedDrive, BMW's ground-breaking safety and assistance telematics service, is expected to be supplied on 30,000 new BMW cars in the UK in 2008. ConnectedDrive offers drivers a dedicated website and a unique combination of facilities, emergency and breakdown assistance as well as driver convenience services, with new features such as Google Send-to-Car and RSS internet information feeds directly into the car.
The time-consuming destination selection process of navigation systems has been virtually eliminated. The driver can now select one or more destinations through Google maps from the comfort of their work or home office. These are then sent directly from their PC to the car through the ConnectedDrive web portal. Once in the car, the driver simply accepts the destination, saving time and ensuring that their full focus is on driving.
The owner of a ConnectedDrive-equipped car ca 'click and drag' RSS feeds from the internet into the ConnectedDrive web portal. In the car, those RSS internet news and information feeds are then displayed in the iDrive screen when the car is stationary.
If the driver is involved in a severe incident and the airbag is deployed, the eCall element of BMW ConnectedDrive takes over and automatically instigates contact with the 999 emergency services. If the driver is incapacitated and thus the operator receives no feedback, the car has already sent the navigation co-ordinates of the location using the embedded SIM card to the emergency services call centre for help to be dispatched.
ConnectedDrive is supplied as standard on all new BMW cars equipped with Navigation and Bluetooth mobile telephone connectivity for three years, with BMW expecting 30,000 cars to be specified with the options in 2008.
More On This Car
Take one for a spin or order a brochure