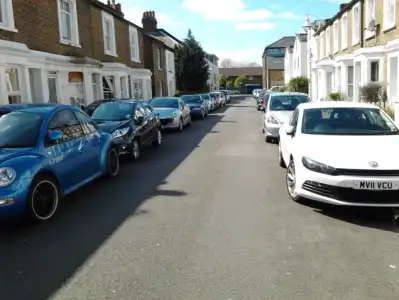 More On This Car
Take one for a spin or order a brochure
Residents Worry About Finding On-Street Parking Close To Home
UK street parking is so limited that 19% of drivers worry about finding a space close to home and many avoid moving cars once parked, an AA survey said. More than 50%, in fact, of these "road worriers" put-off making trips so other residents cannot claim their spaces. Londoners struggle most as 36% fret about parking near home - and 24% postpone, or abandon, trips on this basis. In contrast, 20% of those in Wales, the North East and South East have similar issues. Abandoned journeys in these areas total 12% to 13%.
AA President, Edmund King OBE, explained: "This AA-Populus survey shows that the squeeze on parking is a factor in UK drivers cutting back on car use; a trend that manifests itself in average car mileages falling year on year and UK fuel consumption failing to respond to lower pump prices."
In other words, low prices at fuel stations – that currently average approximately 102 pence per-litre - have not encouraged motorists to increasingly use their vehicles.
Why On-Street Parking Is Limited
Mr King suggested there are various reasons the demand for on-street parking is high. Demand, in fact, is so strong in some places that those with spare parking bays charge for their use.
He said: "Expensive housing has forced people to find homes some distance from where they work and have to drive – a problem exacerbated by both partners needing to work to pay the bills. This lack of affordable housing has led to young adults finding jobs, but being unable to leave home. They too may need a car to get to work."
He added: "Some types of rented accommodation have seen previously single family homes converted into upstairs and downstairs flats, both potentially occupied by working couples that need cars to go about their daily lives. Other rented houses may have 3 or 4 tenants who need their own transport. In short, a terraced house that used to be occupied by 1 family and had plenty of space outside for the single family car now holds 2, 3 or 4 car owners."
Steps To Increase On-Street Parking Capacity
Mr King highlighted some council initiatives that have increased capacity, but said other authorities have a passive approach. He said: "Councils have tried to ease the squeeze by making roads 1-way to allow parking on both sides. Some have re-engineered roads to create more spaces, while others have used variable cost parking permits to try to moderate demand."
He added: "But others have just left residents to get on with it (and created) stressful residential rat-traps - and blaming car ownership - instead of looking at the causes of more cars parked in a road and what might be done".
More On This Car
Take one for a spin or order a brochure