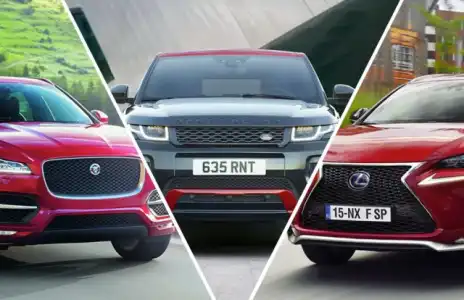 More On This Car
Take one for a spin
Request a Land Rover test drive
The luxury compact SUV segment has become extremely popular over recent years as owners clamber for practicality and looks, but with Jaguar entering the fray with their F-Pace, how does it stack up against the Lexus NX and Range Rover Evoque?
Read on to find out if the newcomer can beat its rivals in looks, practicality and pricing.
Jaguar F-Pace - from £35,020
Jaguar entered the market in 2016 with their F-Pace, the SUV designed by master doodler, Jaguar director of design Ian Callum. It was a long awaited model from Jaguar and with it came long waiting lists as buyers wanted to own such a contrasting vehicle from the brand's lineup.
With its long bonnet, Jaguar front grille with cat badge and large wheels it definitely has the looks to take on its rivals and can tackle gaining a younger audience that maybe some of the other Jaguar models fail to do.
The spacious interior is smart, sleek and features their latest as standard Jaguar InControl technology system which comprises DAB radio, Bluetooth, USB and an intuitive 8-inch touchscreen alongside a 5-inch driver's display on the instrument panel.
There are a few engines to choose from, not surprisingly you'll not struggle for power in any of them. There's a 3.0-litre V6 diesel producing 300PS with a huge 700Nm of torque, while a supercharged petrol version delivers 380PS and there is also a new, highly efficient 2.0-litre 180PS turbocharged diesel. The latter emits just 129g/km of CO2, with combined mpg to be around the fifty mark.
The Jaguar F-Pace comes with all-wheel drive so expect plenty of grip and combined with good, solid handling it can make a drive fun if you really want to play around with it. A slight negative is the ride comfort, Jaguar have manufactured such a great car then forgotten to actually make it comfortable.
The best in class boot space of 650-litres dwarfs rivals in comparison and it's this that makes it such a practical prospect, it just swallows up anything you put into the boot.
The Jaguar F-Pace is priced from £35,020 for the entry level Prestige trim which features front and rear parking aids, a powered tailgate, 18-inch alloys, InControl Touch Navigation and satin chrome roof rails.
Brochure Test Drive
Lexus NX - from £30,995
Next up is the NX from Lexus, the model launched back in 2014 as a smaller, younger version of their popular RX.
Bringing in musician Will.i.am to promote the NX and aim it to a younger audience, the stylishly, angled exterior design has enticed buyers as it's now their best seller in Europe with sales doubling of the model.
Lexus do luxury really well, the interior is of a very high quality but what seems to be a common thing among the Japanese car makers is that the design of the cabin always looks like it'll date rather quickly. The NX interior isn't that simple either with a lot of buttons on the centre console, although their Remote Touch Interface is fairly easy to use on a touchpad which lets you navigate around their multimedia system and get the full display of the 360-degree Panoramic View Monitor, which also offers a 3D view of the NX.
Boot space is slightly smaller than the F-Pace at 550-litres but it does come with a space-saver spare wheel which is usually an option on other cars. It's a fairly spacious car up front, but tall rear passengers might struggle with a lack of decent headroom.
There is only a choice of two engines on the NX; a 300h 2.5-litre hybrid and a 200t 2.0-litre petrol turbo. The full hybrid drivetrain produces 195hp with 270Nm of torque and with CO2 emissions as low as 116g/km and a combined mpg of 56.5 then running costs will be low.
The petrol engine delivers 238hp with an instantaneous 350Nm of torque and gets from 0-62mph in 7.1 seconds. This version comes with all-wheel drive while the hybrid only comes with front-wheel drive, but both drive well, the ride is comfortable and although it lacks the sportiness of the F-Pace, like most Lexus models it is a pleasurable driving experience.
The Lexus NX is priced from £29,995 for the 300h and it comes with dual-zone climate control, reclining rear seats, 7-inch display screen, Bluetooth and LED daytime running lights.
Does the Lexus NX have what it takes to take on another British rival?
Brochure Test Drive
Range Rover Evoque - from £30,600
The multi-award winning Range Rover Evoque has been in production for five years already and is the oldest contender in this test. What seemed like an affordable and much smaller model from Range Rover has become so popular that the range now comprises of a coupe, five-door and more recently a convertible.
With its bulbous front end and sweeping lines it has a huge presence on the roads and the mummy brigade have snapped it up in their masses, while the new convertible addition brings the model to an even wider audience.
An enormous 10-inch touchscreen dominates the plush interior and with their most advanced multimedia system, the InControl Touch Pro featuring on the Evoque, then a range of applications can be used in conjunction with a smartphone and the Wi-Fi Hotspot.
The Evoque is quite agile, ride quality is good too and deep down its heritage lies with off-roading capabilities so it comes well-equipped with hill descent control and terrain response which sets the car for different road surfaces while the all-terrain progress control is a low-speed cruise control for challenging road conditions.
With a new range of efficient yet powerful engines there is a range of 2.0-litre variants: an eD4 diesel E-capability which produces 150hp with 380Nm of torque, a 2.0-litre TD4 diesel available either as a 6-speed manual or 9-speed automatic that delivers 180hp with 430Nm of torque and a Si4 petrol which has 240hp and 340Nm of torque.
CO2 emissions are as low as 113g/km for the eD4 engine with a combined 65.7mpg, so running costs will be good.
The five-door Range Rover Evoque is not surprisingly a lot more spacious than the coupe and with only 420-litres of boot space available it is definitely no match for the F-Pace and if you go for the convertible then expect just a 251-litre boot to sling your luggage into.
The Range Rover Evoque starts from £30,600 for the 5-door SE version and there is plenty of standard equipment for the entry level version including interior mood lighting, lane departure warning system with autonomous emergency braking, cruise control, hill-start assist and Bluetooth.
Which is the best?
All three have their plus points, the F-Pace has the class-leading boot space, the NX has the edge in terms of what you get for your money while the Evoque features a whole host of technology including the huge touchscreen.
Lexus though have the edge over both manufacturers as they excel in the reliability stakes, the NX was recently named the best compact SUV in the Which? Car Survey and the brand regularly tops customer satisfaction surveys, whereas Jaguar and Range Rover are at the opposite end of the scale.
It's a tough one to call but the F-Pace just pips the NX and Evoque as it has that star quality... and big boot that'll make it extremely popular for years to come, it might be the most expensive of the three but in our eyes it's worth every penny.
Brochure Test Drive
More On This Car
Take one for a spin
Request a Land Rover test drive