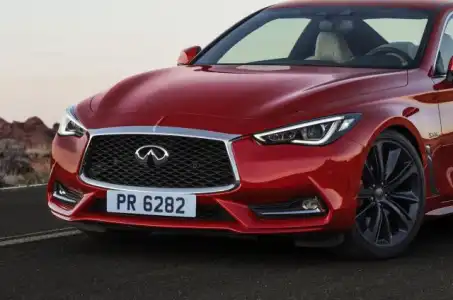 More On This Car
Take one for a spin or order a brochure
With the all-new Q60 and QX30 models making their European debut, Infiniti aims to grow its customer base in Europe and around the world, aiding in further growth for the brand.
First up is the all-new Q60, which gets an all-new lightweight 'VR30' 3.0-litre twin-turbo engine. A special Red Sport coupe Q60 has also been debuted, featuring a brand-new high-powered 400bhp V6 unit. The Q60 is set to go on sale in the second half of this year.
Infiniti's new dynamic digital suspension and updated direct adaptive steering is also available on the model.
Next up is the all-new premium active crossover QX30 model, which goes on sale later this year. The original QX30 concept made its international debut at the 2015 Geneva Motor Show, with the production version being presented this year. The model gets an elevated stance, all-wheel drive concept-like exterior, and asymmetric cabin design. Infiniti says the elevated ride height and high-stability drivetrain will give confidence to drivers.
Also joining the Infiniti show stand was the new premium Q50 sports saloon. The model is is newly available with the all-new V6 engine from the Q60 sports coupe, as well as dynamic digital suspension and updated direct adaptive steering.
All models share Infiniti's newest design language.
Infiniti vice president, Europe, Middle East and Africa Francois Goupil de Bouille said: "This is an exciting time for Infiniti, as we have transformed our product line-up and established sales records across the globe and in our region in particular. The new models set for their European debuts in Geneva highlight our commitment to expanding our product portfolio in new and thrilling directions, based on daring concept cars. This is the Infiniti way, and one that will help us achieve further success in 2016 and beyond."
More On This Car
Take one for a spin or order a brochure