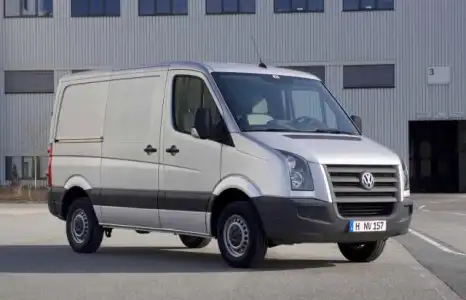 More On This Car
Take one for a spin or order a brochure
Request a Volkswagen brochure
Request a Volkswagen test drive
The new Volkswagen Crafter SWB CR30 is a typically German machine. Never fear though, this has nothing to do with a passion for high-quality sausages - although its impressive load area can carry 7.5m3 worth of pork-based snacks. This assumes that each slice of ex-pig is no longer than 2,600mm and no wider than 1,780mm. Oh, and best remember the meat's weight too. This particular Crafter has a maximum payload of 1,011kg.
The Volkswagen Crafter SWB CR30 has a 2.5-litre diesel engine. This 88hp meat-lugger averages 28.5mpg and produces a highly commendable 250Nm of torque. It is a very impressive unit for an entry-level model that starts at only £18,500. Extras include the £1,000 air-con system, cruise control for £205, and passenger and side air-bags for £785. All these prices exclude VAT at 20%, the cost of which makes buyers sequel like pigs.
This Germanic workhorse feels extremely robust. This is common for Volkswagen machinery and, in general, for most vehicles that emerge from this fascinating country. As such, the Crafter SWB CR30 suits those who want a hassle free workmate. It is relaxing to drive, comfortable, spacious, and should last long enough to become a family heirloom. As mentioned earlier – a typical German machine. Now, who fancies a sausage sandwich?
More On This Car
Take one for a spin or order a brochure
Request a Volkswagen brochure
Request a Volkswagen test drive