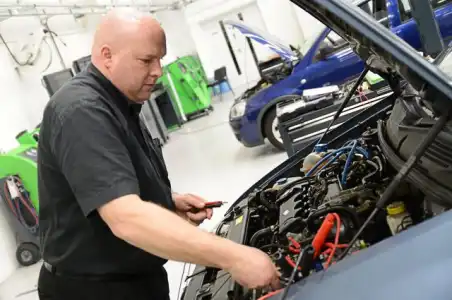 More On This Car
Take one for a spin or order a brochure
After buying somewhere to live, purchasing a car is probably the second most expensive thing that most of us do.
Investing so much money means that you'll want to know how that car has been treated and one of the best ways to do that is to check its service history.
All of those reassuring ink stamps in the service history book provide at least some peace of mind that the owner has sought to keep the car in the best possible condition while also satisfying warranty requirements. So much peace of mind in fact, that you'd be prepared to pay more for it.
False Economy
Turn that scenario on its head, with you the seller rather than the buyer, and it quickly becomes apparent that keeping up to date with servicing is one way of ensuring that you'll get the best possible price when the time comes to trade your vehicle in.
Skipping the odd service can seem like a good way of saving money, but in the long term, it only adds up to false economy.
Nor is having "forgotten" an excuse these days. Sign up to a service like MyMotoring and you'll get a range of free reminders.
According to research by Kwik-Fit, having an incomplete service history typically reduces a car's value by 19%, which - based on the average sale price of £7,706 in July 2014 - is equivalent to £1,464.
Furthermore, a Kwik-Fit survey shows that 45% of motorists would not "even consider" purchasing a second-hand vehicle without a complete, fully stamped, service history.
Regional variations
The discount expected by those that will invest varies regionally. A driver in London, for example, expects to pay 23% less than for a similar car with a full history. This is followed:
South East (20%)
North East (19%)
North West (19%)
West Midlands (19%)
Scotland (19%)
East of England (18%)
Wales (17%)
East Midlands (17%)
Yorkshire & Humberside (17%)
South West (15%).
Roger Griggs, Kwik Fit Communications Director, says: "Car owners often skip services to save money, but in the long run this can end up being very costly. Not only does it reduce the vehicle's value, it also makes the pool of potential buyers much smaller.
"Having a record that shows regular servicing gives prospective buyers confidence that a car has been well maintained, so even if you have one or two missing, frequent servicing is still important."
Authenticate Service History
Some sellers try to increase the value of a vehicle by faking its service history. It is easy and cheap to buy a blank service book then falsify the dealership stamps, dates, mileages.
The buyer can authenticate a service book by contacting the garages that (apparently) completed any work. Ask: "did you see this vehicle – on this day – at this mileage?" Further reassurance comes from cross referencing with any accompanying invoices and receipts.
Then there is the other side of the coin. A buyer – who is considering purchasing a vehicle that is lacking its paperwork – might be able to trace its history prior to sale. He/she can then purchase with more confidence but pay the lower "lack of service history" price.
Let us consider how. I once helped a friend source a second-hand vehicle. He had very little money, and the best car we could find had paperwork that indicated a partial service history. However, it also had the look, feel and badge of a once prized possession.
We contacted the local garages and established its history was more complete than the paperwork suggested. My friend – after purchase – added value by requesting copies of the invoices.
More On This Car
Take one for a spin or order a brochure