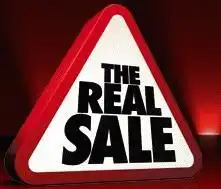 More On This Car
Take one for a spin or order a brochure
The UK's biggest used car sale is back, last year Arnold Clark saved its customers £9,070,230 in the 'Real Sale'. This year's sale started on Boxing Day and is set to be bigger than ever.
Sir Arnold Clark, Chairman and Chief executive said "the Real Sale is historically a great time of year to purchase a vehicle and, after a busy year acquiring new dealerships throughout the country, we can offer our customers even more choice and fantastic savings, making this the biggest used car sales event in the UK."
Thousands of cars from every manufacturer from Ford and Fiat to Seat and Skoda are available. Ninety percent of the stock on arnoldclark.com is included in the 'Real Sale'. Customers can search on arnoldclark.com where more than fifteen thousand cars can be viewed, plus there are two hundred dealerships around the country where you can drop in and find your New Year bargain.
Arnold Clark have reported that during the 'Real Sale' last winter, they sold one hundred and sixty-six convertibles, despite average temperatures in the UK of 3.3 degrees Celsius and the highest levels of rainfall for years. This may have been due to an average saving on convertible cars of £842 which is a saving that savvy car shoppers clearly couldn't resist.
Meanwhile four hundred and four very sensible customers invested in a 4x4 last year, saving an average of £799 thanks to the Real Sale discounts. In this year's sale, there are nearly six hundred 4x4s in stock with equally impressive savings to be had. If a 4x4 is on your shopping list then it is time to get searching.
Finance deals available
Arnold Clark also offers some great deals on finance, and there are plenty of cars in the economical category. More than four thousand cars have an MPG of more than sixty to give you superb fuel efficiency, and over one thousand vehicles in the sale have CO2 under 101g/km which means more savings with no road tax to pay.
Whether it's an ever-popular hatchback, there is over fourteen thousand in stock or a spacious family car (you could save more than five hundred pounds on a people carrier), use the award-winning search at ArnoldClark.com to find your next car at an unbeatable price. There really has never been a better time to buy a car, and when a sale like this comes along the only winner is the buyer. Customers can be assured that buying a car from Arnold Clark in a sale like this truly represents fantastic value for money.
More On This Car
Take one for a spin or order a brochure