Pros:
So, so fast

Glorious design

Unexpectedly sensible and practical
Cons:
Options list adds serious money

Not as plush as some rivals

Buyers will gravitate towards the Stelvio SUV instead
More On This Car
Take one for a spin or order a brochure
Request a Alfa Romeo Giulia brochure
Request a Alfa Romeo Giulia test drive
Introduction
If cars sold on their looks alone, then the Alfa Romeo Giulia would be a bestseller. Unfortunately, customers do demand more than just Hollywood style before putting down their money, and the Giulia had a few issues that put buyers off.
Alfa Romeo has listened though and promises to have fixed everything that's been wrong with the car, starting with this red-hot Quadrifoglio version. New LED rear light clusters with dark lenses are the tell-tale signs for those you've just overtaken that this is the new model. A gloss black finish adorns the front grilles, and the badges have a dark surround. It's a subtle update, but there was never much of a problem with how the Giulia looked - it was always a quality issue, and the Italian's promise they've fixed that, too.
With 510hp going to the rear wheels, a perfect 50/50 weight distribution, a bunch of electronic wizardry to keep it all on the road, and now with the promise of an ownership experience to match the asking price, this BMW M3 rival should have the management in Munich worried, but is it really good enough?
On The Road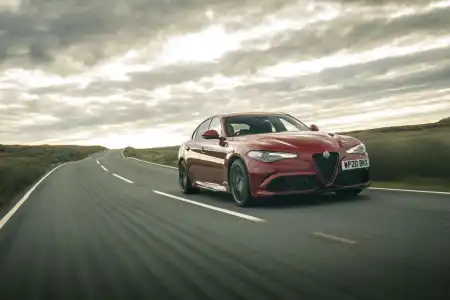 Performance
When a car looks this quick at a standstill, it's got to have something to back up the promises it's making. Fortunately, there's a 2.9-litre bi-turbo petrol engine that develops an impressive 510hp. It extracts so much thanks to some help from the engine team at Ferrari, who stepped in to help development.
The result is that this sensible family saloon car will propel itself to 62mph in just 3.9 seconds and carry on to an astonishing 191mph. While there is traction control and stability control, along with torque vectoring (more on that later) there is no launch control so achieving that figure might be difficult but, however long it takes you, it's seriously quick.
The surge of power continues long past 62mph, all the way to roughly 5,000rpm, at which point it feels like that second turbo kicks in and provides yet more thrust. It's quite intoxicating, and quite likely to arouse the interest of the local constabulary.
Steering-wheel mounted paddles allow for manual gear changes, which is handy as the gearbox isn't particularly good at picking the right ratio itself. They're also a really good size, so a fingertip can flick a paddle even when turning the wheel. The result is that you feel more engaged with the car, more in control of what's happening beneath you. And you'll giggle as the exhaust crackles and pops between each hurried gear change.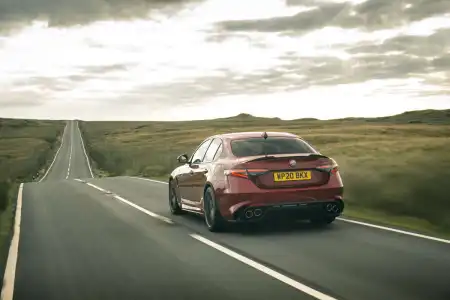 Ride Handling
There was never much wrong with the way the Giulia Quadrifoglio drove previously, so Alfa Romeo hasn't fiddled where it doesn't need to. The result is that, in balancing the needs of a performance car and a family saloon, it's pretty much nailed it.
It can take a bit of time to get the setup just right, thanks to the adjustable suspension and drive modes, but move the jarringly named DNA switch around and ensure the dampers are set to soft (something you can do even when in Dynamic mode) and you get something that can live just as easily on the race track as it can on the A12 between Great Yarmouth and Lowestoft.
Of course, with 19-inch wheels and wafer-thin tyres, you're still going to feel a lot of cracks and bumps in the road, no matter how soft you can set the car, but it's a price worth paying.
Grip and balance are strong at both ends of the driving scale then, and that's aided by lovely and surprisingly direct steering. As with so many modern systems, there's not a huge amount of feel through the wheel, but it's improbably precise and will allow you to place the Quadrifoglio exactly where it needs placing - once you've got used to the initial aggressive turn in.
Styling
Sharing much of the same mechanical parts as the larger Stelvio SUV, it's no surprise that the engine behaves in much the same way when cruising along. Rather than barking about its presence, be gentle on the throttle and it's a refined, low rumble that simply hints at what's available. Unless you've specified the £3,250 Akrapovic exhaust, in which case it sounds like thunder all the time.
Vibrations are minimal, partly thanks to there being six rather than four cylinders under the bonnet, while wind noise is kept at bay. Those tyres are nearly a foot wide at the rear, so can generate quite a bit of noise, but it's never intrusive.
Relax into the surprisingly comfortable seats, turn the stereo up just a little, and you might even forget that you're in a car capable of nearly 200mph.
In The Car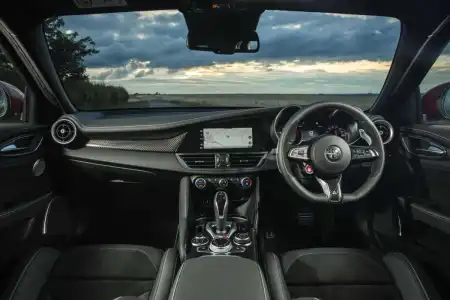 Behind the Wheel
Alfa Romeo has addressed the biggest issues with the old model, and that's perceived quality. In fact, in places it was actual quality, but the changes made resolve things well. The centre console has been revised, and now feels and looks better, with some added storage in there.
It's only a small change, but the gear selector now has a lovely leather wrap rather than the hard, brittle plastic of old. A tiny change, but one that makes a disproportionately important improvement to the cabin ambience.
It sits below a new 8.8-inch infotainment touch screen with widgets that can be dragged, dropped, resized and so on. It's neat, but still not that easy to use. Still, once you've spent some time with the manual and got things set up as you like them, you'll like what's there.
If you want to bypass Alfa's system and stick with what you're used to, both Apple CarPlay and Android Auto are present. By using those, you'll miss out on the Qaudrifolio's new Performance Pages that show the temperature of various mechanical components, torque output, turbo pressure and power use. You can even measure acceleration, g-forces and maximum speed for post-drive bragging rights.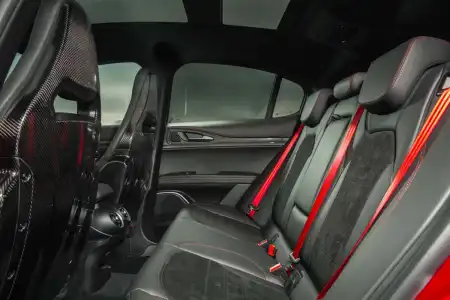 Space & Practicality
Who'd have thought a super saloon could be quite as practical as the Giulia Quadrifoglio? The low roofline makes getting in and out a little trickier than some rivals, but once inside there's plenty of space up front. The seats are wide and comfortable, even if you've specified the carbon-fibre backed seats.
Go back a row and the seats there will keep anybody bar the unusually tall happy. Kneeroom is good, and there's enough space under the front seats to slide your feet, but headroom can be a bit tight if you're particularly tall. You could squeeze a third person in the middle, but they wouldn't appreciate it.
Even farther back, the boot can swallow 480-litres of luggage, which is the same as you'll find in the back of a BMW M3, and significantly more than the Mercedes-Benz C63 AMG. There's no quicker way to get your golf clubs to the course, but if you need more capacity then the rear seats split and fold to lengthen the load bay. Likewise, there are countless cubbies and pockets dotted around the cabin to store smaller items.
Ownership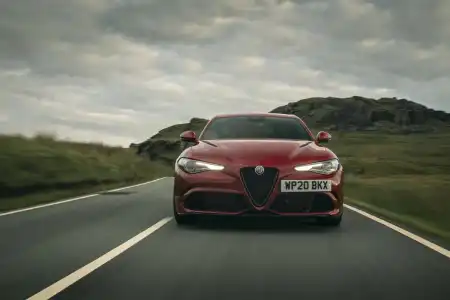 Running Costs
With a price tag of more than £65,000 and an options list that makes it remarkably easy to add another £15,000 without blinking, the Giulia is never going to be cheap. However, it's helpfully cheaper than its rivals (the Mercedes-Benz C63 costs more than £10,000 extra) and it's running costs aren't too extreme.
CO2 emissions are well into the highest band, so company cars drivers will be paying the full 37% BIK rate, while private buyers will be hit with an enormous first-year rate of tax. After that, it's the regular £150 annual bill.
Even fuel bills could be kept in check, if you were being suspiciously parsimonious. Officially, the Quadrifoglio will return as much as 27.2mpg, and it'll cruise along doing 30 or so mpg. However, I averaged just 17.6mpg during my time with the car, and that included a lot of low-speed, gentle driving. Best invest in a fuel card.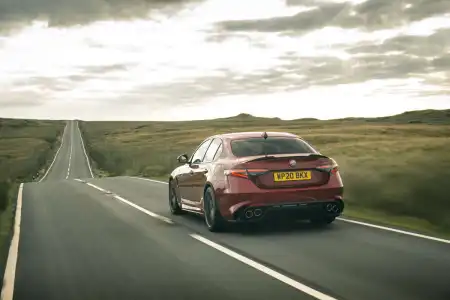 Quality & Reliability
Alfa Romeo's don't have the best reputation which, these days, is unfair. Taking real owners' experiences, the Auto Express Driver Power survey placed the Giulia third overall, with Alfa Romeo finishing second behind only Lexus on the brand rankings.
Such is their confidence in the car, Alfa Romeo provides an unlimited mileage warranty with the Giulia, although it is limited to three years. That said, you can extend that to five years for an additional fee.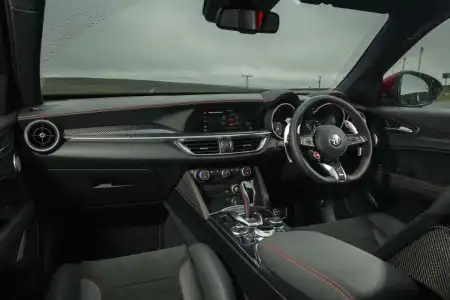 Safety & Security
Short of adding a kitchen sink, Alfa has thrown seemingly every safety gadget at the Giulia, so the Quadrifoglio comes fitted with lane keep assist, blind-spot monitoring, active cruise control, traffic sign recognition, intelligent speed limiter, traffic jam assist and highway assist.
Along with automatic emergency braking, with pedestrian detection, there's little chance of getting the Giulia into a messy situation without being intentionally unruly.
If the worst does happen, EuroNCAP tested the standard Giulia and awarded it a full five-star rating for crash safety, with a near-perfect 98% score for front passenger protection.
Child occupants are also well looked after, although any pedestrians who step out just too late for the emergency braking to avoid don't come off too well.
More On This Car
Take one for a spin or order a brochure
Request a Alfa Romeo Giulia brochure
Request a Alfa Romeo Giulia test drive