Pros:
Gorgeous styling with performance to match

Blistering pace via a punchy petrol engine

Deceptively spacious interior
Cons:
Infotainment system lacks real quality

Quite a lot of cheap-looking materials inside cabin

The ride can be a tad firm
Secure your test drive today
Request a Alfa Romeo Giulia test drive
Introduction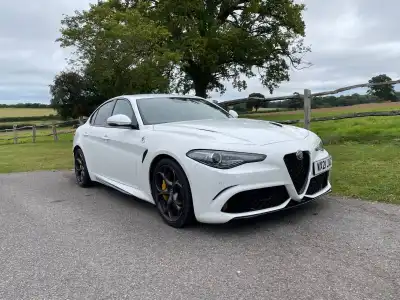 When Alfa Romeo adds its four leaf clover badge, or Quadrifoglio to give it its official Italian name, to a vehicle then it's a hint that the car will be a high performance model. It's a legendary emblem dating back to 1923 that Alfa reserves for just a handful of vehicles and the latest Giulia is lucky enough to be one of them.
Boasting all the dynamic and chic styling associated with the Italian marque, the car is certainly not for the faint-hearted with performance stats to match the muscular, aggressive appearance.
On The Road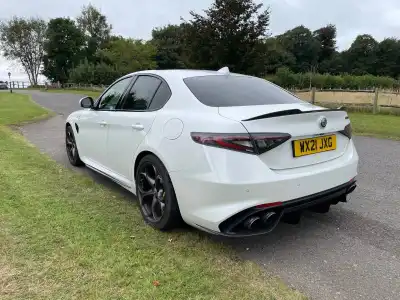 Performance
The Giulia is a good looking and practical four-door saloon that will happily go about its day-to-day business without too much fuss. Add the Quadrifoglio treatment and it's a completely different beast altogether.
The car gains a 2.9-litre V6 petrol engine that delivers 510hp and 600Nm of torque. Mated to an eight-speed automatic gearbox, it can sprint from 0-62mph in a very quick 3.9 seconds and maxes out at 191mph.
It was launched to take on the German carmakers that dominate the segment and it is something rather unique. The acceleration is incredibly quick with sharp handling and precision steering in and out of tight bends.
It is one of the fastest cars on our roads today but the all-round control is still impressive with huge steering wheel paddles to change gears manually.
The grip is superb and just in case the 'normal' driving settings are not quite enough there are modes called Natural, Dynamic and Advanced Efficiency, along with a Race mode that allows you to change gear in 150 milliseconds.
While the Race setting, with its supercharging features, is probably best left for the racetrack, the Dynamic setting increases brake and steering sensitivity for a sharper, sportier drive. Natural offers added comfort through a softer suspension set-up and Advanced Efficiency deactivates cylinders when they are not needed to preserve fuel.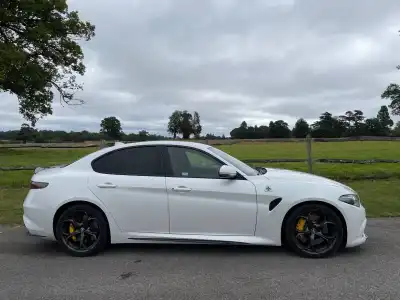 Ride Handling
The Giulia Quadrifoglio features torque vectoring which guarantees optimal torque distribution between the two rear wheels thanks to two electronically controlled mechanical clutches. That means the car delivers the best possible grip even at higher speeds and in the wet.
Select the Race mode and everything sharpens up and becomes more exaggerated – that includes the sound. With cracks, bangs and popping noises, the car can be heard long before it fires by.
One thing that was a real surprise though was the vehicle's comfort levels. The ride is firm but nothing compared to its closest rivals and when driven in more 'sensible' modes, it actually feels quite refined with barely any road surface, engine or wind noise filtering through into the cabin. Laminated glass and high quality insulation add to the effective soundproofing.
With rear-wheel drive, the Alfa Romeo Giulia Quadrifoglio is a car that will keep any driving purist happy but keep a watchful eye on that speed as maximum road limits are reached in the blink of an eye.
There is a carbon aero splitter under the front bumper. This opens as the car passes 60mph to offer extra stability and improved aerodynamics, especially through faster curves.
The Giulia Quadrifoglio is happy cruising at 70mph on motorways or even weaving through busy town centres, but it almost relishes being unleashed on the open B roads where it can be explored to its full potential.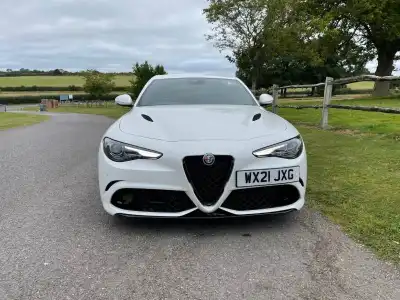 Styling
The Giulia Quadrifoglio is a four-door saloon that looks aggressive and muscular, yet still boasts a subtle Italian flair so it isn't brash in any way.
When viewed from any approach the car is impressive with a dark gloss V-grille, darkened rear lights, a dark finish GIULIA badge, Quadrifoglio emblem, air scoops, deep bumpers, the traditional off-set number plates, four exhaust pipes and 19-inch alloy wheels.
Move inside and there is plenty of high-end design cues to catch your eye, including the part leather, part Alcantara seats with red stitching and bright green seatbelts.
There is a leather Quadrifoglio flat-bottomed steering wheel with large aluminium paddles, plus a leather dashboard and door panels.
Considering the potential power this vehicle can unleash, the interior is fairly unassuming – apart from those seatbelts of course.
In The Car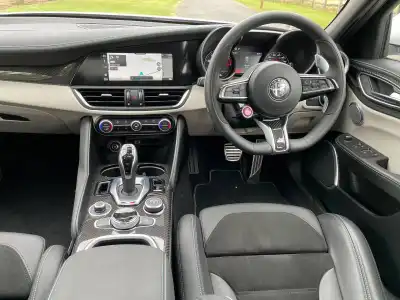 Behind the Wheel
Getting comfortable is a simple process with plenty of powered seat and manual steering wheel adjustment and then it's a case of taking stock of all the on-board tech at your disposal.
There is an 8.8-inch infotainment screen with sat nav, full Apple CarPlay or Android Auto smartphone connectivity, a wireless charging pad and plenty of performance-related data on the seven-inch driver information tft display.
Heated seats will soon warm up the cabin in winter and all the climate control settings are in a separate panel for convenience. The touchscreen was a bit small and fiddly, but all the main controls, such as the drive modes and Harmon Kardon sound system settings, are positioned near the gear lever which makes them easy to adjust on the fly.
The cruise control set-up works well and the giant paddles on the steering wheel are great when changing gear manually, but do get in the way a little when driving normally.
Special mention too for the bright red stop/start button on the steering wheel. So many cars have the ignition buttons hidden from view these days, that's certainly not the case in this Alfa.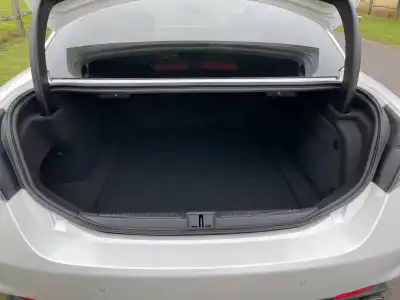 Space & Practicality
When it comes to practicality, the Giulia Quadrifoglio saloon ticks all the right boxes. It has a deep boot that can swallow 480 litres of kit and that limit can be increased further thanks to 40:20:40 split-folding rear seats.
Back seat passengers are treated to good levels of legroom provided the front seats are not positioned too far back. Ideally, a couple of adults could sit comfortably in the back with a third squeezing in for shorter journeys. With its low-ish roofline, taller occupants may find their hair brushing against the headlining and the car is fairly low to the ground so getting in and out in a dignified manner can be a challenge too.
Up front, the sports seats are wide and very supportive and there are a number of cubbyholes to hide away bits and pieces. These include a glovebox, front and rear cup holders, a storage box beneath the front central armrest, door bins, seat back nets, a wireless charging pad and a secret compartment by the driver's right knee.
Ownership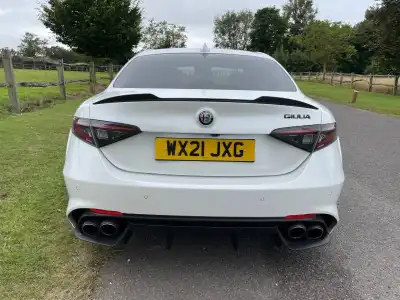 Running Costs
The Alfa Romeo Giulia Quadrifoglio 2.9 V6 Bi-Turbo model costs £68,055, although our test car also included some optional extras such as a convenience pack, electrically adjustable seats, an upgraded Harman Kardon audio system, green seatbelts, a Quadrifoglio flat-bottomed steering wheel with carbon insert and special sports exhaust pipes. These add-ons saw the final price creep up to £74,555.
With its V6 2.9-litre petrol engine, the test car could deliver a combined 28.0mpg under WLTP testing with carbon emissions of 228g/km.
This CO2 output means owners will face some hefty tax bills with a first year Vehicle Excise Duty charge of £1,345 dropping to the standard fee of £155 after 12 months.
However, there are more expenses to factor in because the Government charges an additional Premium Rate levy of £335 for five years on vehicles costing above £40k.
The insurance group rating for the test car is 46.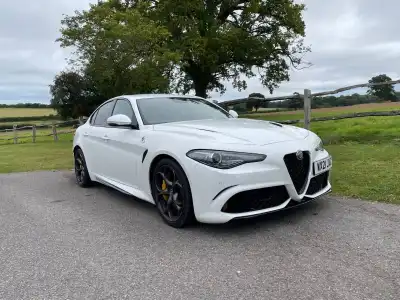 Quality & Reliability
While Alfa Romeo has never scored that well in customer satisfaction surveys, it is a manufacturer that has worked tirelessly to turn around its reputation regarding reliability. The Italian manufacturer has a loyal following and huge fanbase with a well-supported owner's club.
Our test car certainly felt sturdy enough, but there were a few hard-plastic surfaces within the cabin that could prove prone to scratching over time. However, the dials and switchgear, along with the upmarket upholstery feel well put together and should survive the test of time.
The Giulia Quadrifoglio comes with a three-year/unlimited mileage warranty for peace of mind. There are options to extend this policy to four years/100,000 miles for £799 or five years/125,000 miles for £1,599. Roadside assistance is included in the plan. There is also an easy care plan that includes three services and costs £699.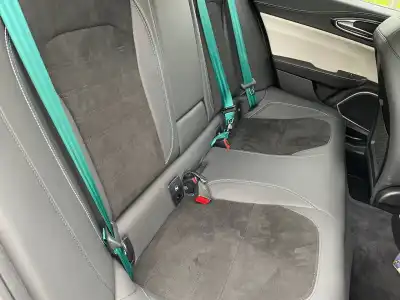 Safety & Security
With the pace and power of the Giulia Quadrifoglio, safety has to be a high priority and, with that in mind, the car is packed with systems to protect occupants and other road users alike.
Safety features include autonomous emergency braking, lane keep assist, blind spot monitoring, active cruise control, traffic sign recognition, a rear view camera with dynamic lines which is handy for parking, tyre pressure monitoring and rain sensing wipers.
There is driver attention assist, along with intelligent speed control. This handy feature combines the active cruise control with the traffic sign recognition system and suggests an automatic speed to the driver according to the limits. An active blind-spot assist system will deliver a visual warning if you are about to change lanes into the path of another vehicle and it will actively take control of the wheel to prevent an accident if necessary.
The test car is based on the standard Guilia which was awarded a maximum five stars when tested for its Euro NCAP safety rating.
The car is fitted with a high-end alarm system with bonnet and intrusion protection to keep away any uninvited attention.
Summary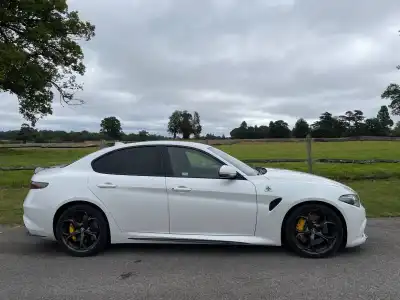 The four-leaf clover or Quadrifoglio is a sign of good luck in Italy and if you're handed the keys to the Alfa Romeo Giulia Quadrifoglio then you are one lucky individual that's for sure. It looks dynamic, drives superbly and has all the creature comforts we demand these days too.
Secure your test drive today
Request a Alfa Romeo Giulia test drive