All-New Clio E-TECH Hybrid (2019 - ) Review
Many motor manufacturers are adding electrification to their cars, so it's no surprise that Renault has ushered its all-new Clio E-TECH Hybrid into the automotive arena. The hatchback has been popular for years, but is it any good in electrified form?
Pros:
Pleasant to drive

Pleasing looks

Efficient hybrid tech
Cons:
More expensive than regular Clio models

Boot is smaller than the non-electrified Clio

It's not a pure-electric car
Starting price:
From £19,595 - £22,095
Introduction
The "Papa" and "Nicole" characters publicising the Clio haven't been on our TVs and cinema screens for 22 years. They were around for a long time, though. The advertising campaign ran in Britain from 1991.
Wow, I liked "Nicole" back then – but she still didn't make me buy a Clio. Loads of drivers obviously thought otherwise because it's the most established French car on the planet.
Fifteen million units have been retailed since 1990, and the car has held on to the "top supermini in Europe" accolade for the last seven years.
Renault has modified the hatch over the years to keep it meaningful. But the fifth-generation edition is entirely new, and now sports a future-proof structure that houses a petrol-electric powerplant.
On The Road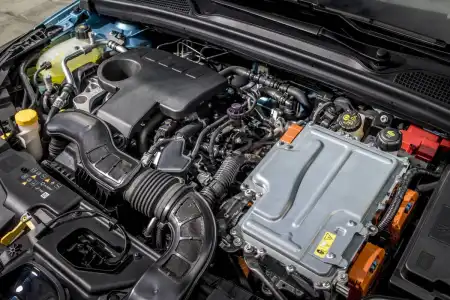 Performance
The Clio E-TECH Hybrid uses a couple of electric motors connected to a 1.6-litre petrol unit. The hatchback also houses a high capacity 1.2kWh battery, so, as you will gather from the term "hybrid", it's a "halfway house" car and not an unadulterated electric one. It's Renault's way of smoothing the road towards an all-electric age.
The vehicle fires up under electric power for ultimate efficiency and immediately useable pulling power. This makes it an ideal hatchback for urban motoring. But more than that; due to the concoction of electricity and petrol, the French supermini offers a total output of 140ps. This means zero to 62mph can be realised in 9.9 seconds, and a top speed of 112mph is possible.
If you want to remain in all-electric mode, the Clio will manage 27mph. That doesn't sound much, but it's fast enough for trips around town and, theoretically, you shouldn't ever need to burn fuel for these short journeys.
What's more, the Clio is fitted with a state-of-the-art multi-mode clutch-free transmission. This provides smooth gear changes that result in excellent fuel efficiency.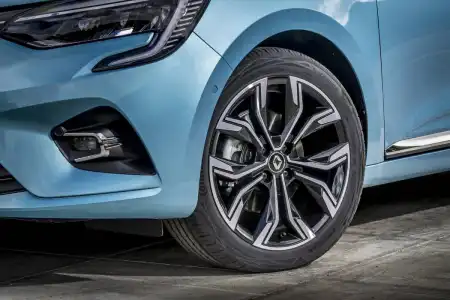 Ride Handling
The compact structure of the good-looking Clio helps to make it stress-free to drive. It's a supermini, so, clearly, it's not a monster motor, yet it's not microscopic either. Indeed, it feels right in its happy zone on the UK's roads.
At speed, the steering gives the same feeling of assurance as it does in the regular Clio, and the E-TECH Hybrid's ride is as refined, if not more so.
In electric mode, there's a peaceful ambience, and the Renault feels calm and controlled on meandering roads. Indeed, there's so little lean that you could be forgiven for thinking you were in a hot-hatch.
In town, the Clio's a breeze to manoeuvre in narrow streets, thanks to its easy-going steering. Parking is unchallenging, too. Ultimately, there's not a lot to whine about - the hybrid hatch will be comfortable to live with every day in Britain.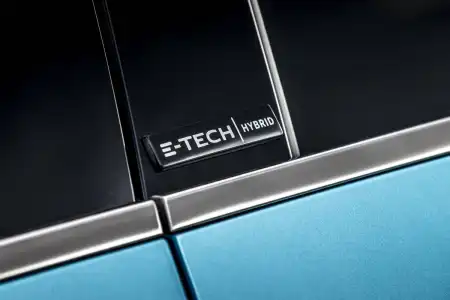 Styling
There is little doubt that the electrified Clio is a refined car. It's more than geared up to take on the next ten years with an interior that looks and feels like it'll endure aeons of use. Road and wind noise are well stifled, so you won't find these factors are a concern on a motorway. The suppression of these undesirable sounds is due to efficient insulation and the materials used in the Clio's cabin.
The E-TECH Hybrid is available across all main grades: Play, Iconic, S Edition and R.S. Line. There's also a Launch Edition model. As driven here in S Edition guise, the hatchback comes fitted with a large infotainment touchscreen, navigation, and premium finishes. If truth be told, the quality of the textiles is the best-ever in the Clio. Elements such as piano key buttons flowing along the underside of the touchscreen give the car a particularly high-class lift.
Oh, and when you're in the right mood to stomp on the gas pedal, the generous bolstering in the Clio's seats gives proper support when entering corners. Add all the above together, and the Renault is a hospitable place to be.
In The Car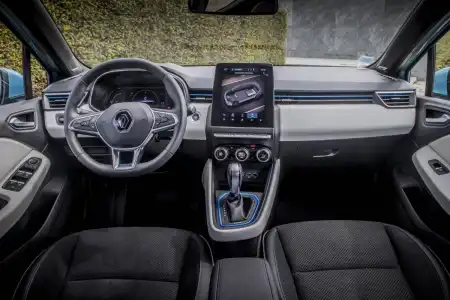 Behind the Wheel
The icon, for that's what the Renault Clio is (maybe that's why one of the trim levels is called "Iconic"?), is racy as well as refined. The legendary model's cabin is more tech-preoccupied than it has any right to be. Indeed, look askance, and you could be in a vehicle several segments above this Clio's position in the automotive pecking order.
In the S Edition, you get Apple CarPlay and Android Auto mirroring, as well as DAB radio, cruise control, climate control, parking sensors and a rear-view camera. The leather steering wheel can't be passed over, either. It feels so lovely to hold. What's more, a floating centre console gives the hatchback's cabin an innovative look and includes a wireless 'phone charger and a storage area.
The Clio certainly swanks a delicate equilibrium of tech, practicality, and comfort, with attention-grabbing features including ambient lighting in a selection of eight colours.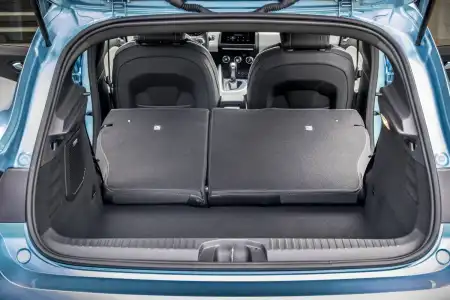 Space & Practicality
There's sufficient room in the front of the Clio for driver and passenger, and you'll get a trio of people in the rear - at a push. Four occupants are going to be more chilled than the five folks the hatch is portrayed to carry. But it's a similar story for most motors in this sector of the car market.
Headroom is good, and the back of the Clio's front seats have been designed to increase knee room. The only downer is that the car's bulky window pillars impede the view out.
As for the load area, there's still a handy 300 litres. It's not as much as the 391-litres offered by the regular Clio, though. You can thank the electrification for that – it needs to be shoehorned somewhere into the car, and in this case, it eats into the boot. You'll still get a couple of flight cases in there, though, or a child's buggy. What's more, the rear seats fold flat if you need more room. So, if you need to pick up, say, flat pack furniture or whatever, then you have 1,146-litres to play with.
Ownership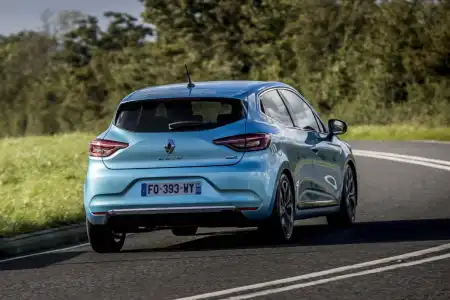 Running Costs
As well as buying or leasing the new Clio E-TECH Hybrid for its fresh interior and looks, you'll clearly want it for its frugality. You see, the car will do a claimed 64.2mpg if driven carefully.
The powertrain offers all-out efficiency and excellent responsiveness, making it the most economical and highest performance Clio in the line-up. Compared with a traditional internal combustion engine set up, the Clio, in E-TECH Hybrid guise, saves as much as 40 per cent in petrol and can travel up to 80 per cent of its time in pure electric mode. You can see why this makes it a perfect companion for inner-city journeys.
What I'm saying is that the Clio, in E-TECH Hybrid form, won't cost you a lot to run at all. Its CO2 emissions are also low at 98-99g/km.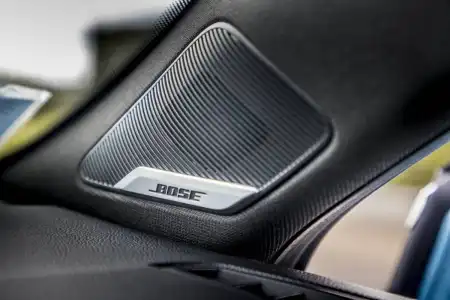 Quality & Reliability
Regarding reliability and quality, Renault has now got a reputable image, particularly when it comes to the Clio. It didn't used to be this way with every model, but the hatch has always been the little star in the French automaker's team.
Indeed, you still see many old Clios motoring about today - they seem to be the default choice for many new drivers. That's proof of the company's engineering and, to some degree, its build quality.
Mass-made electrified vehicles are still in their developmental stages, though. So, at this point, it's challenging to estimate how trustworthy the all-new Clio E-TECH Hybrid's battery and twin electric motors will be. But the car benefits from Renault's five-year /100,000 miles warranty. The vehicle's battery is also covered for eight years or 100,000 miles.
Additionally, service intervals for the Clio are spaced out well, with it only needing to be serviced every 18,000 miles, or one year - whichever comes around soonest.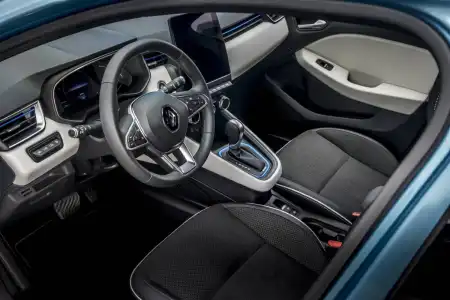 Safety & Security
The Clio E-TECH Hybrid is teeming with technology, helping to ensure you and your travelling companions always stay well looked after. Some of the apparatus that helps make this a safe car includes Traffic Sign Recognition, Adaptive Cruise Control and Lane Keeping Assist. Renault also makes the Clio available with Hands-Free Parking and Active Emergency Braking.
Furthermore, the all-new Clio has been given a premiere five-star safety rating by the independent crash-test organisation, Euro NCAP. The hatchback scored extremely highly (96 per cent) for adult protection. It comes with no less than six airbags and a couple of sets of ISOFIX sockets in the rear for infant seats. It's also fitted with child locks that you can turn on and off using a button located on the driver's door.
Finally, when it comes to security, you're in good hands. The Clio is fitted with a Thatcham Category 2 immobiliser, "RAID" (it stands for Renault Anti-Intruder Device), and a deadlocking system. Yup, you're very unlikely to get your new Clio E-TECH Hybrid pinched.