Pros:
Good choice of hybrids

Decent handling

Premium-feel interior
Cons:
Hybrid petrol is noisy when pushed

Controversial front-end looks

Other SUVs are more comfortable
More On This Car
Need more information?
Request More Information
Introduction
There are so many family SUVs nowadays that Kia needed to make the Sportage stand out. And it's certainly done that with the striking new looks of its fifth-generation car.
The Sportage has always been popular – and this latest version might make it even more so.
There are countless combinations of trims and power, with entry-level Sportage '2' trim offering 17-inch alloy wheels, an eight-inch infotainment screen and a 4.2-inch colour display between the analogue speedometer and rev counter. LED headlights, automatic dual temperature control, rain-sensing wipers and a leather-trimmed steering wheel are also part of the package.
GT Line adds 19-inch rims, a 12.3-inch infotainment screen with SatNav, quilted leather suede seats, an engine start/stop button and smart cruise control.
Sportage '3' trim features 18-inch wheels and heated cloth and leather seats, while also adding a 12.3-inch digital instrument heated steering wheel and driver lumbar support.
Sportage '4' trim adds ambient lights, a wireless phone charger, Harman Kardon premium speakers, dual-LED adaptive headlights, electronically adjustable front seats, a panoramic sunroof, and a surround-view monitor.
The top-of-the-range GT-Line S has 19-inch alloys, suede upholstery, ventilated seats, a powered tailgate, memory seats and a two-tone roof.
If you pick the self-charging or plug-in hybrids (the latter of which is coming soon), the trims can be slightly different, so that's worth bearing in mind.
The engines are all 1.6-litres, with a turbocharged petrol producing 150PS and two naturally aspirated diesel variants making 115 horses with a six-speed manual and 135PS with a seven-speed automatic and some mild-hybrid technology. The self-charging petrol hybrid produces 229PS, and the forthcoming plug-in variant will produce 265PS.
All hybrids come with the automatics. And while most are front-wheel drive, the GT-Line, Sportage '3' and Sportage '4' plug-in hybrids, as well as both GT-Line 'S' self-charging and plug-in hybrids, are available with four-wheel drive.
It is a comprehensive and confusing line-up, so it's worth studying carefully before taking the plunge.
On The Road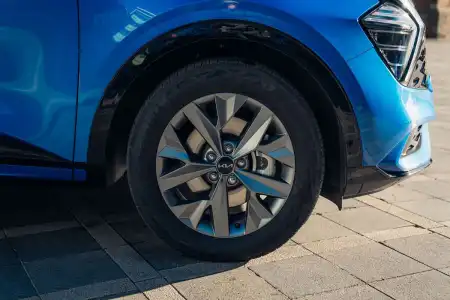 Performance
We have tested quite a few Sportages (not all of them, though, as there aren't enough hours in the year).
The automatic's mild-hybrid technology improves fuel economy. Mind you, although the gear changes are smooth, it's not especially quick to respond when you put your foot on the accelerator. The manual does make it more fun to drive, but it also requires more effort if you're going to be changing gear a lot around town or on the school run. Plus, it feels a bit on the clunky side.
The powertrains are all 'much of a muchness', really, in terms of overall performance. There is no standout model, and you can make a case for all of them depending on what you intend to use them for. Hybrid models are quite a bit more expensive, so you'd need to be making that extra investment back through cost savings on fuel. This means it's better suited to those who drive long distances.
That said, the self-charging hybrid appears to be the best blend of performance and economy. Plus, it's the quietest and can manage short journeys on all-electric power, although it can get a bit noisy if you thrash it.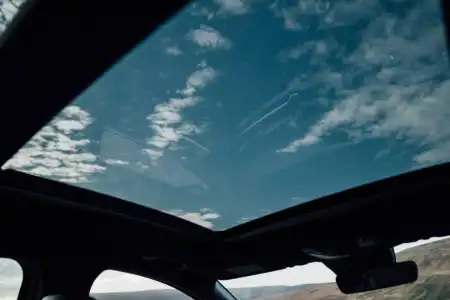 Ride Handling
The Sportage is a pleasure to drive at slower speeds around town, thanks to its very light steering, while the suspension smooths out potholes and imperfections in the road. Larger alloys make the ride a tad firm, but it feels well-planted and doesn't bounce about.
Around corners, there is quite a bit of body roll, but that's to be expected in an SUV. However, it is not excessive, and the tyres have plenty of grip to hold it around a bend at speed. The Sport mode firms up the steering a little at higher speeds, which helps. Eco mode optimises fuel efficiency and reigns in the acceleration a bit, while Normal is a nice blend of the two.
It is quiet to drive, too, with limited wind and road noise, while the hybrid versions can put some charge back into the batteries through regenerative braking. However, this tends to make the brakes feel like they're 'on' or 'off', rather than a smooth sliding scale as you push the brake pedal.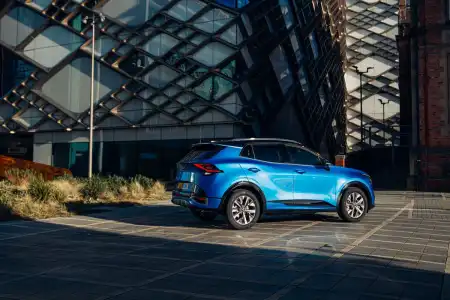 Styling
The Sportage always shunned the aggressive looks for a more rounded and friendly design. Although more aggressive styling has been added in recent years, it hasn't disrupted the feel of a car that's aimed at families going on a day out, rather than a lean-mean machine that's ready to tear a hole in the world.
The new version, though, is anything but modest. It has boomerangs for front lights and a massive grille covering everything else. We suspect it will divide opinion because its looks are unique. Possibly a case of it's so ugly that's it's beautiful?
The rear is designed like a Kia EV6, meaning there's a concave shape across the middle of the boot, with a thin LED strip sticking out beneath the rear window. It certainly looks the part from the back.
The all-new model is also wider and longer than the outgoing Sportage.

In The Car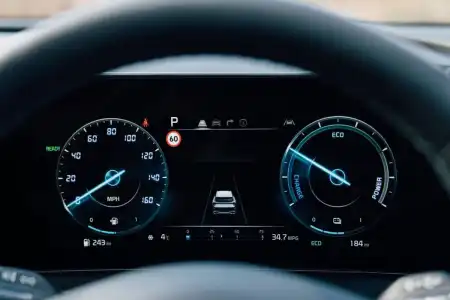 Behind the Wheel
In Sportage '3' trim and above, you get a 12.3-inch digital instrument display. This sits in one elongated unit, also incorporating the infotainment screen, which curves towards the driver. The instrument display can be customised with various layouts, and it, along with the infotainment screen, is crisp and clear. That said, the lack of physical buttons can be an issue when on the move. The touchscreen is responsive but not instantaneous, although the system doesn't feel clunky like you're running modern software on an old computer.
Nevertheless, the whole interior looks sleek, with piano black elements garnished by silver touches and lots of plush, soft-to-the-touch materials. It has a premium feel, and Kia has done a mighty fine job. There are a few cheapened plastics, but most are hidden away, so it doesn't matter too much.
The electric seat adjustment makes finding a good driving position simple, while the steering wheel adjustment is also generous. Lumbar support will also be beneficial for anyone with a bad back or those who want some extra holding power while exploring the limits of grip.
There is decent visibility out of the front, although fat pillars slightly hamper the back view. Happily, the rear-view camera and parking sensors offset this.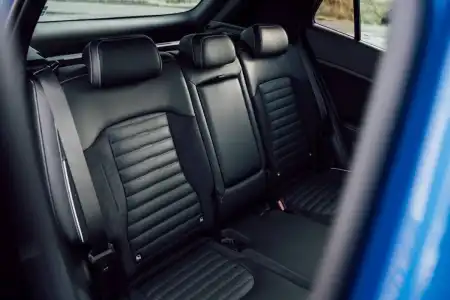 Space & Practicality
Being slightly bigger than its predecessor, the Sportage is roomy, and there's no sense of feeling hemmed in when sat in either of the front seats. Instead, there is a lot of leg and headroom, even with the panoramic sunroof in place, which lowers the roofline slightly.
In the back, you'll find three adults can be accommodated reasonably well, while two have enough room to sprawl out and be as relaxed as can be.
Also, there is a load of storage space with a good-sized glovebox, generous door bins, centre console space, and a couple of cupholders by the gearstick. Plus, you get USB ports in the front and back.
Boot-space depends on the model, at 526 to 591-litres (the hybrids have less room due to the batteries), while the rear seats can be folded down thanks to easy-to-reach levers in a 40/20/40 configuration. This action increases the boot capacity to between 1,715 and 1,780-litres. What's more, there's no boot lip, so sliding heavy suitcases in and out can be done with ease.

Ownership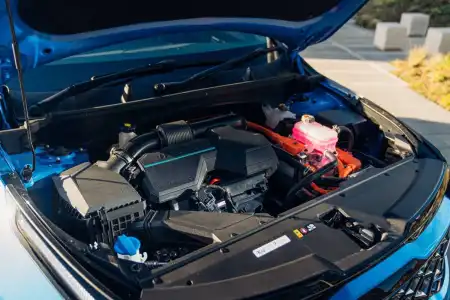 Running Costs
The ongoing costs of a Kia Sportage will depend heavily on which version you choose
to have.
Although we don't yet know the economy or emissions figures, the PHEV will inevitably be the best for company car tax.
The self-charging hybrid manages 48.7-49.6mpg and 129-132g/km CO2. This gives you near-diesel fuel economy levels with a petrol-fuelled powertrain boosted by the electric motor. The plug-in hybrid's specs are yet to be confirmed.
For the non-hybrids, you can expect to return 40.4-44.1mpg (146-154g/km CO2) in the petrol, 53.3mpg in the 115PS diesel (138g/km CO2) and 50.4-54.3mpg in the 135PS diesel (135-148g/km CO2). However, expect the mpg figures to be on the lower side of these if you opt for four-wheel drive (of course, real-world performance tends to be lower than quoted anyway).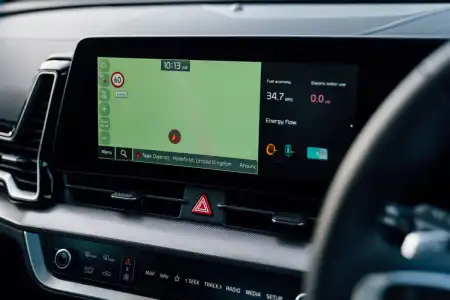 Quality & Reliability
Kia is renowned for reliability, so there are no concerns here.
For peace of mind, the all-new Sportage is backed up by a superb seven-year warranty as standard, limited to 100,000 miles.
The overall build quality feels solid and sturdy, and there's incredible attention to detail, which increases your confidence that the latest Sportage is well-constructed.

Safety & Security
The all-new Kia Sportage is yet to be crash-tested by Euro NCAP. But the predecessor achieved five stars, scoring 90 per cent for adults, 83 per cent for children and 71 per cent for safety assists.
All models get six airbags, along with forward collision avoidance assist, automatic emergency braking and lane-keep assist.
The GT Line grade and the trims above get smart cruise control and lane-follow assist. In addition, highway drive assist is added to the Sportage '3' trim and above, and Sportage '4' and above have a blind-spot monitoring system with cameras on the door mirrors that send live images to your screen.

Summary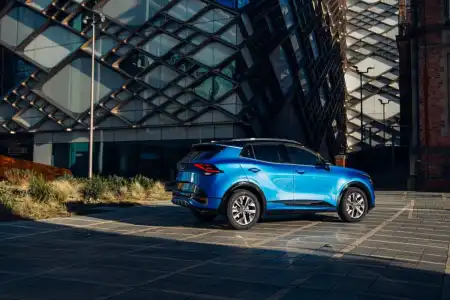 The Kia Sportage has always been popular, which is unlikely to change.
The model is spacious, practical and it has a decidedly premium interior that offers lots of tech at a reasonable price. Furthermore, there's a wholesome range of hybrids offered. Higher trimmed versions provide less value for money, but you're still getting an awful lot for your cash.
On the downside, the hybrid petrol can sound noisy under strain, while the front-end styling is very much a case of 'beauty is in the eye of the beholder'. The ride can be slightly firm, too, especially on higher trims with big wheels.
But reliability should be good – and it's backed up by a considerable warranty if it's not.
Overall, this is one of the best SUVs you can buy without touching Land Rovers, Jags or the Germans.

More On This Car
Need more information?
Request More Information