£18,615
Pros:
Classy good looks

Stylish top quality cabin

Wide range of fuel efficient engines
Cons:
Quality doesn't come cheaply

Rear seat space tight for tall passengers

Handling rather inert
More On This Car
Take one for a spin or order a brochure
Request a Audi A3 brochure
Request a Audi A3 test drive
Introduction
Gradually evolving styling has stood Audi in good stead in the past and the same was true when the company replaced its huge selling A3 range in 2013.
The looks haven't dated and Audi has updated its engines so that they deliver more power but are also more economical.
With three and five door versions, saloons and cabriolets the A3 meets the demands of those wanting a handsome, quality car that is easy to live with and won't break the bank to run.
Rear seat space is tight and some models ride too firmly.
On The Road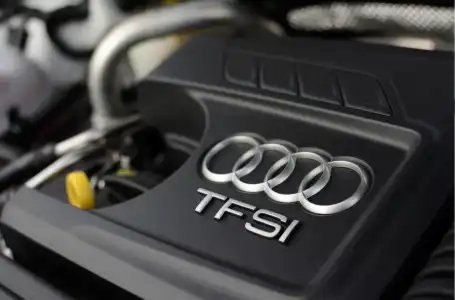 Performance
Latest addition to the A3 range is the e-tron which as its name suggests is a petrol-electric hybrid.
You can plug it into the mains, so for some lifestyles you might hardly use the petrol engine. Range on electric power is about 30 miles.
The e-tron's 1.4-litre TFSI petrol engine produces 148bhp and 184lb ft of torque. The electric motor puts out 101bhp and 243lb ft.
Maximum available power is 201bhp and 258lb ft which can punch the car from rest to 62mph in a rapid 7.6 seconds. Top speed is 138mph.
Because the car can use electric only for much of the official fuel economy test you get the ridiculous average thirst of 188mpg and CO2 emissions of only 35g/km.
For most of us one of Audi's turbo charged petrol or diesel engines would be a better idea.
Power outputs vary from 108bhp to 296bhp for petrol engines and from 108bhp to 181bhp for the diesels.
The diesel engines are popular but the petrol engines are a good choice too, especially if you don't do mega miles.
The1.4 litre TFSI, available with 123 or 146bhp, has lots of low down push thanks to turbocharging which makes for relaxed motoring.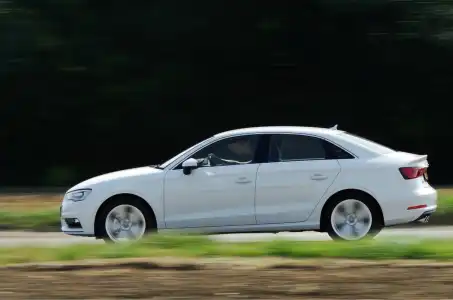 Ride Handling
Audi's philosophy is that road cars shouldn't be rear-wheel drive tail-happy cars but safe and predictable whether the road is dry, wet or covered in snow.
That means front (or four-wheel) drive cars which tend to plough straight on if you try to enter a corner too fast as this understeer condition is more easily controlled by most drivers.
The high performance S3 is edgier, especially if you back off the power mid-corner which drastically changes the car's balance and weight distribution, but the others major on cornering grip and following the steering tenaciously.
With all the weight of electric batteries and an electric motor the e-tron is the least agile of the A3s.
It's acceptable around town or on motorways but twisty country lanes, and especially tight corners are not its forte.
A lot of A3s are available with driver selectable suspension settings for comfort, sport, dynamic, automatic adjust etc.
But German roads are super smooth so that even in comfort it can be too stiff on some of our patchwork quilt efforts.
Styling
Audi is excellent at producing cars which are quiet, relaxing and comfortable on long journeys and the A3 is no exception.
Wind noise, predictably, is loudest in cabriolet versions of the A3 with the roof down, but it is surprisingly hushed with the folding fabric roof up. It can be lowered in just 18 seconds at speeds of up to 31mph.
Most noise then comes from the tyres and wider ones are the worst whatever the model.
Wind buffeting can be dramatically reduced by fitting a wind deflector behind the front seats, but this means the rear seats cannot be occupied.
The diesels sound quite loud from outside when idling which is unfortunate for pedestrians but are subdued in the cabin when on the move.
In The Car
Behind the Wheel
Increased safety demands on car makers have led to thicker roof pillars to protect occupants in event of a roll- over crash.
The A3's windscreen pillars are quite wide but the degree to which they limit your vision depends on how close you sit to the steering wheel so check.
Over the shoulder vision is hampered by a small rear window and wide rear roof pillars; again especially in the cabriolet.
It's easy to get an ideal driving position and the dashboard is clear and sleek with excellent instruments.
The six-speed manual gear change slots home precisely but the S-tronic automatic can be erratic and jumpy.
Entry-level SE models have 16in alloy wheels, a neat 5.8in screen that rises out of the top of the dashboard, air conditioning, automatic engine stop-start to save fuel in traffic and Bluetooth phone connectivity as standard.
Using a rotary dial on the centre console you can use the screen to access different functions such as radio, multi-media, navigation, suspension settings etc according to what is fitted.
Further up the range models come with bigger wheels, DAB radio, dual zone climate control, front sports seats, a bigger touch screen and LED headlights and tail lights.
Other features include hill-hold assist and a self-parking system.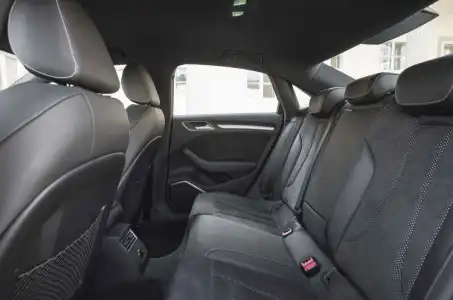 Space & Practicality
Great roof seats and more compromised rear ones is the story of the A3 range.
With the hybrid e-tron, which is based on the five-door Sportback not the three-door hatchback, the electric batteries are stored under the boot floor so that space in the cabin for people is not affected.
But, despite a smaller petrol tank than the normal car, boot space reduces from 350 litres to 280 litres with the rear seats in use or from 1,220 litres to 1,120 litres with them folded down. The rear seats still split 40/60.
A Volkswagen Golf in comparison has 380 litres and 1,270 litres of boot space.
The Audi A3 Cabriolet has a quick folding fabric roof that has far less effect on load space than metal roofs as well as making the car lighter. It helps with styling too and the Cabriolet looks smarter than the hatchback.
The latest A3 Cabriolet is slightly bigger than the previous car though there still isn't as much boot space as in the hatchback.
Rear seat space is particularly compromised in the cabriolet.
Ownership
Running Costs
Price is the enemy of electric cars so even though the A3 e-tron qualifies for the Government grant of £5,000 of public money to bring down the cost it still costs £29,950.
Obviously, with official carbon dioxide emissions of 37g/km, there is no road tax to pay and you can drive into central London without paying the weekday congestion charge.
Audi reckons using both petrol and electric power the e-tron has a total range of 580 miles and that would get you from Dover to Dundee.
Going diesel makes lots of sense. The 1.6 litre TDI has official figures of 74.3mpg and CO2 emissions of 99g/km so again is road tax free.
The 138bhp 1.4 litre petrol can cut out cylinders when not needed to save fuel and returns 54.3mpg and 120g/km of CO2 for annual road tax of £30.
Strong second hand values for the Audis help counter cheaper initial purchase prices for cars like the VW Golf or Ford Focus.
Servicing ranges from 9,000 miles for minor checks to 19,000 miles for a full service. Service programmes for the first three years of ownership can be paid for in monthly payments. Breakdown cover can be included.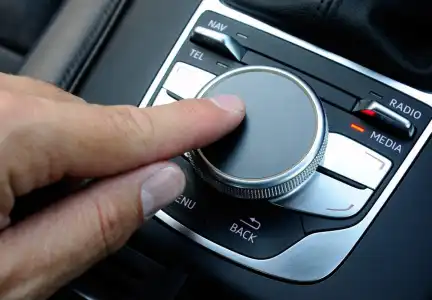 Quality & Reliability
You can just feel and sense the quality in an Audi, especially in the cabin with solid, well made fixtures in top materials.
There are no major problems reported though some people have referred to software changes for the automatic gearbox.
A three-year 60,000 mile warranty seems a bit mean these days when some car makers have no mileage limit to this age. You can pay to extend the Audi warranty to four or five years and 90,000 miles.
Korean car maker Kia still beats this with seven years and 100,000 miles.
Safety & Security
The A3 hardtops scored the maximum five stars in Euro NCAP's crash tests with 95% for adult occupant protection, 87% for child protection and 74% for pedestrian safety.
There are driver, front passenger, head and knee and side body protection airbags.
Despite extra strengthening under the floor, across the dashboard, and in the windscreen pillars, the Cabriolet loses some structural strength compared to the standard car, but hidden roll-over protection hoops shoot up from behind the rear seats in fractions of a second if sensors detect the car turning over.
Electronic stability control systems on all models are designed to prevent the car sliding.
Optional safety equipment includes radar-controlled cruise control that maintains a set distance to the car in front, lane-keeping assistance and pre-crash sensors which prime safety system.
All models have an alarm and immobilizer and the convenience of remote central locking.
More On This Car
Take one for a spin or order a brochure
Request a Audi A3 brochure
Request a Audi A3 test drive