Pros:
Superb and well-equipped interior

Bigger boot than rivals

Refined engines
Cons:
Entry-level petrol is a bit strained

Handling is not entirely on par with BMW

The rear seat space isn't great
Secure your test drive today
Request a Audi A4 test drive
Introduction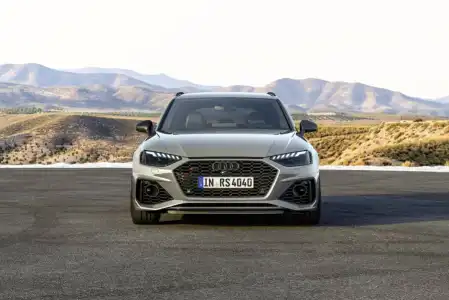 Audi is constantly making the A4 family better, which is great but also necessary when your main rivals are the excellent BMW 3-Series Touring and the increasingly impressive Mercedes-Benz C-Class Estate.
And, with a whole host of newer brands such as Tesla, Polestar and Genesis possibly joining the party in the future, the task for Audi to keep its rivals at bay is more complicated than ever.
While there's no all-electric option, the petrols and diesels in the range are more efficient than ever.
Entry-level Technik trim comes with 17-inch alloys, LED headlights and day running lights. Kit also includes power-folding door mirrors, an Audi parking system with a rear-view camera, SatNav, Audi Virtual Cockpit, cruise control with speed limiter, heated front seats, dual-zone climate control and keyless start.
Sport Edition upgrades to 18-inch alloys, adding sport bumpers and side skirts, a black styling pack, LED interior lighting, privacy glass and front sports seats in twin leather.
S-Line gets 19-inch alloys, dynamic indicators, an S-Line exterior styling pack, and front sports seats.
Top-of-the-range Black Edition gets a black styling pack, piano black inlays and a flat-bottomed leather steering wheel.
Regarding engine choices, there are two 2.0-litre petrols producing 150PS and 204PS and two 2.0-litre diesels producing 163PS and 204PS, with a mixture of two and four-wheel drive variants.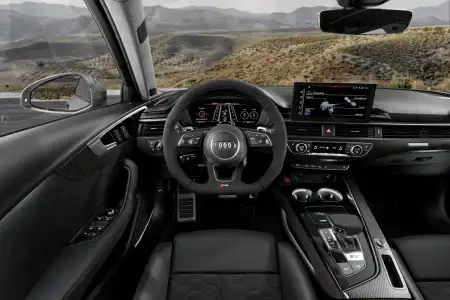 As a five-door estate, the A4 takes a familiar shape but looks stylish and inviting.
The wide hexagonal front grille dominates the front end, with mean-looking headlights and two cut-outs for the fog lights. Meanwhile, S-Line and Black Edition trims look even more aggressive, featuring air intakes styled in silver on the S-Line.
The sides feature a prominent indentation in the lower part of the doors, while Sport Edition and above get some sportier styling, including a side skirt.
A modest roof spoiler leans over the back window. There are also two large tailpipe decorations at the bottom, and a strip of silver runs between the taillights.
Inside, it's about as good as you could hope, retaining Audi's impressive high levels of attention to detail. The dashboard is bathed in a silver garnish, with a strip along the width of the car, which makes its way to the doors.
Even the gear selector looks exciting to touch, while the 10.1-inch infotainment screen sprouts out of the top of the dashboard.
The 12.3-inch Virtual Cockpit system replaces the analogue dials with a customisable digital screen, which is clear and informative. Meanwhile, the MMI infotainment system is impressive, responsive and crisp, if not quite as good as BMW's range-topping iDrive system. The lack of a rotary dial doesn't help things, but there is voice control, which works reasonably well.
There are physical dials to operate the climate control system, with more buttons underneath and even more on the steering wheel. Audi has certainly resisted the temptation to incorporate it all into the touchscreen, which makes things more convenient.
Despite the plethora of buttons, it still retains a minimalistic feel and feels like a premium product, with cheaper plastics kept to an absolute minimum.
Overall, the interior is arguably the best in class.

On The Road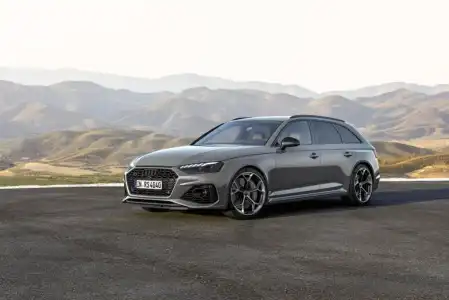 Handling & Performance
When it comes to the engines, they are all very good. The lower-powered petrol is fine but more suitable for driving in rush hour, as it feels a little sluggish to build up speed.
For the diesels, the lower-powered 35 TDI version has more torque at lower revs than the petrol, so it is perfectly suitable for accelerating up to motorway speeds from a standing start. Of course, the higher-powered 40 TDI engine does it even better, but it may well be overkill for many, and it's more expensive.
Given its excellent fuel economy, the 35 TDI is the pick of the bunch, getting from 0-62mph in 8.5-seconds.
If you want outright power, you need to look at the performance versions, the S4 and RS4. The former is a diesel nowadays, but if you're after an estate, you're in luck, as the latter is only now available in Avant form.
Regardless of the engine, the seven-speed dual-clutch automatic changes up smoothly and helps, rather than hinders, your progress.
The A4 is a comfortable car, but the comfort level depends on which trim you choose. However, the bottom two trims, Technik and Sport Edition, get the standard suspension, which makes for a more absorbing ride, especially Technik with its smaller wheels.
S-Line gets sports suspension, which is stiffer and generally suited to those who want better cornering performance at the expense of some cushioning.
Nevertheless, none of them is uncomfortable, and even the entry-level Technik will go around corners very well, smoothing out potholes but still controlling the body lean in the bends. This is helped by the excellent steering, which is light at low speeds but weights up nicely at higher speeds when the road gets twistier.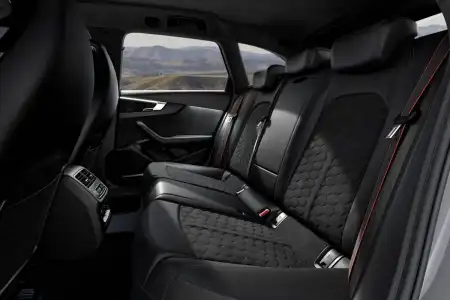 Space & Practicality
The Audi A4 Avant is comfortable to sit in, helped by the four-way powered lumbar adjustment included throughout the range.
There is ample adjustment in the steering wheel and driver's seat, so finding a suitable driving position is easy. The cabin isn't as roomy as many of its rivals, but there's still enough space, so you don't feel hemmed in.
Headroom and legroom are acceptable for all but the tallest of drivers.
Sports seats are included from Sport Edition trim and upwards, which are better at hugging your sides if you hit twisty roads at speed.
Visibility from the front is fine, but the angle of the back window makes the pillars relatively thick, so visibility out of the rear is compromised. However, parking sensors and a rear-view camera offset the inconvenience.
The space in the rear is okay, but if you've got taller people in the front, expect them to need to move the seat forward slightly so you've got enough legroom.
There are two cupholders by the gear lever, generously sized door bins and a tray beneath the adjustable armrest.
495-litres of boot space is offered, while the seats can be folded down in a convenient 40:20:40 split to expand the available capacity to 1,495 litres, which is more than in an equivalent BMW and Mercedes.
The Avant has a wide boot opening and a low lip, making sliding heavier and bulkier items in and out straightforward.

Ownership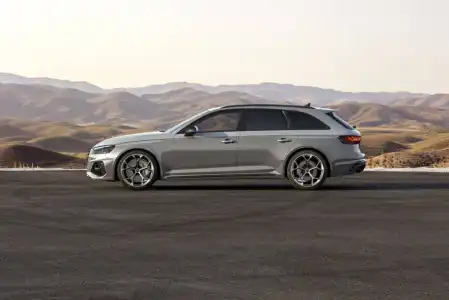 Running Costs
Exact economy figures vary by trim, but for the petrols, the 150PS engine manages around 44mpg, producing 148g/km CO2, while the 204PS engine manages about 40mpg, emitting 163g/km CO2.
The 163PS diesel can accomplish 55mpg, with emissions measured at 132g/km CO2, while the 204PS engine can do around 46mpg, producing 159g/km of CO2.
None of them really cut it as company cars as the no-brainer savings are to be had with plug-in hybrids or fully electric vehicles. But there's no such thing offered on the A4 yet. On the other hand, BMW and Mercedes-Benz will welcome you with open arms.
Reliability is not a strength of Audi nowadays, nor is it a particular strong suit of its main German challengers.
For some peace of mind, Audi provides a three-year, 60,000-mile warranty, which can be extended up to five years with 90,000 miles.

Verdict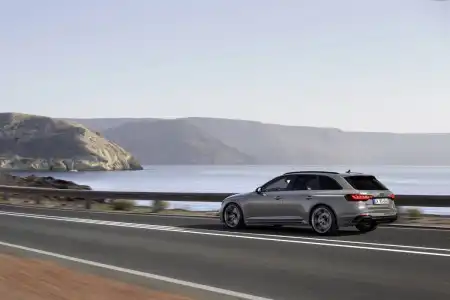 The Audi A4 Avant is a superb all-rounder that screams refinement.
While the model isn't generally as good to drive as a BMW 3-Series Touring, it has a better overall interior design quality, even if Bimmer's infotainment system is superior.
The engines are smooth and reasonably economical, while the ride comfort will take some beating, especially at entry-level with the smaller wheels.
The Mercedes C-Class Estate puts up a good fight, and all are, really, much of a muchness.
There's no doubting Audi's premium quality, though

Secure your test drive today
Request a Audi A4 test drive