Audi A6 Avant TFSI e PHEV (2021 - )
Audi has finally launched the plug-in hybrid variant of its A6 Avant estate. But is it enough to rival BMW and Mercedes-Benz? We took one on a test run to find out.
Pros:
Luxurious, attractive interior

Very cheap running costs

Lots of high-tech kit
Cons:
Not particularly fun to drive

Firm ride

Most safety features are optional extras
Starting price:
£60,750 as tested
Introduction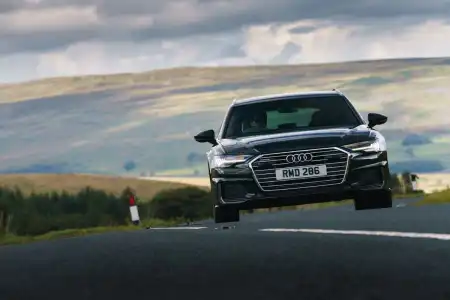 With so many company car owners now choosing low-emission vehicles due to the considerable tax benefits, many have been anxiously awaiting this moment.
The A6 Avant plug-in hybrid is finally here, joining its rivals in the form of the Mercedes E-Class Estate and the BMW 5-Series Touring hybrids.
The car comes with a 2.0-litre four-cylinder petrol engine, which combines with an electric motor and a seven-speed automatic gearbox to produce 290PS. It comes as a quattro, so four-wheel drive is mandatory.
The full name of the hybrid is the A6 Avant 50 TFSI e – and you can have the plug-in hybrid in all the regular trims.
Sport is entry-level and includes: 18-inch alloys, LED front and rear lights, SatNav, Audi virtual cockpit, Audi connect services, Parking System Plus and a rear-view camera.
S Line trim ups the alloys to 19-inches and includes Matrix LED headlights, dynamic rear indicators, additional S Line interior and exterior styling, front sports seats with leather upholstery, privacy glass and sport suspension.
Black Edition increases the rims to 20-inches and adds a black exterior styling pack, black door mirror housings and a flat-bottomed multi-function leather steering wheel.
Vorsprung includes front super sports seats in Valcona Leather, a panoramic glass sunroof, HD Matrix LED headlights, as well as the Tour Pack and City Pack (which include lots of safety equipment we'll cover later) and a Bang & Olufsen premium sound system.
On The Road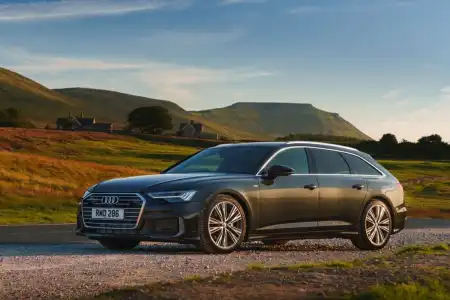 Performance
Our test car is in S Line trim.
There's a satisfying instant burst of power when you put your foot down, no doubt due to the electric motor. Nought to 62mph is dealt with in a perfectly reasonable 6.2-seconds, and, unlike many plug-in hybrids, it will still do the Full Monty, topping out at 155mph.
If you're running off the electric motor, the engine will bring itself to life by itself if you floor it (though this can be turned off), and the changeover happens smoothly.
There's an astonishing amount of power across the rev range, too, with the car surging to 70mph with no apparent drop-off in the rate of acceleration. It just seems to carry on and on.
Performance around town is more than adequate to make good progress. The acceleration isn't so ferocious that you're trying to feather the throttle to move forward in stop-start traffic, but the powertrain feels untroubled in all situations.
Using all-electric power is an option best suited to lower speeds (although you can do over 80mph without the engine). The electric motor is smooth, though not as versatile as an all-electric car, because the other systems – notably the transmission – aren't designed purely for the motor.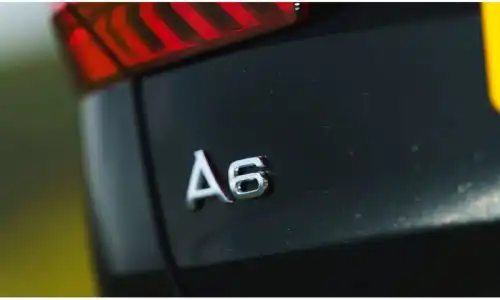 Ride Handling
The ride is on the firm side. It's not uncomfortable, but it's not helped by the disappointment that neither air suspension nor adaptive dampers are available on the hybrid.
Given this is more of a comfortable, practical car than a performance sports car, we're surprised Audi has omitted something that would help the ride quality.
Nevertheless, it still handles well – it is an Audi, after all – but there's little fun to be had by trying to challenge it into a corner. The extra weight of the electric motor and its batteries compromises the agility. So, it leans a bit more and is just that little bit tougher to get around a bend.
The steering is light and therefore not burdensome to use, but this leaves you feeling detached. Added to the watered-down handling, there's no sense of occasion when driving it.
It's more of a corporate cruiser than something that'll act as a reliable substitute for your Monday morning 'wake-me-up' coffee on the way to the office.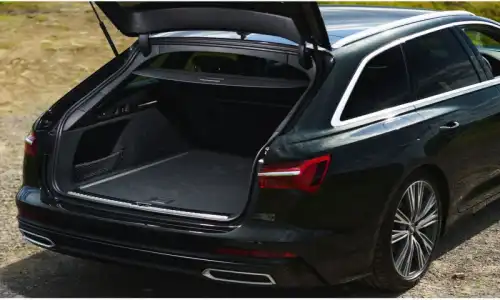 Styling
The plug-in hybrid looks like any other Audi A6 Avant. Other than the recharging flap in addition to the fuel-filler flap on the opposite side, you'd never tell this car was anything different.
At the front, it has Audi's wide, hexagonal grille. The headlights appear arrow-shaped and thin when viewed diagonally, giving the car an aggressive appearance. There are chiselled air intakes with black panels underneath both headlights, which helps accentuate the styling lines nicely.
The side is more restrained, although reasonably-sized side skirts add a degree of sportiness, helped by an indentation towards the bottom of the door.
The rear is relatively bulbous, with a sloping roofline and a modest rear spoiler overhanging the back window. The rear lights curve around from the side of the car, tapering inwards towards the middle of the boot, while there's some sporty aerodynamic styling further down.
In The Car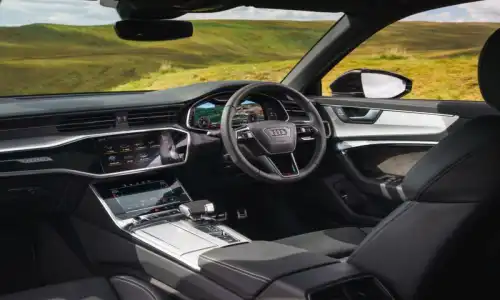 Behind the Wheel
Audi is famous for quality interiors, and this is no different. The model is classy and has a relaxed feel, as you'd expect.
The steering wheel looks attractive with aluminium trim in our test car, while the dashboard is two-tiered. The lower section of the dashboard is finished with a chrome surround, with piano black panels housing the 8.8-inch infotainment screen (upgradable to 10.1-inches).
The centre console is all chrome effect, too, and the contrast with the dark colours of the upholstery and most of the dashboard brightens things up.
The infotainment system is lovely; it isn't the easiest to use, especially on the move, but once you get used to it, you'll realise there are few better alternatives out there. Frustratingly, there are no physical dials for the climate control, which uses a second 8.6-inch touchscreen beneath the infotainment screen.
Those who pay extra for Audi's Virtual Cockpit will love that the SatNav map can be placed across the entirety of the 12.3-inch instrument display.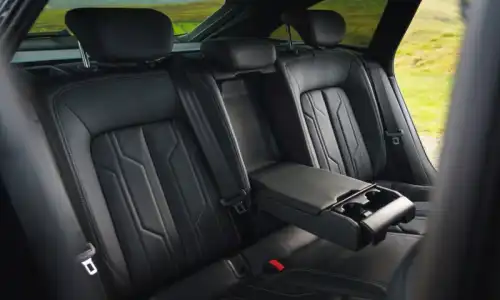 Space & Practicality
The seats in the A6 Avant are comfortable, with lots of shoulder room for the driver, while legroom and headroom in the back are both plentiful. So, even taller passengers won't be complaining, though the middle seat is slightly raised.
There is also a lot of storage space, including generously sized door bins and a glove box, though the centre console's storage is not very deep. There are two cupholders in the front and another couple in the rear armrest that folds out of the middle seat.
The boot space is 565-litres, which should suffice, but it's smaller than BMW's 5-Series and Mercedes' E-Class estates.
The seats fold down reasonably flat in a 40:20:40 configuration, increasing the available capacity to 1,680-litres.
Ownership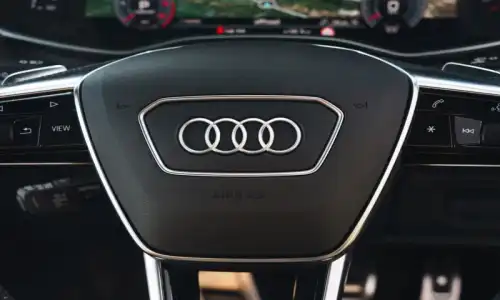 Running Costs
The electric motor runs from a 14.1kWh battery, which can take the car 34 miles on all-electric power. On our test route of town driving, twisty B-roads, and a motorway cruise, we managed 24 miles.
Using a 7kW home wall box will take about two-and-a-half hours to charge, while you can do it from a standard three-pin plug in seven.
The Audi produces just 30g/km of CO2 and puts you into the bottom bracket for Benefit in Kind (BiK) tax, which will be popular with company car drivers.
Keep the A6 charged, and it'll combine with the engine to reduce your fuel consumption to 217.3mpg.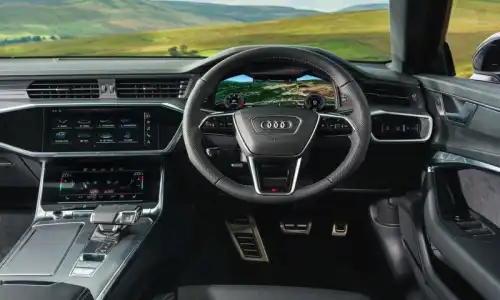 Quality & Reliability
The TFSI e certainly seems like it's of superior build quality. It feels well put together, although we did notice one or two rattles when test driving it.
The problem is that looks can be deceiving. It is easy to give Audi the benefit of the doubt because 'it's German; therefore, the quality must be great'. However, recent studies show that this is no longer always the case.
Audi hasn't done so well in reliability and customer satisfaction surveys. BMW suffered a similar decline but seems to be on the way up again. Nevertheless, the German brands trail the East Asian manufacturers – the likes of Kia and Hyundai – by some margin nowadays.
A three-year, 60,000-mile warranty is included for peace of mind. For £630, you can increase this to a four-year, 75,000-mile guarantee or a five-year, 90,000-mile warranty for £1,465.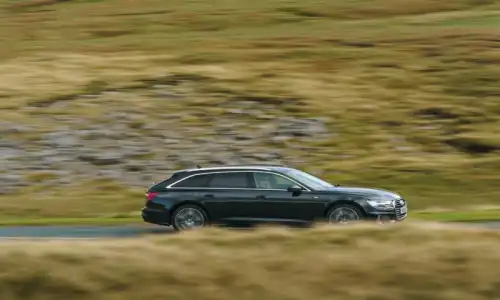 Safety & Security
The A6 Avant hasn't been crash-tested by Euro NCAP. But the saloon was assessed in 2018 and earned a five-star rating, scoring 93% for adults, 85% for children and 76% for safety assists.
The latter score may surprise you, given how much safety kit the A6 has. But it inevitably lost marks as so many of the features are options.
Although the rear-view camera, lane-departure warning, front and rear parking sensors, and pre-sense front (which monitors vehicles in front of the car) are included as standard, a lot of other tech isn't.
The Tour Pack (£1,950) includes adaptive cruise assist, predictive efficiency assistant, camera-based traffic sign recognition, high-beam assist, pre-sense basic and emergency assist. While the City Assist Pack (£1,375) includes Audi side assist, pre-sense rear, and cross-traffic assist front. You get both as standard on the top-of-the-range Vorsprung trim.
Summary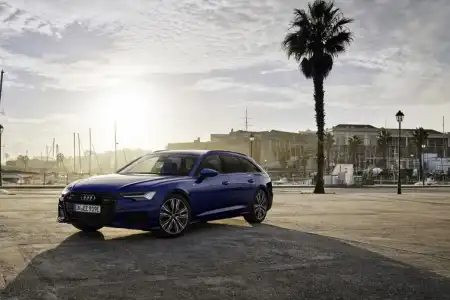 The Audi A6 Avant TFSI e is an excellent boost to company car owners, then.
It is no more complicated to operate than a standard petrol or diesel car if you don't mind plugging it in regularly.
But, unless you're buying it for the cost (or tax) savings, there's plenty that isn't as good as we'd hoped.
The ride isn't as comfy as it could be, and the decision to leave out more advanced suspension options is puzzling. It's also more expensive than its nearest hybrid rivals from BMW and Mercedes-Benz.
In this guise, the A6 Avant is not for purists – throwing it into a corner is a disappointment, and the sporty trim doesn't befit the car's characteristics.
On the plus side, the interior is delightful and, you can have an Audi that hardly costs anything to run. So, no matter the downsides, you won't find many people complaining about that.