Pros:
Low-slung sports car styling with performance to match

Generously equipped and beautifully-styled cabin

Good driving range of up to 295 miles and rapid charging available
Cons:
Expensive, especially with options

Tesla Model S goes further between charges

Rear passenger headroom not great
Speak with our Concierge team to discuss your car buying options
Request a free call back
Introduction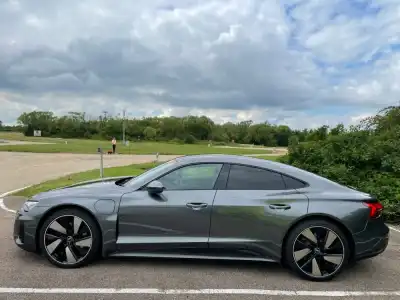 Audi has laid down the gauntlet to Tesla with the arrival of two performance electric models that offer an impressive range between charges and deliver brutally-powerful driving dynamics.
The four-door coupe Audi e-tron GT costs from £79,900 and is available in two trim levels called GT quattro and GT quattro Vorsprung. The RS e-tron, costing from £110,950, is on sale in trims called e-tron GT, e-tron GT Carbon Black and the range-topping e-tron GT Carbon Vorsprung priced at £133,340.
The car is based on the same VW group platform as the Porsche Taycan and they share much of the same technology, although the Audi certainly has its very own character and appeal.
On The Road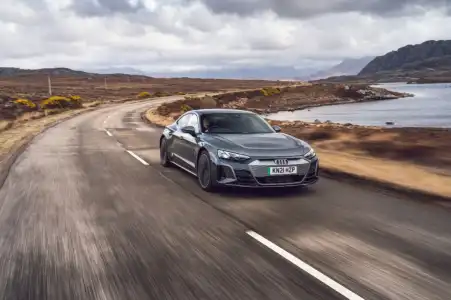 Performance
We tested the e-tron GT quattro Vorsprung version with 476PS of power and 630Nm of torque. These figures increase to 530PS and 640Nm with the car's boost feature activated.
The car can complete the 0-62mph sprint in a blisteringly-quick 4.5 seconds reduced to 4.1 seconds in boost mode and has a top speed that is limited to 152mph.
With two electric motors – one on each axle – there is all-wheel drive meaning the grip through long, sweeping bends is confident and there is no sign of body sway whatsoever.
The acceleration through the two-speed automatic transmission is blisteringly fast and the power on tap simply shows no sign of letting up. It's also agile and deceptively easy to manoeuvre for a car weighing in at almost 2.3 tonnes.
There are drive modes called Efficiency, Comfort, Dynamic and Individual that change the characteristics of the car with Dynamic being the most fun, (albeit a little less forgiving than Comfort) with everything sharpening up a little.
The beautifully weighted and precise steering offers plenty of driver feedback. The paddles on the wheel are to adjust the levels of the regenerative braking, although the car cannot be brought to standstill this way so single-pedal driving is not an option on the Audi.
With its 93kWh battery, the WLTP-tested driving range of up to 295 miles between charges also impresses, but it's still considerably lower than Tesla's 400-mile range.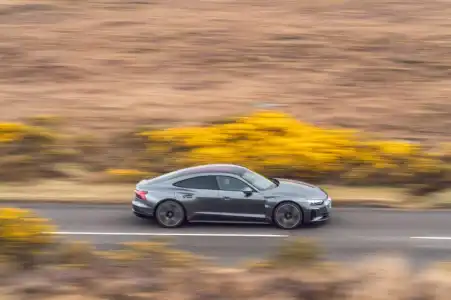 Ride Handling
With such exhilarating performance ability, the ride on the e-tron GT is a vitally important issue. Too firm and it sends shudders through the car every time you hit a small bump and too soft and it gets a little floaty through the bends.
Thankfully, the engineers at Audi have got it spot on. The standard suspension set-up featuring a double wishbone configuration and electronic adaptive braking is reserved for the GT quattro model.
However, our high-end GT quattro Vorsprung model gained adaptive air suspension as standard. This means the car's body can be lowered by up to 22mm or raised by up to 20mm. In Efficiency mode it is lowered for the best air flow and the speed is limited to 87mph. Flick across to Dynamic and the suspension is primed for optimal performance.
Electric cars run in near silence which means outside noises, such as road rumble at speed, are amplified. However, a £500 option on our test car was the e-tron sports sound. Using two amplifiers in the boot to generate sound both inside and outside the vehicle, the volume is controlled dependent on speed and driving conditions. There are different sounds for the various drive modes too with Comfort delivering a fuller note and Dynamic being more powerful.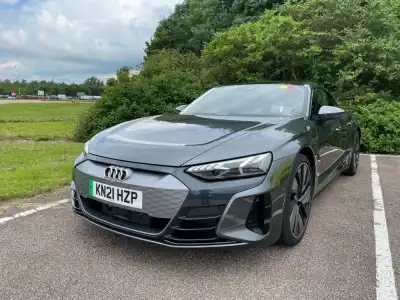 Styling
With its low, wide stance the Audi e-tron GT looks the business when approached from any direction. It stands at just 1.41 metres tall, stretches 4.99 metres in length and is 1.96 metres across. Factor in the 2.90-metre wheelbase and the car boasts all the dimensions of a classic sports grand tourer.
The radiator grille, in a neat honeycomb pattern, houses the Audi rings emblem. While a traditional grille is used to cool the engine, it's obviously not necessary on an EV, but it does conceal the majority of sensors.
There are LED headlamps with 3D-looking signature daytime running lights and dynamic sweeping front and rear indicators. All Vorsprung models get upgraded Matrix LED headlights and these can be added via the Comfort and Sound pack on other versions.
The four-door coupe features an elongated bonnet, flat windscreen, rapidly tapering-off roofline, a rear spoiler and there were striking 21-inch alloys on the test car to complete the dynamic styling.
Moving inside the cabin is pure quality throughout with sports seats made from black fine Nappa leather with smart contrast stitching. You can opt for an optional leather-free design package that features recycled materials such as polyester fibres made from old plastic bottles and, continuing the sustainability theme, the floor mats are created from Econyl – a material consisting of 100 per cent recycled nylon fibres from carpet remnants and even old fishing nets.
In The Car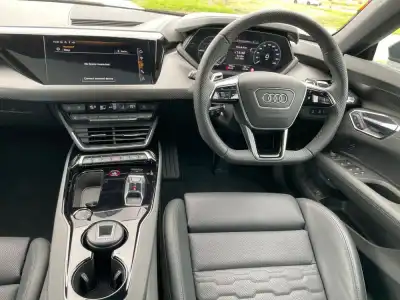 Behind the Wheel
With plenty of power-adjustment to the front seats and a manually-adjustable steering wheel, finding the perfect position behind the sports steering wheel takes just a matter of seconds.
Then it's a case of taking in the wealth of premium tech within the car.
The information is displayed on two large screens - the now-traditional Audi virtual cockpit behind the wheel stretches 12.3 inches and can be viewed in Classic, Sport or e-tron settings with the latter focusing on the powertrain data and electric driving.
There is also a 10.1-inch infotainment touchscreen with instant responses and sharp graphics.
On-board kit includes a full navigation system, a Bang & Olufsen pitch-perfect sound system, wireless or USB-connected smartphone interaction via Apple CarPlay and Android Auto, a DAB digital radio, a rear-view camera, parking sensors, three-zone climate control and lots more besides.
It's nice to see physical buttons and controls for the likes of the climate control, seat heaters and drive modes. And the chunky gear selector looks really smart too.
The driver visibility is great forwards or sideways, but the design of the car with its dramatically sloping roofline means the rear screen is really narrow. Put a couple of passengers in the back – of the taller variety – and the rear visibility becomes almost non-existent.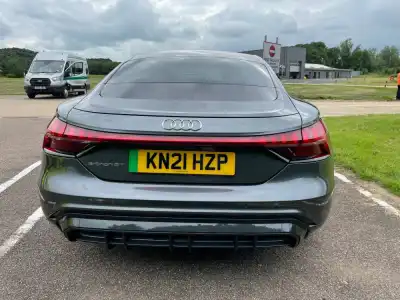 Space & Practicality
Space within the e-tron GT Vorsprung is good, especially if you're travelling up front. The car does sit quite low to the ground and the doors don't open that wide so it's not the most practical if you plan to transport children and child seats.
Two passengers can sit in the back, and while there is a third seatbelt, the middle seat would only be suitable for a child (and even they would be complaining after a short while).
Storage options are good enough for a sports coupe with a boot that can accommodate 405 litres of kit with room for the charging cables beneath the boot floor. The 40:20:40 split-folding rear seats can be dropped forward for extra space and there is a lockable glovebox, compact central cubby, front and rear cup holders, door bins and some handy trays. There is also room to store 81 litres of kit up front beneath the bonnet.
Charging ports can be found on both sides of the car behind the front wheels. It can be charged via AC either side and also for DC on the right port. There are two cables included as standard – a Type 1, Mode 3 for AC charging points including a home wallbox and a Type 2 Mode 2 cable with a domestic and industrial plug.
Depleted batteries can be replenished overnight via a home wallbox and for quick boosts on the fly, the electric coupe can achieve a peak charging capacity of 270kW – that allows it to gain about 62 driving miles in just over five minutes.
Ownership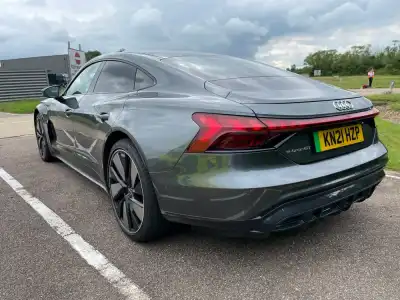 Running Costs
There are numerous financial incentives for electric car owners and they go some way to addressing the costly price-tags these vehicles carry.
As an example, the Audi e-tron GT quattro Vorsprung has zero carbon emissions and that makes it Congestion Charge-exempt and also free from road tax for the first year. The business owner profits too as the car is rated in the best Benefit in Kind category of just one per cent.
Then there is the residual value and everything points to the e-tron GT quattro Vorsprung holding onto its value.
But, and it's a big but, the Government is quick to claw back some of the savings. That's because new cars with a list price topping the £40k mark incur an additional levy of £335 for five years.
Prices range from £79,900 for the entry-level e-tron GT quattro to £106,000 for the Vorsprung model. The more expensive RS e-tron GT line-up costs from £110,950 to £133,340. And as the way with almost every premium manufacturer, you can add all manner of optional extras … for a fee.
The insurance rating for our e-tron GT quattro Vorsprung test car was group 50.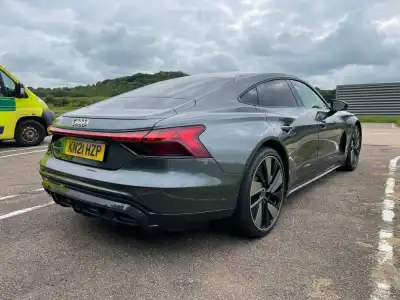 Quality & Reliability
Although Audi's reputation for reliability took quite a hit in recent years, especially concerning electrical problems, the company has worked hard to rectify any issues in more recent models.
Much of the technology on the e-tron GT quattro is shared with the Porsche Taycan and Audi is showing its confidence by offering an eight-year or 100,000-mile warranty on the vehicle's battery with the more standard three-year, 60,000-mile cover for the rest of the car.
The build quality is reassuringly solid and the cabin is packed to bursting with high-end and sustainable fixtures and fittings that should prove durable too.
Another factor is that EVs have fewer moving parts than traditional combustion-engined cars, so theoretically there is less to go wrong. Only time will tell though.
There are lots of physical buttons to control the likes of the climate control. This means less prodding at the touchscreen if you simply want to increase the temperature.
In fact, all the instrumentation looks like it has been designed with durability and longevity in mind. The upmarket seats offer plenty of support and black is always a practical colour for any upholstery.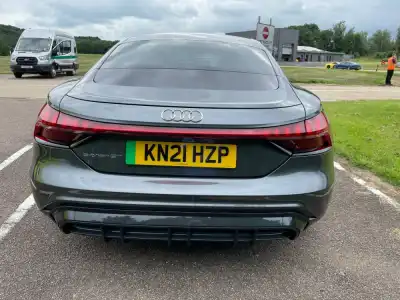 Safety & Security
The Audi e-tron GT has not been crash tested for its Euro NCAP safety rating, but it does share many of its underpinnings with the Porsche Taycan which was awarded the maximum five stars.
Numerous driver assist systems either come as standard or are available as options on the car. The Audi pre-sense front and pre-sense basic systems are standard, as is the lane departure warning system. The likes of adaptive cruise assist, intersection assist and surround view cameras are bundled into Tour, City Assist and Parking Assistance packs. All these systems are standard on the Vorsprung models.
A Night Vision system, which was a £2,140 option on the test car, uses thermal imaging camera technology to help make driving in the dark less stressful. It detects people and objects and displays a warning image onto the screen behind the steering wheel.
With its quattro all-wheel drive system, adverse weather and driving conditions shouldn't pose any real problems.
And the car is fitted with an anti-theft alarm plus immobiliser to keep uninvited attention at bay.
Summary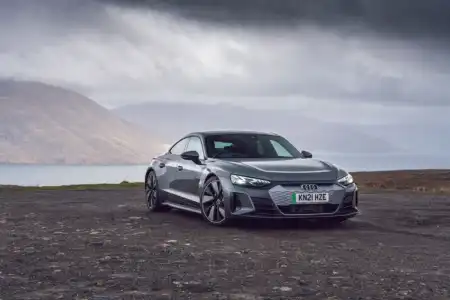 The luxury electric car scene is getting really interesting these days with the usual suspects from Tesla, the Porsche Taycan and now Audi's e-tron GT line-up. The more the merrier I say. If electrification is the way forward, it has to cater for the masses and that means the thrill-seekers too.
Speak with our Concierge team to discuss your car buying options
Request a free call back