Pros:
Looks a million dollars

High-tech interior

Low tax bills for company car users
Cons:
Disappointing electric range

Complex infotainment and other controls

Digital wing mirrors are frustrating
More On This Car
Need more information?
Request Dealer Contact
Introduction
If you want an electric SUV, there are quite a few options, but if you want a sleek coupe like profile then you're rather more limited. Audi saw that niche, took the e-tron SUV and sliced the back into a more svelte and seductive shape, creating this, the e-tron Sportback.
Don't be fooled by that swept roofline though, as the e-tron is still a sizable beast. Measuring almost five metres, it's as long as any luxury saloon and promises to be just as plush. Where the swish SUV style comes to the fore is in its practicality, where the e-tron packs a spacious interior and a sizable boot into the body.
It's all powered by nothing more than electricity, with no petrol, diesel or hybrid options available. That should ensure strong performance, but is it enough of an all-rounder to be worth the premium over a more traditional model?
On The Road
Performance
There's a lot of weight beneath that Sportback body, which means that the electric motor, despite having some 408hp, struggles a little. Still, as with all electric cars, there's an urgency to its initial performance that's invigorating, but that soon fades away as the 2.5 tonnes and brick outhouse aerodynamics hold the car back.
The essential 0-62mph dash is dealt with in just 5.7 seconds, but most of that work is done at low speeds, leaving the e-tron feeling rapid enough to cope with most normal demands, but not exactly urgent in the way it goes about its business.
The 50-badged model is a little slower thanks to its lower, 312hp output, while the e-tron S and its 503hp is a mite faster.
Stopping power is just as impressive, with huge brakes bringing the behemoth to a halt sharply. However, there's more to the braking than meets the eye. The motors work as dynamos under braking, gathering up power from the wheels and sending it to the battery pack, and it's that resistance that slows the car down. As the speed drops, that effect is lessened and the car has to switch from regenerative braking to regular braking with the huge disc brakes behind the wheels.
That's a clunky affair in many cars, where the switch is obvious. In the e-tron it's imperceptible, making for easily modulated performance and a smooth ride for passengers.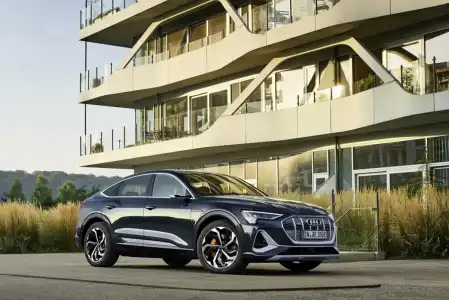 Ride Handling
There's an element of waft about the e-tron Sportback, despite the huge 21-inch wheels and sporting moniker. Adaptive air suspension keeps things reasonably comfortable, with different drive modes making an appreciable difference.
Switch to sport mode and the car stiffens noticeably, making it rather less comfortable but giving confidence in corners that's reassuring. Comfort mode softens it all and makes for a far more compliant cruiser. It's where the e-tron is at its best.
There is an adaptive mode that automatically switches between the modes, depending on your driving style at the times. This is handy if you're ploughing up and down the motorway, before turning off onto a pleasant country road.
The steering is consistent and powered, but you can feel the full weight of the car when you make swift direction changes.
Grip levels are high though, aided by those 255mm wide tyres, and gently washes to understeer if you push on a tad too hard.
Styling
By avoiding having an engine, the Audi e-tron Sportback loses the noise and vibrations you find with any traditionally powered vehicle. That instantly makes for a more relaxing, laid back space, and turns urban motoring into something that's almost enjoyable.
However, there's a tendency for that missing noise to reveal other noises you would normally not spot, such as increased wind noise or tyre noise. While those chunky tyres do generate a noticeable amount of noise, it's not intrusive.
Despite its bulk, there's very little wind noise from the car, too. That might be aided by those funky digital wing mirrors or it could just be the general sleek shape, but it turns the e-tron into a wonderfully refined car to drive or be driven in.
The high-tech cabin (notwithstanding its user interface issues) with copious amounts of ambient lighting in all manner of colours, also creates a generally luxurious ambience.
In The Car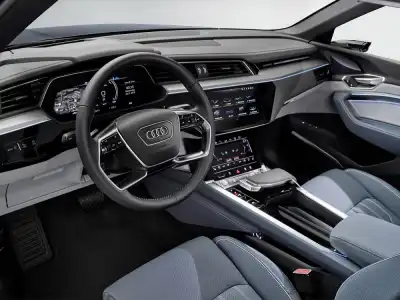 Behind the Wheel
Audi isn't content with putting just one digital screen on the dashboard of the e-tron. Instead, you'll find three sizable units dotted around. The first is right in front of the driver, used to present an entirely digital instrument panel that can be configured to show all sorts of information - everything from energy use to navigation details using satellite photography.
The main infotainment screen does what you expect, showing the DAB radio information, navigation, Bluetooth connectivity, and so on, in gloriously sharp colours behind a smartphone-esque polished glass screen.
Below that is a more controversial screen. This matches the aesthetics but controls the heating and ventilation, as well as other secondary functions. It looks a million dollars but is impossible to use when driving as there's nothing to feel. There is haptic feedback through the glass, but that just confirms you've pressed something, which is unlikely to be the area of the screen you wanted unless you took some time looking at it.
The same goes with other buttons around the cabin which almost exclusively on touch-sensitive panels. It's a triumph of style over function.
As for the video wing mirrors… I love technology, but not for technology's sake. These replace traditional wing mirrors with cameras on spindly sticks, sending the image to small monitors in the doors. They're clear and crisp, but you miss the ability to crane your neck and expand your field of view, and perspective is tricky to get to grips with when reversing. It might improve the aerodynamics slightly but, when your car weighs 2.5 tonnes, that's going to have little effect and leaves the system feeling like a solution for a problem that doesn't exist.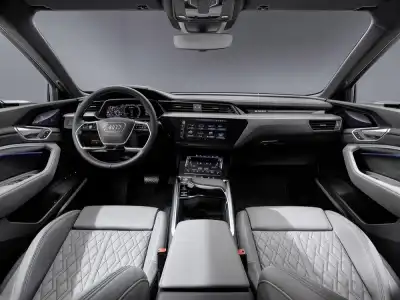 Space & Practicality
Switching out that practical, upright SUV back end for something sleek and steeply raked has impacted cargo capacity, but there's still a pretty sizable boot in the back of the e-tron Sportback. Squeeze as much luggage as possible in and you'll find 615 litres is accommodated below the parcel shelf, compared to 660 litres in the e-tron SUV.
The roofline is also slightly lower in the Sportback, so the rear headroom suffers a little. However, there's still plenty for most and more than enough legroom and shoulder room. Only the fussiest of passengers will complain.
Space up front is reduced slightly by a wide centre console, but this contains numerous spacious storage areas, adding a pleasing amount of partiality to the cabin. Even with that robbing some of the width available, there's still plenty for everybody to remain comfortable.
Ownership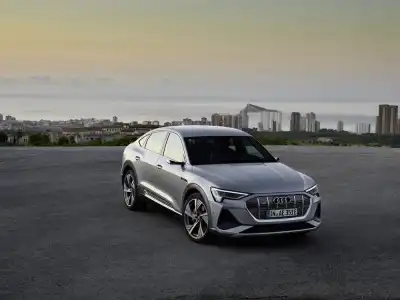 Running Costs
Even with electric power, the e-tron uses plenty of power. With 2.5-tonnes of sleek SUV to shift, the twin electric motors have to work hard, and that impacts range. Officially, it'll go on for 257 miles, but anything more than parsimonious use of the throttle will see the range plummet.
A week of driving over mixed roads, from urban centres to motorway runs, saw the available range average around 200 miles. On a home energy tariff charging around 15p per kWh, that means you'll be paying roughly seven pence per mile, if our testing is anything to go by.
Of course, there are other significant benefits. Zero-rated road tax will save a little, but it's company car drivers who'll see the biggest gains thanks to a benefit in kind rate of just 1% from April 2021. That translates to an annual tax bill of a little over £300 for a 40% taxpayer.
Depreciation is predicted to be low, making lease deals tempting, but overall running costs are likely to be a little higher than those of a Jaguar I-Pace.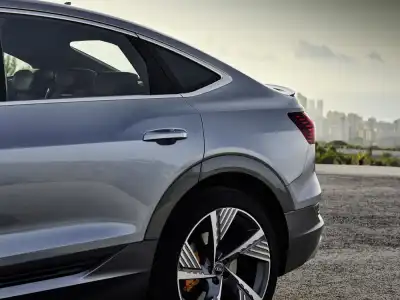 Quality & Reliability
Audi backs the e-tron with a comprehensive warranty that protects the car for three years. The battery pack is warrantied for eight years or 100,000 miles, although check the small print as there'll be an acceptable level of degradation built into the warranty.
While the e-tron is around in too few numbers to get a true picture of reliability, Audi didn't do well in the last JD Power Vehicle Dependability Study. The brand finished third from the bottom, although none of the premium manufacturers fared well. Audi dropped behind Jaguar and Mercedes, but did beat BMW's result of dead last.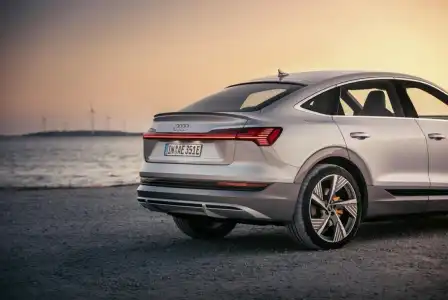 Safety & Security
The e-tron Sportback hasn't gone through Euro NCAP's thorough safety testing, the e-tron SUV is all but mechanically identical, and that scored the maximum five stars in 2019.
Vehicle occupants were well protected in all crash tests, whether adults or children and regardless of seating position, while pedestrian's heads were well looked after reasonably well by a forgiving bumper and bonnet.
The e-tron is fitted with automatic emergency braking and lane-keeping assistance as standard, but there's a long list of optional safety kit if you want more protection; side airbags in the rear, adaptive cruise control, traffic sign recognition, collision avoidance assistant, cross-traffic and turn assist, a 360-degree camera, and lane departure assist are all extras.
More On This Car
Need more information?
Request Dealer Contact