Pros:
Well built and driveable

Good and simple connectivity

Great handling for a mid-sized van
Cons:
Expensive in the market

93 mile range creates anxiety
More On This Car
Need more information?
Request More Information
Introduction
It's almost insulting to Mercedes to question whether this van was ever going to be anything but reliable, efficient and easy to use, both from a driving and loading point of view. Unsurprisingly, the eVito ticks all of those boxes and there is nothing here to surprise anyone who has had the pleasure of owning the diesel edit of the original Vito.
However, the market for this van has naturally been made more defined by its range of 93 miles.
We put our eVito to the test on relatively quiet roads with short motorway trips sprinkled in, just before offices began to return. We were able to just about reach the claimed range, which is great for Urban inner city delivery drivers, but for those in more rural areas, or tradesmen who cross regions and not just towns, it will undoubtedly be enough to give them a headache.
The price is higher than expected for a mid-sized van, but if you can maximise the miles you do on a full charge, then you'll save hundreds in terms of fuel costs.
On The Road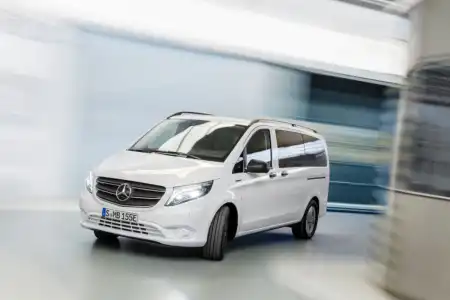 Performance
The electric motor is linked to a single-speed transmission that's operated via Mercedes' traditional column-mounted drive selector. The 114bhp electric motor is powered by a 41kWh battery, which is around half the size of the one you'll find in the firm's EQC electric SUV, while drive goes to the front wheels.
You get enough bite from the motor to get away from the lights comfortably, even with a weightier payload, and there's a usable battery capacity of 35kWh which allowed us to get to almost 90 miles in our test. Mercedes claims the total range will drop to a quoted 81 miles if you do faster motorway driving (as we did at times), while cold weather and use of elements like air conditioning can hinder range. It was one of the rarer warm days when we were testing, and the air conditioning was needed!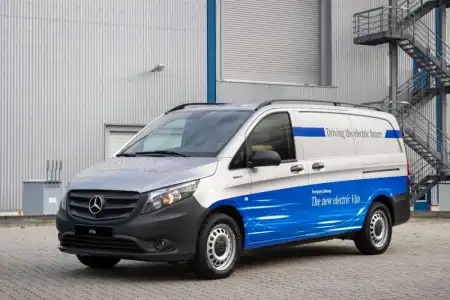 Ride Handling
The ride is comfortable and quiet and the handling is easy and smooth, especially so for a mid-sized van.
We were very impressed with the firmness of the chassis which Mercedes seem to have got spot on. There wasn't too much lean in the corners and the eVito has been set up nicely to both manage tougher road conditions while not being overly spongey on the flat.
You'll find it gets up to motorway speed without any fuss but you will notice the driving range will begin to ebb away if you're aggressive on the throttle.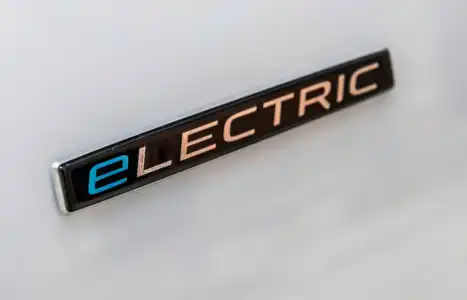 Styling
It really would take a wizard to spot differences between the eVito and it's diesel relative, both inside and out. Aside from the electric charging point, which you need to open the passenger door to access, it really is very similar.
There are two available trims, Pure and Progressive and we were in the Pure. We had a pretty common stereo with Bluetooth, aux and USB inputs in what is a minimal fuss set up.
There's room for three in the cabin, air conditioning and a heated driver's seat and upholstery is basic textile opposed to anything fancy.
In The Car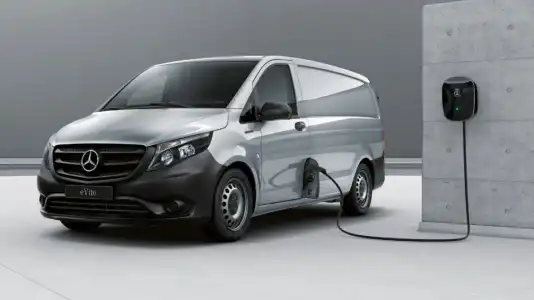 Behind the Wheel
Step into your van and you'll quickly notice that everything is manageable and easy to use. The only areas you may need some assistance on are the drive modes on the steering wheel, that ultimately centres on engine braking.
When you start it, the default is D- mode that gives a maximum motor braking recuperation of -1.5 metres per second, meaning that you hardly need to touch the brake pedal to slow down.
Simply lifting off the accelerator slows the van as the electric motor becomes a generator to recover energy back into the battery - a technology first piloted in Formula 1.
Change that to D mode and you'll get a moderate braking-energy recuperation of -1.0ms, while another flick up to D+ reduces it to -0.5m/s. A final change to D++ gives you no braking recuperation at all meaning you won't recover energy, but you will be able to roll and free wheel.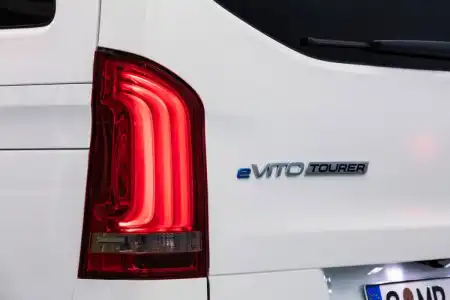 Space & Practicality
The eVito's payload is in line with the market and despite needing to make room for batteries, there is more loading space than the diesel model, too.
At under two metres, you shouldn't have any problems when out and about in city centres while still being able conduct the expected work of a mid-sized van professional.
The interior space is cosy, especially if there's three in the cabin, but this, along with its rear and side access, is again in line with other options.
Ownership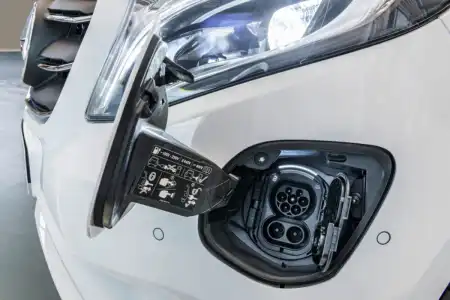 Running Costs
The main reason for getting an eVito will, unsurprisingly, be the low running costs.
If you're out daily, doing inner city runs and crossing congestion zones it's not unrealistic to say you could save upwards of £2,000 / £3,000 annually on fuel and charges.
VED is at just 1% following the recent rise in April of 2021 but tax will still be minimal as a result.
There isn't a fast charging option and the motor will take six hours to recharge to full using a standard 7kW wall charger.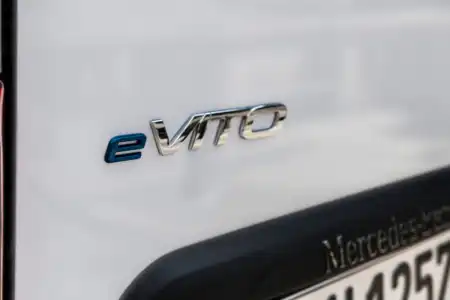 Quality & Reliability
Although the eVito is on the higher side when it comes to price, there is no doubt you're getting a quality van. Both from a technical and practical point of view we found absolutely no areas of concern or faults with our test model.
The only thing to potentially consider is that front tyre wear may end up being quite high given the vans sharpness, but again, it wouldn't surprise us if Mercedes had thought of that potential problem and resolved prior to launch. Either way, maintenance costs will likely be lower than a diesel alternative.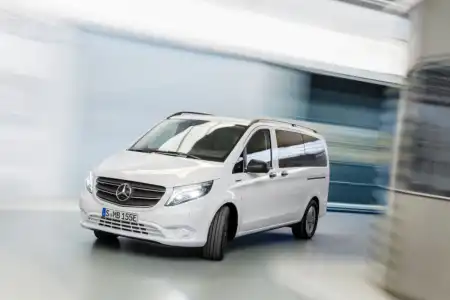 Safety & Security
The highlight safety option is probably that you get two airbags, opposed to just a driver's, which is more than what many competitors offer but the standard features don't go much further. Also on the entry-level model you get tyre-pressure monitoring, a full height and width bulkhead, hill start and auto headlights.
You can choose side airbags as well as security and reversing alarms as extras but there is no autonomous emergency braking - an increasingly common feature on both vans and pick up trucks.
Mercedes' CanTrack vehicle tracking module does come as standard, though, and this works via the Mercedes ProConnect app. This lets you do things like lock or unlock the vehicle remotely, look up its location and put a geofence on it so you get alerted if it goes out of a set area.
More On This Car
Need more information?
Request More Information