Pros:
Heaps of room

Efficient engine

Comfortable for all
Cons:
Cheap cabin plastics

Nobody could call this MPV handsome

Lots of body roll in corners
Speak with our Concierge team to discuss your car buying options
Request a free call back
Introduction
It doesn't take an automotive anorak to tell you that the Berlingo MPV is based firmly on a van. However much you squint, you can see the Citroen is far from car-like. But that doesn't make the vehicle a lame motor. Indeed, this sibling to Peugeot's Rifter could well be the down-to-earth family transport answer you've been searching for. So, let's unpack what this odd-looking set of wheels is all about to find out what it's really like.
On The Road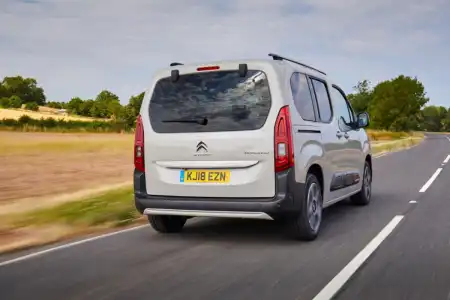 Performance
Depending on the grade you plump for, there are four power units to choose from: a couple of petrols and two diesels. An electric Berlingo is soon to be ushered in, too. If you're interested, the quartet of engines goes like this. You get a PureTech 110 – 1.2 litre petrol with a six-speed manual gearbox and 110PS. There's the BlueHDi 100 – 1.5 litre turbo diesel with the same manual 'box and 100PS. Then there's the BlueHDi 130 – 1.5 litre turbo diesel, again with the six-speed gearbox, but with 130PS. Finally - and this is the one we drove, Citroen offers the PureTech 130 – a 1.2-litre three-cylinder petrol unit, with an eight-speed automatic transmission and 130PS.
Although the automatic van's on-paper 0-62mph figure of 12.1 seconds isn't impressive - and despite the Berlingo MPV's far from sporty looks, this variant feels like it has enough pull. The top speed is 124mph.
Ride Handling
The Citroen's ride is good, and it copes with bumps and ruts well. Considering its functional focus, the MPV steers with self-assured dexterity. The fact that the Berlingo houses a nice-to-hold steering wheel helps, too.
The relatively elevated Berlingo soon tells you if it's not happy when it comes to bends, though, because it starts to lean heavily. Grip runs out on the MPV's rubbers if you attack corners hard, too. But not many motorists who lease or buy this Citroen are going to want to push it beyond its limits, as we did, along twisty rural roads.
More usefully, the Berlingo MPV's turning circle is as tight as a clam, meaning it could be the perfect car for you if you need to do a lot of manoeuvring in busy urban areas or car parks.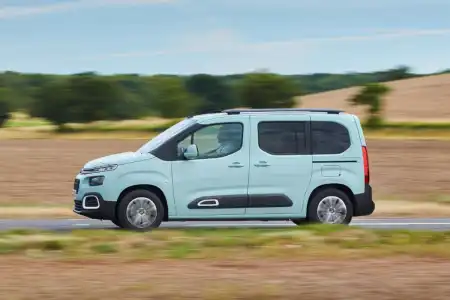 Styling
The Berlingo MPV is more refined than you'd ever imagine at first sight. It is all but muted on the move, even at dual-carriageway and motorway pace. We figured it might sound a tad "boomy", considering the tall-ceilinged cockpit, but it was only the wind din from the Citroen's side mirrors that intruded on our journey around the Midlands.
The Gallic MPV comes in four grades: Feel, Flair, Rip Curl and XTR. There are a couple of body styles as well - a five-seater 'M' and a seven-seater 'XL'.
We were handed the keys to the basic "Feel" version in 'M' guise. Maybe it was something we said? Only kidding. You get luxuries like air con, electric and heated door mirrors, an eight-inch touchscreen, and even a DAB digital radio in this variant.
There are no sophisticated materials, though; instead, there are layers of cheap plastic dotted around. However, this isn't a big deal-breaker because the seats are supportive and comfy - and there's a dash of colour here and there.
In The Car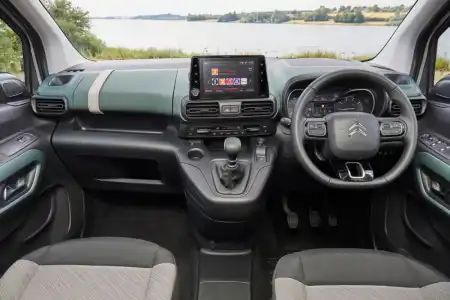 Behind the Wheel
You get a great view out when you're sat behind the Berlingo MPV's wheel. The high driving position makes you feel master of the road and, when you scrub off speed to park, things are just as satisfying. The Citroen comes with rear parking sensors that help big-style when squeezing into small spaces. Automatic emergency brakes also come as standard, and we'd recommend the eight-speed automatic gearbox. It takes the strain out of being at the tiller and leaves you feeling less tired, especially when motoring in heavy stop/start traffic.
Do keep in mind, though, that this MPV is meant to be a no-frills vehicle – if you're after more, then you'll have to think about adding VW's Caddy Life or Mercedes' B-Class to your car shopping list. Both these motors have more equipment fitted, but you'll pay through the nose for them.
By and large, the Citroen's kit does the job, especially the touchscreen that comes with Apple CarPlay and Android Auto mirroring. Again, depending on the grade you pick, the Berlingo MPV also has useful features like Bluetooth, a multifunction trip computer, electric and heated door mirrors, electric power steering with a reach and rake adjustable steering column and adaptive cruise control. What's more, the driver's display is clear and straightforward to read.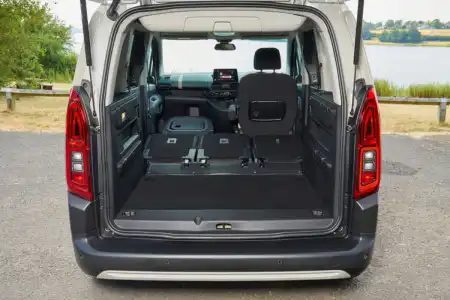 Space & Practicality
Space and practicality are the two main reasons the Berlingo MPV exists. You get lots of cubbyhole-style storage, and this encompasses a top box glove compartment. There's also a full-width front overhead storage shelf, and the door bins are conveniently large, too.
There's lots of leg room, head room and shoulder room, along with sliding rear doors and three seats. The panel doors make ingress and egress a piece of cake. They also mean you can open the Berlingo up in constricted spaces.
As tested in the 'M' body style, the size of the MPV's boot is - shock, horror - very van-like. It's accessible via a tailgate that, when lifted, reveals a handily low lip. With the foldable passenger seat and rear seats down, the loading room is 3000-litres. The cargo capacity with all seats in position is 775-litres.
Regarding the 'XL' variant, well, those figures are even more impressive at 1,050 to 4,000-litres. For further practicality, the Berlingo's parcel shelf can be adjusted to produce a hugely usable space, too.
Ownership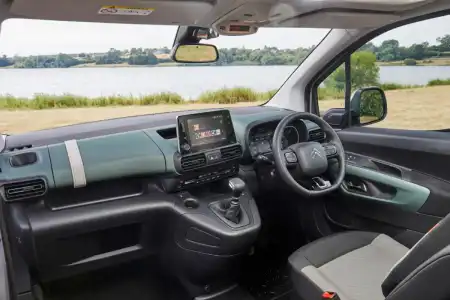 Running Costs
The Citroen Berlingo falls into insurance groups 8 to14, which you'll find is reasonable on the pocket. The MPV is also your mate when it comes to fuel economy. Citroen reckons the Berlingo Feel PureTech 130 EAT8-automatic M will do up to 47.3mpg. We didn't get far off this, achieving mid-40s on our test route through Northamptonshire, Leicestershire and Warwickshire. This is still pretty impressive, mind. CO2 emissions for the model tested are 152g/km.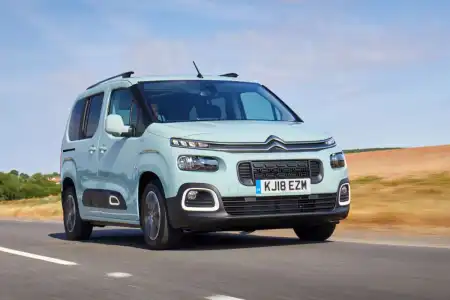 Quality & Reliability
The Berlingo MPV is built solidly, and the interior looks like it will handle many bums on seats over the coming years. It's also the case that this spacious MPV is offered by Britain's in demand Motability leasing scheme, so that's a clue that there's confidence in the Citroen's ability to last the distance.
Furthermore, Citroen has a good name for making dependable vehicles, and it uses petrol and diesel powerplants that are based on tried and tested technology. This means this French MPV should prove highly reliable.
Further peace of mind can also be gleaned from the knowledge that all new Berlingo MPVs come with a three-year or 60,000-mile warranty.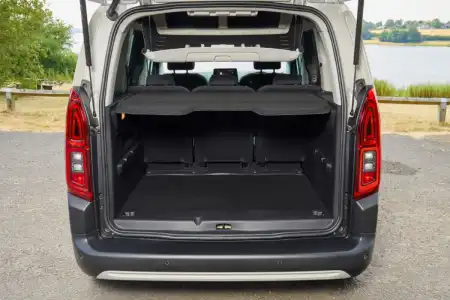 Safety & Security
The four-star score achieved by Citroen's Berlingo in Euro NCAP crash testing isn't bad - but it could be better. Five stars are what every modern vehicle should be getting these days. That said, the last generation of the Berlingo only managed three stars, so the Gallic automaker should be patting its back for getting this far.
But bluntly, you shouldn't think that this four-star rating is a deal-breaker because Euro NCAP's tests are now stricter than ever. Plus, and more importantly, the Berlingo MPV houses comprehensive safety tech. This technology includes and is not limited to ABS (Anti-lock Braking System) with EBD (Electronic Braking Distribution) and EBA (Emergency Braking Assistance). The MPV also has a raft of airbags, automatic hazard light activation upon heavy braking, ESP (Electronic Stability Program) with Hill-start assist, Forward collision alert, Driver attention alert, and three Isofix child seat fittings in the second row. Furthermore, the car rocks a programmable cruise control and speed limiter system.
And on the security side of things, the Citroen comes fitted with deadlocking and an electronic code immobiliser. Our "Feel" grade test vehicle was also equipped with an optional volumetric, perimetric & anti-tilt Thatcham category one approved alarm.
Speak with our Concierge team to discuss your car buying options
Request a free call back