Pros:
Exceptional build quality and safety score

Clean-cut handling

Excellent driving position
Cons:
Expensive

Load practicality

It might be too low-slung for some
Speak with our Concierge team to discuss your car buying options
Request a free call back
Introduction
Since its launch back in the decade of space hoppers and flared trousers – (the 1970s for those of you who don't know what we're on about), over 15 million 3 Series models have been sold.
Many of the sales have happened here in Britain, but competitors like Audi's A4, Jaguar's XE, and Mercedes' C-Class are constantly snapping at the 3 Series' coattails. Then there's Jaguar's XE, Alfa's Giulia, Lexus' IS and even Volkswagen's Arteon.
These motors keep BMW from resting on its laurels too much, which is good because it keeps the bimmer sharp.
On The Road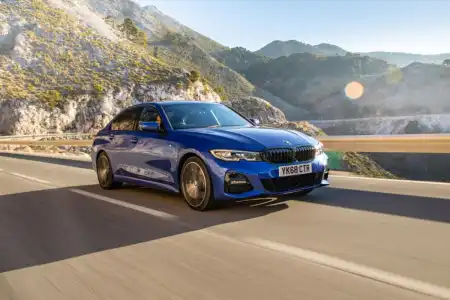 Performance
BMW's 3 Series line-up entails a bunch of petrols and diesels - and the 330e hybrid.
The engines are massively powerful if you get into M3 territory, but it's the 318d 2.0 SE we drove for this review.
The oil-burner costs over £35k and comes with a 1,995cc four-cylinder twin-turbo unit. This powerplant produces 150PS, and with the help of a quick-shifting eight-speed auto gearbox, 0-62mph is realisable in 8.3 seconds.
What's more, the top speed is 140mph, which is brisk enough for most folk – especially in this country with our 70mph ceiling.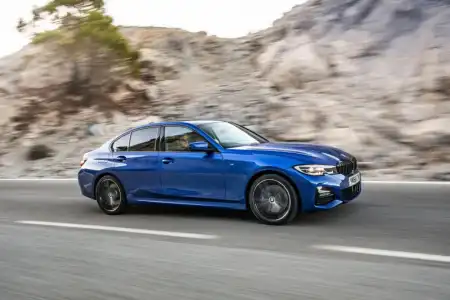 Ride Handling
If a saloon car is your thing, then you'll probably already know that the BMW 3 Series is legendary in this segment.
Even though the 318d is propelled by diesel, the car's cabin is as quiet as a church mouse. There's hardly any vibration from the engine, either. Much of the sound-deadening can be attributed to well-sealed window surrounds, double-glazing and a windscreen with acoustic glass.
The 318d makes light work of the UK's well-worn road surfaces. It skips across potholes and sticks to corners like gum to the sole of your shoe. Indeed, our test car was shod in Bridgestone Potenza Sport tyres, which helped further with traction in wet and dry weather.
Despite being known as a "compact" executive, the 3 Series is no small car. However, at the tiller, it feels lithe and light. The steering set-up makes driving the vehicle effortless, and the switchgear is intuitive, making the saloon perfect for trips around town or longer commutes.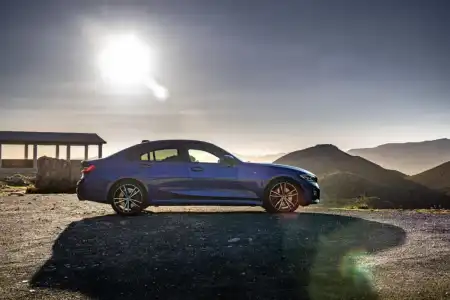 Styling
BMWs are refined - it's in the German firm's genetic material to be sophisticated. After all, what good is a bimmer with a devastating dearth of classiness? Okay, a 3 Series is not intended to be a Rolls-Royce, but a renowned Teutonic make is expected to have a certain finesse. The 318d doesn't displease in this respect.
The seats are supportive, and the 3 Series' cabin offers a close to perfect driving position. A good range of seat and steering wheel adjustment helps with getting comfy in the driving pew.
Add BMW's awesome iDrive infotainment tech into the mix, and life is good. The rotary controlled system is utterly intuitive – almost foolproof to use. Indeed, many automakers have tried, few have succeeded in making their infotainment systems as good as the iDrive.
Elsewhere, BMW's superlative build quality and insulation described above are in attendance. So you certainly won't feel fleeced if build quality and refinement are high on your list of car "must-haves".
In The Car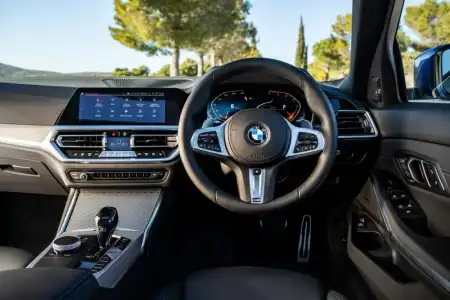 Behind the Wheel
Well, anyone clued-up with the way BMW does things will feel unperturbed here. High-grade materials, deftly designed surfaces and the driver-targeted composition of the cockpit characterise the performance aura of the 3 Series' cabin.
Technology is abundant on the bimmer, starting with a sizable digital cockpit, which incorporates navigation. There's also the BMW "Connected Package Plus", which gives you Apple CarPlay connectivity, live traffic data and Microsoft Office. Furthermore, a rear-view camera and parking sensors are fixtures on every BMW 3 Series model.
The start and stop button for the 3's powerplant is now set within the centre console. Here, there is also a newly fabricated selector lever and the earlier mentioned iDrive dial. Joining this little contingent of gadgets are switches for the "Driving Experience Control" tech and an electromechanical parking brake. Overall, the new BMW 318d's cockpit comes with controls that are in all the areas you'd expect them to be. It is a typically commendable effort from BMW, with no unpleasant surprises.
As you climb the tall trim ladder, you can choose all sorts of other equipment from an options listing as long as your arm. For example, you can select BMW's "Personal Assistant" feature, which is an internet harnessing voice system. It uses artificial intelligence to understand your questions and instructions. This system isn't that unusual – after all, Mercedes-Benz and Skoda employ this kind of tech, but it is distinctive in that you can give your car its own name. If you've named your bimmer "Thomas", then simply say "hey Thomas", and the car's voice activation will kick in.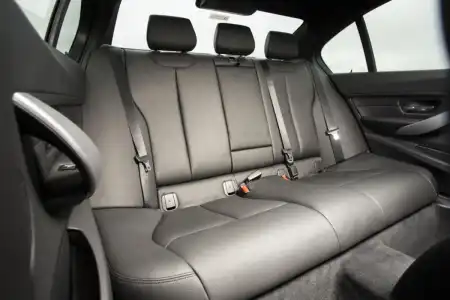 Space & Practicality
We've already said that the 3 Series is a compact car, but there's more room inside the BMW than you might imagine. It will seat five-up, although two adults in the rear will be more comfortable than three. This is due to the intruding transmission tunnel.
While it's a low-slung saloon to get into (perhaps too low for some), the back doors are large, and there's a good serving of legroom and headroom. Of course, you will also get your family's belongings in the 480-litre boot. Sure, it's not as practical as a hatchback or an estate, but we got five people's worth of stuff in there on our 600-mile test drive.
What is more, the 3 Series has lots of side pockets in the load bay – and you can order luggage nets as an optional extra. Also, the BMW's rear seats fold down if you want to load long or bulky items.
Ownership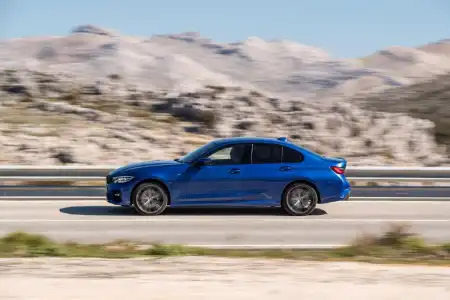 Running Costs
As with most motors, the declared fuel economy statistics for the 3 Series differ depending on how big the wheels and tyres are. But, as a rule, the bigger the wheels, the thirstier the car becomes.
The 318d on test here returns up to 58mpg when equipped with a manual gearbox. With the auto, up to 55mpg is possible – so there's not a great deal of difference. However, we prefer the automatic transmission as manual BMWs tend to have a heavy clutch.
Emissions for the 3 Series are gratifyingly low across the line-up. The best operator in the orthodox range is the diesel-powered 318d, emitting 109g/km of carbon dioxide when fitted with an auto transmission and 113g/km CO2 when equipped with a manual 'box.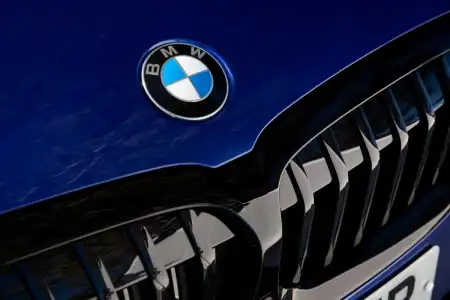 Quality & Reliability
BMW has a funny old record when it comes to reliability. As a result, some of its products have been the subject of grumbles from owners in the past. That said, the German carmaker still has a commendable name generally, and the company's dealerships often receive highly regarded feedback.
Moreover, the 3 Series is safeguarded by a three-year/unlimited mileage guarantee. This dealer pledge means peace of mind for the first few years of your proprietorship. It even encompasses "BMW Emergency Service" for any unanticipated events.
There is no doubting the current excellence of the Bavarian firm's products, and the latest 3 Series is no different. Everything you feel is well put together, and the car's finish is of a very high standard.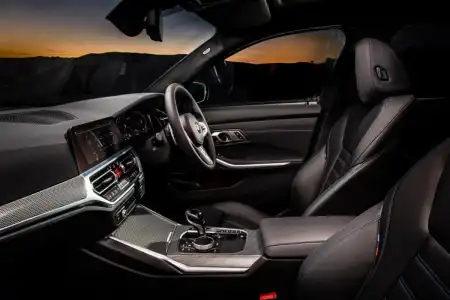 Safety & Security
The BMW 3 Series attained the maximum five-star grade when tried and tested by Euro NCAP. It achieved a genuinely incredible 97 per cent score for adult occupant safety, with tallies of 87 per cent in both pedestrian and child safety and a 76 per cent grade for Safety Assist.
The 3 Series comes factory fitted with Active Guard Plus, which comprises front collision warning with braking intervention and pedestrian recognition, speed limit assist and lane-departure alert. In addition, airbags all over the car increase protection further.
As an optional addition, you can tick BMW's Driving Assistant Professional package, which parcels together an extensive driver assistance and safety kit inventory. It includes tech such as automatic speed limit assist, front cross-traffic alert, city braking, lane-keeping assist, adaptive cruise control, and a steering and lane control assistant.
BMW works to improve and design the best car security systems you can get when it comes to vehicle security. But, let's face it, needs to – BMWs are sought after cars, and you don't want yours pinched.
The automaker doesn't stop there, though - it also works together with the authorities in reacting to threats and forecasting new risks. So, be assured, you're in excellent hands if you purchase or lease the latest 3 Series.

Find out our latest offers for used BMW 3 Series.
Speak with our Concierge team to discuss your car buying options
Request a free call back