Pros:
Engaging handling

Fast and frugal

Perception of quality
Cons:
M Sport suspension adds some harshness

Smartphone connectivity unnecessarily limited

Options can rack up the cost quickly
More On This Car
Take one for a spin or order a brochure
Request a BMW 3 Series brochure
Request a BMW 3 Series test drive
Introduction
It's been seven generations in the making, but the latest 3 Series is fighting against a backdrop of growing SUV demand and falling diesel sales. Despite that, the diesel-powered 320d model tested here will be the best-selling model in the new model range.
Of course, BMW will extend the range to include estate cars, fast coupes and an on-trend stylish faux-SUV, so it'll pick up sales lost to new rivals, but the core remains the traditional saloon car.
Right now, choices are more limited, with just a 2.0-litre petrol engine in two states of tune, or a choice of a powerful 3.0-litre diesel engine, or the 2.0-litre tested here. Likewise, your choice of bodystyle stops at four-door saloon, but more engines and shells will be added over the next 12 months or so.
On The Road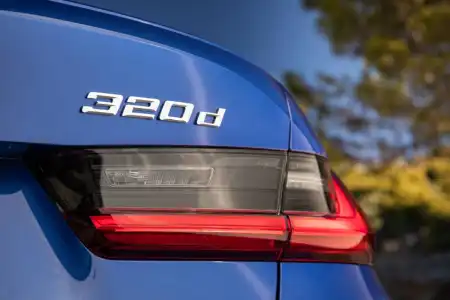 Performance
If you want pinned-to-the-seat performance, you'll have to wait for more powerful models coming later. For now, the 330i will propel you to 62mph in just 5.8 seconds, while the rest of the range take a more leisurely (but still plenty quick enough) seven seconds or so.
Stick with the 320d, and its 190hp, and it'll pass 62mph after 6.8 seconds, and continue on to 149mph. More impressive than the raw figures is how the car manages that. Try hard and you can find a little bit of turbo lag, but even here BMW has played a trick - there are two turbos, with one small one filling in the blanks while the big one gets itself up to speed to provide a mammoth 400Nm of torque.
It ends up producing pleasingly linear power delivery, all through a smooth eight-speed automatic gearbox. It's rapid, refined and, as you'll read in another section, it doesn't come at the expense of economy.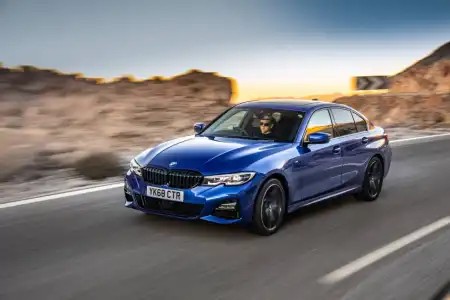 Ride Handling
Presented in M Sport trim, the 3 Series looks great, but it comes with lowered and stiffened suspension, as well as larger alloy wheels with low profile, run-flat tyres. All this combines to affect the ride quality, but it's still pretty good.
It's compliant over most road surfaces, especially the motorway, but potholes get picked out in urban areas, sending them thudding through to the cabin.
The pay off is excellent and engaging handling. The body stays almost entirely flat through corners, with precise steering allowing you to place the car accurately. It's beautifully weighted too, offering plenty of resistance at speed, but being light when manoeuvring.
Weight distribution is close to 50/50, which allows the rear-drive setup of the car to create a confidence that's quite beguiling.
Of course, not everyone is after on-the-limit handling prowess, so the regular SE models have smaller wheels and taller tyres, as well as softer suspension, offering a more compliant and comfortable ride. Adaptive suspension is available as an option if you really want to get into the minutiae of suspension adjustments for your trip along the M1.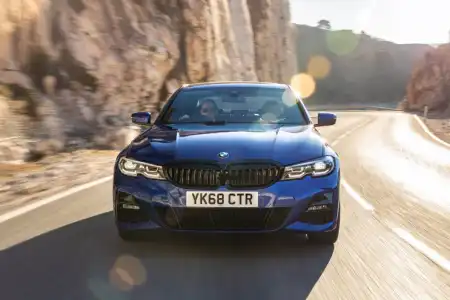 Styling
Acoustically tuned windows block out virtually all of the wind noise, while the engine, even this diesel one, remains barely audible. Even tyre roar is kept in check, unless on a wet motorway, but that may be due to the wide run-flat tyres on this M Sport model.
There's virtually no vibration from the engine, either through the seats or wheel, although it does make a bit of a rattle during the fuel-saving stop/start process at traffic lights. It's nothing to upset the calm, but rather a highlight that the rest of the car is so hushed that this becomes noticeable.
It's a supremely relaxing car to drive overall, with comfortable, heated seats, a heated steering wheel, dark headlining, ambient lighting and that smooth eight-speed gearbox. Switching to the Sport or SE models might make things even more comfortable and refined.
In The Car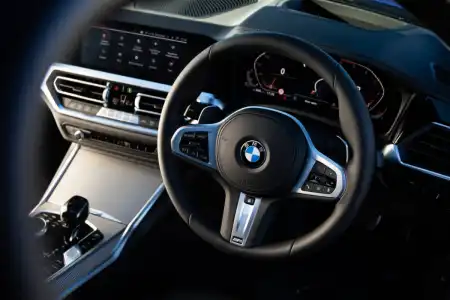 Behind the Wheel
Every BMW in recent years has seen an evolutionary design in the cabin, and this is no different. It's like every other BMW, but slightly better. There's a 12.3-inch screen in front of the driver that complements the 10.3-inch infotainment screen, which is quite a step forward, but it mostly shows traditional dials so still looks much the same.
That's no bad thing though, as the basic design is good looking in a business-like style, easy to use and built well. The infotainment screen houses most functions, including the latest version of the BMW operating system which includes BMW Personal Assistant. This is a digital assistant along the lines of Google Assistant or Alexa, responding to instructions or questions shouted into thin air. It mostly works well, setting navigation automatically, adjusting the temperature settings of the car (which isn't really necessary when there's a button to press) and alerting me to the fact that there was no maintenance required on the car. It'll do far more too. Clever, but perhaps not entirely necessary.
That said, options for alternatives are limited as Apple CarPlay is only available for an annual subscription fee collected by BMW, while Android Auto is inexplicably absent entirely.
Despite that, there's plenty of equipment included as standard, from adaptive cruise control and LED headlights to tree-zone air conditioning and automatic lights and wipers.
Space & Practicality
Not always renowned for its capacious interior, the latest 3 Series remedies most of that by providing a good amount of space for all passengers, and that includes the rear thanks to a 41mm stretch in wheelbase. It's still not exactly Tardis-like, but you'll not be wanting for elbow or headroom unless you're of extreme proportions.
The boot hasn't grown however, remaining at 480 litres as it was before. That's exactly the same as you'll find in an Audi A4 or Mercedes C-Class. Coincidence? Happily, the rear seat folds down to extend the load area, although you'll have to fit any bulky items through a narrow opening.
An estate model is coming at some point, which will increase practicality markedly.
Ownership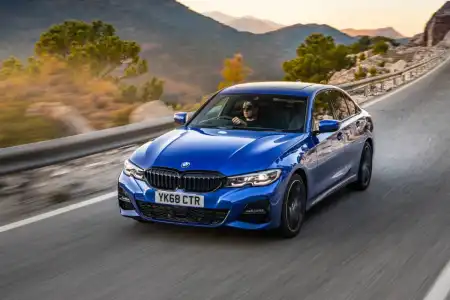 Running Costs
It might cost a lot to buy a 3 Series, with this model coming in at almost £37,000, but running costs are kept in check nicely. Firstly, the 320d is a frugal motor, promising 55.4mpg overall. However, a motorway run from Birmingham airport to my Cambridgeshire home saw the on-board computer read almost 70mpg. Of course, these computers are often optimistic, but that's impressive even allowing for a margin of error.
CO2 emissions are just 110g/km, meaning it attracts a BIK rate of just 31%. While private buyers will face car tax of just £145 a year, user-choosers in business will be pleased with a company car tax bill of around £190 a month for 20% taxpayers.
Residuals will also be strong, keeping fleet buyers happy and helping to reduce leasing and PCP costs. Fixed price service deals are available too, making it easy to run a 3 Series for a predictable and manageable amount each month, helping cashflow for most.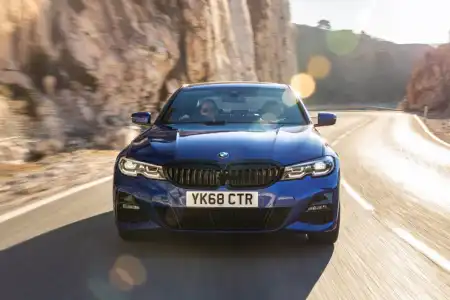 Quality & Reliability
Quality shines in the drive and overall look and feel of the 3 Series, inside and out.
All BMW's are covered by an unlimited mileage three-year warranty however so any issues should be resolved by a dealer without any problem. Extended warranties are available to cover vehicles indefinitely, but the cost goes up as age and mileage increases.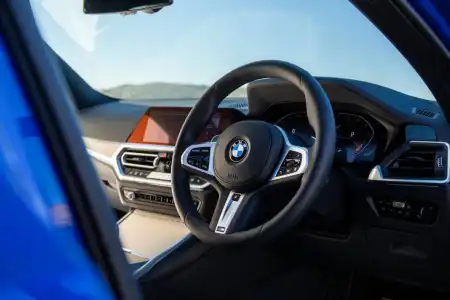 Safety & Security
The latest 3 Series has yet to be tested by EuroNCAP, but the previous two generations scored five stars each. Every new BMW since 2015 has scored the highest rating too, so crash safety looks to be assured.
Every model comes fitted with front collision warning with automatic emergency braking, lane departure warning, speed limit recognition and a reversing camera. Automatic speed limit control, cross traffic alerts, lane keeping assist, and a host of other safety equipment is relegated to a £1,250 optional pack. A surround view camera adds £500.

Find out our latest offers for used BMW 3 Series.
More On This Car
Take one for a spin or order a brochure
Request a BMW 3 Series brochure
Request a BMW 3 Series test drive