Pros:
Up to 41 miles of EV-only driving

A claimed 138mpg

Great BiK ratings for the business driver
Cons:
Heavier due to hybrid technology

The 138mpg is only achievable over regular short commutes

Slightly smaller boot as batteries are positioned under the floor
More On This Car
Take one for a spin or order a brochure
Request a BMW 3 Series brochure
Request a BMW 3 Series test drive
Introduction
With diesel sales plummeting, the importance of BMW's hybrid models has never been greater. Boasting low carbon emissions of 37g/km (reduced to 33g/km from 2020) the new 330e brings with it excellent financial gains to the business driver.
And a claimed 138mpg will draw plenty of attention too even if these sorts of figures can only ever be achieved if the car is driven lots in EV-only mode.
The BMW 330e is slightly heavier than the standard saloon due to the hybrid technology, but the performance capabilities are not compromised and the 3 Series remains true to its heritage.
On The Road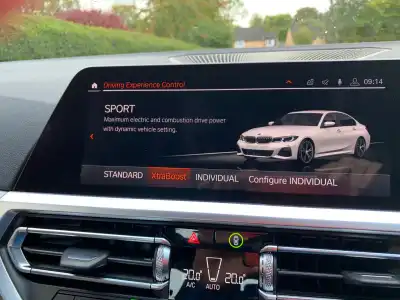 Performance
The latest 330e replaces the 2018 model and boasts improved performance along with more frugal running costs. The EV-only driving range has been increased while the CO2 output has been reduced making this car a win, win option for anyone with a short daily commute who can maximise full use of the EV power.
The 330e is available in trim levels called SE, Sport, M Sport or M Sport Plus and finally M. We tested the 330e in M Sport guise. The car is powered by a 2.0-litre petrol engine with the added assistance of a punchy electric motor and new lithium battery pack that has helped to increase the EV-only driving range.
There are driving modes to select from called Sport, Hybrid and Electric, but there is one setting that simply cannot be ignored. Under the Sport section is the option of choosing XtraBoost, which according to the on-screen description means 'maximum electric and drive power with dynamic vehicle setting'.
What this really means is that the car's power levels increase from 252hp to a whopping 293hp provided there is sufficient charge in the battery to supplement this power hike.
The vehicle starts up in EV mode and can cover a distance of up to 41 miles, based on NEDC figures, before the combustion engine kicks in, making this car a financially sound investment for anyone with a relatively short commute.
But despite all the clever hybrid trickery, this is a BMW 3 Series after all and anyone sitting behind the wheel will expect it to deliver the goods on the performance front. And it does just that with a 0-62mph sprint time off 5.9 seconds and top speed of 142mph.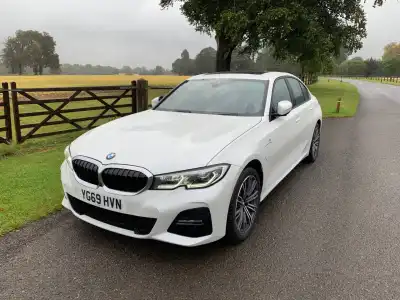 Ride Handling
Few would question the ride and handling ability of the 3 Series through its seven generations spanning more than four decades. And the 330e delivers on all counts too.
Despite being 200kg heavier than the standard 3 Series due to the hybrid packaging, the 330e is still beautifully poised and balanced. The road holding is ultra grippy and there is no body sway to speak of even at higher speeds.
The rear wheel drive car can be thrown into corners with confidence as it powers through the automatic gearbox. There are paddles if you fancy taking extra control and the Sport drive mode really sharpens up the responses.
The steering is accurate with oodles of feel and that means the 330e is still very much a driver's car, just a little bit more eco-friendly.
The transition between electric and petrol power is seamless and without the extra readouts and dials, it would be easy to forget this is a plug-in Beamer completely.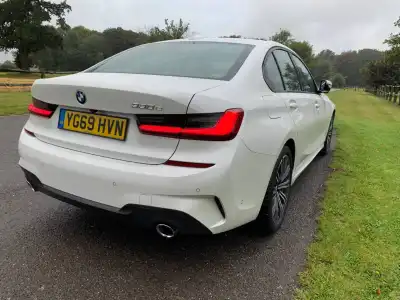 Styling
Viewed from any angle the BMW 330e looks like a 3 Series with some added badging. It looks aggressive and dynamic with the traditional kidney grille in black, M aerodynamics bodystyling, 18-inch M light alloys wheels and sweeping lines and creases that make the car look likes its moving whilst standing still.
Our car featured a Premium pack (with a very premium price of £1,700) that added an electric glass sunroof, electrically-powered front seats with memory settings and lumbar support for the two front occupants.
The interior is high quality through and through with a mixture of the finest leather upholstery matched with decorative chrome trimmings. The touchscreen is nicely designed and this car features all the creature comforts we demand these days.
The new charging display interface makes managing the energy easier than ever. When you're on the road, it shows the existing electric range. But when you're charging the vehicle, the display counts down how much time you have to reach a full battery.
When it comes to driver refinement it's a little bit of a mixed bag. The car is well insulated against outside noise such as road surface and wind. However, when pushed hard there is quite a lot of sound from the engine even though it doesn't physically seem to be struggling. But then there is the hushed cabin and somewhat eerie driving experience when the car is in EV-only mode.
The suspension system does a superb job of smoothing out the roughest road surfaces and the cabin is lovely and bright with lots of light pouring in through the sunroof.
In The Car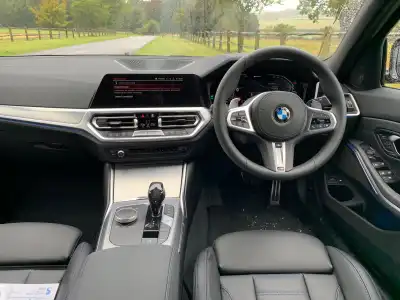 Behind the Wheel
Getting comfy behind the wheel of the latest 330e is a simple process with ample seat and steering wheel adjustment. And once settled all the dials, controls and readouts are perfectly positioned for easy access. Comfort levels are high with the luxury of heated seats and a heated steering wheel.
The black Vernasca leather seats feature smart blue stitching and there are lots of soft touch surfaces and snazzy decals to compliment the car's premium and elegant styling.
The 330e M Sport features a smart 12.3-inch touchscreen plus a whole host of on-board techno treats to explore, including a head-up display, pitch perfect Harman Kardon sound system, full smartphone connectivity via Apple CarPlay and Android Auto, a navigation system and enhanced Bluetooth with wireless charging.
It also has gesture control which is an innovative feature that allows you to use hand movements to turn the music up or down, answer or dismiss a phone call and lots more besides. It takes a little getting used to but is 'handy' once you've mastered it.
There are 'proper' controls to alter anything to do with the climate control, which is so much safer than having to navigate a touchscreen just because it's a bit chilly.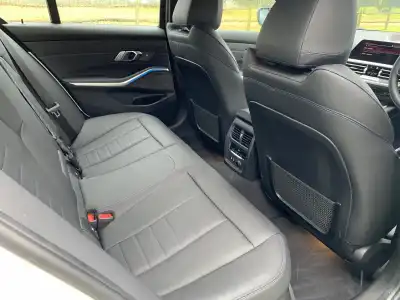 Space & Practicality
The hybrid technology has impacted on the storage space within the BMW 330e. That is because the fuel tank has been moved slightly from under the rear seats so the battery packs can also be accommodated. As a result, the boot limit is reduced from 480 litres on the standard four-door saloon to just 375 litres on the hybrid version. For anyone who needs extra boot space, BMW has announced that a 330e Touring estate car will also be available to order.
The boot on the test car was power operated and there were nets to stop items rolling around. In addition, there are lots of alternative storage compartments scattered throughout the car, including a central cubby box, door bins with a section for bottles, nets in the seat backs, a decent-sized glovebox, cup holders and some handy trays.
Passenger space is impressive despite the dynamic styling of the car and there is ample room in the back for a couple of adults, so long as the front seats are not pushed back too far.
The BMW 330e can be charged in just over two and a half hours using a wallbox or three hours when plugged into a traditional household three-pin plug socket. This charging time would be reduced when plugged into a public charging point.
Ownership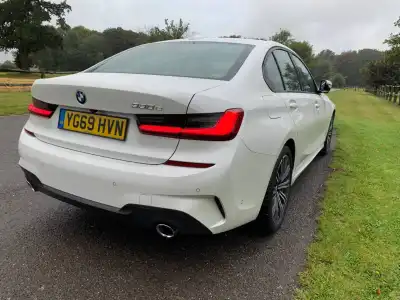 Running Costs
Getting to the real nitty gritty then. How much does the latest BMW 330e cost and is it really a financially viable option?
Our test car was priced at £39,575 but once all the optional extras had been added, the final cost had crept up to £47,100.
The real figure that catches people's eye is that 138mpg statistic. However, in real terms this would only be achievable if the battery is topped up regularly and the daily commute is relatively short and uses minimum fuel. If, however, you're regularly clocking up huge numbers of motorway miles then the diesel-powered model would still prove the most practical choice.
The current carbon emissions for the car is 37g/km which is based on NEDC correlated figures, but models registered from April, 2020 will have a carbon emissions figure of just 33g/km as it will be under the WLTP testing. And that brings with it huge financial savings with the car qualifying for the lowest Benefit in Kind tax band. Even the current model's figure sees it qualifying for the lowest 16 per cent BiK rating.
The insurance group rating for the car is 33.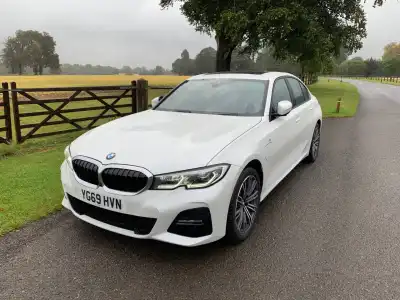 Quality & Reliability
BMW does have a solid reputation for developing cars that will survive the test of time and the 330e is no exception.
The doors close with a sturdy thud, the cabin is packed with the finest quality upholstery and all the switchgear feels solid in its build.
It is a little too early to comment on the reliability of the plug-in hybrid technology, but there have been no major issues highlighted to date.
The 330e comes with BMW's three-year/unlimited mileage warranty.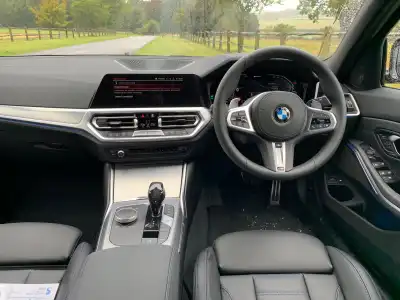 Safety & Security
BMW has a reputation for developing cars that deliver when it comes to performance but remain as safe as possible in the process. With that in mind it comes as little surprise to learn that the seventh generation 3 Series was awarded the maximum five stars when tested for its Euro NCAP safety rating.
Safety systems fitted as standard include Active Guard Plus which includes speed limit information, lane departure warning and Collision and Pedestrian Warning with City Braking function along with Cruise Control with braking function.
Owners can also order the Driving Assistant Professional package that includes the Driving Assistant as well as Active Cruise Control with Stop & Go, Steering and Lane Control Assistant, Lane Keeping Assistant with active side collision protection, Priority Warning and Wrong-way warning systems and Cross-Traffic Alert.
Our car also featured a Visibility Pack that added £1,500 to the cost and introduced High-Beam assist along with BMW Laserlights.
The 330e is fitted with an alarm to keep any intruders at bay.

Find out our latest offers for used BMW 3 Series.
More On This Car
Take one for a spin or order a brochure
Request a BMW 3 Series brochure
Request a BMW 3 Series test drive