Pros:
Up to 32.9 miles of electric-only driving (36 miles for non-xDrive model)

Low running costs with a claimed 141mpg

Performance, ride and handling
Cons:
Heavier due to the hybrid technology

The '141mpg' fuel figure is only achievable over short commutes.

Pricey especially when you factor in the options
More On This Car
Take one for a spin or order a brochure
Request a BMW 5 Series brochure
Request a BMW 5 Series test drive
Introduction
With diesel sales dropping through the floor, the importance of BMW's hybrid models has never been more significant. Boasting low carbon emissions and an excellent mpg figure if driven in short bursts, the new 530e introduces impressive financial gains to the fleet driver.
But it still maintains all its BMW 5 Series appeal with outstanding driving dynamics and all the high comfort levels associated with this luxury saloon.
The car is beautifully designed inside and out, and is available with or without BMWs renowned xDrive all-wheel drive set-up.
On The Road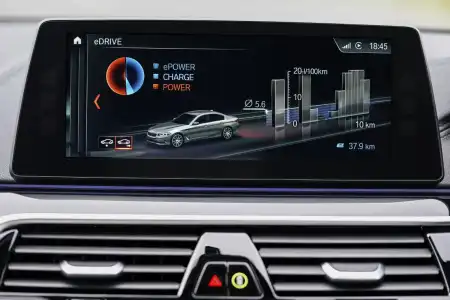 Performance
The BMW 530e offers the best of both worlds. It can deliver on all the performance fronts like any other 5 Series yet can also offer pure electric driving to keep costs low on shorter commutes. And for something in-between, the hybrid technology works well to get the very best from the 182bhp 2.0-litre turbocharged petrol engine and 95bhp electric motor. The end result is a combined 252bhp and 420Nm of torque and that translates into impressive performance stats with a 0-62mph sprint time for the xDrive model in M Sport trim of 6.2 seconds and top speed of 146mph.
The 5 Series has always been viewed as the 'exciting' executive car and adding the plug-in hybrid technology has not changed that. This car boasts rapid acceleration out of the blocks and grips the road like glue as it attacks sharp bends and steep hill climbs.
There are drive modes to select from called Sport, Comfort and Eco Pro that are fairly self-explanatory, along with an eDrive button to switch between Auto eDrive, Max eDrive and Save battery settings.
The vehicle can cover a distance of just under 33 miles in pure EV mode, before the combustion engine kicks in and that makes it a financially sound investment for anyone with a relatively short daily commute.
The 530e is available in SE or M Sport trim levels and both can be combined with xDrive all-wheel drive technology.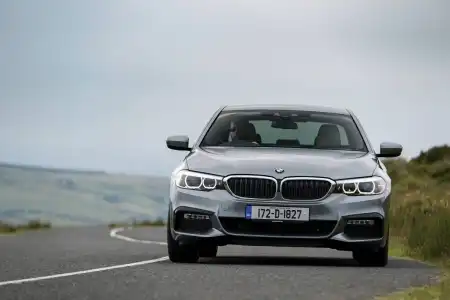 Ride Handling
Anyone who regularly gets behind the wheel of a BMW 5 Series will be testament to the fact that it can be a beautifully refined and relaxed cruiser on long motorway journeys, but has real fire beneath the bonnet when a little edge-of-the-seat excitement is called for. The 530e is no exception to that notion.
The car is heavier than the standard 5 Series due to the hybrid packaging, but that's not detrimental to the handling at all. The 530e is still perfectly poised and balanced no matter how enthusiastically it's driven with no sign of any body sway even at higher speeds.
The eight-speed automatic gearbox is both smooth and responsive with ample power on tap to overtake slower moving traffic at short notice. Steering wheel-mounted paddles can be used to manually change the gears for added driver engagement.
The steering is accurate and perfectly weighted with ample driver feedback and that means the 530e remains very much a driver's car – it's just a bit kinder to the planet.
Then there's the transition between electric and petrol power which is completely seamless and goes on unnoticed in the background. In fact, without the extra EV-specific readouts and buttons, it would be easy to forget this is a plug-in hybrid car.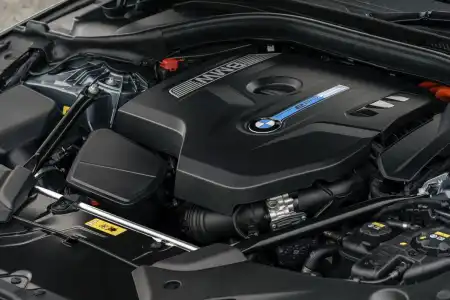 Styling
Viewed from virtually any approach the BMW 530e looks like a 'normal' 5 Series with some added badging and the extra flap that covers the charge port.
It looks as dynamic and muscular as ever and is instantly recognisable thanks to the BMW kidney grille in black, sleek lines, rippled bonnet, sweeping light clusters, tinted windows and body-coloured bumpers.
And being an M Sport it had the added sharpened appearance with M aerodynamic bodystyling, High-gloss Shadowline exterior trim and upgraded 19-inch M light alloys. Inside the sporty characteristics are further enhanced with elegant leather upholstery and an M-specific steering wheel.
The interior of the five-seater resembles the normal 5 Series too although there are the extra buttons to access the different electric drive settings and there is also additional information about the EV driving range and battery charge.
The highly effective adaptive suspension system does a superb job of smoothing out the bumpy road surfaces just like any luxurious saloon should and the cabin is well insulated against engine, road surface or wind noise even at faster speeds.
In The Car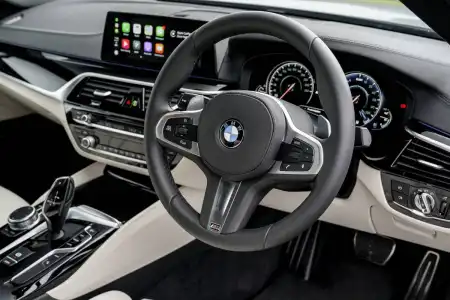 Behind the Wheel
Finding the ideal driving position is a quick and simple process inside the 530e M Sport with plenty of seat and steering wheel adjustment. And once settled all the controls, dials, screens and readouts are perfectly positioned for ease of use on the fly.
The car is beautifully kitted out and being an M Sport it boasts fine leather upholstery and the M-specific steering wheel.
Comfort levels are high and as is the way with most premium car makers, you can select from a number of optional packs to get the interior loaded with all your favourite systems. Our test car featured an optional Technology package costing £1,495 that introduced features such as a head-up display, enhanced Bluetooth with wireless charging, BMW gesture control and WiFi hotspot preparation. A Comfort pack (£1,995 extra) added electric front seats with memory functions, parking assist plus, comfort access and folding exterior mirrors.
Also impressive, although costing a further £895 was the harman kardon surround sound system. Easy to see how the cost creeps up though.
Standard on the 530e M Sport are a smart 10.25-inch touchscreen navigation system, heated seats, smartphone connectivity, plus a whole host of on-board techno treats to explore.
I really liked playing around with the gesture control set-up which is a clever feature that allows you to use hand movements to answer or dismiss a phone call, to turn the music up or down and lots more besides.
There are practical controls to alter anything to do with the climate control, which is so much safer than having to navigate a touchscreen menu on the move.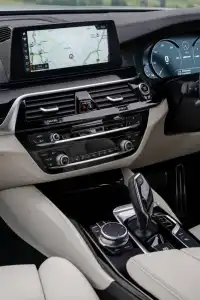 Space & Practicality
The hybrid technology has impacted quite considerably on the storage space within the car's boot. That is due to the fact the fuel tank has been moved slightly from under the rear seats so the battery packs can also be accommodated. As a result, the boot capacity is reduced from 530 litres on the standard four-door saloon to just 410 litres on the hybrid version.
The boot lid is power-operated and there are numerous alternative storage options scattered throughout the car, including a central box, door bins with a section for bottles, pockets in the seat backs, a decent-sized glovebox, front and rear cup holders and some practical trays.
Passenger space is most impressive and a trio of adults – even of the taller variety – can sit comfortably in the back seats without too much fuss provided the front seats are not pushed right back.
The 530e can be charged from 0 to 80 per cent in 2.4 hours if using a BMW Wallbox or less than five hours from a domestic socket.
Ownership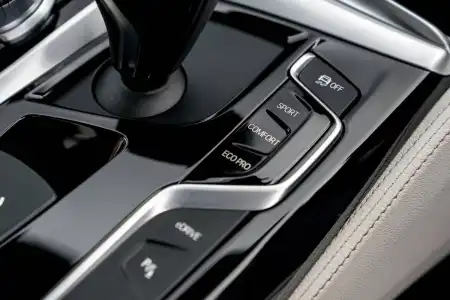 Running Costs
Getting down to the pounds and pennies then. How much does the latest BMW 530e xDrive in M Sport spec cost and is it really a financially viable option?
Our test car initially cost £51,215 but once all the optional extras and the packs had been factored in, the final price-tag had crept up to £61,990.
Apart from the cost, the other figure that will grab potential buyer's attention is the 141mpg. However, it's worth noting that this kind of economy would only ever be achievable if the battery is topped up regularly and the daily commute is relatively short so using very little fuel in the process.
If, however, you have high annual mileage figures with lots of motorway driving then the diesel-powered model would still prove the most practical choice.
The carbon emissions for the car if registered after April 6 this year is 52g/km based on WLTP testing. Prior to that date it would be 49g/km under NEDC testing.
Either of those figures bring with them impressive financial savings with the 52g/km figure qualifying for a 13 per cent Benefit in Kind tax rating. It is also free from road tax for the first year.
The insurance group rating for the car is 38.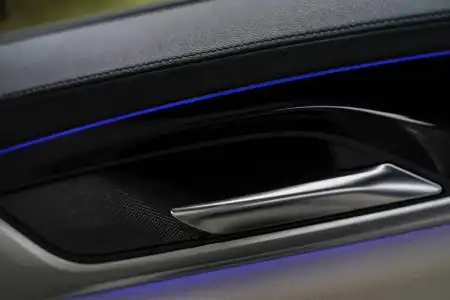 Quality & Reliability
BMW's reliability record took a bit of a hit in recent years with the Bavarian car maker picking up quite low scores in some owner satisfaction surveys. However BMW does have a solid reputation for developing cars that will survive the test of time and the 530e is no exception.
The doors on this saloon close with a sturdy thud, the cabin is kitted out with the finest quality upholstery and all the switchgear feels solid in its design and build.
It is a little too early to comment on the reliability of the plug-in hybrid technology, but no real issues have come to light to date, so the 530e should be a safe and reliable option.
For added peace of mind, the vehicle comes with the company's three-year/unlimited mileage warranty. The battery has a six-year/60,000-mile warranty which is not that great compared to some rivals.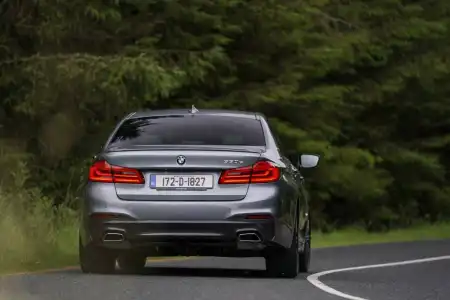 Safety & Security
BMW has an enviable reputation for producing vehicles that deliver on the performance front, but keep occupants, pedestrians and other road users as safe as possible in the process.
So it will come as little surprise to learn that the latest generation 5 Series was awarded the maximum five stars when it was tested for its Euro NCAP safety rating.
Safety systems fitted as standard include brake assist, cornering brake control, dynamic stability control, hill start assist, M Sport braking, a full suite of airbags and plenty more besides.
And the car is fitted with xDrive, BMW's highly acclaimed all-wheel drive system to help you keep motoring in more adverse weather conditions.
There are a number of optional safety packs, such as the Driving Assistant, costing £895, that adds approach control warning, cross-traffic warning, lane change warning, and a few other features. Or there is the Driving Assistant Plus, priced at £2,250, that introduces all of the above and the likes of active cruise control with stop and go, lane keep assist with side collision protection, steering and lane control assist, wrong-way warning and evasion aid.
Our car also featured a Visibility Pack costing £1,350 that added High-Beam assist along with BMW Icon adaptive LED headlights.
The 530e is fitted with an alarm and engine immobiliser to keep any intruders at bay.
More On This Car
Take one for a spin or order a brochure
Request a BMW 5 Series brochure
Request a BMW 5 Series test drive