From £46,810
Pros:
Athletic, eye-catching design

Exceptionally comfortable and refined

Packed with techno treats
Cons:
Not as exciting to drive as the new 5 Series

A little body lean when pushed hard into bends

GT models have not proved that popular in the UK
More On This Car
Take one for a spin or order a brochure
Request a BMW 6 Series brochure
Request a BMW 6 Series test drive
Introduction
The BMW 6 Series GT (it stands for Gran Turismo) replaces the outgoing 5 Series GT equivalent, but it's anything but a single case of rebadging. It's longer by 9cms and rides on the same wheelbase as the 7 Series. It has been lowered which helps to create a more dynamic sports coupe appearance and it has shed some pounds to improve performance and economy.
The interior is beautifully crafted and there is a wealth of on-board technology to play with, including all the latest infotainment systems and the build quality throughout the cabin is very high-end.
There is a choice of engines and two trim levels called SE and M Sport (which is expected to account for 85 per cent of sales) and if you need reassuring that this is a performance car, the 640i model completes the 0-62mph dash in just 5.3 seconds.
On The Road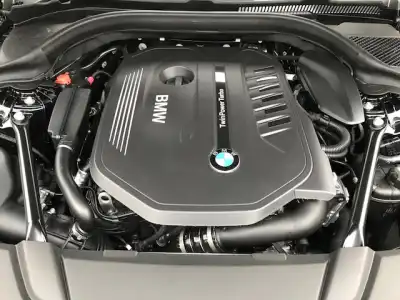 Performance
The BMW 6 Series GT is powered by either two diesel engines - the 630d with a six-cylinder turbocharged 261bhp 3.0-litre unit and the 630d xDrive all-wheel-drive version, or two petrol powertrains in the shape of a 630i four-cylinder 255bhp 2.0-litre or 640i six-cylinder 335bhp 3.0-litre engine.
We tested the range-topping 640i petrol version with 450Nm of torque in M Sport spec costing £56,765 - a price that was increased £73,205 with the likes of a Premium Pack, M Sport Plus Pack, Rear Seat Comfort Pack and about 30 other optional extras added.
The test car which sat on 20-inch wheels could sprint to 62mph from a standing start in 5.3 seconds, maxed out at a limited 155mph and, according to official figures, delivered combined fuel economy of 34.4mpg with carbon emissions of 187g/km.
You don't have to spend very long behind the wheel to appreciate that the 6 Series GT has been given the 'works' by designers and engineers at the Bavarian company. Whilst it may not boast the same dynamic and exhilarating agility as the latest 5 Series, it is blisteringly fast and the all-round performance can be pumped up further by flicking through the different driving modes which are called Eco Pro, Comfort and Sport.
The eight-speed transmission, which is standard across the range, is beautifully slick and there are paddle shifts if you fancy taking a little more control.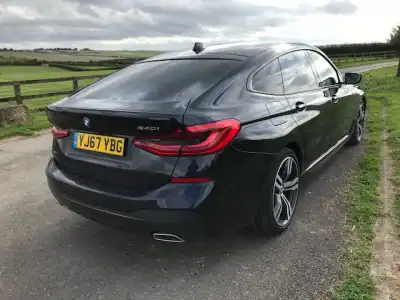 Ride Handling
The 6 Series GT offers a beautifully balanced drive with the likes of air springs, a lighter chassis, active roll control and precision steering all working to deliver excellent high-speed stability. There is a slight amount of body roll if pushed really hard into a tight bend, but nowhere near as much as the outgoing 5 Series GT model.
Overtaking slower moving vehicles is a breeze, even if the car is being driven in one of the less dynamic modes and the road-holding is ultra-grippy. And even though the test car was on larger than standard wheels, there was no wallowy effect as it cruised along the winding country lanes.
Another factor that impressed is how quiet the cabin remains. It is very well-insulated against engine, road surface or wind noise.
In congested traffic, the 6 Series GT was deceptively agile and belied its size and the elevated driving position offers excellent all-round visibility.
On longer journeys, motorways miles are eaten up with ease and there is also the reassurance of xDrive all-wheel-drive should Mother Nature have a particularly bad mood swing.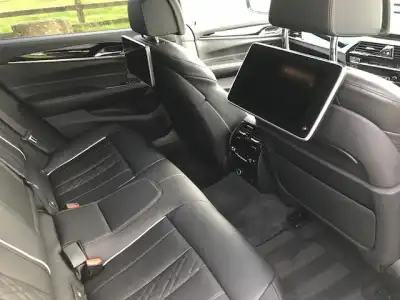 Styling
The BMW 6 Series GT is competing against premium rivals such as the Mercedes CLS and Audi A7 so it needs to offer all the comfort, refinement and opulence buyers have come to expect from the top-end brands. And it does just that.
Despite the sleeker sloping roof design, interior space for back seat passengers has not been affected so they will not feel cramped in any way. Up front, it's a case of take your seat and then start exploring the vast array of on-board techno treats and creature comforts at your disposal.
The test car featured fine black Nappa leather upholstery with neat contrast sticking and piping, along with some brushed metal and wooden trim to complete the elegant look.
The majority of the on-board infotainment functions are controlled via a free-standing 10.25-inch colour touchscreen or the iDrive dial and owners can expect to find luxurious touches such as soft-close doors, four-zone climate control, massaging seats, a Harman Kardon sound system and an excellent easy-to-programme sat nav system.
Rear seat passengers can enjoy individually adjustable seats that can be reclined and heated whilst watching a movie on the TV screens that are fitted to the back of the front seats. And when a snooze is required they can lower the window blinds and relax knowing the adaptive suspension will iron out any unexpected bumps.
In The Car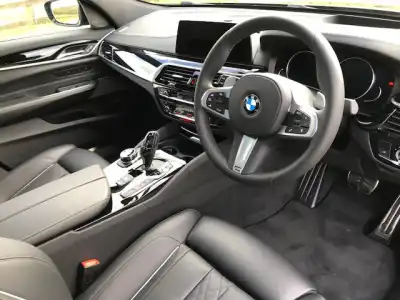 Behind the Wheel
From the second you take your seat behind the wheel and make a few adjustments it seems like the 6 Series GT was designed especially for you. The comfort levels are supreme and all the controls, dials and read-outs are perfectly positioned for ease of use.
Despite a wealth of technology the cabin remains clutter-free and Apple CarPlay allows access to all your mobile phone features. In addition, up to 10 devices can connect to the car's wifi hotspot.
It is worth mentioning the state-of-the-art key that performs all sorts of tricks and will make you the 'go to' person at any BMW meeting. That's because the high-tech key fob, complete with its digital screen, acts as a remote control and can be used to park your car - while you are standing outside. This may sound like a gimmick, but take time to consider how much wider cars are these days and how most household garages have remained the same width for decades. This key will allow you to park your car inside a garage with just inches either side. And of course it will then move it out again when required. It's also very useful if you, like me, park your car as far away from the crowds at a supermarket only to return ten minutes later to find it boxed in by someone who couldn't fit between the white lines. Clever stuff.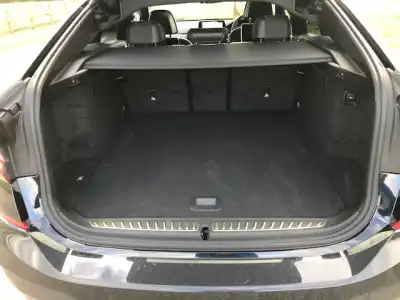 Space & Practicality
Anyone currently owning a 5 Series GT who spends a few minutes exploring the 6 Series model will immediately notice how much more space is offered. That is due, in part to the longer wheelbase that has been borrowed from the 7 Series and also the clever use of every inch within the car.
A trio of back seat passengers have ample leg, head and elbow space and, if selected, a rear seat comfort package can be added costing £2,995 and this introduces electrically-adjustable rear seats that can be tilted by up to six degrees for added comfort.
One feature that previous owners complained about was the limited storage room and that has been address by the BMW designers with an extra 110 litres added to the capacity which now ranges from 610 to 1800 litres depending on seating configurations.
The 40:20:40 split-folding rear seats can be lowered at the flick of a switch and there is a flat load sill which makes transporting heavy or awkwardly-shaped items that much easier. In addition, the two parcel shelves can be removed and stored safely beneath the boot floor.
Elsewhere there are deep door pockets, cup holders, a practically-sized glovebox, a central bin under the armrest and a handy tray with cover to hide away bits and bobs out of view.
Ownership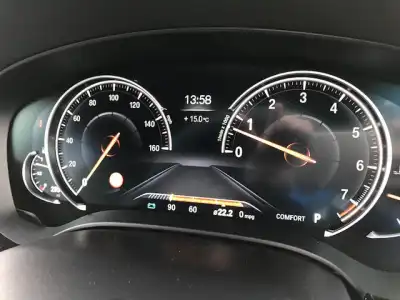 Running Costs
So how much of a dent will the 6 Series GT make in your savings? BMW is obviously one of the premium marques and that is reflected in the quality and then in turn in the price-tag. Like most luxury car makers the price can appear attractive at first glance, but a list of optional extras can see a steep increase. The test car, for example, was packed to bursting with packs and add-ons totalling £16,440.
The model costing the least to buy is the 630i priced at £46,810 but the running costs would be high with combined fuel economy of 43.4mpg and carbon emissions of 148g/km. The most efficient to run would be the 630d priced at £50,705 with combined fuel efficiency of 55.3mpg and CO2 emissions of 135g/km.
The test car, with a starting price of £56,765 delivered combined fuel economy of 34.4 and had carbon emissions of 187g/km. This would have a Vehicle Excise Duty cost of £800 for the first tax year and £140 after that.
BMW expects to sell about 1,500 models in 2018 and 75 per cent of those will be from the retails market.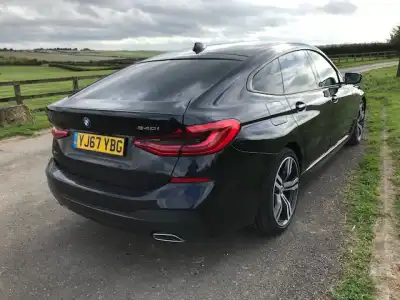 Quality & Reliability
The BMW 6 Series GT features a three year/unlimited mileage warranty and the company has done plenty in recent years to improve upon a reputation for poor reliability.
The test car felt solid in its build with good quality materials and switchgear throughout. The touchscreen is easy to wipe clean as are the majority of surfaces.
The doors feel heavy and the soft-close function is a very neat touch. If you go searching for any rough edges or cheap-looking materials, you will be wasting your time as the BMW design team have done an exceptional job of finishing the car to an exceptionally high standard.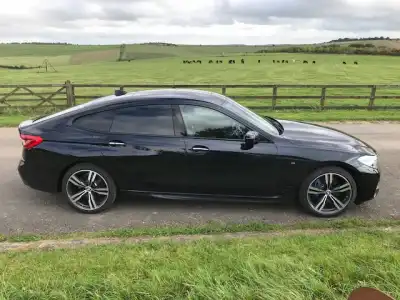 Safety & Security
The 6 Series GT is loaded with driver safety aids including radar, cameras and ultrasonic sensors to monitor the car's surroundings. The Collision and Pedestrian Warning with City Collision Mitigation comes as standard, whilst the list of optional systems include an improved version of active cruise control, lane departure warning, side collision warning and a crossing traffic warning.
There is a crossroads and wrong-way warning system that alerts the driver to potentially hazardous situations at junctions where traffic on the other road has right of way and when joining motorways or approaching roundabouts.
The Night Vision system is a valuable addition too as it offers a real-time video image in the control display that highlights any pedestrians, larger animals or other objects radiating heat.
And a clever car-to-car communications system works remotely between BMW cars and delivers information about any traffic jams, accidents, poor driving conditions or other hazards on the road ahead.
These are just a handful of the extensive list of safety features available on the 6 Series GT.
More On This Car
Take one for a spin or order a brochure
Request a BMW 6 Series brochure
Request a BMW 6 Series test drive