Pros:
Great styling and sharp handling

Beautifully refined to drive

Practical SUV and packed with technology
Cons:
Divisive grille design – like Marmite

Some competitors have a better driving range

Up against strong rivals from Jaguar, Audi and Mercedes
Secure your test drive today
Request a BMW iX test drive
Introduction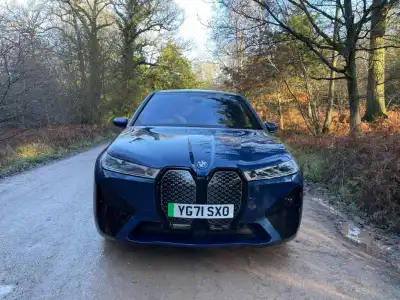 The iX marks an important time in BMW history as it's the first fully electrified Sports Activity Vehicle (SAV) to be built on a new scalable architectural platform on which the future of BMW models will be based.
Featuring BMW's fifth generation of eDrive electric motors, customers can select from the iX xDrive50 with a combined output of 523hp and driving range of up to 380 miles or the iX xDrive40 that produces 326hp and is able to cover 257 miles.
Both models are on sale now in trim levels called Sport or M Sport and there will be an iX M60 joining the fold soon with an expected output in excess of 600hp which is guaranteed to deliver blistering performance.
In addition, the iX is BMW's first all-wheel drive pure electric vehicle.
On The Road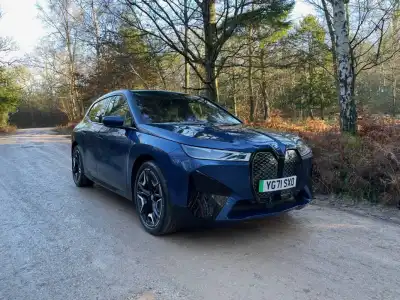 Performance
We tested the iX xDrive40 in M Sport guise with 326hp and 630Nm of torque. That translates into a 0-62mph sprint time of just 6.1 seconds and top speed that is limited to 124mph.
If you want more power than the xDrive50 models have 523hp with 765Nm of torque and a 0-62mph time of 4.6 seconds. The top speed remains the same.
With its 71kWh battery, our model cruised effortlessly on motorways and proved punchy through the quieter country lanes where it delivered nimble performance with ample traction and an impressive turn of pace.
The acceleration out the starting blocks is instant and the power levels are relentless making light work of overtaking at short notice. It's grippy through bends because all iX xDrive models have all-wheel drive so are equipped to deal with anything Mother Nature throws in their path.
Drive modes called Personal, Sport or Efficient alter the handling and extra energy can be captured during braking with the driver able to select different levels of low, medium or high regenerative braking. Alternatively, the car will do this automatically if left to its own devices by using data from the navigation set-up, along with sensors to increase the braking regeneration levels.
And in case you were worried that the car would sound like an over-powered milk float, you would be wrong. This BMW has a synthesised sound to warn pedestrians of its presence, but also has a good authentic note within the cabin as you accelerate and decelerate.
Despite stretching just shy of five metres in length, the iX xDrive40 is deceptively agile. And with excellent all-round visibility, along with parking aids, cameras and sensors, it is easy to squeeze into a tight parking space.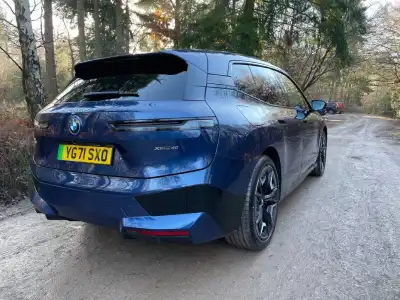 Ride Handling
All models have an electric motor at each axle for all-wheel drive and the battery pack is located beneath the floor to lower the car's centre of gravity, which in turn makes the handling more agile.
The standard chassis technology includes a double wishbone front axle and five-link rear axle set-up with lift related dampers and electric steering system. And M Sport versions also gain M Sport brakes as standard to enhance the braking performance.
Despite its hefty size weighing just below 2.4 tonnes, the iX handles exceptionally well. Bends can be attacked with confidence and there is next-to-no sign of any body movement. The road holding is confident and assured, plus that highly-effective suspension set-up does an excellent job of smoothing out the rough road edges along the way.
The steering offers decent levels of driver feedback and the funky hexagonal-shaped steering wheel feels really nice, if not a tad unusual at first.
An area where this car really excels is comfort. Looking at its muscular design, you would expect the ride to be quite harsh, but it's actually very refined with any road surface and wind noise also well muted along the way.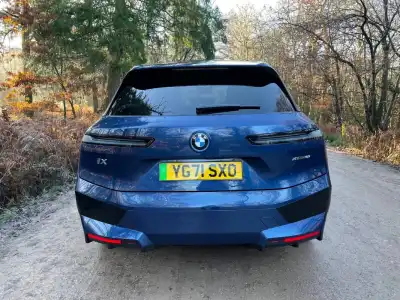 Styling
Once again, the latest five-door BMW will be met with mixed views when it comes to styling. It seems like the designers threw away the rule book when the last 4 Series was launched complete with its enlarged kidney grille. And that feature has been carried forward into the iX model.
However, it's not a normal grille as there is no engine to cool. Instead, it is a clever front for many of the car's on-board safety systems incorporating a camera and radar sensors.
The headlights are the slimmest ever seen on a BMW model and other design traits include flush-fitted door handles, soft-close doors and a panoramic sunroof.
And being an M Sport model, it gains its own specific style of 21-inch alloys, an Aerodynamics pack that comprises Sport front apron, side apron, rear apron and diffuser, plus an air curtain. There are dark taillight glass covers and M Sport brakes too.
Move inside and the interior is sheer class. It is one of the most upmarket, modern and innovative cabins on offer and packed with creature comforts.
The leather upholstered seats, with integrated headrests, can be heated or cooled, plus back seat passengers get their own climate controls too.
A hexagonal steering wheel confirms this is no ordinary BMW and with a keen eye on the environment, the carpets are made from a synthetic material that has been recycled from old fishing nets, all the wood is responsibly sourced and the optional leather seats are coloured using olive leaf extracts.
In The Car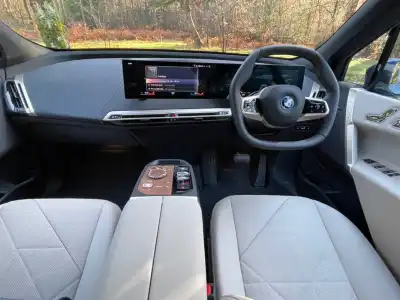 Behind the Wheel
Finding the ideal driving position within the iX xDrive40 takes seconds with powered seats and a powered steering wheel, along with memory settings to store your favourite position.
The all-round visibility is good although fairly wide pillars do hinder the over-the-shoulder visibility a little.
The vehicle features BMW's latest-generation iDrive system with an all-new curved display and this the main focal point when you enter the car. It includes two separate high-resolution screens – a 14.9-inch infotainment screen merging seamlessly into the 12.3-inch digital instrument binnacle.
Everything is driver-focused and there is a rocker switch for a gear selector, head-up display, Harman Kardon sound system, sat nav, full smartphone connectivity, wireless phone charging, four-zone air conditioning and lots more besides.
Although there are no separate climate control buttons, the set-up is easy to access quickly and the voice activated personal assistant can help with increasing or lowering the temperature within the cabin too.
There are not that many physical buttons so the car has a minimalist feel about it, but on-board systems can be controlled via steering wheel buttons, the iDrive dial, voice activation or touchscreen.
Rather quirkily, the interior doors are opened via a push button (with a more conventional handle tucked away if needed).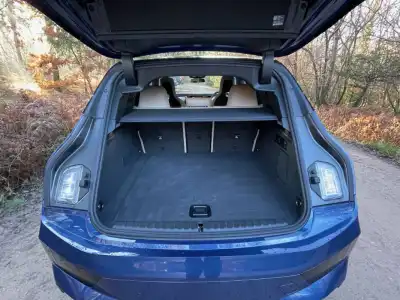 Space & Practicality
The interior of the iX xDrive40 is really spacious, mainly down to its clever packaging. The dashboard appears to float without lots of support struts and that means occupants up front are treated to bundles of leg room.
And with its completely flat floor, anyone sitting in the middle back seat will not have to straddle a tunnel. The car is almost 1.7 metres high and that means all occupants have ample headroom and with a width of nearly two metres, there is enough room in the back for three passengers to sit comfortably.
With the battery pack stored beneath the floor, space within the cabin is not compromised and the boot, which is accessed via a powered tailgate, can accommodate 500 litres of luggage – a capacity that increases to 1,750 litres with the split-folding rear seats dropped flat.
Other storage options include a glovebox, door pockets with a separate bottle section, a central cubby box, seat back pockets, front and rear cup holders and some handy trays. There are USB-C ports to keep mobile devices fully charged.
And speaking of charging, the iX xDrive40 can be charged from 10 to 80 per cent in 31 minutes via a fast charger with a range of 90 miles being added in 10 minutes. The iX xDrive50 does take slightly longer to charge, but of course has the additional driving range compared to its sibling.
The EV driving range in our test car was set at 257 miles. Although this figure has been secured under stricter WLTP testing, it's worth remembering the way you drive and even the weather can have an impact on range. If you can afford the extra cash, then the 380-mile range of the xDrive50 model may prove beneficial.
Ownership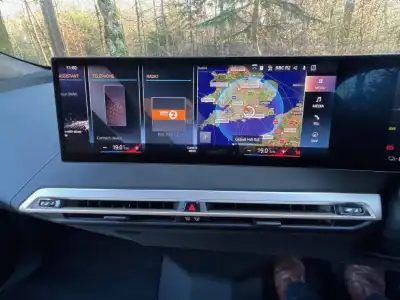 Running Costs
The all-new iX line-up is priced from £69,905 for the entry-level xDrive40 Sport model and rises to £94,905 for the xDrive50 in M sport guise.
Our test car – the iX xDrive40 M Sport cost £72,905, but as is the way with premium carmakers, there are lots of packs and optional extras to tempt buyers. The final cost of our car was £86,020.
With Government cutbacks the norm these days, it was recently announced that the Plug-in Car Grant would be reduced by a £1,000 to just £1,500 and cars eligible would have to cost no more than £32,000 (reduced from £35,000).
So none of the iX models would be eligible for any Government grants. However, it does bring financial rewards for any business drivers who will reap the Benefits in Kind tax offerings.
With zero emissions, there would be no road tax fee and despite the car having a list price above £40k, owners will not have to pay the luxury car tax fee of £335 for five years that owners of petrol or diesel cars do. This ruling, which was announced in the 2020 Budget, applies until 2025.
The BMW iX xDrive40 M Sport sits in insurance group 47.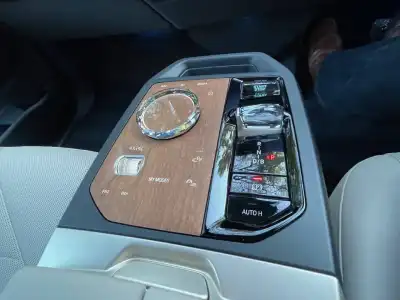 Quality & Reliability
The BMW iX is built on a flexible production line in Lower Bavaria and both the vehicle itself and the battery cells will be manufactured using green power across the board.
When it comes to build quality, this car is all-new. The aluminium spaceframe construction and use of carbon fibre-reinforced plastic help increase the car's rigidity as well as lowing weight. This results in a positive outcome with regards to efficiency and range, as well as handling and strength.
The vehicle certainly looks like it has been built to survive the rigours of time and, being a fully electrified model, it has fewer moving parts to go wrong than a 'normal' car.
It is still too early to predict with any certainty how reliable all the new technology will be in the long run, but BMW does have a very thorough testing process in operation before any new systems are introduced.
The upholstery and trimmings are very high quality and there is not so much switchgear either, so that's all good.
And for added peace of mind, the iX line-up comes with a three-year, unlimited-mileage warranty, while the battery warranty extends to eight years.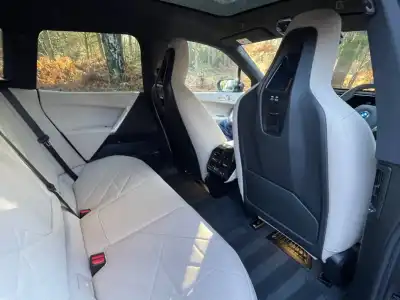 Safety & Security
The BMW iX recently secured a maximum five-star safety rating when tested by Euro NCAP. The car impressed with outstanding occupant protection scores with special mention to child safety – that is a major selling point in any family SUV.
According to BMW, the new model has the most extensive set of driver assistance systems ever seen on one of their vehicles. There are five cameras, five radar sensors and 12 ultrasonic sensors used to monitor the car's surroundings.
There is an active bonnet to lessen the impact on a cyclist or pedestrian in the event of a collision. Other safety kit includes lane departure warning and speed limit recognition, a driver attention monitor, plus lots more.
The front collision warning system detects cyclists, other vehicles and pedestrians. The exit warning function alerts the driver to the presence of cyclists or pedestrians before the doors are opened and there is a full suite of airbags, including a new front central one that stops the front occupants colliding should there be a side impact crash.
To keep any intruders at bay, the iX xXrive40 is protected by a high-end alarm system.
Summary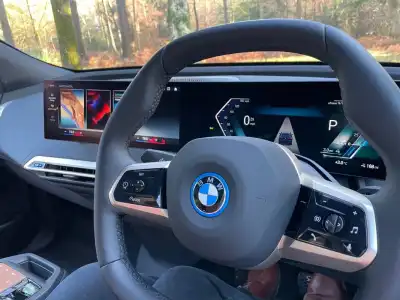 The iX is a beautifully styled car – inside and out - with a wealth of technology on offer. Customers have a choice to make about the styling and battery size, which in turn alters the EV driving range and cost. But remember the extra range may be advisable in winter months when EVs tend to use up more juice doing the everyday chores.
Secure your test drive today
Request a BMW iX test drive