Pros:
Great 'traditional' styling and performance to match

Impressive driving range between charges

Competitively priced and packed with kit as standard
Cons:
Some rivals are more dynamic to drive

Noisier than the likes of the Audi e-tron

Interior is classy, but can be a bit of an information overload
More On This Car
Take one for a spin or order a brochure
Request a BMW ix3 brochure
Request a BMW ix3 test drive
Introduction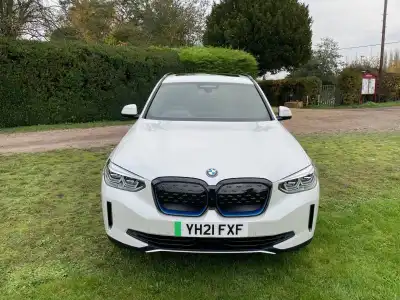 It's hard to believe it was way back in 2013 when BMW first launched its i3 electric model followed by the awesome-looking i8. It has been quite a wait, but finally the Bavarian carmaker has caught up with the pack by developing its first fully-electrified SUV.
It's called the iX3 and not surprisingly, is heavily based on the popular X3 SUV, but instead of a standard combustion or hybrid engine, this car is EV only.
The car was launched last year with a choice of trim levels called Premier Edition and Premier Edition Pro, but these have recently been modified slightly to incorporate some mid-life changes to the latest X3. As a result, the new iX3 on sale from September 2021 is available in trims called M Sport and M Sport Pro.
On The Road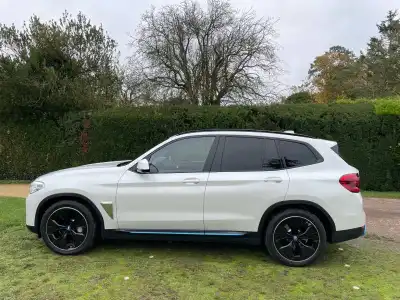 Performance
We tested the iX3 Premier Edition Pro model and this car can sprint from 0-62mph in 6.8 seconds and maxes out at an electronically-limited 112mph. But perhaps the most important figure with any electric vehicle is the driving range between charges. Under WLTP testing, the iX3 can deliver up to 279 miles.
The car marks the introduction of the BMW Group's fifth generation eDrive technology that sees the combination of the latest electric motor, power electronics, charging technology and high-voltage battery.
The power density of the electric motor in the iX3 is 30 per cent greater than that of existing EVs within the BMW Group portfolio. The motor is up to 93 per cent efficient compared with below 40 per cent for combustion engines. And the new drive system unit generates 286hp and peak torque of 400Nm of torque.
All these figures translate into an impressive performance with instant acceleration out the blocks and a constant stream of power. It's a car that effortlessly eats away the motorway miles, but in turn, can put in a decent display when faced with twisting country lanes.
There is the D for drive option on the gear selector or a B mode which increases the severity of braking when you take your foot off the accelerator. This helps to regenerate energy in the process to add to the driving range. The levels of regenerative braking can also be adjusted via the touchscreen.
Great agility and all the parking aids imaginable make the iX3 an easy car to live with in busier city centre environments too.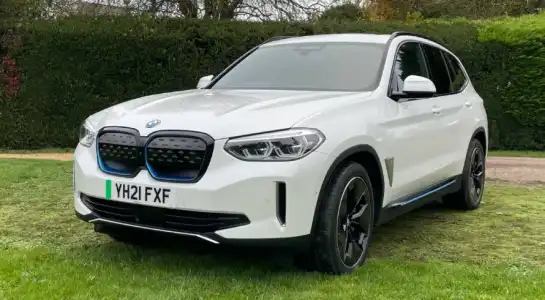 Ride Handling
You would expect any car carrying the Bavarian badging to put in a decent shift when it comes to handling and the iX3 doesn't disappoint. Unlike, some rivals, the car is only available with rear-wheel drive but that should not be a deterrent because the electrified iX3 feels well planted with excellent grip levels through sharp bends.
It does feel heavy at times, but even so steep hill climbs are easily conquered, and with instant torque and the efficient single-speed automatic transmission, overtaking slower moving vehicles, is easily accomplished.
The iX3 feels nicely balanced too. The battery pack is stored beneath the floor and that improves the car's centre of gravity which is evident when fizzing through the lanes.
Despite its SUV-styling, there is minimal sign of any body movement even when corners are attacked enthusiastically, but you will notice some road rumble noise (it sounds a bit like a Tube train at times). This is an issue with all EVs – due to the lack of engine noise every other sound such as wind and tyre noise are accentuated within the cabin. Thankfully, a great sound system sorts that issue out though.
There are drive modes called Sport, Comfort and Eco Pro that alter the dynamics of the car slightly and a head-up display means you can keep a constant eye on the speed – which builds deceptively quickly.
The steering is well weighted with ample driver feedback and the ride is actually quite firm with the highly efficient damping set-up smoothing out most bumps and dips along the way. Adaptive suspension is a standard feature so the settings can be adjusted to preference.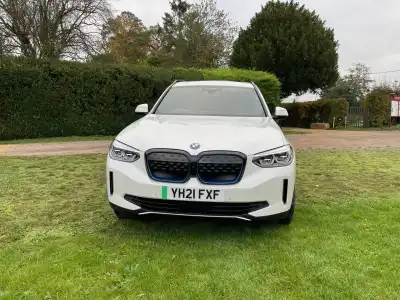 Styling
BMW's only true electric vehicle prior to the iX3 was the rather quirky looking i3 with its carbon fibre construction. It was a car that stood out from the pack by its design, as did most EVs at the time to be fair.
However, as more models have come to market, one thing has become clear. Buyers don't want to look different. They want an EV yes, but they want to fit in at the same time.
And that is where the iX3 ticks all the right boxes. It does have some blue accents to promote its electric authenticity, but essentially it could easily be mistaken for a standard X3. Look a little closer and the solid grille is a giveaway along with the more aerodynamic alloy wheels, but that is about it. It's a sporty, dynamically styled five-door SUV that's very easy on the eye and fits in with the crowd.
Move inside and there is a blue starter button, blue trimmings on the gear lever and some additional readouts concerning charge levels, range and power. Otherwise, it is a BMW through and through and one that you will quickly become accustomed to.
The leather upholstery is beautifully constructed and there are soft touch and high-end surfaces at every turn. The piano black trim lifts the quality of the cockpit although it is a little prone to fingerprints.
The sunroof allows light to flood into the cabin, there is ambient lighting and the head-up display is a useful addition.
In The Car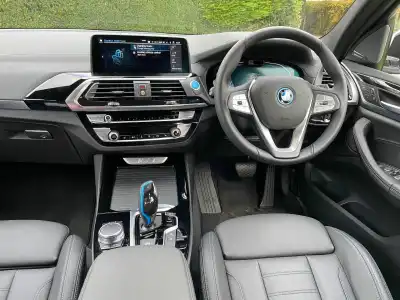 Behind the Wheel
Finding the perfect driving position within the iX3 takes just seconds with powered seats and plenty of manual steering wheel adjustment. Then it's a case of sitting back for a minute and taking stock of the wealth of on-board technology at your disposal.
The iX3 is equipped with the latest generation BMW Operating System 7, which means all future software upgrades can be updated over the air. There is a fully digital screen grouping comprising a high-resolution 12.3-inch instrument cluster behind the steering wheel, along with a 10.25-inch central control display – which is the nerve centre of the car.
The driver can choose how they interact with the system with the traditional iDrive Controller, multi-function steering wheel buttons, voice control or BMW gesture control which means waving your hand around near the screen.
There is also the latest personal assistant that is activated by saying 'Hey BMW' and it can follow numerous instructions learning constantly about your preferences, such as seat position, temperature, favourite navigation destinations. It can even understand the instruction 'take me home' to save programming the sat nav.
Creature comforts include Apple CarPlay and Android Auto – the latter with access to Google Assistant, music streaming services like Spotify, Amazon Music and the WhatsApp messaging service.
There is a pitch perfect Harmon Kardon sound system, a separate control panel for all the climate functions, heated seats, sat nav, a sound synthesiser to make the car seem more 'authentic' and lots more besides.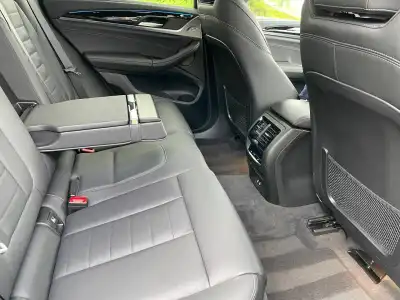 Space & Practicality
With its upright design and elevated seating, the driver benefits from excellent all-round visibility and there will be no complaints from the back either as there is ample space for a couple of tall adults to fit comfortably. Add a third and it gets a little cramped, but three youngsters would easily be accommodated.
The storage capacity and cabin space within the iX3 is on a par with the traditionally-powered versions. That is because the battery pack has been positioned beneath the floor so as not to impact on space.
The boot can swallow 510 litres of kit – a limit that increases to 1,560 litres with the 40:20:40 split-folding rear seats dropped flat.
Elsewhere, there are plenty of storage compartments throughout the car, including a lockable glovebox, central cubby, deep door bins with space for a water bottle, front and rear cup holders, a wireless charging pad and seat back nets.
Charging the iX3 takes up to 12 hours from a 7kW home wallbox from empty to full, or from 10-80 per cent in 34 minutes via a 150kW fast charger. To add an extra 62 miles to boost the driving range takes just 10 minutes.
Ownership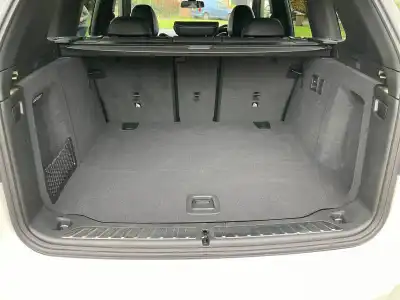 Running Costs
Although electric vehicles are becoming more competitively priced with the introduction of extra models, they are still quite expensive to buy initially. That isn't helped by the Government constantly reducing its plug-in car grant.
It was recently announced that the grant would be slashed by a £1,000 to just £1,500 and cars eligible would have to cost no more than £32,000 (reduced from £35,000).
So with its list price of £60,945, the iX3 will not be bringing too many financial rewards. Well, not initially that is. Although the car is not eligible for any Government grants due to its starting price, it does make financial sense for any business drivers who will reap the Benefits in Kind tax rewards.
And despite the BMW iX3 having a list price above £40k, owners will not have to pay the luxury car tax fee of £335 for five years that owners of petrol or diesel cars do. This ruling, announced in the 2020 Budget, applies until 2025.
And finally, being an EV, it is exempt from Congestion Charge and low emission charge fees, along with any road tax.
The BMW iX3 sits in insurance group 45.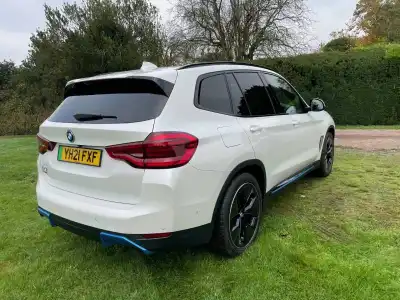 Quality & Reliability
It's a bit of a mixed bag for BMW regarding reliability often ranking around mid-table in customer satisfaction surveys. And that's not really a great endorsement for a premium carmaker. However, the iX3 is too new to accurately predict how reliable it will prove to be in the long run.
But, as the iX3 is fully electrified it has fewer moving parts than a traditionally powered car and that means there should be less to go wrong.
With its SUV proportions, it looks and feels robust and the interior is created from upmarket materials that should survive the test of time.
There is quite a lot of piano black trim within the cockpit and that is a little prone to mucky fingerprints, but that aside, the build quality seems exemplary.
The BMW iX3 comes with a three-year, unlimited mileage warranty, while the battery warranty extends to eight years.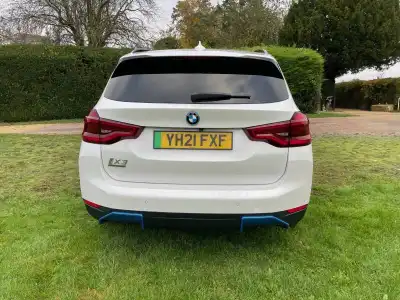 Safety & Security
Although the car is based on the BMW X3, the EV does not automatically carry over that vehicle's five-star Euro NCAP safety rating. But, as is the BMW way, customers are guaranteed a car that is packed with the very latest innovative safety features and driver assistance systems.
There is the BMW Driving Assistant Professional package which introduces a number of semi-autonomous systems, including adaptive cruise control, active lane keep and steering assist with side collision protection, traffic jam assistance and a wrong-way warning.
The autonomous emergency braking system will warn the driver when a pedestrian, cyclist or other vehicle is in the car's path. If the driver fails to act, the car will brake automatically to prevent the collision.
To keep any intruders at bay, the iX3 is protected by an alarm and immobiliser.
Summary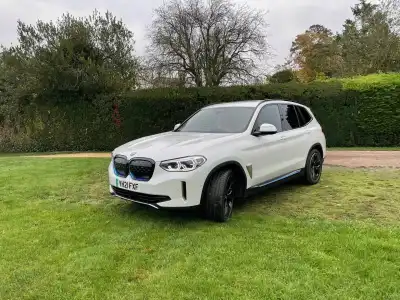 The X3 is the first BMW to be offered with a pure electric drive system, a plug-in hybrid unit or efficient petrol and diesel engines. This is what BMW calls the 'Power of Choice' approach. Best make the most of that before the Government rules change in 2030.
More On This Car
Take one for a spin or order a brochure
Request a BMW ix3 brochure
Request a BMW ix3 test drive