Pros:
Blistering pace and exceptional performance

Dynamic styling and packed with technology

Now available with four-wheel drive for the first time making it faster than RWD versions
Cons:
There are very few places that this car can be driven to anywhere near its full potential

Poor over-the-shoulder visibility

Try getting out in a dignified manner!
More On This Car
Take one for a spin or order a brochure
Request a BMW M3 brochure
Request a BMW M3 test drive
Introduction
It's been 35 years since the debut of the first BMW M3 but now the M3 Competition Saloon and Coupe models have been launched and, for the first time, they are available with xDrive – BMW's all-wheel drive system.
Some may say that would be detrimental to the performance, but they would be wrong as the car operates for the majority of the time in rear-wheel drive with extra traction delivered to the front wheels when necessary.
And if those people need extra convincing, the xDrive versions are actually quicker. These cars are brutally fast and certainly not for the faint-hearted.

On The Road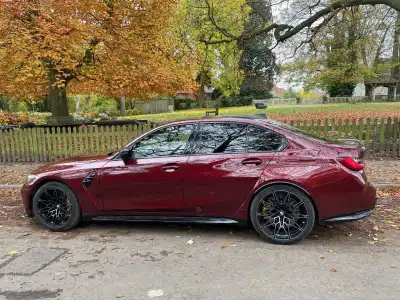 Performance
Powering the BMW M3 Competition M Saloon is a straight-six, 3.0-litre twin power turbo petrol engine delivering 510hp and 650Nm of torque. It can fire its way from 0-62mph in a blisteringly quick 3.5 seconds (that's 0.4 seconds quicker than the rear-wheel drive car) and tops out at an electronically-limited 155mph. Add an optional M Driver's Pack (part of the M Pro Pack) and that top speed increases to 190mph.
The acceleration through the eight-speed automatic Steptronic transmission is so fast that if you blink you've gone up three gears and are quickly cruising at motorway speed limits. There are steering wheel paddles for added driver engagement, along with two red buttons marked M1 and M2.
These are used to switch between two pre-configured set-ups – perhaps a dynamic one for country lanes and calmer dynamics for motorway cruising. Settings such as engine characteristics, damper response, steering, braking and other dynamics can be pre-set.
There are also drive modes that alter the characteristics of the car called Comfort, Sport and track-focused Sport+, along with a new M Mode button. This can be used to adjust the responses of the driver assistance systems and the layout in the instrument cluster and head-up display. In the most basic ROAD setting, all the driver assistance systems are activated to the driver's specifications. In TRACK mode, which is clearly for track driving only, many safety systems are deactivated.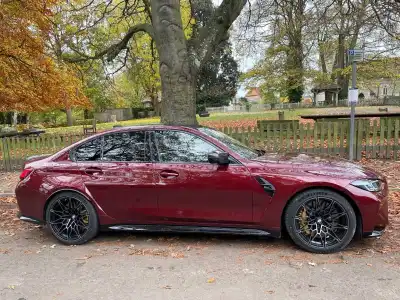 Ride Handling
Despite the added weight of four-wheel drive (about 50kg), it certainly isn't noticeable when it comes to performance, ride or handling. This is a car that tops the scales at almost 1.8 tonnes and the balance is exceptional with its low centre of gravity.
It fizzes through the B roads at lightning pace and the control in and out of tight bends is jaw-dropping. You just know you will lose your bottle long before this car has got anywhere near its full potential.
It is quite a large vehicle, which becomes more noticeable on narrow lanes, measuring almost 4.8 metres in length, just over 1.9 metres wide and 1.4 metres high. But with parking aids galore and beautifully weighted steering, it is easy to drive in busier city centres.
The xDrive system adds extra traction without compromising on agility. It features an electronically-controlled multi-plate clutch for smooth distribution of drive torque between the front and rear wheels. It has a rear-biased set-up with the front wheels only coming into play when the rears cannot feed any more power to the road.
Basically, adding 4WD to the mix has been anything but detrimental to the car's handling and with our ever-changing weather patterns it makes absolute sense to offer this powerhouse of a car with extra grip.
The M3 Competition benefits from adaptive M suspension which does a very worthy job of smoothing out the creases in the roads. Hit an unexpected pothole though and you will feel the full force judder through the car.
But it's the pace, composure and dynamics of this M3 that really impress. Despite delivering awesome power, the M3 Competition, feels perfectly balanced and grounded. And the M carbon ceramic brakes do a notable job of bringing this beast to a safe standstill without any fuss.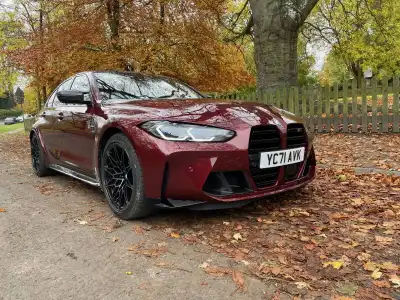 Styling
One quick glance in the direction of the BMW M3 Competition will confirm this premium luxury saloon will deliver the goods when it comes to styling and performance. It features BMW's latest design signature and that means that larger-than-life grille that has been met with mixed feelings amongst BMW fans. One thing you can say about it though is it's very distinctive.
Other design cues include flared wheel arches, air intakes, a carbon-fibre roof, rear spoiler, fins, darkened LED rear light clusters, quad tailpipes, Shadowline LED headlights with darkened inlays, BMW Laserlights with non-dazzling high beam assist, 20-inch wheels at the back and 19-inch at the front, plus carbon ceramic brakes with gold calipers.
This five-seater saloon is a head-turner wherever it passes. If you are not attracted by the sporty characteristics of its design then the noise from the enhanced exhaust system is guaranteed to grab your attention. It may not prove quite so popular with neighbours though as there is no way to start this M3 quietly.
Move inside and the there are signature M details including red accents on the M buttons, the M leather steering wheel and start/stop button. New M carbon bucket seats are body-hugging and reduce the weight of the car, and there is a wealth of technology to explore in this ultra-modern high-performance car.
In The Car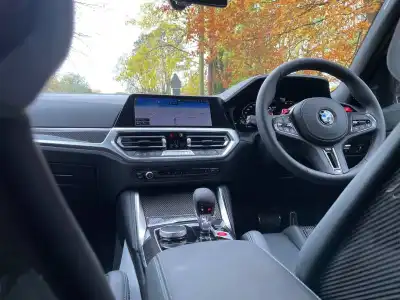 Behind the Wheel
Squeeze yourself into the sports bucket seats (impossible in a dignified manner by the way) and then use the power adjustment buttons to get the perfect driving position. The steering wheel has ample manual adjustment too so it's quick and easy to get everything set up just right.
There's a 12.3-inch high-resolution instrument cluster behind the steering wheel that provides all the vital driving data. This alters in its appearance as you switch through the drive modes and can be personalised to taste.
In addition, the main nerve centre is a 10.25-inch control display which is part of the BMW Live Cockpit Professional set-up. This introduces cloud-based mapping and navigation, two USB ports for data transfer and a wi-fi interface.
There is Apple CarPlay and Android Auto to connect smartphones, wireless charging, a 16-speaker Harman Kardon sound system, three zone climate control and plenty more besides.
The head-up display is also configurable and can show information such as navigation directions, speed, distance warnings and speed limits. Move to sportier M settings and the HUD shows a rev counter too.
You do sit quite low to the ground in the M3 but the view forwards, sideways and out the back window are good enough. Wide B pillars do result in quite poor over-the-shoulder visibility though which is most noticeable on motorways when changing lanes.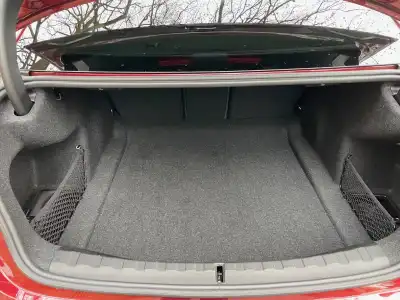 Space & Practicality
Up front, there is oodles of room for a couple of six footers to stretch out in comfort. In the back there is a trio of rear seats, but realistically two adults can sit comfortably whereas three would be a squeeze. The rear seats also slope backwards quite sharply so grandparents may have an issue getting in and will certainly struggle getting out again.
The boot is accessed via a powered lid and can accommodate 480 litres of kit and there are lots of other storage options scattered throughout the car, including a decent sized glovebox a central cubby, door pockets, cup holders (if you're brave enough to drink a hot coffee while sitting in the M3) and a wireless charging tray.
With limited visibility when attempting to reverse into a tight parking space, all the sensors, cameras and parking aids do come into play, making life a lot easier.

Ownership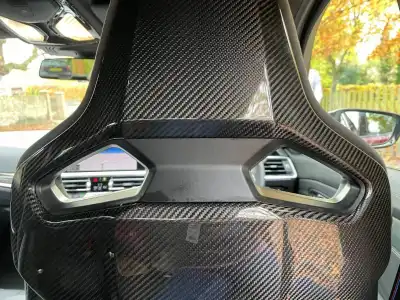 Running Costs
A model with the looks and power of the BMW M3 Competition is never going to be light on the pocket and this car starts out priced from £74,755. Our test vehicle cost £75,300 initially, but once an M Pro Pack and Ultimate Pack had been added, the price had crept up to £95,370.
The M Pro Pack introduces the M Carbon Ceramic brakes with gold calipers along with the M Driver's Pack to boost the top speed amongst other features. While the Ultimate Pack adds a heated steering wheel, M carbon bucket seats, laserlights, parking assistant plus, M Carbon exterior styling, a drive recorder, electric boot lid, comfort access and Driving Assistant Professional which features a number of safety systems.
The running costs stack up too on this high-end performance car. The official WLTP tested fuel economy figure is a combined 28.0-28.2mpg with carbon emissions of 228-231g/km.
This high emissions figure would result in a first year Vehicle Excise Duty charge (or road tax) of £1,910 dropping to the standard £155 the following year. Unfortunately, the expensive bills don't end there - as the M3 costs more than £40,000, there is an additional £335 premium car levy charge for five years.
Insurance will be fairly hefty too as the BMW M3 Competition Saloon is ranked in group 42.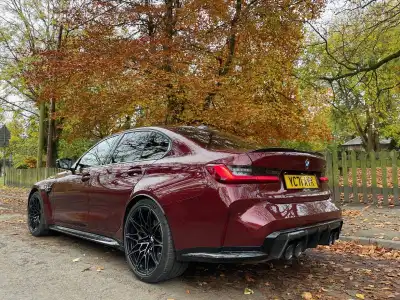 Quality & Reliability
The BMW M3 Competition M xDrive comes with a three year, unlimited-mileage warranty for peace of mind, and BMW does boast a reputation for developing cars that will run and run.
The M3 certainly has a premium, high-quality feel to it with solid surfaces and doors that close with a sturdy thud.
The ceramic seats are designed to be hardwearing and all the switchgear looks and feels well-made. There are plenty of ways to access the on-board technology without touching the infotainment screen, so mucky smudges shouldn't be an issue and all software updates are carried out automatically over-the-air.
The standard warranty also includes BMW Emergency Service for any unforeseen events. And owners can look at a number of packages to extend warranties beyond the three years.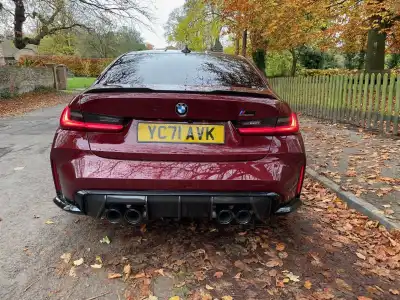 Safety & Security
Develop a car with the performance capabilities of the BMW M3 Competition and it needs to be packed to bursting with the most advanced safety kit around to keep occupants and all other road users safe. And credit to BMW – this car has had every possible safety system thrown at it.
But, with a thrilling driving experience in mind, there are plenty of race-inspired features that allow you to deactivate certain safety systems. That means different levels of traction can be adjusted for just the desired amount of slip and all results and lap times can be recorded.
The xDrive all-wheel drive system will do its utmost to keep you going during adverse driving and weather conditions. For adrenaline junkies, it can be deactivated for track driving where drifting will be easily achieved.
Back in the world of day-to-day driving, the M3 features parking assistant, cruise control with braking function, front collision warning with brake intervention, lane departure warning including lane return with steering assist, rear cross traffic alert, plus rear collision prevention.
Driving Assistant Professional was included on the test car as part of the Ultimate Pack. This added steering and lane control with active navigation function, a new emergency lane assistant and lots more besides.
The M Carbon Ceramic brakes are very capable of slowing the vehicle in a controlled manner but they do feel pretty sharp initially.
Summary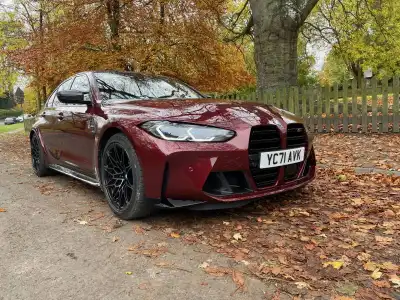 All in all, the BMW M3 Competition Saloon is an incredible piece of kit. It's styling, performance and comfort levels will not be to everyone's liking, but this car is targeting a niche market and those select few will not be disappointed with the results.
More On This Car
Take one for a spin or order a brochure
Request a BMW M3 brochure
Request a BMW M3 test drive